Abstract
The age of bowhead whales captured by Native Alaskan hunters in the Bering, Chukchi and Beaufort Seas has been estimated via chemical analyses of the eye lenses, and other techniques. The racemization-age estimates indicate that bowhead whales (Balaena mysticetus) have a lifespan of more than a century. Stone and ivory weapon fragments recovered from bowhead whales hunted in Wainwright and Barrow (Alaska) in 1981, 1992, 1993 and 1997, provided rough but independent assessments of the whales' longevity; however, their date of manufacture was unknown. Adding further confirmation of these age estimates, this note describes bomb lance fragments recovered recently (2007) and about 30 years ago (1980) from bowhead whales harvested by Eskimo hunters that were "dateable" and likely manufactured between 1879 and 1885.
Access options
Buy single article
Instant access to the full article PDF.
USD 39.95
Price excludes VAT (USA)
Tax calculation will be finalised during checkout.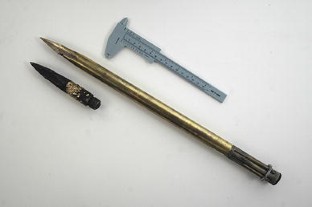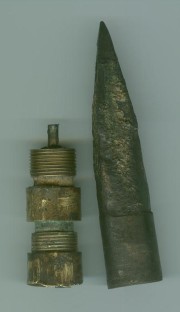 References
Bockstoce JR (1986) Whales, ice and men. The history of whaling in the Western Arctic. University of Washington Press, Seattle

Bockstoce JR, Batchelder CF, Rex E, Sleeman GS (1987) A list of whaling cruises to the northern Bering Sea, the Chukchi Sea, and the Beaufort Sea, 1848–1921. Typescript, New Bedford Whaling Museum, New Bedford

Credland A (2007) Personal communication to Bockstoce JR, 8 June 2007. Arthur Credland, Keeper of Maritime History, Hull Maritime Museum, Hull HU1 3DX, UK

Dall WH (1899) How long a whale may carry a harpoon. Natl Geogr Mag 10(4):136–137

George JC, Bada J, Zeh J, Scott L, Brown SE, O'Hara T, Suydam R (1999) Age and growth estimates of bowhead whales (Balaena mysticetus) via aspartic acid racemization. Can J Zool 77:571–580

George JC, Follmann E, Zeh J, Suydam R, Sousa M, Tarpley R, Koski B (2004) Inferences from bowhead whale corpora data, age estimates, length at sexual maturity and ovulation rates. Presented to the Scientific Committee of the International Whaling Commission, Paper SC/56/BRG8

Hooper CL (1884) Report of the cruise of the US Revenue Steamer Thomas Corwin in the Arctic Ocean, 1881. Government Printing Office, Washington DC

Lytle TG (1984) Harpoons and other whalecraft. Old Dartmouth Historical Society, New Bedford,

Nelson EW (1887) Report upon natural history collections made in Alaska between the years 1877 and 1881. In: Kenshaw HW (ed) Arctic series of publications issued in connection with the Signal Service. No. III, US Army, Government Printing Office, Washington DC

Noongwook G, Native Village of Savoonga, Native Village of Gambell, Huntington HP, George JC (2007) Traditional knowledge of the bowhead whale (Balaena mysticetus) around St Lawrence Island, Alaska, Arctic 60(1):47–54

Philo LM, Shotts EB Jr, George JC (1993) Morbidity and mortality. In: Burns JJ, Montague JJ, Cowles CJ (eds) The bowhead whale. Allen Press, Lawrence pp 275–307

Rosa C, George JC, Zeh J, O'Hara T, Botta O, Bada J (2004) Update on age estimation of bowhead whales using aspartic acid racemization. Paper SC/56/BRG6 presented to the 56th Scientific Committee of the International Whaling Commission, Sorrento, June 2004

Sheffield G (2007) Personal communication to George C, Alaska Department of Fish and Game, Fairbanks, 99723

Weintraub B (1996) Harpoon blades point to long-lived whales; Geographica section. National Geographic Society, Washington DC
Acknowledgments
We are particularly grateful to captain Arnold Brower, Sr. and his crew for graciously allowing us to examine the bomb lance fragment. We are also appreciative of the long-term support by the North Slope Borough Department of Wildlife Management and the Barrow Whaling Captain's Association for allowing our postmortem examinations of landed whales. We thank William Barr of the Arctic Institute of North America, Arthur Credland of the Hull Maritime Museum, UK and, at the New Bedford Whaling Museum, Herbert Andrew, Jean Banker, Anne Brengle, Michael Dyer, Michael Lapides, and Madelyn Shaw. The New Bedford Whaling Museum kindly provided the photographs of the weapon fragment from whale 07B8. We thank Gay Sheffield for sharing her discussions about the fragment with hunters in the Bering Strait area. Bowhead whale samples were collected under the authority of permit #932-1489-03 issued to Dr. Teri Rowles of the Marine Mammal Health and Stranding Response Program (MMHSRP).
About this article
Cite this article
"Craig" George, J.C., Bockstoce, J.R. Two historical weapon fragments as an aid to estimating the longevity and movements of bowhead whales. Polar Biol 31, 751–754 (2008). https://doi.org/10.1007/s00300-008-0407-2
Received:

Revised:

Accepted:

Published:

Issue Date:

DOI: https://doi.org/10.1007/s00300-008-0407-2
Keywords
Bowhead whale

Age estimation

Whaling technology

Whaling history

Yankee whaling