Abstract
Patagonian toothfish, Dissostichus eleginoides, collections (n = 186) from three distinct stocks (two subantarctic stocks and the stock within the Chilean ZEE) were analyzed for Hg concentration by DMA and comparisons were made by gender, total length (TL), wet weight (WW), and population. There was no difference between TL–WW relationships or Hg concentration by gender within any population across the range examined. The Chilean and Prince Edward Island fish had higher TL-adjusted total Hg concentration than those from the South Georgia and may suggest a possible human health risk. Explanation of these population differences in total Hg may be the actual sample areas and associated hydrogeographic and oceanographic conditions. For example, sampling sites for the Chilean fish lie well outside the Antarctic Convergence whereas the Prince Edward sites straddle the Convergence. The samples obtained from South Georgia lie well within the Antarctic convergence, suggesting that the Polar Front may provide some type of hydrographic barrier as has been shown for this species in terms of larval dispersal and feeding.
Access options
Buy single article
Instant access to the full article PDF.
US$ 39.95
Tax calculation will be finalised during checkout.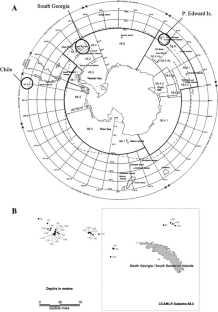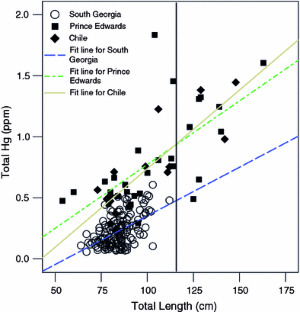 References
Arkhipkin A, Brickle P, Laptikhovsky V (2003) Variation in the diet of the Patagonian toothfish with size, depth and season around the Faulkland Islands. J Fish Biol 63:428–441

Ashford J, Jones C (2007) Oxygen and carbon stable isotopes in otoliths record spatial isolation of Patagonian toothfish (Dissostichus eleginoides). Geochim Cosmochim Acta 71:87–94

Ashford J, Duhamel G, Jones C, Bobko S (2005) Age, growth and mortality of Patagonian toothfish (Dissostichus eleginoides) caught off Kerguelen. CCAMLR Sci 12:29–41

Bloom NS (1998) Determination of picogram levels of methylmercury by aqueous phase ethylation, followed by cryogenic gas chromotography with cold vapour atomic absorption fluorescence detection. Can J Fish Aquat Sci 46:1131–1140

CCAMLR Secretariat CDS Annual Summary Reports (2006) Statistical bulletin, vol 18 (1996–2005). CCAMLR, Hobart, Australia

Duhamel G (1987) Ichthyofaune des secturs indien occidental et atlantique oriental de l'ocean austral: biogeography, cycles biologiques et dynamique des populations. Theses de Doctorat d'Etat, Universite P. et M. Curie, Paris, 687p

Eastman JT (1993) Antarctic fish biology. Evolution in a unique environment. Academic, San Diego

EPA (2000) National guidance, guidance for assessing chemical contaminant data for use in fish advisories, vol 2: Risk assessment and fish consumption limits, 3rd edn. Appendix B: population exposure assessment and consumption patterns and surveys. Office of Science and Technology, US Environmental Protection Agency, Washington, DC, EPA-823-B-00-008

EPA (2006) Technology transfer network air toxics website, mercury compounds hazard summary—created April 1992 and revised in January 2000 http://www.epa.gov/ttn/atw/hlthef/mercury.html

Evseenko SA, Koch K-H, Nevinsky MM (1995) Early life history of the Patagonian toothfish, Dissostichus eleginoides Smitt, 1898 in the Atlantic sector of the Southern Ocean. Antarct Sci 7(3):221–226

FDA (2006) Mercury Concentrations in fish: FDA monitoring program (1999–2004) January 2006. http://www.cfsan.fda.gov/∼frf/seamehg2.html

FDA/EPA Advisory (2004) Revised consumer advisory on methylmercury in fish. Released 19 March 2004 by the US Department of Health and Human Services and US Environmental Protection Agency

Goldworthy SD, Lewis M, Williams R., He X, Young JW, van der Hoff J (2002) Diet of Patagonian toothfish (Dissostichus eleginoides) around Macquarie Island, South Pacific Ocean. Mar Freshw Res 53:49–57

Horn PL (2002) Age and growth of Patagonian toothfish (Dissostichus eleginoides) and Antarctic toothfish (D. mawsoni) in waters from the sub-Antarctica to the Ross Sea. Fish Res 56(3):275–287

Kannan K, Smith Jr RJ, Lee RF, Windom HL, Heitmuller PT, Macauley J, Summers JK (1998) Distribution of total mercury and methyl mercury in sediment, and fish from south Florida estuaries. Arch Environ Contam Toxicol 34(2):109–118

Luckhurst B, Prince E, Llopiz J, Snodgrass D, Brothers E (2006) Evidence of blue marlin (Makaira nigricans) spawning in Bermuda waters and elevated mercury levels in large specimens. Bull Mar Sci 79(3):691–704

McArthur T, Butler EC, Jackson GD (2003) Mercury in the marine food chain in the Southern Ocean at Macquarie Island: an analysis of the top predator, Patagonian toothfish (Dissostichus eleginoides) and a mid-trophic species, the warty squid (Moroteuthis ingens). Polar Biol 27(1):1–5

Pilling GM, Purves MG, Daw TM, Agnew DA, Xavier JC (2001) The stomach contents of Patagonian toothfish around South Georgia (South Atlantic). J Fish Biol 59:1370–1384

Rogers AD, Morley S, Fitzcharles E, Jarvis K, Belchier M (2006) Genetic structure of Patagonian toothfish (Dissostichus eleginoides) populations on the Patagonian shelf and Atlantic and western Indian Ocean sectors of the Southern Ocean. Mar Biol 149:915–924

Sosinski J, Kuranty ZA (1979) The Scotia Sea—a new fishing ground for the Polish fishery. Tech I Gospod Morska 29:12–15 (in Polish)

Storelli MM, Marcotrigiano GO (2001) Total mercury levels in muscle tissue of swordfish (Xiphias gladius) and Bluefin tuna (Thunnus thynnus) from the Mediterranean Sea (Italy). J Food Prot 64(7):1058–1061

Wiener JG, Krabbenhoft DP, Heinz GH, Scheuhammer AM (2003) Ecotoxicology of mercury. In: Hoffman DJ, Rattner BA, Burton GAJ, Cairns JJ (eds) Handbook of ecotoxicology. Lewis Publishers, New York
Acknowledgments
This research was used, in part, to fulfill the requirements of a Masters degree in Coastal Sciences at The University of Southern Mississippi by the senior author. We thank B. H. Comyns and K. S. Dillon who served on the thesis committee of the senior author. We would like to thank the observers and crew on board the Argos Helena and the South Princess for the collection of samples and to Chris Heinechen with Capricorn Fisheries Monitoring for coordinating the sampling with their observers. We would also like to express our gratitude to Barry Watkins with South Africa's Marine and Coastal Management and James Moir Clark with MRGA Ltd. for their efforts in the collection process as well. Many thanks to Claudio Bernal with IFOP for supplying samples from the Chilean artesanal fleet and to the US Antarctic Program, National Science Foundation for assisting in transporting these samples to the US.
About this article
Cite this article
Guynn, K.D., Peterson, M.S. Mercury concentrations in the Patagonian toothfish, Dissostichus eleginoides Smitt 1898, among three distinct stocks. Polar Biol 31, 269–274 (2008). https://doi.org/10.1007/s00300-007-0354-3
Received:

Revised:

Accepted:

Published:

Issue Date:
Keywords
Antarctica

Mercury

Patagonian toothfish