Abstract
Macrocystis pyrifera (L.) C. Agardh is a characteristic macroalga in the Magellan region covering almost 30% of the shallow coastal waters. The focus of this study was to analyse the spatial and seasonal patterns in macrofauna communities associated to the holdfasts of Macrocystis pyrifera at two study sites in the Straits of Magellan, South Chile. In total, 114 species from 10 major taxa were isolated from the holdfasts. MDS clearly separated the holdfast fauna collected in different seasons, with autumn and winter collections being richer in terms of species richness and abundance as compared to the spring and summer situation. MDS also clearly separated the holdfast associated faunas of the two study sites, Bahía Laredo and Fuerte Bulnes. The community structure and species composition of the associated macro-invertebrates and vertebrates appeared rather heterogeneous, probably due to the extremely heterogeneous environmental conditions along the entire coastline of the Subantarctic Magellan region.
Access options
Buy single article
Instant access to the full article PDF.
USD 39.95
Price excludes VAT (USA)
Tax calculation will be finalised during checkout.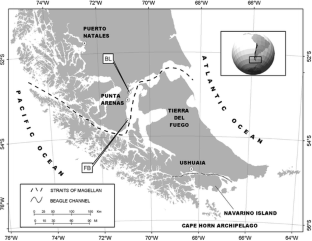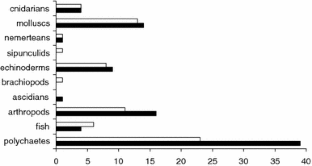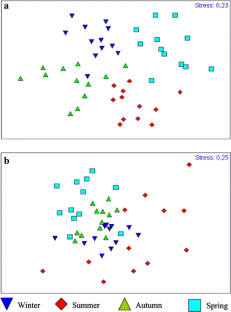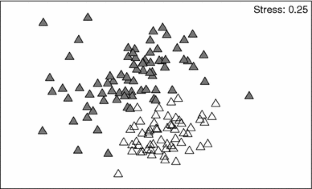 References
Adami ML, Gordillo S (1999) Structure and dynamics of the biota associated with Macrocystis pyrifera (Phaeophyta) from the Beagle Channel, Tierra del Fuego. Sci Mar 63(Suppl 1):183–191

Anderson MJ, Diebel CE, Blom WM, Landers TJ (2005) Consistency and variation in kelp holdfast assemblages: spatial patterns of biodiversity for the major phyla at different taxonomic resolutions. J Exp Mar Biol Ecol 320:35–56

Antezana T (1999) Hydrographic features of Magellan and Fueguian inland passages and adjacent Subantarctic waters. Sci Mar 63(Suppl 1):23–34

Arntz W (1999) Magellan–Antarctic: ecosystems that drifted apart. Summary review. Sci Mar 63(Suppl 1):503–511

Barrales HL, Lobban CS (1975) The comparative ecology of Macrocystis pyrifera with emphasis on the forests of Chubut, Argentina. J Ecol 63:657–677

Bernasconi I, D'Agostino MM (1977) Ofiuroideos del mar epicontinental argentino. Rev Mus Arg Cienc Nat Bernardino Rivadavia 5:66–114

Brambati A, Fontolan G, Simeoni U (1991) Recent sediments and sedimentological processes in the Strait of Magellan. Boll Oceanol Teor Appl 9:217–260

Cariceo Y, Mutschke E, Ríos C (2002) Ensambles de Isopoda (Crustacea) en discos de fijación del alga Macrocystis pyrifera (L.) C. Agardh (Phaeophyta) en el estrecho de Magallanes, Chile. Ans Inst Pat Ser Cienc Nat 30:83–94

Castellanos ZJA de (1988–1993) Catálogo descriptivo de la macrofauna magallánica. Partes 1–12. Comisión de Investigaciones Científicas, Provincia de Buenos Aires, Argentina

Castilla JC (1985) Food webs and functional aspects of the kelp, Macrocystis pyrifera, community in the Beagle Channel, Chile. In: Siegfried WR, Condy PR, Laws RM (eds) Antarctic nutrient cycles and food webs. Springer, Berlin, Heidelberg. pp 407–414

Clarke KR, Warwick RM (2001) Changes in marine communities: an approach to statistical analysis and interpretation. Plymouth Marine Laboratory, 144pp

Dahm C (1999) Ophiuroids (Echinodermata) of southern Chile and the Antarctic: taxonomy, biomass, diet and growth of dominant species. Sci Mar 63(Suppl 1):427–432

Darwin C (1909) The voyage of the Beagle. The Harvard classics, vol 29. PF Collier and Son Company, New York

Davenport J, Davenport J, Davies G (1984) A preliminary assessment of growth rates of mussels from the Falkland Islands (Mytilus chilensis Hupé and Aulacomya ater (Molina)). J Cons Int Explor Mer 41:154–158

Dayton PK, Tegner MJ, Edwards PB, Riser KL (1998) Sliding baselines, ghosts, and reduced expectations in kelp forest communities. Ecol Appl 8:309–322

Gebauer P, Moreno CA (1995) Experimental validation of the growth rings of Loxechinus albus (Molina, 1782) in southern Chile (Echinodermata: Echinoidea). Fish Res 21:423–435

Gerdes D, Montiel A (1999) Distribution patterns of macrozoobenthos: a comparison between the Magellan region and the Weddell Sea (Antarctica). Sci Mar 63(Suppl 1):149–154

Gerdes D, Hilbig B, Montiel A (2003) Impact of iceberg scouring on macrobenthic communities in the high-Antarctic Weddell Sea. Polar Biol 26:295–301

Ghelardi RJ (1971) Species structure of the holdfast community. In North WJ (ed) The biology of giant kelp beds (Macrocystis) in California. Nova Hedwigia 32:381–420

Gutt J (2001) On the direct impact of ice on benthic communities, a review. Polar Biol 24:553–564

Hobday AJ (2000) Abundance and dispersal of drifting kelp Macrocystis pyrifera rafts in the Southern California Bight. Mar Ecol Prog Ser 195:101–116

Jones CG, Lawton JH, Shachak M (1994) Organisms as ecosystem engineers. Oikos 69:373–386

Knust R, Arntz WE, Boche M, Brey T, Gerdes D, Mintenbeck K, Schröder A, Starmans A, Teixidó N (2003) Iceberg scouring on the eastern Weddell Sea Shelf (Antarctica): a benthic system shaped by physical disturbances? In: Huiskes AHL, Gieskes WWC, Rozema J, Schorno RML, Vies SM van der, Wolff WJ (eds) Antarctic biology in a global context. Proceedings of SCAR Biological Symposium, Ámsterdam. Backhuys Publishers, Leiden, pp 96–101

Lancellotti DA, Vásquez JA (2000) Zoogeografía de macroinvertebrados bentónicos de la costa de Chile: contribución para la conservación marina. Rev Chil Hist Nat 73:99–129

Menzies RJ (1962) The zoogeography, ecology and systematics of the Chilean marine isopods. Reports of the Lund University Chile Expedition 1948–49. Lunds Universitets Arsskrift 11, 162pp

Montiel A, Gerdes D, Arntz W (2005a) Distributional patterns of shallow-water polychaetes in the Magellan region: a zoogeographical and ecological synopsis. Sci Mar 69:123–133

Montiel A, Gerdes D, Hilbig B, Arntz WE (2005b) Polychaete assemblages on the Magellan and Weddell Sea shelves: comparative ecological evaluation. Mar Ecol Progr Ser 297:189–202

Mutschke E, Ríos C (2006) Distribución espacial y abundancia relativa de equinodermos en el estrecho de Magallanes, Chile. Cienc Tecnol Mar 29:91–102

Mutschke E, Ríos C, Montiel A (1998) Situación actual de la macrofauna presente en el intermareal de bloques y cantos de bahía Laredo, estrecho de Magallanes. Ans Inst Pat Ser Cienc Nat 26:5–29

Nelson PA (2001) Behavioral ecology of young-of-the-year kelp rockfish, Sebastes atrovirens Jordan and Gilbert (Pisces: Scorpaenidae). J Exp Mar Biol Ecol 256:33–50

Norman JR (1937) Coast fishes. Part II. The Patagonian Region Discovery reports XVI:1–150

Ojeda FP, Santelices B (1984) Invertebrate communities in holdfasts of the kelp Macrocystis pyrifera from southern Chile. Mar Ecol Progr Ser 16:65–73

Prieto X (1992) Caracterización de sedimentos costeros en el estrecho de Magallanes. Inf Tec Inst Pat 63:64–89

Retamal MA (1974) Contribución al conocimiento de los crustáceos decápodos de la región magallánica. Gayana (Zool) 31:23pp

Rozbaczylo N (1985) Los anélidos poliquetos de Chile. Índice sinonímico y distribución geográfica de especies. Monografías Biológicas N°3 (Fac. de Cs. Biológicas P. U. Católica de Chile). 284pp

Santana A, Calderón J, Butorovic N (2001) Características climatológicas del área de bahía Laredo, Magallanes, Chile. Ans Inst Pat Ser Cienc Nat 29:55–68

Santelices B (1989) Algas marinas de Chile. Distribución, ecología, utilización y diversidad. Ediciones Universidad Católica de Chile, Santiago-Chile

Santelices B, Ojeda FP (1984) Population dynamics of coastal forests of Macrocystis pyrifera in Puerto Toro, Isla Navarino, Southern Chile. Mar Ecol Prog Ser 14:175–183

Smith SDA (2000) Evaluating stress in rocky shore and shallow reef habitats using the macrofauna of kelp holdfasts. J Aquat Ecosyst Stress Recov 7:259–272

Smith SDA, Simpson RD, Cairns SC (1996) The macrofaunal community of Ecklonia radiate holdfasts: description of the faunal assemblage and variation associated with differences in holdfast volume. Aust J Ecol 21:81–95

Steneck RS, Graham MH, Bourque BJ, Corbett D, Erlandson JM, Estes JA, Tegner MJ (2002) Kelp forest ecosystems: biodiversity, stability, resilience and future. Environ Conserv 29(4):436–459

van Tussenbroek BI (1993) Plant and frond dynamics of the giant kelp, Macrocystis pyrifera, forming a fringing zone in the Falkland Islands. Eur J Phycol 28:161–165

Vanella FA, Fernández DA, Romero MC, Calvo J (2007) Changes in the fish fauna associated with a sub-Antarctic Macrocystis pyrifera kelp forest in response to canopy removal. Polar Biol 30:449–457

Vásquez JA (1993) Effects on the animal community of dislodgement of holdfasts of Macrocystis pyrifera. Pac Sci 47:180–184

Vásquez J, Buschmann AH (1997) Herbivore–kelp interactions in Chilean subtidal communities: a review. Rev Chil Hist Nat 70:41–52

Vásquez JA, Véliz D, Pardo LM (2001) Biodiversidad de macroinvertebrados bajo las grandes algas. In: Alveal K and Antezana T (eds) Sustentabilidad de la Biodiversidad: Un problema actual, bases científico-técnicas, teorizaciones y perspectivas. Universidad de Concep-ción-Chile, pp 293–308

Viddi FA, Lescrauwaet A-K (2005) Insights on habitat selection and behavioural patterns of Peale's dolphins (Lagenorhynchus australis) in the Strait of Magellan, Southern Chile. Aquat Mammal 31:176–183

Williamson M (1987) Are communities ever stable? In: Gray AJ, Crawley MJ, Edwards PJ (eds) Colonization, succession, and stability. Blackwell, Oxford, pp 353–370
Acknowledgements
Our warmest thanks to the following experts who assisted in the identification of different taxa: Igor Smirnov (Ophiuroidea), Boris Sirenko (Polyplacophora), Christoph Held (Isopoda) and Evelyn Morrison (Pisces). Funding was provided partially by the Universidad de Magallanes (Grant PR-F3-01B-98). Jorge Ramirez, Pamela Soto and Christian Muñoz kindly assisted with the field and laboratory work.
About this article
Cite this article
Ríos, C., Arntz, W.E., Gerdes, D. et al. Spatial and temporal variability of the benthic assemblages associated to the holdfasts of the kelp Macrocystis pyrifera in the Straits of Magellan, Chile. Polar Biol 31, 89–100 (2007). https://doi.org/10.1007/s00300-007-0337-4
Received:

Revised:

Accepted:

Published:

Issue Date:

DOI: https://doi.org/10.1007/s00300-007-0337-4
Keywords
Macrofauna

Kelp holdfasts

Straits of Magellan

Chile

Biodiversity