Abstract
Svalbard bryozoan communities were investigated along a depth range from the surface to 296 m between the inner glacial fronts and fjord mouths during 2001 and 2002. The main study area was Kongsfjorden (79°N, 12°E). A total of 137 taxa of bryozoans were identified: 108 to species, 24 to genus, 3 to family, 1 to order and 1 to phylum level. Cluster and multidimensional scaling analyses revealed four distinct assemblages of bryozoans: shallow (0–40 m; 68 taxa), deep (40–296 m; 80 taxa), inner fjordic (three taxa) and an assemblage found on small stones in shallow waters (nine taxa). The inner fjordic assemblage was recorded from the front of tidal glaciers extending about 10 km out into the fjord. In terms of abundance, Celleporella hyalina Linnaeus dominated in shallow areas (18%), Hippothoa arctica Kluge (55%) in deep water, Alcyonidium disciforme Smitt (86%) proximate to glaciers fronts and Electra arctica Borg on small stones (98%). The species were classified according to their depth range as a stenobathic-shallow (46 taxa), stenobathic-deep (57 taxa) and eurybathic-generalist (21 taxa). Mean diversity measures did not show any significant differences between the shallow and deep communities. The bryozoan assemblages seem to be structured primarily by processes related to depth and sediment characteristics.
Access options
Buy single article
Instant access to the full article PDF.
USD 39.95
Price excludes VAT (USA)
Tax calculation will be finalised during checkout.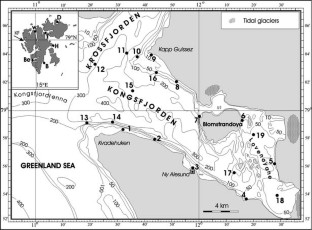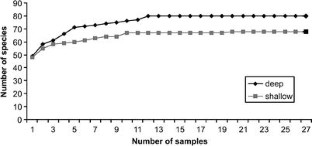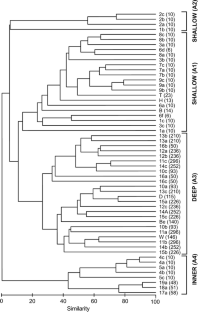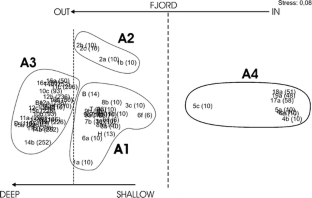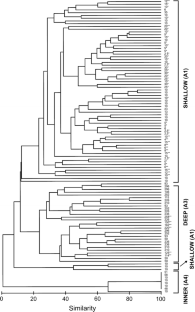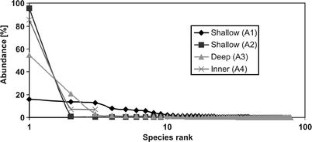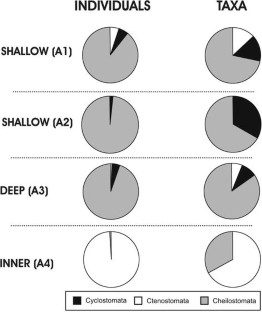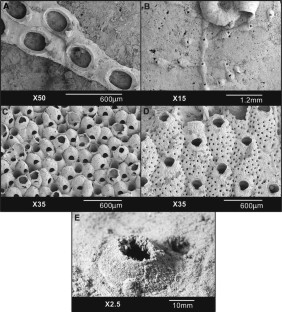 References
Bak RPM, Engel MS (1979) Distribution, abundance and survival of juvenile hermatypic corals (Scleractinia) and the importance of life history strategies in the parent coral community. Mar Biol 54:341–352

Barnes DKA, Clarke A (1998) The ecology of an assemblage dominant: the encrusting bryozoan Fenestrulina rugula. Invert Biol 117:331–340

Barnes DKA, Rothery P, Clarke A (1996) Colonisation and development in encrusting community from the Antarctic intertidal and subtidal. J Exp Mar Biol Ecol 196:251–265

Beszczyńska-Moller A, Węsławski JM, Walczowski W, Zajączkowski M (1997) Estimation of glacial meltwater discharge into Svalbard coastal waters. Oceanologia 39:289–298

Bishop JDD (1989) Colony form and the exploitation of spatial refuges by encrusting bryozoa. Biol Rev 64:197–218

Bray JR, Curtis JT (1957) An ordination of the upland forest communities of southern Wisconsin. Ecol Monogr 27:325–349

Carey AG (1991) Ecology of North American Arctic continental shelf benthos: a review. Cont Shelf Res 11:865–883

Clarke KR, Gorley RN (2001) PRIMER v5: user manual/tutorial, Plymouth: PRIMER–E, p 91

Clarke KR, Green RH (1988) Statistical design and analysis for a 'biological effects' study. Mar Ecol Prog Ser 46:213–226

Clarke A, Lidgard S (2000) Spatial patterns of diversity in the sea: bryozoan species richness in the North Atlantic. J Anim Ecol 69:799–814

Cook P (1981) The potential of minute bryozoan colonies in the analysis of deep–sea sediments. Cah Biol Mar 22:89–106

Curtis MA (1977) Life cycles and population characteristics of marine benthic polychaets from Godhaven, West Greenland. Ophelia 16:9–58

Driscoll EG (1967) Attached epifaunal–substrate relations. Limnol Oceanogr 12:633–641

Elverhøi A, Lonne O, Seland R (1983) Glaciomarine sedimentation in a modern fjord environment, Spitsbergen. Polar Res 1:127–149

Farrow GE, Sivitsky JPM, Tunnicliffe V (1983) Suspended particulate loading on the macrobenthos in a highly turbid fjord: Knight Inlet British Columbia. Can J Fish Aquat Sci 40:273–288

Gammelsrod T, Rudels B (1983) Hydrographic and current measurements in the Fram Strait, August 1981. Polar Res 1:115–126

Gautier YV (1962) Recherches ecologiques sur les Bryozoaires chilostomes en Mediterranee occidentale. Rec Trav Sta Mar Endoume 38:1–434

Gontar VI, Hop H, Voronkov AY (2001) Diversity and distribution of Bryozoa in Kongsfjorden, Svalbard. Pol Polar Res 22:187–204

Gordon DP (1987) The deep sea bryozoa of the New Zealand region. In: Ross JRP (ed) Bryozoa: Present and Past. Western Washington University, Bellingham, pp 97–104

Görlich K, Węsławski JM, Zajączkowski M (1987) Suspension settling effect on macrobenthic biomass distribution in the Hornsund fjord, Spitsbergen. Polar Res 5:175–192

Grebmeier JM, Feder HM, McRoy CP (1989) Pelagic-benthic coupling on the shelf of the northern Bering and Chukchi Sea. II. Benthic community structure. Mar Ecol Prog Ser 51:253–268

Gulliksen B, Holte B, Jakola KJ (1985) The soft bottom fauna in Van Mijenfjord and Raudfjord, Svalbard. In: Gray J, Christiansen ME (eds) Marine biology of polar regions and effects of stress on marine organisms. Wiley and Sons, Oslo, pp 199–215

Gulliksen B, Palerud R, Brattegaard T, Sneli J (1999) Distribution of marine benthic macroorganisms at Svalbard (including Bear Island) and Jan Mayen. Research report for DN 1999 4. Directorate for Nature Management, Trondheim, p 148

Harmelin JG (1979) On some Stomatoporiform species (Bryozoa Cyclostomata) from the bathyal zone of the Northeastern Atlantic Ocean. In: Larwood GP, Abott MB (eds) Advances in bryozoology, systematics association special volume no 13. Academic, London, pp 403–422

Hop H, Pearson T, Hegseth EN, Kovacs KM, Wiencke C, Kwaśniewski S, Eiane K, Mehlum F, Gulliksen B, Wlodarska-Kowalczuk M, Lydersen C, Węsławski JM, Cochrane S, Gabrielsen GW, Leakey R, Lønne OJ, Zajaczkowski M, Falk-Petersen S, Kendall M, Wängberg SA, Bischof K, Voronkov AY, Kovaltchouk NA, Wiktor J, Poltermann M, Prisco A, Papucci C, Gerland S (2002) The marine ecosystem of Kongsfjorden, Svalbard. Polar Res 21:167–208

Hughes DJ (2001) Quantitative analyses of a deep-water bryozoan collection from the Hebridean continental slope. J Mar Biol Assoc UK 81:987–993

Ito H, Kudoh S (1997) Characteristics of water in Kongsfjorden, Svalbard. In: Proceedings of NIPR symposium, polar meteorology and glaciology 11:211–232

Jackson JBC (1984) Ecology of cryptic coral reef communities. III. Abundance and aggregation of encrusting organisms with particular reference to cheilostome Bryozoa. J Exp Mar Biol Ecol 75:37–57

Kluge GA (1975) Bryozoa of the northern seas of the USSR. Amerind Publishing Pvt. Co, New Delhi

Kuklinski P (2002a) Fauna of Bryozoa from Kongsfjorden, West Spitsbergen. Pol Polar Res 23:193–206

Kuklinski P (2002b) Bryozoa of the high arctic fjord–a preliminary study. In: Wyse Jackson P, Buttler C, Spencer-Jones M (eds) Bryozoan studies 2001. Balkema, Abingdon, pp 175–182

Kuklinski P, Barnes DKA (2005) Microhabitat diversity of Svalbard Bryozoa. J Nat Hist 39:539–554

Lidgard S (1990) Growth in encrusting cheilostome bryozoans: II. Circum—atlantic distribution patterns. Paleobiology 16:304–321

Lippert H, Iken K, Rachor E, Wiencke C (2001) Macrofauna associated with macroalgae in the Kongsfjord (Spitsbergen). Polar Biol 24:512–522

Loeng H (1991) Features of the physical oceanographic conditions of the Barents Sea. In: Sakshaug E, Hopkins CCE, Oritsland NA (eds) Proceedings of the Pro Mare symposium on polar marine ecology, vol 10, Trondheim, Polar Res, pp 5–18, 12–16 May 1990

Marfenin NN (1997) Adaptation capabilities of marine modular organisms. Hydrobiologia 355:153–158

Rider J, Cowen R (1977) Adaptive architectural trends in encrusting ectoprocts. Lethaia 10:29–41

Ryland JS (1963) Systematic and biological studies on Polyzoa (Bryozoa) from Western Norway. Sarsia 14:1–61

Ryland JS (1970) Bryozoans. Hutchinson, London

Ryland JS (1974) Behaviour, settlement and metamorphosis of bryozoan larvae: a review. Thalassia Jugoslavica 10:239–262

Svendsen H, Beszczynska-Møller A, Hagen JO, Lefauconnier B, Tverberg V, Gerland S, Ørbæk JB, Bischof K, Papucci C, Zajaczkowski M, Azzolini R, Bruland O, Wiencke C, Winther JG, Dallmann W (2002) The physical environment of Kongsfjorden-Krossfjorden, an Arctic fjord system in Svalbard. Polar Res 21:133–166

Syvitski JPM, Farrow GE, Atkinson RJA, Moore PG, Andrew JT (1989) Baffin Island fjord macrobenthos: bottom communities and environmental significance. Arctic 42:232–247

Węsławski JM, Zajączkowski M, Kwaśniewski S, Jezierski J, Moskal W (1988) Seasonality in an Arctic fjord ecosystem: Hornsund, Spitsbergen. Polar Res 6:185–189

Węsławski JM, Jankowski A, Kwaśniewski S, Swerpel S, Ryg M (1991) Summer hydrology and zooplankton in two Svalbard fiords. Pol Polar Res 12:445–460

Wildish D, Kristmanson D (1997) Benthic suspension feeders and flow. Univesristy Press, Cambridge, p 409

Winston JE (1977) Distribution and ecology of estuarine ectoprocts: a critical review. Chesapeake Science 18:34–57

Winston JE, Jackson JBC (1984) Ecology of cryptic coral reef communities. IV. Community development and life histories of encrusting cheilostome Bryozoa. J Exp Mar Biol Ecol 76:1–21

Wlodarska - Kowalczuk M, Pearson T (2004) Soft-bottom macrobenthic faunal associations and factors affecting species distributions in an arctic glacial fjord (Kongsfjord, Spitsbergen). Polar Biol 27:155–167

Young CM, Chia F-S (1984) An experimental test of shadow response function in ascidian tadpoles. J Exp Mar Biol Ecol 85:165–175

Zaborska A (2001) Lithology of the fiordic bottom sediments, Kongsfjorden (Spitsbergen). MSc Thesis. (in Polish). University of Gdańsk

Zajaczkowski M (2000) Inflow and rate of sedimentation of chosen fiords of Western Spitsbergen (in Polish). Doctoral Thesis. Gdańsk University
Acknowledgements
Our special thanks are to Dr. Maria Włodarska-Kowalczuk, Dr. David Barnes and Dr. Paul Taylor for comments leading to an improved manuscript. Thanks are also due to Dr. Adam Sokołowski (Gdańsk University, Poland), Bartosz Witalis (Sea Fishery Institute, Poland) for help with samples collection and great company. Work in Ny-Alesund Large Scale Facility (LSF) was supported by a grant from the European Commission's programme (no. NP-51/2001). The study has been completed thanks to the funds provided by grant 3 PO4F 081 24 from Polish State Committee for Scientific Research, HIGHLAT grant to first author from the European Commission's programme and funds from Otto Kinne Foundation.
About this article
Cite this article
Kuklinski, P., Gulliksen, B., Lønne, O.J. et al. Composition of bryozoan assemblages related to depth in Svalbard fjords and sounds. Polar Biol 28, 619–630 (2005). https://doi.org/10.1007/s00300-005-0726-5
Received:

Revised:

Accepted:

Published:

Issue Date:

DOI: https://doi.org/10.1007/s00300-005-0726-5
Keywords
Deep Sample

Digestible Organic Matter

Svalbard Archipelago

Bryozoan Species

Shallow Sample