Abstract
Metabolic rates of four resting, post-absorptive male adult summer- and winter-adapted captive arctic foxes (Alopex lagopus) were recorded. Basal metabolic rates (BMR) varied seasonally with a 36% increase from winter to summer, while body mass was reduced by 17% in the same period. The lower critical temperature (T 1c) of the winter-adapted arctic fox was estimated to −7°C, whereas T lc during summer was 5°C. The similarity of these values, which are much higher than hitherto assumed (e.g. Scholander et al. 1950b), is mainly due to a significantly (P<0.05) lower BMR in winter than in summer. Body core (stomach) temperature was stable, even at ambient temperatures as low as −45°C, but showed a significant (P<0.05) seasonal variation, being lower in winter (39.3±0.33°C) than in summer (39.8±0.16°C). The thermal conductivity of arctic fox fur was the same during both seasons, whereas the thermal conductance in winter was lower than in summer. This was reflected in an increase in fur thickness of 140% from summer to winter, and in a reduced metabolic response to ambient temperatures below T lc in winter. Another four arctic foxes were exposed to three periods of forced starvation, each lasting 8 days during winter, when body mass is in decline. No significant reduction in mass specific BMR was observed during the exposure to starvation, and respiratory quotient was unchanged at 0.73±0.02 during the first 5 days, but dropped significantly (P<0.05) to 0.69±0.03 at day 7. Locomotor activity and body core (intraperitoneal) temperature was unaltered throughout the starvation period, but body mass was reduced by 18.5±2.1% during these periods. Upon re-feeding, locomotor activity was significantly (P<0.05) reduced for about 6 days. Energy intake was almost doubled, but stabilised at normal levels after 11 days. Body mass increased, but not to the level before the starvation episodes. Instead, body mass increased until it reached the reduced body mass of ad libitum fed control animals. This indicates that body mass in the arctic fox is regulated according to a seasonally changing set point.
Access options
Buy single article
Instant access to the full article PDF.
US$ 39.95
Tax calculation will be finalised during checkout.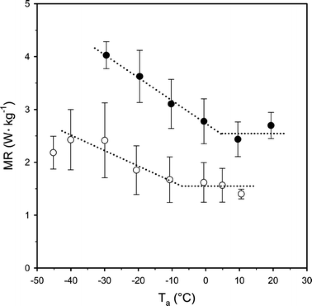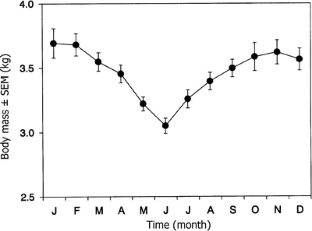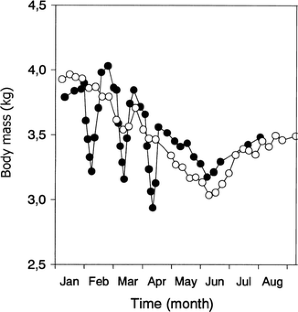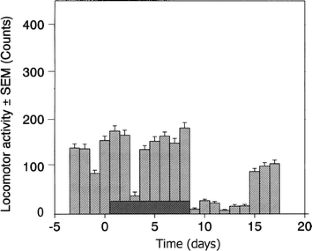 References
Blaxter KL (1989) Energy metabolism in animal and man. Cambridge University Press, New York

Braestrup FW (1941) A study of the arctic fox in Greenland. Meddelelser om Grønland 131:1–101

Casey TM, Withers PC, Casey KK (1979) Metabolic and respiratory responses of arctic mammals to ambient temperature during the summer. Comp Biochem Physiol 64A:331–341

Dalén L, Fuglei E, Hersteinsson P, Kapel CMO, Roth JD, Samelius G, Tannerfeldt M, Angerbjörn A (2005) Population history and genetic structure of a circumpolar species: the arctic fox. Biol J Linnean Soc 84:79–89

Follmann EH (1978) Behavioral thermoregulation of arctic foxes in winter. In: Klewe HJ, Himmick HP (eds) Biotelemetry IV. Academic Press, New York, pp 171–174

Fourier J (1822) Théorie analytique de la chaleur. Didot, Paris (cited by Kleiber 1972)

Fuglei E (2000) Physiological adaptations of the arctic fox to high arctic conditions. Dr. Scient. Thesis, University of Oslo, Norway

Fuglei E, Øritsland NA (1999) Seasonal trends in body mass, food intake and resting metabolic rate, and induction of metabolic depression in arctic foxes (Alopex lagopus) at Svalbard. J Comp Physiol B 169:361–369

Fuglei E, Øritsland NA (2003) Energy cost of running in an arctic fox (Alopex lagopus). Can Field Nat 117:430–435

Fuglei E, Aanestad M, Berg JP (2000) Hormones and metabolites of arctic foxes (Alopex lagopus) in response to seasonal variations, starvation and re-feeding. Comp Biochem Physiol A 126:287–294

Fuglei E, Mercer JB, Arnemo JM (2002) Surgical implantation of radio transmitters in arctic foxes (Alopex lagopus) on Svalbard, Norway. J Zoo Wildl Med 33:342–349

Haga ØE (1993) En årstidsstudie i energetikk hos polarrev (Alopex lagopus) fra Svalbard. Cand. Scient. Thesis, University of Tromsø, Norway

Henshaw RE, Underwood LS, Casey TM (1972) Peripheral thermoregulation: foot temperature in two arctic canines. Science 175:988–990

Hohtola E (1982) Thermal and electromyographic correlates of shivering thermogenesis in the pigeon. Comp Biochem Physiol A73:159–166

Irving L (1972) Arctic life of birds and mammals. Springer-Verlag, Berlin, pp 166–167

Irving L, Krog J (1954) Body temperature of arctic and subarctic birds and mammals. J Appl Physiol 6:667–680

Irving L, Krog J (1955) Temperature of skin in the Arctic as a regulator of heat. J Appl Physiol 7:355–364

IUPS Commission for Thermal Physiology (2001) Glossary of terms for thermal physiology. Jpn J Physiol 51:245–280

Kleiber M (1961) The fire of life: an introduction to animal energetics. Wiley, New York

Kleiber M (1972) A new Newton's law of cooling? Science 178:1283–1285

Korhonen H, Harri M, Hohtola E (1985) Response to cold in the blue fox and racoon dog as evaluated by metabolism, heart rate and muscular shivering: a re-evaluation. Comp Biochem Physiol 82A:959–964

Kvadsheim PH, Folkow LP, Blix AS (1994) A new device for measurement of the thermal conductivity of fur and blubber. J Therm Biol 19:431–435

Macpherson AH (1969) The dynamics of Canadian arctic fox populations. Can Wild Serv Rep Ser 8:1–52

Mortensen A, Blix AS (1985) Seasonal changes in the effect of starvation on metabolic rate and regulation of body weight in Svalbard ptarmigan. Ornis Scand 16:20–24

Mrosovsky N, Powley TL (1977) Set points for body weight and fat. Behav Biol 20:205–223

Mrosovsky N, Sherry DF (1980) Animal anorexias. Science 207:837–842

Prestrud P (1982) Årstidsvariasjoner i basalmetabolisme og fettlagring hos fjellreven (Alopex lagopus) på Svalbard. Cand. Scient. Thesis, University of Oslo, Norway

Prestrud P, Nilssen K (1992) Fat deposition and seasonal variation in body composition of arctic foxes in Svalbard. J Wildl Manage 56:221–233

Ringberg T, Nilssen K, Strøm E (1980) Do Svalbard reindeer use their subcutaneous fat as insulation? Proceedings of the 2nd international Reindeer/Caribou Symposium, Røros, Norway, pp 392–395

Robin J-P, Boucontet L, Chilet P, Groscolas R (1998) Behavioural changes in fasting emperor penguins: evidence for a "refeeding signal" linked to a metabolic shift. Am J Physiol 274:R746–R753

Scholander PF, Walters V, Hock R, Irving L (1950a) Body insulation of some arctic and tropical mammals and birds. Biol Bull 99:225–236

Scholander PF, Hock R, Walters V, Johnson F, Irving L (1950b) Heat regulation in some arctic and tropical mammals and birds. Biol Bull 99:237–258

Scholander PF, Hock R, Walters V, Irving L (1950c) Adaptation to cold in arctic and tropical mammals and birds in relation to body temperature, insulation, and basal metabolic rate. Biol Bull 99:259–271

Schultz TD, Ferguson JH (1974) The fatty acid composition of subcutaneous, omental and inguinal adipose tissue in the arctic fox (Alopex lagopus innuitus). Comp Biochem Physiol 49B:65–69

Segal AN, Popovic TV, Vajn-Rib MA (1976) Some ecophysiological characteristics of the arctic fox (Alopex lagopus) (Translated into English by the Norwegian Polar Institute, Oslo, Norway). Zool Zurn 5:741–754

Sklepkovych BD, Montevecchi WA (1996) Food availability and food hoarding behaviour by red and arctic foxes. Arctic 49:228–234

Tauson A-H, Chwalibog A, Ahlstrøm Ø (2002) Substrate oxidation in male blue foxes (Alopex lagopus) during feeding, fasting and realimentation. J Nutr 132:1793S–1795S

Tøien Ø (1992) Data acquisition in thermal physiology: measurements of shivering. J Therm Biol 17:357–366

Underwood LS (1971) The bioenergetics of the arctic fox (Alopex lagopus L.). PhD Thesis, Pennsylvania State University, PA, USA

Underwood LS, Reynolds P (1980) Photoperiod and fur lengths in the arctic fox (Alopex lagopus). Int J Biometeor 24:39–48
Acknowledgements
We thank Professor James B. Mercer for help during the initial phase of the study, Hans P. Bergland for assistance in capturing foxes in Svalbard, Hans E. Lian for help in maintaining the animals at Tromsø, and professor Lars Walløe, University of Oslo, for assistance in connection with statistical analyses. This study was financed in part by contributions from the Roald Amundsen Center for Arctic Research, University of Tromsø.
About this article
Cite this article
Fuglesteg, B.N., Haga, Ø.E., Folkow, L.P. et al. Seasonal variations in basal metabolic rate, lower critical temperature and responses to temporary starvation in the arctic fox (Alopex lagopus) from Svalbard. Polar Biol 29, 308–319 (2006). https://doi.org/10.1007/s00300-005-0054-9
Received:

Revised:

Accepted:

Published:

Issue Date:
Keywords
Metabolic Rate

Locomotor Activity

Basal Metabolic Rate

Body Core

Rest Metabolic Rate