Abstract
The soil fauna communities were described for three dominant vegetation types in a high arctic site at Zackenberg, Northeast Greenland. Soil samples were extracted to quantify the densities of mites, collembolans, enchytraeids, diptera larvae, nematodes and protozoa. Rates of microbial respiration were also assessed. Collembolans were found in highest densities in dry heath soil, about 130,000 individuals m−2, more than twice as high as in mesic heath soils. Enchytraeids, diptera larvae and nematodes were also more abundant in the dry heath soil than in mesic heath soils, whereas protozoan densities (naked amoeba and heterotrophic flagellates) were equal. Respiration rate of unamended soil was similar in soil from the three plots. However, a higher respiration rate increase in carbon + nutrient amended soil and the higher densities of soil fauna (with the exception of mites and protozoa) in dry heath compared to the mesic heath soils indicated a higher decomposition rate here.
Access options
Buy single article
Instant access to the full article PDF.
USD 39.95
Price includes VAT (USA)
Tax calculation will be finalised during checkout.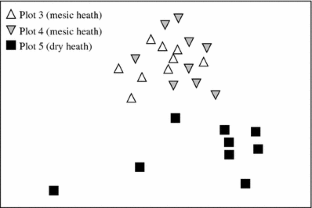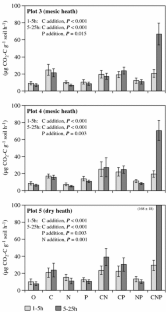 References
Addison J (1977) Population dynamics and biology of Collembola on Truelove Lowland. In: Bliss L (ed) Truelove Lowland, Devon Island, Canada. University of Alberta Press, Edmonton, pp363–382

Addison JA, Parkinson D (1978) Influence of collembolan feeding activities on soil metabolism at a high arctic site. Oikos 30:529–538

Anderson J (1988) Invertebrate-mediated transport processes in soils. Agric Ecosyst Environ 24:5–19

Bay C (1998) Vegetation mapping of Zackenberg valley, Northeast Greenland. Danish Polar Center and University of Copenhagen, p 29

Bilde T, Axelsen J, Toft S (2000) The value of Collembola from agricultural soils as food for a generalist predator. J Appl Ecol 37:672–683

Birkemoe T, Dózsa-Farkas K (1994) New records of Enchytraeidae (Oligochaeta) from Spitzbergen, Svalbard. Fauna norv Ser A 15:35–44

Birkemoe T, Coulson SJ, Sømme L (2000) Life cycles and population dynamics of enchytraeids (Oligochaeta) from the High Arctic. Can J Zool 78:2079–2086

Bliss LC (1975) Devon Island, Canada. In: Rosswall T, Heal OW (eds) Structure and function of Tundra ecosystems. Swedish Natural Research Council, Stockholm. Ecol Bull 20:17–60

Bunnell FL, MacLean SF, Brown J (1975) Barrow, Alaska, USA. In: Rosswall T, Heal OW (eds) Structure and function of Tundra ecosystems. Swedish Natural Research Council, Stockholm. Ecol Bull 20:73–124

Clarke KR, Warwick RM (2001) Changes in marine communities: an approach to statistical analysis and interpretation, second edn. PRIMER-E Ldt, Plymouth Marine Laboratory, UK

Darbyshire J, Wheatley R, Greaves M, Inkson R (1974) Rapid micromethod for estimating bacterial and protozoan populations in soil. Rev Écol Biol Sol 11:465–475

De Ruiter P, Moore J, Zwart K, Bouwman L, Hassink J, Bloem J, Vos JD, Marinissen J, Didden W, Lebbink G (1993) Simulation of nitrogen mineralization in the below-ground food webs of two winter wheat fields. J appl Ecol 30:95–106

Didden WAM (1993) Ecology of terrestrial enchytraeidae—review. Pedobiologia 37:2–29

Doncaster C (1962) A counting method for nematodes. Nematologica 7:334–337

Ekelund F, Rønn R (1994) Notes on protozoa in agricultural soil, with emphasis on heterotrophic flagellates and naked amoebae and their ecology. FEMS Microbiol Rev 15:321–353

Fjellberg A (1980) Identification keys to Norwegian Collembola. - Norsk Entomologisk Forening, Ås, p 152

Fjellberg A (1994) Habitat selection and biography of springtails (Collembola) from Alexandra Fiord, Ellesmere Island. In: Svoboda J, Freedman B (eds) Ecology of a polar oasis. Captus University Publications, pp227–229

Fjellberg A (1998) The Collembola of Fennoscandia and Denmark Part I: Poduromorpha. Fauna Ent Scand 35:1–184

Hammer M (1944) Studies on the oribatids and collemboles of Greenland. Medd om Groenl 141:1–210

Illeris L, Michelsen A, Jonasson S (2003) Soil plus root respiration and microbial biomass following water, nitrogen, and phosphorus application at a high arctic semi desert. Biogeochemistry 65:15–29

Ineson P, Leonard M, Anderson J (1982) Effect of collembolan grazing upon nitrogen and cation leaching from decomposing leaf litter. Soil Biol Biochem 14:601–605

Krogh PH, Pedersen M (1997) Ecological effects assessment of industrial sludge for microarthropods and decomposition in a spruce plantation. Ecotoxicol Environ Saf 36:162–168

Leinaas HP, Ambrose WG (1999) Decision between small and large prey: reduced energy acquisition by pre-migratory purple sandpipers, Calidris maritima, on Svalbard. Polar Biol 22:264–270

Macfadyen A (1961) Improved funnel-type extractors for soil arthropods. J Anim Ecol 30:171–184

Marcussen B, Axelsen J, Toft S (1999) The value of two Collembola species as food for a linyphiid spider. Entomol Exp Appl 92:29–36

Matveyeva NV, Parinkina OM, Chernov YI (1975) Maria Pronchitsheva Bay, USSR. In: Rosswall T, Heal OW (eds) Structure and function of Tundra ecosystems. Swedish Natural Research Council, Stockholm. Ecol Bull 20:61–72

Meltofte H, Berg TB (2001) Zackenberg Ecological Research Operations. Biobasis. Conceptual design and sampling procedures of the biological programme of Zackenberg Basic. fifth edn. National Environmental Research Institute, Roskilde, p 63

Nurminen M (1970) Records of enchytraeidae (Oligochaeta) from the west coast of Greenland. Ann Zool Fennici 7:199–209

O'Connor F (1955) Extraction of enchytraeid worms from a coniferous forest soil. Nature 175:815–816

Page F (1976) Some comparative notes on occurrence of gymnamoebia (Protozoa-Sarcodina) in British and American habitats. Trans Amer Microscopical Soc 95:385–394

Persson T (1983) Influence of soil animals on nitrogen mineralisation in a northern Scots pine forest. In: Lebrun P, André H, De Medts A, Grégoire-Wibo C, Wauthy G (eds.) New trends in soil biology. Dieu Brichart Louvain-la-Neuve, Belgium, pp117–126

Petersen H, Luxton M (1982) A comparative analysis of soil fauna populations and their role in decomposition. Oikos 39:287–388

Rasch M, Caning K (2003) Zackenberg Ecological Research Operations. Eighth Annual Report, 2002. Danish Polar Center, Ministry of Science, Technology and Innovation, Copenhagen, p 80

Rønn R, Ekelund F, Christensen S (1995) Optimizing soil extract and broth media for MPN-enumeration of naked amebas and heterotrophic flagellates in soil. Pedobiologia 39:10–19

Ruess L, Michelsen A, Schmidt IK, Jonasson S (1999) Simulated climate change affecting microorganisms, nematode density and biodiversity in subarctic soils. Plant Soil 212:63–73

Schouten AJ, Arp KKM (1991) A comparative-study on the efficiency of extraction methods for nematodes from different forest litters. Pedobiologia 35:393–400

Seastedt T (1984) The role of microarthropods in decomposition and mineralization processes. Ann Rev Entomol 29:25–46

Verhoef HA, Brussard L (1990) Decomposition and nitrogen mineralization in natural and agro-ecosystems: the contribution of soil animals. Geoderma 11:175–211

Wallwork JA (1976) The distribution and diversity of soil fauna. Academic Press, London, p 355
Acknowledgements
The Danish Polar Center is acknowledged for providing logistics at the research station at Zackenberg. We thank Zdenek Gavor for technical assistance in sampling and extraction of microarthropods. Arne Fjellberg and Lars Lundquist are thanked for taxonomic assistance. Annette Spangenberg performed the enumerations of protozoa and nematodes and conducted the respiration assays. Finally, we thank Hans Meltofte and three anonymous reviewers for constructive criticism of an earlier version of the manuscript.
About this article
Cite this article
Sørensen, L.I., Holmstrup, M., Maraldo, K. et al. Soil fauna communities and microbial respiration in high Arctic tundra soils at Zackenberg, Northeast Greenland. Polar Biol 29, 189–195 (2006). https://doi.org/10.1007/s00300-005-0038-9
Received:

Revised:

Accepted:

Published:

Issue Date:
Keywords
Soil Fauna

Soil Animal

Soil Invertebrate

Heterotrophic Flagellate

Microarthropod Community