Abstract
Key message
Fertile independent transgenic cowpea lines expressing the BtCry2Aa toxin with increased resistance to the most devastating lepidopteran insect pest, Maruca pod borer has been developed for the first time.
Abstract
Cowpea is a staple legume important for food and nutritional security in sub-Saharan Africa and Asia, where its production is limited by the key pest, legume pod borer (Maruca vitrata). Cowpea varieties resistant to M. vitrata are not known, hence, development of Maruca pod borer resistance cowpea through genetic engineering is a promising approach to improve its production. In the present study, transgenic cowpea plants expressing Bacillus thuringiensis Cry2Aa insecticidal protein were developed for the first time using Agrobacterium tumefaciens-mediated transformation of cotyledonary explants. T0 plants recovered from Agrobacterium cocultured explants on medium containing 120 mgl−1 of kanamycin were identified on the basis of the presence of transgenes by PCR, their integration into genome by Southern hybridization and expression of their transcripts by semi quantitative PCR (sqRT-PCR) and quantitative Real–time-PCR (qRT-PCR) and protein by Western blot analysis. The transformation efficiency obtained was 3.47% with 11 independent T0 transgenic lines. The bioefficacy of Cry2Aa protein expressed in randomly selected four T0 plant's leaves and pods was evaluated by feeding Maruca pod borer demonstrated a significant lower damage and a high level of Maruca mortality (more than 90%) for all these Bt lines. The inheritance of transgenes from T0 to T1 progeny plants was demonstrated by PCR analysis. The transgenic plants generated in this study can be used in cowpea breeding program for durable and sustainable legume pod borer resistance.
We're sorry, something doesn't seem to be working properly.
Please try refreshing the page. If that doesn't work, please contact support so we can address the problem.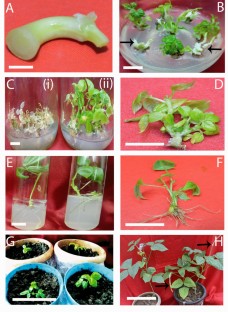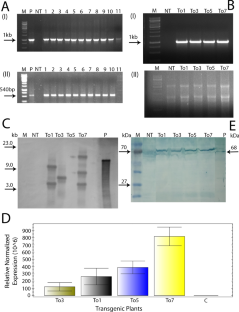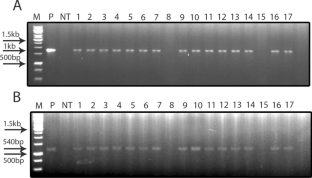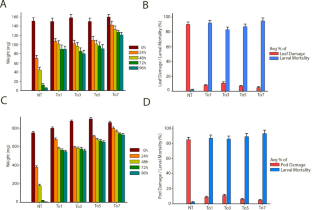 References
Addae PC, Ishiyaku MF, Tignegre JB, Ba MN, Bationo JB, Atokple IDK, Abudulai M, Dabiré-Binso CL, Traore F, Saba M, Umar ML, Adazebra GA, Onyekachi FN, Nemeth MA, Huesing JE, Beach LR, Higgins TJV, Hellmich RL, Pittendrigh BR (2020) Efficacy of a cry1Ab gene for control of Maruca vitrata (Lepidoptera: Crambidae) in cowpea (Fabales: Fabaceae). J Econ Entomol 113:974–979. https://doi.org/10.1093/jee/toz367

Ba MN, Huesing JE, Tamò M, Higgins TJ, Pittendrigh BR, Murdock LL (2018) An assessment of the risk of Bt-cowpea to non-target organisms in West Africa. J Pest Sci 91:1165–1179

Ba MN, Huesing JE, Dabire-Binso CL, Tamò M, Pittendrigh BR, Murdock LL (2019) The legume pod borer, Maruca vitrata Fabricius (Lepidoptera: Crambidae), an important insect pest of cowpea: a review emphasizing West Africa. Int J Trop Insect Sci 39:93–106

Bakshi S, Sadhukhan A, Mishra S, Sahoo L (2011) Improved Agrobacterium-mediated transformation of cowpea via sonication and vacuum infiltration. Plant Cell Rep 30:2281–2292

Bakshi S, Saha B, Roy NK, Mishra S, Panda SK, Sahoo L (2012) Successful recovery of transgenic cowpea (Vigna unguiculata) using the 6-phosphomannose isomerase gene as the selectable marker. Plant Cell Rep 31:1093–1103

Benedict JH, Sachs ES, Altman DW, Deaton WR, Kohel RJ, Ring DR, Berberich SA (1996) Field performance of cottons expressing transgenic CryIA insecticidal proteins for resistance to Heliothis virescens and Helicoverpa zea (Lepidoptera: Noctuidae). J Econ Entomol 89:230–238

Bett B, Gollasch S, Moore A, James W, Armstrong J, Walsh T, Higgins TJ (2017) Transgenic cowpeas (Vigna unguiculata L. Walp) expressing Bacillus thuringiensis Vip3Ba protein are protected against the Maruca pod borer (Maruca vitrata). Plant Cell Tissue Organ Cult 131:335–345

Bett B, Gollasch S, Moore A, Harding R, Higgins TJV (2019) An improved transformation system for cowpea (Vigna unguiculata L. Walp) via sonication and a kanamycin geneticin selection regime. Front Plant Sci 10:219. https://doi.org/10.3389/FPLS.2019.00219

Bubner B, Baldwin IT (2004) Use of real-time PCR for determining copy number and zygosity in transgenic plants. Plant Cell Rep 23:263–271

Chaudhury D, Madanpotra S, Jaiwal R, Saini R, Kumar PA, Jaiwal PK (2007) Agrobacterium tumefaciens-mediated high frequency genetic transformation of an Indian cowpea (Vigna unguiculata L. Walp.) cultivar and transmission of transgenes into progeny. Plant Sci 172:692–700

Fatokun CA (2002) Breeding cowpea for resistance to insect pests: attempted crosses between cowpea and Vigna vexillata. In: Fatokun CA, Tarawali SA, Singh BB, Kormawa PM, Tamò M (eds) Challenges and opportunities for enhancing sustainable cowpea production. International Institute of Tropical Agriculture, Ibadan, pp 52–61

Ghosh G, Ganguly S, Purohit A, Chaudhuri RK, Das S, Chakraborti D (2017) Transgenic pigeonpea events expressing Cry1Ac and Cry2Aa exhibit resistance to Helicoverpa armigera. Plant Cell Rep 36:1037–1051

Gonçalves A, Goufo P, Barros A, Domínguez-Perles R, Trindade H, Rosa EA, Rodrigues M (2016) Cowpea (Vigna unguiculata L. Walp), a renewed multipurpose crop for a more sustainable agri-food system: nutritional advantages and constraints. J Sci Food Agric 96:2941–2951

Higgins TJV, Gollasch S, Molvig L, Moore A, Popelka C, Watkins P, Armstrong J, Mahon R, Ehlers J, Huesing J, Margam V, Shade R, Murdock L (2012) Genetic transformation of cowpea for protection against bruchids and caterpillars. In: Boukar O, Coulibaly O, Fatokun CA, Lopez K, Tamo M (eds) Innovative research along the cowpea value chain. International Institute of Tropical Agriculture, Ibadan, pp 131–137

Ishiyaku MF, Higgins TJ, Umar ML, Misari SM, Mignouna HJ, Nang'Ayo F, Huesing JE (2010) Field evaluation of some transgenic Maruca resistant Bt cowpea for agronomic traits under confinement in Zaria, Nigeria. In: Book of Abstracts of 5th World Cowpea Conference, Dakar, Senegal, pp 36-37

Jackai LEN, Padulosi S, Ng Q (1996) Resistance to the legume pod borer, Maruca vitrata F and the probable modalities involved in wild Vigna. Crop Prot 15:753–761

Kumar NR, Rathinam M, Singh S, Kesiraju K, Muniyandi V, Singh N, Dash P, Sreevathsa R (2020) Assessment of pigeonpea (Cajanus cajan L.) transgenics expressing Bt ICPs, Cry2Aa and Cry1AcF under net house containment implicated an effective control against herbivory by Helicoverpa armigera (Hübner). Pest Manag Sci. https://doi.org/10.1002/ps.5722

Mohammed BS, Ishiyaku MF, Abdullahi US, Katung MD (2014) Response of transgenic Bt cowpea lines and their hybrids under field conditions. J Plant Breed Crop Sci 6:91–96

Morse RJ, Yamamoto T, Stroud RM (2001) Structure of Cry2Aa suggests an unexpected receptor binding epitope. Structure 9:409–417

Murdock LM, Coulibaly O, Higgins TJV, Huesing JE, Ishiyaku MF, Sithole-Niang I (2008) Cowpea. Legume grains and forages, a compendium of transgenic crop plants. Blackwell Publishing, Oxford, pp 23–56

Perlak FJ, Fuchs RL, Dean DA, McPherson SL, Fischhoff DA (1991) Modification of the coding sequence enhances plant expression of insect control protein genes. Proc Natl Acad Sci USA 88:3324–3328

Popelka JCS, Gollasch S, Moore A, Molvig L, Higgins TJV (2006) Genetic transformation of cowpea (Vigna unguiculata) and stable transmission of the transgenes to progeny. Plant Cell Rep 25:304–312

Rogers SO, Bendich AJ (1989) Extraction of DNA from plant tissues. In: Gelvin SB, Schilperoort RA, Verma DPS (eds) Plant Molecular Biology Manual. Springer, Dordrecht, pp 73–83. https://doi.org/10.1007/978-94-009-0951-9_6

Sahoo L, Jaiwal PK (2008) Asiatic beans. In: Kole C, Hall TC (eds) A compendium of transgenic crop plants. Blackwell Publ, Oxford, pp 115–132

Sambrook J, Fritsch EF, Maniatis T (1989) Molecular cloning: a laboratory manual. Cold Spring Harbor Laboratory Press, Cold Spring Harbor

Sindhu M, Kumar A, Yadav H, Chaudhary D, Jaiwal R, Jaiwal PK (2019) Current advances and future directions in genetic enhancement of a climate resilient food legume crop, cowpea (Vigna unguiculata L. Walp.). Plant Cell Tiss Org cult 139:429–453

Singh SR, Jackai LEN, Dos Santos JHR, Adalla CB (1990) Insect pests of cowpea. In: Singh SR (ed) Insect pests of tropical food legumes. Wiley, Chichester, pp 43–89

Singh S, Kumar NR, Maniraj R et al (2018) Expression of Cry2Aa, a Bacillus thuringiensis insecticidal protein in transgenic pigeon pea confers resistance to gram pod borer Helicoverpa armigera. Sci Rep 8:8820. https://doi.org/10.1038/s41598-018-26358-9

Solleti SK, Bakshi S, Purkayastha J, Panda SK, Sahoo L (2008) Transgenic cowpea (Vigna unguiculata) seeds expressing a bean α-amylase inhibitor 1 confer resistance to storage pests, bruchid beetles. Plant Cell Rep 27:1841–1850

Srinivasan R (2008) Susceptibility of legume pod borer (LPB), Maruca vitrata to δ-endotoxins of Bacillus thuringiensis (Bt) in Taiwan. J Invertebr Pathol 97:79–81

Yang L, Ding J, Zhang C, Jia J, Weng H, Liu W, Zhang D (2005) Estimating the copy number of transgenes in transformed rice by real-time quantitative PCR. Plant Cell Rep 23:759–763
Acknowledgements
PKJ and DC are grateful to the UGC, New Delhi for the award of BSR Faculty Fellowship and for the financial assistance to her laboratory (F. No-42-189/2013 (SR), respectively. AK is thankful to the UGC, New Delhi and the M. D. University, Rohtak for the award of Research Fellowships.
Ethics declarations
Conflict of interest
The authors declare no conflicting interest.
Additional information
Publisher's Note
Springer Nature remains neutral with regard to jurisdictional claims in published maps and institutional affiliations.
Communicated by Kan Wang.
About this article
Cite this article
Kumar, A., Jaiwal, R., Sreevathsa, R. et al. Transgenic cowpea plants expressing Bacillus thuringiensis Cry2Aa insecticidal protein imparts resistance to Maruca vitrata legume pod borer. Plant Cell Rep 40, 583–594 (2021). https://doi.org/10.1007/s00299-020-02657-2
Received:

Accepted:

Published:

Issue Date:
Keywords
Cowpea

Genetic transformation

Maruca pod borer

Maruca vitrata

Plant resistance

Cry2Aa toxin