Abstract
Key message
CRISPR/Cas9-mediated editing of Clpsk1 enhanced watermelon resistance to Fusarium oxysporum.
Abstract
The clustered regularly interspaced short palindromic repeats (CRISPR)/Cas9 system has proven to be an effective genome-editing tool for crop improvement. Previous studies described that Phytosulfokine (PSK) signalling attenuates plant immune response. In this work, we employed the CRISPR/Cas9 system to knockout Clpsk1 gene, encoding the PSK precursor, to confer enhanced watermelon resistance to Fusarium oxysporum f.sp. niveum (FON). Interactions between PSK and FON were analysed and it was found that transcript of Clpsk1 was significantly induced upon FON infection. Meanwhile, application of exogenous PSK increased the pathogen growth. Then, one sgRNA, which targeted the first exon of Clpsk1, was selected for construction of pRGEB32-CAS9-gRNA-Clpsk1 expression cassette. The construct was then transformed to watermelon through Agrobacterium tumefaciens-mediated transformation method. Six mutant plants were obtained and three types of mutations at the expected position were identified based on Sanger sequencing. Resistance evaluation indicated that Clpsk1 loss-of-function rendered watermelon seedlings more resistant to infection by FON. These results indicate that CRISPR/Cas9-mediated gene modification is an effective approach for watermelon improvement.
Access options
Buy single article
Instant access to the full article PDF.
USD 39.95
Price includes VAT (USA)
Tax calculation will be finalised during checkout.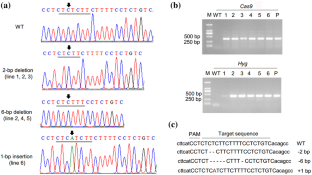 References
Chandrasekaran J, Brumin M, Wolf D, Leibman D, Klap C, Pearlsman M, Sherman A, Arazi T, Gal-On A (2016) Development of broad virus resistance in non-transgenic cucumber using CRISPR/Cas9 technology. Mol Plant Pathol 17:1140–1153

Chang PFL, Hsu CC, Lin YH, Chen KS, Huang JW, Liou TD (2008) Histopathology comparison and phenylalanine ammonia lyase (PAL) gene expressions in Fusarium wilt infected watermelon. Aust J Agric Res 59:1146–1155

Choi PS, Soh WY, Kim YS, Yoo OJ, Liu JR (1994) Genetic transformation and plant regeneration of watermelon using Agrobacterium tumefaciens. Plant Cell Rep 13(6):344–348

Feng Z, Zhang B, Ding W, Liu X, Yang DL, Wei P, Cao F, Zhu S, Zhang F, Mao Y, Zhu JK (2013) Efficient genome editing in plants using a CRISPR/Cas system. Cell Res 23(10):1229–1232

Hahn F, Nekrasov V (2019) CRISPR/Cas precision: do we need to worry about off-targeting in plants? Plant Cell Rep 38(4):437–441

Hammes UZ (2015) Novel roles for phytosulfokine signalling in plant–pathogen interactions: commentary on Rodiuc et al. "Evolutionarily distant pathogens require the Arabidopsis phytosulfokine signalling pathway to establish disease". Plant Cell Environ 39(7):1393–1395

Hartmann J, Fischer C, Dietrich P, Sauter M (2014) Kinase activity and calmodulin binding are essential for growth signaling by the phytosulfokine receptor PSKR1. Plant J 78:192–202

Hok S, Danchin EG, Allasia V, Panabières F, Attard A, Keller H (2011) An Arabidopsis (malectin-like) leucine-rich repeat receptor-like kinase contributes to downy mildew disease. Plant Cell Environ 34:1944–1957

Igarashi D, Tsuda K, Katagiri F (2012) The peptide growth factor, phytosulfokine, attenuates pattern-triggered immunity. Plant J 71:194–204

Ito Y, Nishizawa-Yokoi A, Endo M, Mikami M, Toki S (2015) CRISPR/Cas9-mediated mutagenesis of the RIN locus that regulates tomato fruit ripening. Biochem Biophys Res Commun 467(1):76–82

Kim YA, Moon H, Park CJ (2019) CRISPR/Cas9-targeted mutagenesis of Os8N3 in rice to confer resistance to Xanthomonas oryzae pv oryzae. Rice 12:67

Liu LF, Gu QS, Ijaq R, Zhang JH, Ye ZB (2016) Generation of transgenic watermelon resistance to Cucumber mosaic virus facilitated by an effective Agrobacterium-mediated transformation method. Sci Hortic 205:32–38

Liu H, Ding YD, Zhou YQ, Jin WQ, Xie KB, Chen LL (2017) CRISPR-P 2.0: an improved CRISPR/Cas9 tool for genome editing in plants. Mol Plant 10(3):530–532

Lü GY, Guo SG, Zhang HY, Geng LH, Song FM, Fei ZJ, Xu Y (2011) Transcriptional profiling of watermelon during its incompatible interaction with Fusarium oxysporum f sp niveum. Eur J Plant Pathol 131(4):585–601

Martyn RD, Bruton BD (1989) An initial survey of the United States for races of Fusarium oxysporum f. sp. niveum. HortScience 24:696–698

Martyn RD, Netzer D (1991) Resistance to races 0, 1 and 2 of Fusarium wilt of watermelon in Citrullus sp. PI-296341 -FR. HortScience 26:429–432

Matsubayashi Y, Ogawa M, Kihara H, Niwa M, Sakagami Y (2006) Disruption and overexpression of Arabidopsis phytosulfokine receptor gene affects cellular longevity and potential for growth. Plant Physiol 142:45–53

Mosher S, Seybold H, Rodriguez P, Stahl M, Davies K, Dayaratne S, Morillo A, Wierzba M, Favery B, Keller H, Tax FE, Kemmerling B (2013) The tyrosine-sulfated peptide receptors PSKR1 and PSY1R modify the immunity of Arabidopsis to biotrophic and necrotrophic pathogens in an antagonistic manner. Plant J 73:469–482

Murashige T, Skoog F (1962) A revised medium for rapid growth and bioassay with tobacco tissue cultures. Physiol Plant 5:473–479

Naito Y, Hino K, Bono H, Ui-Tei K (2015) CRISPRdirect: software for designing CRISPR/Cas guide RNA with reduced off-target sites. Bioinformatics 31(7):1120–1123

Park SM, Lee JS, Jegal S, Jeon BY, Jung M, Park YS, Han SL, Shin YS, Her NH, Lee JH, Lee MY, Ryu KH, Yang SG, Harn CH (2005) Transgenic watermelon rootstock resistant to CGMMV (cucumber green mottle mosaic virus) infection. Plant Cell Rep 24:350–356

Peng AH, Chen SC, Lei TG, Xu LZ, He YR, Wu L, Yao LX, Zou XP (2017) Engineering cankerresistant plants through CRISPR/Cas9-targeted editing of the susceptibility gene CsLOB1 promoter in citrus. Plant Biotechnol J 15(12):1509–1519

Pyott DE, Sheehan E, Molnar A (2016) Engineering of CRISPR/Cas9-mediated potyvirus resistance in transgene-free Arabidopsis plants. Mol Plant Pathol 17(8):1276–1288

Rodiuc N, Barlet X, Hok S, Perfus-Barbeoch L, Allasia V, Engler G, Séassau A, Marteu N, de Almeida-Engler J, Panabières F, Abad P, Kemmerling B, Marco Y, Favery B, Keller H (2016) Evolutionarily distant pathogens require the Arabidopsis phytosulfokine signalling pathway to establish disease. Plant Cell Environ 39(7):1396–1407

Sauter M (2015) Phytosulfokine peptide signalling. J Exp Bot 66:5161–5169

Schaeffer SM, Nakata PA (2016) The expanding footprint of CRISPR/Cas9 in the plant sciences. Plant Cell Rep 35:1451–1468

Shen Y, Diener AC (2013) Arabidopsis thaliana RESISTANCE TO FUSARIUM OXYSPORUM 2 implicates tyrosine-sulfated peptide signaling in susceptibility and resistance to root infection. PLoS Genet 9(5):e1003525

Tian SW, Jiang LJ, Gao Q, Zhang J, Zong M, Zhang HY, Ren Y, Guo SG, Gong GY, Liu F, Xu Y (2017) Efficient CRISPR/Cas9-based gene knockout in watermelon. Plant Cell Rep 36(3):399–406

Tian SW, Jiang LJ, Cui XX, Zhang J, Guo SG, Li MY, Zhang HY, Ren Y, Gong GY, Zong M, Liu F, Chen QJ, Xu Y (2018) Engineering herbicide-resistant watermelon variety through CRISPR/Cas9-mediated base-editing. Plant Cell Rep 37:1353–1356

van Schie CCN, Takken FLW (2014) Susceptibility genes 101: How to be a good host. Annu Rev Phytopat 52(1):551–581

Vasudevan V, Subramanyam K, Elayaraja D, Karthik S, Vasudevan A, Manickavasagam M (2017) Assessment of the efficacy of amino acids and polyamines on regeneration of watermelon (Citrullus lanatus Thunb.) and analysis of genetic fidelity of regenerated plants by SCoT and RAPD markers. Plant Cell Tiss Organ Cult 130:681–687

Wang Y, Cheng X, Shan Q, Zhang Y, Liu J, Gao C, Qiu JL (2014) Simultaneous editing of three homoeoalleles in hexaploid bread wheat confers heritable resistance to powdery mildew. Nat Biotechnol 32(9):947–951

Wang J, Li H, Han Z, Zhang H, Wang T, Lin G, Chang J, Yang W, Chai J (2015) Allosteric receptor activation by the plant peptide hormone phytosulfokine. Nature 525:265–268

Wang F, Wang C, Liu P, Lei C, Hao W, Gao Y, Liu YG, Zhao K (2016) Enhanced Rice blast resistance by CRISPR/Cas9-targeted mutagenesis of the ERF transcription factor gene OsERF922. PLoS ONE 11(4):e0154027

Wang LJ, Chen SC, Peng AH, Xie Z, He YR, Zou XP (2019) CRISPR/Cas9‑mediated editing of CsWRKY22 reduces susceptibility to Xanthomonas citri subsp citri in Wanjincheng orange (Citrus sinensis (L) Osbeck). Plant Biotechnol Rep. https://doi.org/10.1007/s11816-019-00556-x

Xie KB, Minkenberg B, Yang YN (2015) Boosting CRISPR/Cas9 multiplex editing capability with the endogenous tRNA-processing system. PNAS 112(11):3570–3575

Xu RF, Li H, Qin RY, Li J, Qiu CH, Yang YC, Ma H, Li L, Wei PC, Yang JB (2015) Generation of inheritable and "transgene clean" targeted genome-modified rice in later generations using the CRISPR/Cas9 system. Sci Rep 5:11491

Yu TA, Chiang CH, Wu HW, Li CM, Yang CF, Chen JH, Chen YW, Yeh SD (2011) Generation of transgenic watermelon resistant to Zucchini yellow mosaic virus and Papaya ringspot virus type W. Plant Cell Rep 30:359–371

Zhai YG, Cai SL, Hu LM, Yang Y, Amoo O, Fan CC, Zhou YM (2019) CRISPR/Cas9-mediated genome editing reveals differences in the contribution of INDEHISCENT homologues to pod shatter resistance in Brassica napus L. Theor Appl Genet 132:2111–2123

Zhang M, Xu JH, Liu G, Yao XY, Li PF, Yang XP (2015) Characterization of the watermelon seedling infection process by Fusarium oxysporum f.sp. niveum. Plant Pathol 64:1076–1084

Zhang H, Hu ZJ, Lei C, Zheng CF, Wang J, Shao SJ, Li X, Xia XJ, Cai XZ, Zhou J, Zhou YH, Yu JQ, Foyer CH, Shi K (2018) A plant phytosulfokine peptide initiates auxin-dependent immunity through Cytosolic Ca2+ Signaling in Tomato. Plant Cell 30:652–667
Acknowledgements
This work was supported by National Key R&D Program of China (2018YFD0100703), the Natural Science Foundation of Jiangsu Province (BK20171323), the National Industrial Technology System for Watermelon & Melon (CARS-25) and the Earmarked Fund for Jiangsu Agricultural Industry Technology System (JATS [2018]254).
Ethics declarations
Conflict of interest
The authors declare that they have no conflict of interest.
Additional information
Publisher's Note
Springer Nature remains neutral with regard to jurisdictional claims in published maps and institutional affiliations.
Communicated by Yiping Qi.
Electronic supplementary material
Below is the link to the electronic supplementary material.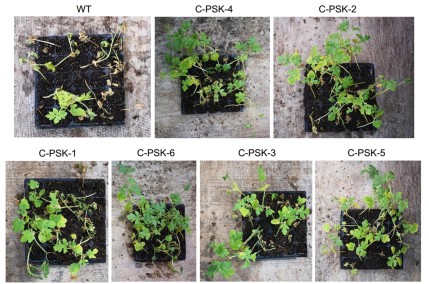 About this article
Cite this article
Zhang, M., Liu, Q., Yang, X. et al. CRISPR/Cas9-mediated mutagenesis of Clpsk1 in watermelon to confer resistance to Fusarium oxysporum f.sp. niveum. Plant Cell Rep 39, 589–595 (2020). https://doi.org/10.1007/s00299-020-02516-0
Received:

Accepted:

Published:

Issue Date:
Keywords
Clpsk1

CRISPR/Cas9

Disease resistance

Fusarium oxysporum f.sp. niveum

Watermelon