Abstract
Key message
We demonstrate for the first time that a fully bioactive human IL-37, a newly discovered cytokine acting as a fundamental inhibitor of innate immunity, can be recombinantly produced in plant cells.
Abstract
Interleukin 37 (IL-37), a newly discovered member of the interleukin (IL)-1 family of cytokines, plays a pivotal role in limiting innate inflammation and suppressing acquired immune responses, thus holding high potential for treating a wide array of human inflammatory and autoimmune disorders. In this study, we have developed transgenic plants as a novel expression platform for production of human IL-37 (IL-37). Plant transformation vectors synthesizing various forms of the b isoform of IL-37, including an unprocessed full-length precursor form (proIL-37b), a mature form (matIL-37b) and an IL-37 fusion protein in which IL-37b was fused to soybean agglutinin (SBA-IL-37b), have been constructed and introduced into tobacco plants. The expression of all forms of IL-37b was driven by a strong constitutive 35S promoter. Transgenic tobacco plants were generated with each of these constructs. Depending on the form of IL-37b being produced, the expression level of proIL-37b reached approximately 1% of TSP, while matIL-37b expression was substantially lower (0.01% TSP). Fusion to SBA substantially increased the expression of matIL-37b, with the expression level of fusion protein accounting for 1% of TSP. Functional analysis using a cell-based in vitro assay showed that plant-made matIL-37b and proIL-37b are both biologically active, but plant-made matIL-37b exhibited significantly greater biological activity than proIL-37b. These results demonstrate that plants have great potential of being a green bioreactor for low-cost, large-scale production of biologically active IL-37.
This is a preview of subscription content, log in to check access.
Access options
Buy single article
Instant access to the full article PDF.
US$ 39.95
Price includes VAT for USA
Subscribe to journal
Immediate online access to all issues from 2019. Subscription will auto renew annually.
US$ 199
This is the net price. Taxes to be calculated in checkout.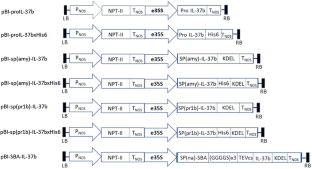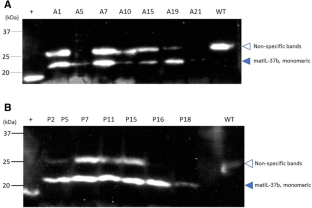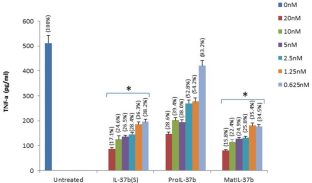 References
Ballak DB, van Diepen JA, Moschen AR, Jansen HJ, Hijmans A, Groenhof GJ, Leenders F, Bufler P, Boekschoten MV, Müller M, Kersten S, Li S, Kim S, Eini H, Lewis EC, Joosten LA, Tilg H, Netea MG, Tack CJ, Dinarello CA, Stienstra R (2014) IL-37 protects against obesity-induced inflammation and insulin resistance. Nat Commun 5:4711–4722

Banerjee S, Apte-Deshpande A, Mandi N, Padmanabhan S (2009) A novel cytokine derived fusion tag for over-expression of heterologous proteins in E. coli. Int J Biol Life Sci 1:139–143

Bonneau L, Ge Y, Drury GE, Gallois P (2008) What happened to plant caspases? J Exp Bot 59:491–499

Boraschi D, Lucchesi D, Hainzl S, Leitner M, Maier E, Mangelberger D, Oostingh GJ, Pfaller T, Pixner C, Posselt G, Italiani P, Nold MF, Nold-Petry CA, Bufler P, Dinarello CA (2011) IL-37: a new anti-inflammatory cytokine of the IL-1 family. Eur Cytokine Netw 22:127–147

Bradford MM (1976) A rapid and sensitive method for the quantitation of microgram quantities of protein utilizing the principle of protein-dye binding. Anal Biochem 72:248–254

Brandsma ME, Diao H, Wang X, Kohalmi SE, Jevnikar AM, Ma S (2010) Plant-derived recombinant human serum transferrin demonstrates multiple functions. Plant Biotechnol J 8:489–505

Bufler P, Gamboni-Robertson F, Azam T, Kim SH, Dinarello CA (2004) Interleukin-1 homologues IL-1F7b and IL-18 contain functional mRNA instability elements within the coding region responsive to lipopolysaccharide. Biochem J 381:503–510

Bulau AM, Nold MF, Li S, Nold-Petry CA, Fink M, Mansell A, Schwerd T, Hong J, Rubartelli A, Dinarello CA, Bufler P (2014) Role of caspase-1 in nuclear translocation of IL-37, release of the cytokine, and IL-37 inhibition of innate immune responses. Proc Natl Acad Sci USA 111:2650–2655

Carrington JC, Freed DD (1990) Cap-independent enhancement of translation by a plant potyvirus 5′nontranslated region. J Virol 64:1590–1597

Cavalli G, Dinarello CA (2018) Suppression of inflammation and acquired immunity by IL-37. Immunol Rev 281:179–190

Deng HB, Zhang H, Liang JM, Xian HB, Chen ZC, Tang YC, Yang S, Feng WN (2018) IL-37 mediates the anti-tumor activity in non-small cell lung cancer through IL-6/STAT3 pathway. J Appl Biomed 16:15–21

Dinarello CA, Nold-Petry C, Nold M, Fujita M, Li S, Kim S, Bufler P (2016) Suppression of innate inflammation and immunity by interleukin-37. Eur J Immunol 46:1067–1081

Edgue G, Twyman RM, Beiss V, Fischer R, Sack M (2017) Antibodies from plants for bionanomaterials. WIREs Nanomed Nanobiotechnol 9:e1462

Fox JL (2012) First plant-made biologic approved. Nat Biotechnol 30:472

Jevnikar AM, Brennan DC, Singer GG, Heng JE, Maslinski W, Wuthrich RP, Glimcher LH, Kelley VE (1991) Stimulated kidney tubular epithelial cells express membrane associated and secreted TNF alpha. Kidney Int 40:203–211

Ji Q, Meng K, Yu K, Huang S, Huang Y, Min X, Zhong Y, Wu B, Liu Y, Nie S, Zhang J, Zhou Y, Zeng Q (2017) Exogenous interleukin 37 ameliorates atherosclerosis via inducing the Treg response in Apo E deficient mice. Sci Rep 7:3310

Kumar S, Hanning CR, Brigham-Burke MR, Rieman DJ, Lehr R, Khandekar S, Kirkpatrick RB, Scott GF, Lee JC, Lynch FJ, Gao W, Gambotto A, Lotze MT (2002) Interleukin-1F7B (IL-1H4/IL-1F7) is processed by caspase-1 and mature IL-1F7B binds to the IL-18 receptor but does not induce IFN-gamma production. Cytokine 18:61–71

Li S, Neff CP, Barber K, Hong J, Luo Y, Azam T, Palmer BE, Fujita M, Garlanda C, Mantovani A, Kim S, Dinarello CA (2015) Extracellular forms of IL-37 inhibit innate inflammation in vitro and in vivo but require the IL-1 family decoy receptor IL-1R8. Proc Natl Acad Sci USA 112:2497–2502

Li Y, Gao Q, Xu K, Peng X, Yuan X, Jiang W, Li M (2018) Interleukin-37 attenuates bleomycin-induced pulmonary inflammation and fibrosis in mice. Inflammation 41:1772–1779

Lunding L, Webering S, Vock C, Schröder A, Raedler D, Schaub B, Fehrenbach H, Wegmann M (2015) IL-37 requires IL-18Rα and SIGIRR/IL-1R8 to diminish allergic airway inflammation in mice. Allergy 70:366–373

Ma S, Huang Y, Davis A, Yin Z, Mi Q, Menassa R, Brandle JE, Jevnikar AM (2005) Production of biologically active human interleukin-4 in transgenic tobacco and potato. Plant Biotechnol J 3:309–318

Ma S, Liao YC, Jevnikar AM (2015) Induction of oral tolerance with transgenic plants expressing antigens for prevention/treatment of autoimmune, allergic and inflammatory diseases. Curr Pharm Biotechnol 16:1002–1011

Man DG, Abercrombie LL, Rudis MR, Millwood RJ, Dunlap JR, Stewart CN Jr (2012) Very bright orange fluorescent plants: endoplasmic reticulum targeting of orange fluorescent proteins as visual reporters in transgenic plants. BMC Biotechnol 12:17

Matsuoka M, Yamamoto N, Kano-Murakami Y, Tanaka Y, Ozeki Y, Hirano H, Kagawa H, Oshima M, Ohashi Y (1987) Classification and structural comparison of full-length cDNAs for pathogenesis-related proteins. Plant Physiol 85:942–946

McNamee EN, Masterson JC, Jedlicka P, McManus M, Grenz A, Collins CB, Nold MF, Nold-Petry C, Bufler P, Dinarello CA, Rivera-Nieves J (2011) Interleukin 37 expression protects mice from colitis. Proc Natl Acad Sci USA 108:16711–16716

Nold MF, Nold-Petry CA, Zepp JA, Palmer BE, Bufler P, Dinarello CA (2010) IL-37 is a fundamental inhibitor of innate immunity. Nat Immunol 11:1014–1022

Nold-Petry CA, Lo CY, Rudloff I, Elgass KD, Li S, Gantier MP, Lotz-Havla AS, Gersting SW, Cho SX, Lao JC, Ellisdon AM, Rotter B, Azam T, Mangan NE, Rossello FJ, Whisstock JC, Bufler P, Garlanda C, Mantovani A, Dinarello CA, Nold MF (2015) IL-37 requires the receptors IL-18Ralpha and IL-1R8 (SIGIRR) to carry out its multifaceted anti-inflammatory program upon innate signal transduction. Nat Immunol 4:354–365

Patel FJ, Volkmann DT, Taylor GW, Hansson MA, Anderson JF, Zhou Y, Scoazec LM, Hartford CV, Hainz DL (2014) IL-37 reduces inflammatory response after cerebral ischemia and reperfusion injury through down-regulation of pro-inflammatory cytokines. Cytokine 69:234–239

Paul M, Ma JK (2011) Plant-made pharmaceuticals: Leading products and production platforms. Biotechnol Appl Biochem 58:58–67

Riva F, Bonavita E, Barbati E, Muzio M, Mantovani A, Garlanda C (2012) TIR8/SIGIRR is an Interleukin-1 receptor/Toll like receptor family member with regulatory functions in inflammation and immunity. Front Immunol 3:322

Rogers JC, Milliman C (1983) Isolation and sequence analysis of a barley a-amylase cDNA clone. J Biol Chem 258:8169–8174

Sakai N, Van Sweringen HL, Belizaire RM, Quillin RC, Schuster R, Blanchard J, Burns JM, Tevar AD, Edwards MJ, Lentsch AB (2012) Interleukin-37 reduces liver inflammatory injury via effects on hepatocytes and non-parenchymal cells. J Gastroenterol Hepatol 27:1609–1616

Schnell JA, Han S, Miki BL, Johnson DA (2010) Soybean peroxidase propeptides are functional signal peptides and increase the yield of a foreign protein. Plant Cell Rep 29:987–996

Teng X, Hu ZL, Wei XQ, Wang Z, Guan T, Liu N, Liu X, Ye N, Deng G, Luo C, Huang N, Sun C, Xu M, Zhou X, Deng H, Edwards CK III, Chen X, Wang X, Cui K, Wei Y, Li J (2014) IL-37 ameliorates the inflammatory process in psoriasis by suppressing proinflammatory cytokine production. J Immunol 192:1815–1823

Tete S, Tripodi D, Rosati M, Conti F, Maccauro G, Saggini A, Cianchetti E, Caraffa A, Antinolfi P, Toniato E, Castellani ML, Conti P, Theoharides TC (2012) IL-37 (IL-1F7) the newest anti-inflammatory cytokine which suppresses immune responses and inflammation. Int J Immunopathol Pharmacol 25:31–38

Tremblay R, Wang D, Jevnikar AM, Ma S (2010) Tobacco, a highly efficient green bioreactor for production of therapeutic proteins. Biotechnol Adv 28:214–221

Tremblay R, Diao H, Huner N, Jevnikar AM, Ma S (2011a) The development, characterization, and demonstration of a novel strategy for purification of recombinant proteins expressed in plants. Transgenic Res 20:1357–1366

Tremblay R, Feng M, Menassa R, Huner NP, Jevnikar AM, Ma S (2011b) High-yield expression of recombinant soybean agglutinin in plants using transient and stable systems. Transgenic Res 20:345–356

Wang DJ, Brandsma M, Yin Z, Wang A, Jevnikar AM, Ma S (2008) A novel platform for biologically active recombinant human interleukin-13 production. Plant Biotechnol J 6:504–515

Xiao HP, Li BD, Yang XM, Yin QL (2018) IL-37 protects myocardial ischemia reperfusion injury in mice through mediating inflammation response. Biomed Res 29:663–666

Yang Y, Zhang ZX, Lian D, Haig A, Bhattacharjee RN, Jevnikar AM (2015) IL-37 inhibits IL-18-induced tubular epithelial cell expression of pro-inflammatory cytokines and renal ischemia-reperfusion injury. Kidney Int 87:396–408

Ye L, Jiang B, Deng J, Du J, Xiong W, Guan Y, Wen Z, Huang K, Huang Z (2015) IL-37 alleviates rheumatoid arthritis by suppressing IL-17 and IL-17-triggering cytokine production and limiting Th17 cell proliferation. J Immunol 194:5110–5119
Acknowledgements
AN was supported by a Graduate Student Scholarship from Saudi Arabia government. This work was supported in part by the London Health Sciences Centre, London, Ontario, Canada.
Ethics declarations
Conflict of interest
The authors declare that they have no conflict of interest.
Additional information
Publisher's Note
Springer Nature remains neutral with regard to jurisdictional claims in published maps and institutional affiliations.
Communicated by Baochun Li.
About this article
Cite this article
Alqazlan, N., Diao, H., Jevnikar, A.M. et al. Production of functional human interleukin 37 using plants. Plant Cell Rep 38, 391–401 (2019). https://doi.org/10.1007/s00299-019-02377-2
Received:

Accepted:

Published:

Issue Date:
Keywords
Human IL-37

Cytokine

Anti-inflammatory property

Plant molecular farming

Genetic transformation

Recombinant protein

Functional characterization