Abstract
Key message
Ectopic auxin overproduction in transgenic potato leads to enhanced productivity accompanied with concerted and occasional changes in hormonal status, and causing altered response of transformants to exogenous auxin or cytokinin.
Abstract
Previously, we generated potato transformants expressing Agrobacterium-derived auxin synthesis gene tms1 driven by tuber-specific patatin gene promoter (B33-promoter). Here, we studied the endogenous hormonal status and the response to exogenous phytohormones in tms1 transformants cultured in vitro. Adding indole-3-acetic acid (IAA) or kinetin to culture medium affected differently tuberization of tms1-transformed and control plants, depending also on sucrose content in the medium. Exogenous phytohormones ceased to stimulate the tuber initiation in transformants at high (5–8%) sucrose concentration, while in control plants the stimulation was observed in all experimental settings. Furthermore, exogenous auxin partly inhibited the tuber initiation, and exogenous cytokinin reduced the average tuber weight in most transformants at high sucrose content. The elevated auxin level in tubers of the transformants was accompanied with a decrease in content of cytokinin bases and their ribosides in tubers and most shoots. No concerted changes in contents of abscisic, jasmonic, salicylic acids and gibberellins in tubers were detected. The data on hormonal status indicated that the enhanced productivity of tms1 transformants was due to auxin and not mediated by other phytohormones. In addition, exogenous cytokinin was shown to upregulate the expression of genes encoding orthologs of auxin receptors. Overall, the results showed that tms1 expression and local increase in IAA level in transformants affect both the balance of endogenous cytokinins and the dynamics of tuberization in response to exogenous hormones (auxin, cytokinin), the latter reaction depending also on the carbohydrate supply. We introduce a basic model for the hormonal network controlling tuberization.
This is a preview of subscription content, log in to check access.
Access options
Buy single article
Instant access to the full article PDF.
US$ 39.95
Price includes VAT for USA
Subscribe to journal
Immediate online access to all issues from 2019. Subscription will auto renew annually.
US$ 199
This is the net price. Taxes to be calculated in checkout.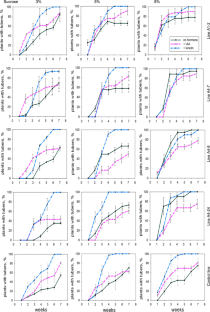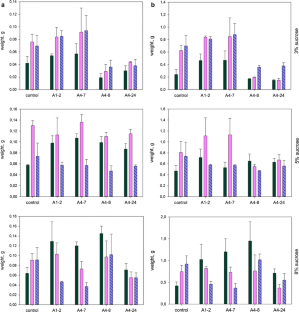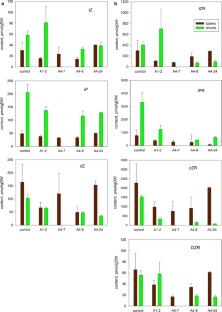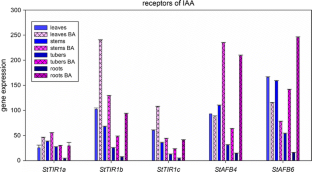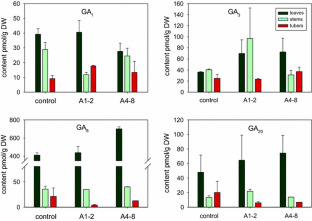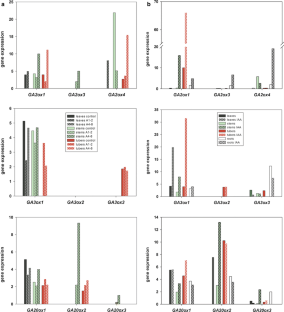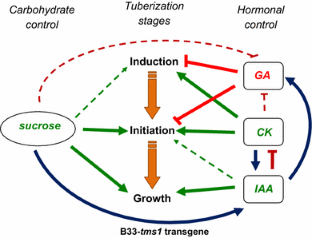 References
Aksenova NP, Konstantinova TN, Sergeeva LI, Macháčková I, Golyanovskaya SA (1994) Morphogenesis of potato plants in vitro. I. Effect of light quality and hormones. J Plant Growth Regul 13:143–146

Aksenova NP, Konstantinova TN, Golyanovskaya SA, Schmülling T, Kossmann J, Willmitzer L, Romanov GA (1999) In vitro growth and tuber formation by transgenic potato plants harboring rolC or rolB genes under control of the patatin promoter. Russ J Plant Physiol 46:513–519

Aksenova NP, Konstantinova TN, Golyanovskaya SA, Kossmann J, Willmitzer L, Romanov GA (2000) Transformed potato plants as a model for studying the hormonal and carbohydrate regulation of tuberization. Russ J Plant Physiol 47:370–379

Aksenova NP, Konstantinova TN, Golyanovskaya SA, Sergeeva LI, Romanov GA (2012) Hormonal regulation of tuber formation potato plants. Russ J Plant Physiol 59:451–466

Aksenova NP, Sergeeva LI, Kolachevskaya OO, Romanov GA (2014) Hormonal regulation of tuber formation in potato. In: Ramawat KG, Merillon JM (eds) Bulbous plants. Biotechnology. CRC Press, New York, pp 3–36

Ando S, Asano T, Tsushima S, Kamachi S, Hagio T, Tabei Y (2005) Changes in gene expression of putative isopentenyltransferase during clubroot development in Chinese cabbage (Brassica rapa L.). Physiol Mol Plant Pathol 67:59–67

Brenner WG, Romanov GA, Köllmer J, Burkle L, Schmülling T (2005) Immediate-early and delayed cytokinin response genes of Arabidopsis thaliana identified by genome-wide expression profiling reveal novel cytokinin-sensitive processes and suggest cytokinin action through transcriptional cascades. Plant J 44:314–333

Chailakhyan MK (1984) Photoperiodic and hormonal control of tuber formation in plants. Nauka, Moscow

Chen X, Zhou X, Xi L, Li J, Zhao R, Ma N, Zhao L (2013) Roles of DgBRC1 in regulation of lateral branching in chrysanthemum (Dendranthema × grandiflora cv. Jinba). PLoS One 8:e61717

Deryabin AN, Trunova TI, Dubinina IM, Burakhanova EA, Sabel'nikova EP, Krylova EM, Romanov GA (2003) Chilling tolerance of potato plants transformed with a yeast-derived invertase gene under the control of the B33 patatin promoter. Russ J Plant Physiol 50:449–454

Di D-W, Wu L, Luo P, Zhang L, Zhang T-Z, Sun X, Wei S-D, An C-W, Guo G-Q (2016) Analysis the role of Arabidopsis CKRC6/ASA1 in auxin and cytokinin biosynthesis. J Plant Biol 59:162–171

Dobrev PI, Kamínek M (2002) Fast and efficient separation of cytokinins from auxin and abscisic acid and their purification using mixed-mode solid-phase extraction. J Chromatogr 950:21–29

Ewing EE (1995) The role of hormones in potato (Solanum tuberosum L.) tuberization. In: Davies PJ (ed) Plant hormones. Physiology, biochemistry and molecular biology. Kluwer, Dordrecht, pp 698–724

Faivre-Rampant O, Cardle L, Marshall D, Viola R, Taylor MA (2004) Changes in gene expression during meristem activation processes in Solanum tuberosum with a focus on the regulation of an auxin response factor gene. J Exp Bot 55:613–622

Floková K, Tarkowska D, Miersch O, Strnad M, Wasternack C, Novak O (2014) UHPLC–MS/MS based target profiling of stress-induced phytohormones. Phytochemistry 105:147–157

Hannapel DJ (2007) Signalling in induction of tuber formation. In: Vreugdenhil D (ed) Potato biology and biotechnology. Elsevier, Amsterdam, pp 237–256

Hannapel DJ, Chen H, Rosin FM, Banerjee AK, Davies PJ (2004) Molecular control of tuberization. Am J Potato Res 81:263–274

Harmey MA, Crowley MC, Clinch PEM (1966) The effect of growth regulators on tuberization of cultured stem pieces of Solanum tuberosum. Eur Potato J 9:146–151

Hedden P, Thomas SG (2012) Gibberellin biosynthesis and its regulation. Biochem J 444:11–25

Hirose N, Takei K, Kuroha T, Kamada-Nobusada T, Hayashi H, Sakakibara H (2008) Regulation of cytokinin biosynthesis, compartmentalization and translocation. J Exp Bot 59:75–83

Ito H, Kato T (1951) The physiological foundation of tuber formation of potato. Tohoku J Agric Res 1:1–14

Jackson SD (1999) Multiple signaling pathways control tuber induction in potato. Plant Physiol 119:1–8

Jones B, Gunnera SA, Petersson SV, Tarkowski P, Graham N, May S, Dolezal K, Sandberg G, Ljung K (2010) Cytokinin regulation of auxin synthesis in Arabidopsis involves a homeostatic feedback loop regulated via auxin and cytokinin signal transduction. Plant Cell 22:2956–2969

Kakimoto T (2001) Identification of plant cytokinin biosynthetic enzymes as dimethylallyl diphosphate:ATP/ADP isopentenyltransferases. Plant Cell Physiol 42:677–685

Kamínek M, Motyka V, Vankova R (1997) Regulation of cytokinin content in plant cells. Physiol Plant 101:689–700

Kloosterman B, Vorst O, Hall RD, Visser RGF, Bachem CW (2005) Tuber on a chip: differential gene expression during potato tuber development. Plant Biotechnol J 3:505–519

Kloosterman B, De Koeyer D, Griffiths R, Flinn B, Steuernagel B, Scholz U, Sonnewald S, Sonnewald U, Bryan GJ, Prat S, Bánfalvi Z, Hammond JP, Geigenberger P, Nielsen KL, Visser RGF, Bachem CWB (2008) Genes driving potato tuber initiation and growth: identification based on transcriptional changes using the POCI array. Funct Integr Genomics 8:329–340

Koda Y, Okazawa Y (1983) Characteristic changes in the levels of endogenous plant hormones in relation to the onset of potato tuberization. Jpn J Crop Sci 52:592–597

Kolachevskaya OO, Alekseeva VV, Sergeeva LI, Rukavtsova EB, Getman IA, Vreugdenhil D, Buryanov YI, Romanov GA (2015) Expression of auxin synthesis gene tms1 under control of the tuber-specific promoter enhances potato tuberization in vitro. J Integr Plant Biol 57:734–744

Kumar D, Wareing PF (1974) Studies on tuberization of Solanum andigena. II. Growth hormones and tuberization. New Phytol 73:833–840

Lomin SN, Krivosheev DM, Steklov MY, Arkhipov DV, Osolodkin DI, Schmülling T, Romanov GA (2015) Plant membrane assays with cytokinin receptors underpin the unique role of free cytokinin bases as biologically active ligands. J Exp Bot 66:1851–1863

Lulai EC, Suttle JC, Olson LL, Neubauer JD, Campbell LG, Campbell MA (2016) Wounding induces changes in cytokinin and auxin content in potato tuber, but does not induce formation of gibberellins. J Plant Physiol 191:22–28

Macháčková I, Sergeeva L, Ondřej M, Zaltsman O, Konstantinova T, Eder J, Golyanovskaya S, Rakitin V, Aksenova N (1997) Growth pattern, tuber formation and hormonal balance in in vitro potato plants carrying ipt gene. Plant Growth Regul 21:27–36

Minakuchi K, Kameoka H, Yasuno N et al (2010) FINE CULM1 (FC1) works downstream of strigolactones to inhibit the outgrowth of axillary buds in rice. Plant Cell Physiol 51:1127–1135

Miyawaki K, Matsumoto-Kitano M, Kakimoto T (2004) Expression of cytokinin biosynthetic isopentenyltransferase genes in Arabidopsis: tissue specificity and regulation by auxin, cytokinin, and nitrate. Plant J 37:128–138

Müller D, Waldie T, Miyawaki K, To JPC, Melnyk CW, Kieber JJ, Kakimoto T, Leyser O (2015) Cytokinin is required for escape but not release from auxin mediated apical dominance. Plant J 82:874–886

Naumkina EM, Bolyakina YuP, Romanov GA (2007) Organ-specificity and inducibility of patatin class I promoter from potato in transgenic Arabidopsis plants. Russ J Plant Physiol 54:350–359

Nicot N, Hausman J-F, Hoffman L, Evers D (2005) Housekeeping gene selection for real-time RT-PCR normalization in potato during biotic and abiotic stress. J Exp Bot 56:2907–2914

Nordström A, Tarkowski P, Tarkowska D, Norbaek R, Åstot C, Dolezal K, Sandberg G (2004) Auxin regulation of cytokinin biosynthesis in Arabidopsis thaliana: a factor of potential importance for auxin–cytokinin-regulated development. PNAS 101:8039–8044

Obata-Sasamoto H, Suzuki H (1979) Activities of enzymes relating to starch synthesis and endogenous levels of growth regulators in potato stolon tips during tuberization. Physiol Plant 45:320–324

Osugi A, Sakakibara H (2015) Q&A: how do plants respond to cytokinins and what is their importance? BMC Biol 13:102

Prat S (2004) Hormonal and daylength control of potato tuberization. In: Davies PJ (ed) Plant hormones. Biosynthesis, signal transduction, action!. Kluwer, Dordrecht, pp 538–560

Rocha-Sosa M, Sonnewald U, Frommer WB, Stratmann M, Schell J, Willmitzer L (1989) Both developmental and metabolic signals activate the promoter of a class I patatin gene. EMBO J 8:23–29

Romanov GA, Aksenova NP, Konstantinova TN, Golyanovskaya SA, Kossmann J, Willmitzer L (2000) Effect of indole-3-acetic acid and kinetin on tuberization parameters of different cultivars and transgenic lines of potato in vitro. Plant Growth Regul 32:245–251

Roumeliotis E, Kloosterman B, Oortwijn M, Kohlen W, Bouwmeester HJ, Visser RGF, Bachem CWB (2012) The effects of auxin and strigolactones on tuber initiation and stolon architecture in potato. J Exp Bot 63:4539–4548

Sakakibara H (2006) Cytokinins: activity, biosynthesis, and translocation. Annu Rev Plant Biol 57:431–449

Sarkar D (2008) The signal transduction pathways controlling in planta tuberization in potato: an emerging synthesis. Plant Cell Rep 27:1–8

Sergeeva LI, de Bruijn SM, Koot-Gronsveld EAM, Navratil O, Vreugdenhil D (2000) Tuber morphology and starch accumulation are independent phenomena: evidence from ipt-transgenic potato lines. Physiol Plant 108:435–443

Shimizu-Sato S, Tanaka M, Mori H (2009) Auxin-cytokinin interactions in the control of shoot branching. Plant Mol Biol 69:429–435

Svačinová J, Novák O, Plačková L, Lenobel R, Holík J, Strnad M, Doležal K (2012) A new approach for cytokinin isolation from Arabidopsis tissues using miniaturized purification: pipette tip solid-phase extraction. Plant Methods 8:17

Takei K, Sakakibara H, Sugiyama T (2001) Identification of genes encoding adenylate isopentenyltransferase, a cytokinin biosynthesis enzyme, in Arabidopsis thaliana. J Biol Chem 276:26405–26410

Tanaka M, Takei K, Kojima M, Sakakibara H, Mori H (2006) Auxin controls local cytokinin biosynthesis in the nodal stem in apical dominance. Plant J 45:1028–1036

Thomas SG, Hedden P (2006) Gibberellin metabolism and signal transduction. In: Hedden P, Thomas SG (eds) Plant hormone signaling. Blackwell Publishing Ltd, Oxford, pp 257–291

Urbanová T, Tarkowská D, Novák O, Hedden P, Strnad M (2013) Analysis of gibberellins as free acids by ultra performance liquid chromatography-tandem mass spectrometry. Talanta 112:85–94

Van Schreven DA (1956) On the physiology of tuber formation in potatoes. I. Premature tuber formation. Plant Soil 8:75–86

Vreugdenhil D, Struik PC (1989) An integrated view of the hormonal regulation of tuber formation in potato (Solanum tuberosum). Physiol Plant 75:525–531

Wenzler HC, Mignery GA, Fisher LM, Park WD (1989) Analysis of a chimeric class-I patatin-GUS gene in transgenic potato plants: high-level expression in tubers and sucrose-inducible expression in cultured leaf and stem explants. Plant Mol Biol 12:41–50

Werner T, Köllmer I, Bartrina I, Holst K, Schmülling T (2006) New insights into the biology of cytokinin degradation. Plant Biol 8:371–381

Xu X, van Lammeren A, Verner E, Vreugdenhil D (1998) The role of gibberellin, abscisic acid and sucrose in the regulation of potato tuber formation in vitro. Plant Physiol 117:575–584
Acknowledgements
The work was supported by the Russian Science Foundation, Grant No. 14-14-01095. We appreciate the assistance of E. M. Savelieva from IPP RAS in the preparation of the manuscript for publication.
Ethics declarations
Conflict of interest
The authors declare that they have no competing interests.
Additional information
O. O. Kolachevskaya and L. I. Sergeeva have contributed equally to this work.
Communicated by P. P. Kumar.
Electronic supplementary material
Below is the link to the electronic supplementary material.
About this article
Cite this article
Kolachevskaya, O.O., Sergeeva, L.I., Floková, K. et al. Auxin synthesis gene tms1 driven by tuber-specific promoter alters hormonal status of transgenic potato plants and their responses to exogenous phytohormones. Plant Cell Rep 36, 419–435 (2017). https://doi.org/10.1007/s00299-016-2091-y
Received:

Accepted:

Published:

Issue Date:
Keywords
Tuberization

Potato

Auxin

Cytokinin

Phytohormones

Transformants

Hormonal status

Solanum tuberosum