Abstract
Key message
PCD with features of vacuolar cell death including autophagy-related features were detected in hybrid tobacco cells, and detailed time course of features of vacuolar cell death were established.
Abstract
A type of interspecific Nicotiana hybrid, Nicotiana suaveolens × N. tabacum exhibits temperature-sensitive lethality. This lethality results from programmed cell death (PCD) in hybrid seedlings, but this PCD occurs only in seedlings and suspension-cultured cells grown at 28 °C, not those grown at 36 °C. Plant PCD can be classified as vacuolar cell death or necrotic cell death. Induction of autophagy, vacuolar membrane collapse and actin disorganization are each known features of vacuolar cell death, but observed cases of PCD showing all these features simultaneously are rare. In this study, these features of vacuolar cell death were evident in hybrid tobacco cells expressing hybrid lethality. Ion leakage, plasma membrane disruption, increased activity of vacuolar processing enzyme, vacuolar membrane collapse, and formation of punctate F-actin foci were each evident in these cells. Transmission electron microscopy revealed that macroautophagic structures formed and tonoplasts ruptured in these cells. The number of cells that contained monodansylcadaverine (MDC)-stained structures and the abundance of nine autophagy-related gene transcripts increased just before cell death at 28 °C; these features were not evident at 36 °C. We assessed whether an autophagic inhibitor, wortmannin (WM), influenced lethality in hybrid cells. After the hybrid cell began to die, WM suppressed increases in ion leakage and cell deaths, and it decreased the number of cells containing MDC-stained structures. These results showed that several features indicative of autophagy and vacuolar cell death were evident in the hybrid tobacco cells subject to lethality. In addition, we documented a detailed time course of these vacuolar cell death features.
Access options
Buy single article
Instant access to the full article PDF.
USD 39.95
Price excludes VAT (USA)
Tax calculation will be finalised during checkout.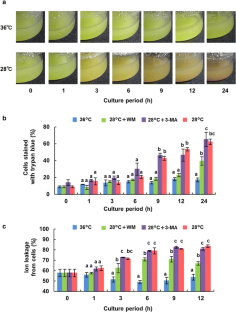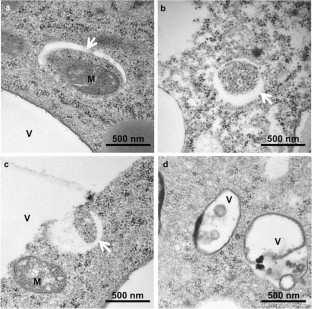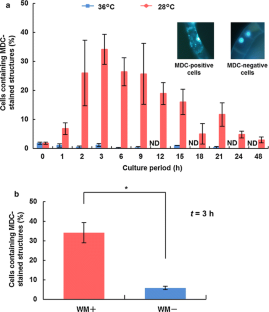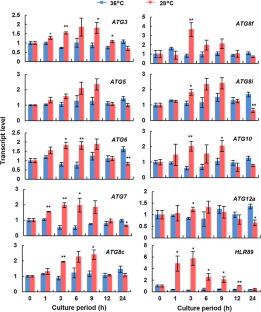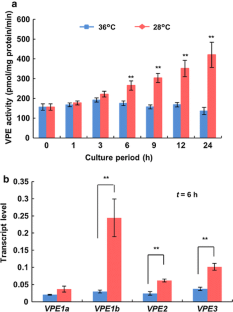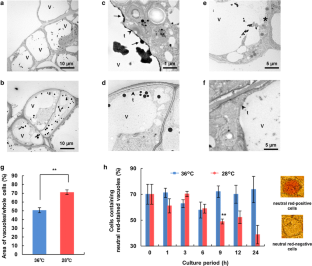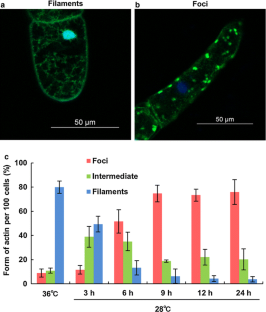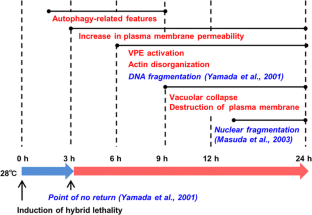 References
Abràmoff MD, Magalhães PJ, Ram SJ (2004) Image processing with ImageJ. Biophotonics Int 11:36–42

Bassham DC (2007) Plant autophagy—more than a starvation response. Curr Opinion Plant Biol 10:587–593

Bassham DC (2015) Methods for analysis of autophagy in plants. Methods 75:181–188

Blommaart EFC, Kraus U, Schellens JPM (1997) The phosphatidylinositol 3-kinase inhibitors wortmannin and LY294002 inhibit autophagy in isolated rat hepatocytes. Eur J Biochem 243:240–246

De Verna JW, Myers JR, Collins GB (1987) Bypassing prefertilization barriers to hybridization in Nicotiana using in vitro pollination and fertilization. Theor Appl Genet 73:665–671

Goldraij A, Roldán JA, Rojas HJ (2012) Early F-actin disorganization may be signaling vacuole disruption in incompatible pollen tubes of Nicotiana alata. Plant Signal Behav 7:1695–1697

Hatsugai N, Kuroyanagi M, Yamada K, Meshi T, Tsuda S, Kondo M et al (2004) A plant vacuolar protease, VPE, mediates virus-induced hypersensitive cell death. Science 305:855–858

Hatsugai N, Yamada K, Goto-Yamada S, Hara-Nishimura I (2015) Vacuolar processing enzyme in plant programmed cell death. Front Plant Sci 6:234

Hofius D, Munch D, Bressendorff S, Mundy J, Petersen M (2011) Role of autophagy in disease resistance and hypersensitive response-associated cell death. Cell Death Differ 18:1257–1262

Kariya K, Demiral T, Sasaki T, Tsuchiya Y, Turkan I, Sano T et al (2013) A novel mechanism of aluminium-induced cell death involving vacuolar processing enzyme and vacuolar collapse in tobacco cell line BY-2. J Inorg Biochem 128:196–201

Kobori S, Marubashi W (2004) Programmed cell death detected in interspecific hybrids of Nicotiana repanda x N. tomentosiformis expressing hybrid lethality. Breed Sci 54:347–350

Kostoff D (1930) Ontogeny, genetics, and cytology of Nicotiana hybrids. Genetica 12:33–139

Manabe T (1989) Temperature-dependent conditional lethality in interspecific hybrids between Nicotiana suaveolens Lehm. and N. tabacum L. In: Proceedings of the 6th International Congress of SABRAO, p 459–462

Marty F (1999) Plant vacuoles. Plant Cell 11:587–599

Marubashi W, Kobayashi M (2002) Temperature-dependent apoptosis detected in hybrids between Nicotiana debneyi and N. tabacum expressing lethality. Plant Biotech 19:267–270

Marubashi W, Yamada T, Niwa M (1999) Apoptosis detected in hybrids between Nicotiana glutinosa and N. repanda expressing lethality. Planta 210:168–171

Masuda Y, Yamada T, Marubashi W (2003) Time course analysis of apoptotic cell death during expression of hybrid lethality in hybrid tobacco cells (Nicotiana suaveolens × N. tabacum). Plant Cell Physiol 44:420–427

Masuda Y, Yamada T, Kuboyama T, Marubashi W (2007) Identification and characterization of genes involved in hybrid lethality in hybrid tobacco cells (Nicotiana suaveolens × N. tabacum) using suppression subtractive hybridization. Plant Cell Rep 26:1595–1604

Merkulova EA, Guiboileau A, Naya L, Masclaux-Daubresse C, Yoshimoto K (2014) Assessment and optimization of autophagy monitoring methods in Arabidopsis roots indicate direct fusion of autophagosomes with vacuoles. Plant Cell Physiol 55:715–726

Mino M, Maekawa K, Ogawa K, Yamagishi H, Inoue M (2002) Cell death processes during expression of hybrid lethality in interspecific F1 hybrid between Nicotiana gossei Domin and Nicotiana tabacum. Plant Physiol 130:1776–1787

Mino M, Misaka Y, Ueda J, Ogawa K, Inoue M (2005) Hybrid lethality of cultured cells of an interspecific F1 hybrid of Nicotiana gossei Domin and N. tabacum L. Plant Cell Rep 24:179–188

Mino M, Murata N, Date S, Inoue M (2007) Cell death in seedlings of the interspecific hybrid of Nicotiana gossei and N. tabacum; possible role of knob-like bodies formed on tonoplast in vacuolar-collapse-mediated cell death. Plant Cell Rep 26:407–419

Obara K, Kuriyama H, Fukuda H (2001) Direct evidence of active and rapid nuclear degradation triggered by vacuole rupture during programmed cell death in Zinnia. Plant Physiol 125:615–626

Palta JP, Li PH (1978) Cell membrane properties in relation to freezing injury. In: Li PH, Sakai A (eds) Plant cold hardiness and freezing stress. Mechanisms and crop implications. Academic Press, New York, pp 93–115

Phillips LL, Reid RK (1975) Interspecific incompatibility in Gossypium. II. Light and electron microscopic studies of cell necrosis and tumorigenesis in hybrids of G. klotzschianum. Am J Bot 62:790–796

Shinozaki Y, Tanaka T, Ogiwara I, Kanekatsu M, van Doorn WG, Yamada T (2014) Expression of an AtNAP gene homolog in senescing morning glory (Ipomoea nil) petals of two cultivars with a different flower life span. J Plant Physiol 171:633–638

Stebbins GL (1966) Reproductive isolation and the origin of species. In: Processes of organic evolution. Prentice-Hall, New Jersey, p 85–112

Strober W (2001) Trypan blue exclusion test of cell viability. Curr Protoc Immunol 111:A–3B

Sukumaran NP, Weiser CJ (1972) An excised leaflet test for evaluating potato frost tolerance. HortScience 7:467–468

Takatsuka C, Inoue Y, Matsuoka K, Moriyasu Y (2004) 3-Methyladenine inhibits autophagy in tobacco culture cells under sucrose starvation conditions. Plant Cell Physiol 45:265–274

Tezuka T, Kuboyama T, Matsuda T, Marubashi W (2010) Seven of eight species in Nicotiana section Suaveolentes have common factors leading to hybrid lethality in crosses with Nicotiana tabacum. Ann Bot 106:267–276

van Doorn WG (2005) Plant programmed cell death and the point of no return. Trends Plant Sci 10:478–483

van Doorn WG (2011) Classes of programmed cell death in plants, compared to those in animals. J Exp Bot 62:4749–4761

van Doorn WG, Beers EP, Dangl JL, Franklin-Tong VE, Gallois P, Hara-Nishimura I et al (2011) Morphological classification of plant cell deaths. Cell Death Differ 18:1241–1246

Watanabe H, Marubashi W (2004) Temperature-dependent programmed cell death detected in hybrids between Nicotiana langsdorffii and N. tabacum expressing lethality. Plant Biotech 21:151–154

Wilkins KA, Bancroft J, Bosch M, Ings J, Smirnoff N, Franklin-Tong VE (2011) Reactive oxygen species and nitric oxide mediate actin reorganization and programmed cell death in the self-incompatibility response of papaver. Plant Physiol 156:404–416

Wu YT, Tan HL, Shui G, Bauvy C, Huang Q, Wenk MR et al (2010) Dual role of 3-methyladenine in modulation of autophagy via different temporal patterns of inhibition on class I and III phosphoinositide 3-kinase. J Biol Chem 285:10850–10861

Yamada T, Marubashi W, Niwa M (1999) Detection of four lethality types in interspecific crosses among Nicotiana species through the use of three rescue methods for lethality. Breed Sci 49:203–210

Yamada T, Marubashi W, Niwa M (2000) Apoptotic cell death induces temperature-sensitive lethality in hybrid seedlings and calli derived from the cross of Nicotiana suaveolens × N. tabacum. Planta 211:614–622

Yamada T, Marubashi W, Niwa M (2001) Facile induction of apoptosis into plant cells associated with temperature-sensitive lethality shown on interspecific hybrid from the cross Nicotiana suaveolens × N. tabacum. Plant Cell Physiol 42:204–213

Zeven AC (1981) Eighth supplementary list of wheat varieties classified according to their genotypes for hybrid necrosis. Euphytica 30:521–539
Acknowledgments
This work was performed under the Global Innovation Research Organization at the Tokyo University of Agriculture and Technology and was partly supported by a Grant-in Aid for Challenging Exploratory Research (No. 246580004) to T. Yamada from the Japan Society for the Promotion of Science (JSPS).
Ethics declarations
Conflict of interest
The authors declare that they have no conflict of interest.
About this article
Cite this article
Ueno, N., Nihei, S., Miyakawa, N. et al. Time course of programmed cell death, which included autophagic features, in hybrid tobacco cells expressing hybrid lethality. Plant Cell Rep 35, 2475–2488 (2016). https://doi.org/10.1007/s00299-016-2048-1
Received:

Accepted:

Published:

Issue Date:

DOI: https://doi.org/10.1007/s00299-016-2048-1
Keywords
Autophagy

Hybrid lethality

Tobacco

Programmed cell death

Vacuolar cell death