Abstract
Key message
The IbAGP1 gene of sweet potato ( Ipomoea batatas ) encodes the sucrose-inducible small subunit of ADP-glucose pyrophosphorylase. Through expression analysis of 5′-truncations and synthetic forms of the IbAGP1 promoter in transgenic tobacco, we show that SURE-Like elements and W-box elements of the promoter contribute to the sucrose inducibility of this gene.
Abstract
Sweet potato (Ipomoea batatas) contains two genes (IbAGP1 and IbAGP2) encoding the catalytically active small subunits of ADP-glucose pyrophosphorylase, an enzyme with an important role in regulating starch synthesis in higher plants. Previous studies have shown that IbAGP1 is expressed in the storage roots, leaves, and stem tissues of sweet potato, and its transcript is strongly induced by applying sucrose exogenously to detached leaves. To investigate the tissue-specific expression of the IbAGP1 promoter, a series of 5′-truncated promoters extending from bases −1913, −1598, −1298, −1053, −716, and −286 to base +75 were used to drive the expression of the β-glucuronidase reporter gene (GUS) in tobacco plants (Nicotiana tabacum). Histochemical and fluorometric GUS assays showed that (1) GUS expression driven by the longest fragment (1989 bp) of the IbAGP1 promoter was detected in vegetative tissues (roots, stems, leaves), (2) fragments extending to −1053 or beyond retained strong GUS expression in roots, stems, and leaves, whereas further 5′-deletions resulted in considerable reduction in GUS activity, and (3) the series of 5′-truncated promoters responded differently to exogenously applied sucrose. The 1989-bp IbAGP1 promoter contains five sequences (two AATAAAA, one AATAAAAAA, and two AATAAATAAA) that are similar to sucrose-responsive elements (SURE). These SURE-Like sequences are found at nucleotide positions −1273, −1239, −681, −610, and −189. Moreover, putative W-box elements are found at positions −1985, −1434, −750, and −578. Synthetic promoters containing tandem repeats of the 4X SURE-Like or 4X W-box upstream from a minimal CaMV35S promoter-GUS fusion showed significant expression in transgenic tobacco in response to exogenous sucrose. These results show that SURE-Like elements and W-box elements of the IbAGP1 promoter contribute to the sucrose inducibility of this gene.
Access options
Buy single article
Instant access to the full article PDF.
US$ 39.95
Tax calculation will be finalised during checkout.
Subscribe to journal
Immediate online access to all issues from 2019. Subscription will auto renew annually.
US$ 119
Tax calculation will be finalised during checkout.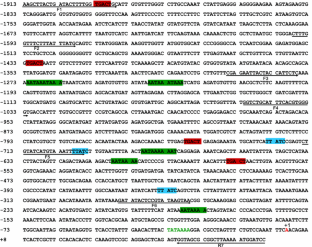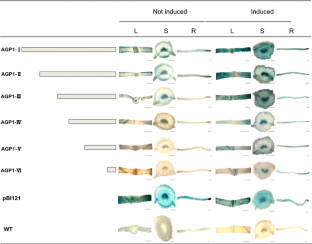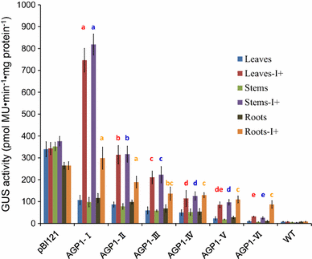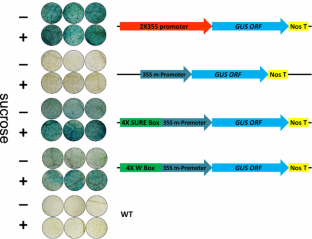 References
Anderson JM, Hnilo J, Larson R, Okita TW, Morell M, Preiss J (1989) The encoded primary sequence of a rice seed ADP-glucose pyrophosphorylase subunit and its homology to the bacterial enzyme. J Biol Chem 264:12238–12242

Bae JM, Liu JR (1997) Molecular cloning and characterization of two novel isoforms of the small subunit of ADPglucose pyrophosphorylase from sweet potato. Mol Gen Genet 254:179–185

Benfey PN, Ren L, Chua NH (1989) The CaMV 35S enhancer contains at least two domains which can confer different developmental and tissue-specific expression patterns. EMBO J 8:2195–2202

Bradford MM (1976) A rapid and sensitive method for the quantitation of microgram quantities of protein utilizing the principle of protein-dye binding. Anal Biochem 72:248–254

Burgess D, Penton A, Dunsmuir P, Dooner H (1997) Molecular cloning and characterization of ADP-glucose pyrophosphorylase cDNA clones isolated from pea cotyledons. Plant Mol Biol 33:431–444

Chen BY, Janes HW, Gianfagna T (1998) PCR cloning and characterization of multiple ADP-glucose pyrophosphorylase cDNAs from tomato. Plant Sci 136:59–67

Choi SB, Kim KH, Kavakli IH, Lee SK, Okita TW (2001) Transcriptional expression characteristics and subcellular localization of ADP-glucose pyrophosphorylase in the oil plant Perilla frutescens. Plant Cell Physiol 42:146–153

Crevillen P, Ballicora MA, Merida A, Preiss J, Romero JM (2003) The different large subunit isoforms of Arabidopsis thaliana ADP-glucose pyrophosphorylase confer distinct kinetic and regulatory properties to the heterotetrameric enzyme. J Biol Chem 278:28508–28515

Crevillen P, Ventriglia T, Pinto F, Orea A, Merida A, Romero JM (2005) Differential pattern of expression and sugar regulation of Arabidopsis thaliana ADP-glucose pyrophosphorylase-encoding genes. J Biol Chem 280:8143–8149

Duan Y, Jiang Y, Ye S, Karim A, Ling Z, He Y, Yang S, Luo K (2015) PtrWRKY73, a salicylic acid-inducible poplar WRKY transcription factor, is involved in disease resistance in Arabidopsis thaliana. Plant Cell Rep 34:831–841

Eulgem T, Rushton PJ, Robatzek S, Somssich IE (2000) The WRKY superfamily of plant transcription factors. Trends Plant Sci 5:199–206

Giuliano G, Pichersky E, Malik VS, Timko MP, Scolnic PA, Cashmore AR (1988) An evolutionarily conserved protein binding sequence upstream of a plant light-regulated gene. Proc Natl Acad Sci USA 85:7089–7093

Grierson C, Du JS, Zabala MT, Beggs K, Smith C, Holdsworth M, Bevan M (1994) Separate cis sequences and trans factors direct metabolic and developmental regulation of a potato tuber storage protein gene. Plant J 5:815–826

Higo K, Ugawa Y, Iwamoto M, Korenaga T (1999) Plant cis-acting regulatory DNA elements (PLACE) database: 1999. Nucl Acids Res 27:297–300

Ishiguro S, Nakamura K (1992) The nuclear factor SP8BF binds to the 5′-upstream regions of three different genes coding for major proteins of sweet potato tuberous roots. Plant Mol Biol 18:97–108

Ishiguro S, Nakamura K (1994) Characterization of a cDNA encoding a novel DNA-binding protein, SPF1, that recognizes SP8 sequences in the 5′ upstream regions of genes coding for sporamin and beta-amylase from sweet potato. Mol Gene Genet 244:563–571

Jefferson RA, Kavanagh TA, Bevan MW (1987) GUS fusions: beta-glucuronidase as a sensitive and versatile gene fusion marker in higher plants. EMBO J 6:3901–3907

Kim SH, Mizuno K, Fujimura T (2002) Regulated expression of ADP glucose pyrophosphorylase and chalcone synthase during root development in sweet potato. Plant Growth Regul 38:173–179

Kwak MS, Noh SA, Oh MJ, Huh GH, Kim KN, Lee SW, Shin JS, Bae JM (2006) Two sweet potato ADP-glucose pyrophosphorylase isoforms are regulated antagonistically in response to sucrose content in storage roots. Gene 366:87–96

Kwak MS, Oh MJ, Lee SW, Shin JS, Paek KH, Bae JM (2007) A strong constitutive gene expression system derived from IbAGP1 promoter and its transit peptide. Plant Cell Rep 26:1253–1262

La Cognata U, Willmitzer L, Muller-Rober B (1995) Molecular cloning and characterization of novel isoforms of potato ADP-glucose pyrophosphorylase. Mol Gen Genet 246:538–548

Lescot M, Déhais P, Moreau Y, De Moor B, Rouzé P, Rombauts S (2002) PlantCARE: a database of plant cis-acting regulatory elements and a portal to tools for in silico analysis of promoter sequences. Nucl Acids Res 30:325–327

Li X, Xing J, Gianfagna TJ, Janes HW (2002) Sucrose regulation of ADP-glucose pyrophosphorylase subunit genes transcript levels in leaves and fruits. Plant Sci 162:239–244

Li C, Li D, Shao F, Lu S (2015) Molecular cloning and expression analysis of WRKY transcription factor genes in Salvia miltiorrhiza. BMC Genom 16:200. doi:10.1186/s12864-015-1411-x

Luo K, Zheng X, Chen Y, Xiao Y, Zhao D, McAvoy R, Pei Y, Li Y (2006) The maize Knotted1 gene is an effective positive selectable marker gene for Agrobacterium-mediated tobacco transformation. Plant Cell Rep 25:403–409

Maeo K, Tomiya T, Hayashi K, Akaike M, Morikami A, Ishiguro S, Nakamura K (2001) Sugar-responsible elements in the promoter of a gene for amylase of sweet potato. Plant Mol Biol 46:627–637

Muller-Rober BT, Kossmann J, Hannah LC, Willmitzer L, Sonnewald U (1990) One of two different ADP-glucose pyrophosphorylase genes from potato responds strongly to elevated levels of sucrose. Mol Gen Genet 224:136–146

Muller-Rober BT, La Cognata U, Sonnewald U, Willmitzer L (1994) A truncated version of an ADP-glucose pyrophosphorylase promoter from potato specifies guard cell-selective expression in transgenic plants. Plant Cell 6:601–612

Nagata T, Hara H, Saitou K, Kobashi A, Kojima K, Yuasa T, Ueno O (2012) Activation of ADP-Glucose Pyrophosphorylase Gene Promoters by a WRKY Transcription Factor, AtWRKY20, in Arabidopsis thaliana L. and Sweet Potato (Ipomoea batatas Lam.). Plant Prod Sci 15:10–18

Nakata PA, Okita TW (1996) Cis-elements important for the expression of the ADP-glucose pyrophosphorylase small-subunit are located both upstream and downstream from its structural gene. Mol Gen Genet 250:581–592

Nakata PA, Greene TW, Anderson JM, Smith-White BJ, Okita TW, Preiss J (1991) Comparison of the primary sequences of two potato tuber ADP-glucose pyrophosphorylase subunits. Plant Mol Biol 17:1089–1093

Noh SA, Kwak MS, Lee HS, Huh GH, Liu JR, Shin JS, Bae JM (2004) Genomic organizations of two small subunit ADP-glucose pyrophosphorylase genes from sweet potato. Gene 339:173–180

Odell JT, Nagy F, Chua NH (1985) Identification of DNA sequences required for activity of the cauliflower mosaic virus 35S promoter. Nature 313:810–812

Prioul JL, Jeannette E, Reyss A, Gregory N, Giroux M, Hannah LC, Causse M (1994) Expression of ADP-glucose pyrophosphorylase in maize (Zea mays L.) grain and source leaf during grain filling. Plant Physiol 104:179–187

Rushton PJ, Somssich IE, Ringler P, Shen QJ (2010) WRKY transcription factors. Trends Plant Sci 15:247–258

Russell DA, Fromm ME (1997) Tissue-specific expression in transgenic maize of four endosperm promoters from maize and rice. Transgenic Res 6:157–168

Siedlecka A, Ciereszko I, Mellerowicz E, Martz F, Chen J, Kleczkowski LA (2003) The small subunit ADP-glucose pyrophosphorylase (ApS) promoter mediates okadaic acid-sensitive uidA expression in starch-synthesizing tissues and cells in Arabidopsis. Planta 217:184–192

Sokolov LN, Dejardin A, Kleczkowski LA (1998) Sugars and light/dark exposure trigger differential regulation of ADP-glucose pyrophosphorylase genes in Arabidopsis thaliana (thale cress). Biochem Journal 336(Pt 3):681–687

Sun C, Palmqvist S, Olsson H, Boren M, Ahlandsberg S, Jansson C (2003) A novel WRKY transcription factor, SUSIBA2, participates in sugar signaling in barley by binding to the sugar-responsive elements of the iso1 promoter. Plant Cell 15:2076–2092

Tatematsu K, Ward S, Leyser O, Kamiya Y, Nambara E (2005) Identification of cis-elements that regulate gene expression during initiation of axillary bud outgrowth in Arabidopsis. Plant Physiol 138:757–766

Ventriglia T, Kuhn ML, Ruiz MT, Ribeiro-Pedro M, Valverde F, Ballicora MA, Preiss J, Romero JM (2008) Two Arabidopsis ADP-Glucose pyrohosphorylase large subunits (APL1 and APL2) are catalytic. Plant Physiol 148:65–76

Villand P, Aalen R, Olsen OA, Luthi E, Lonneborg A, Kleczkowski LA (1992) PCR amplification and sequences of cDNA clones for the small and large subunits of ADP-glucose pyrophosphorylase from barley tissues. Plant Mol Biol 19:381–389

Villand P, Olsen OA, Kleczkowski LA (1993) Molecular characterization of multiple cDNA clones for ADP-glucose pyrophosphorylase from Arabidopsis thaliana. Plant Mol Biol 23:1279–1284

Weber H, Heim U, Borisjuk L, Wobus U (1995) Cell-type specific, coordinate expression of two ADP-glucose pyrophosphorylase genes in relation to starch biosynthesis during seed development of Vicia faba L. Planta 195:352–361

Zheng XL, Deng W, Luo KM, Duan H, Chen YQ, McAvoy R, Song SQ, Pei Y, Li Y (2007) The cauliflower mosaic virus (CaMV) 35S promoter sequence alters the level and patterns of activity of adjacent tissue- and organ-specific gene promoters. Plant Cell Rep 26:1195–1203
Acknowledgments
We thank Ms. Dayi Wang and Mr. Wenzhao Yan from Sichuan Academy of Agriculture Sciences for their generous help in providing the Nanshu 88. This work was supported by the Natural Science Foundation Project of 31000735, 31371682 and the Fundamental Research Funds for the Central Universities ZYGX2012J109, and startup funds provided by East Carolina University to YQ.
Ethics declarations
Conflict of interest
The authors declare that they have no conflict interests.
Additional information
Communicated by J. Bennett.
Electronic supplementary material
Below is the link to the electronic supplementary material.
About this article
Cite this article
Zheng, X., Li, Q., Liu, D. et al. Promoter analysis of the sweet potato ADP-glucose pyrophosphorylase gene IbAGP1 in Nicotiana tabacum . Plant Cell Rep 34, 1873–1884 (2015). https://doi.org/10.1007/s00299-015-1834-5
Received:

Revised:

Accepted:

Published:

Issue Date:
Keywords
Ipomoea batatas
IbAGP1

Promoter analysis

Nicotiana tabacum

GUS expression