Abstract
Key message
The novel sunflower gene HaGLP1 is the first germin-like protein characterized from the family Asteraceae. It alters the host redox status and confers protection against Sclerotinia sclerotiorum and Rhizoctonia solani.
Abstract
Germin-like proteins (GLPs) are a large, diverse and ubiquitous family of plant glycoproteins belonging to the Cupin super family. These proteins have been widely studied because of their diverse roles in important plant processes, including defence. The novel sunflower gene HaGLP1 encodes the first germin-like protein characterized from the family Asteraceae. To analyse whether constitutive in vivo expression of the HaGLP1 gene may lead to disease tolerance, we developed transgenic Arabidopsis plants that were molecularly characterized and biologically assessed after inoculation with Sclerotinia sclerotiorum or Rhizoctonia solani. HaGLP1 expression in Arabidopsis plants conferred tolerance to S. sclerotiorum at the first stages of disease and interfered with R. solani infection, thus giving rise to significant protection against the latter. Furthermore, HaGLP1 expression in Arabidopsis plants elevated endogenous ROS levels. HaGLP1-induced tolerance does not appear to be related to a constitutive induction of the plant defence or the ROS-related genes examined here. In conclusion, our data suggest that HaGLP1 is an interesting candidate for the engineering of plants with increased fungal tolerance and that this gene could also be useful for the selection of naturally overexpressing sunflower genotypes for conventional breeding purposes.
This is a preview of subscription content, log in to check access.
Access options
Buy single article
Instant access to the full article PDF.
US$ 39.95
Price includes VAT for USA
Subscribe to journal
Immediate online access to all issues from 2019. Subscription will auto renew annually.
US$ 199
This is the net price. Taxes to be calculated in checkout.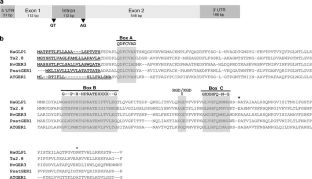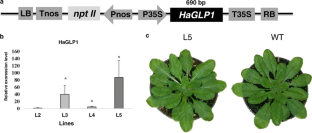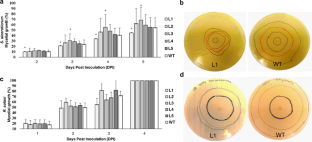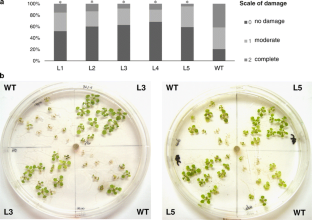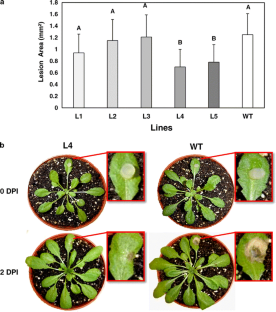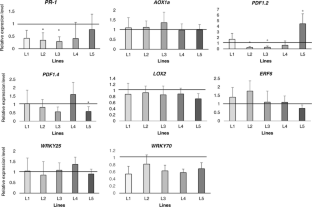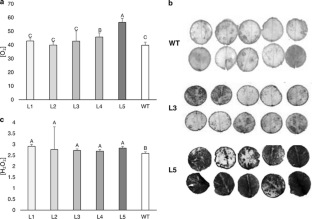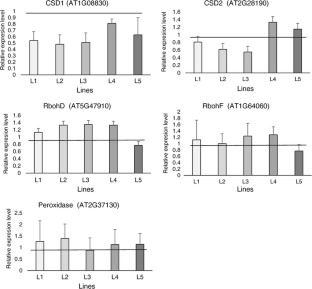 Abbreviations
AOX1a :

Alternative oxidase 1a gene

ET:

Ethylene

GLP:

Germin-like protein

HaGLP1/HaGLP1:

Helianthus annuus germin-like protein 1 gene/protein

HvGER:

Hordeum vulgare germin-like protein

JA:

Jasmonic acid

LOX2 :

Lipoxygenase 2 gene

MLM:

Mixed-linear model

NptII:

Neomycin phosphototransferase II gene

Pnos:

Nopaline synthase promoter

PDF-1.2 :

Plant defensin 1.2 gene

PDF-1.4 :

Plant defensin 1.4 gene

PR-1 :

Pathogenesis-related protein 1 gene

ROS:

Reactive oxygen species

SA:

Salicylic acid

SOD:

Superoxide dismutase

Tnos:

Nopaline synthase terminator

VvGLP:

Vitis vinifera germin-like protein

WRKY70 :

WRKY70 transcription factor gene

WRKY25 :

WRKY25 transcription factor gene
References
Almasia NI (2009) Estudio genómico y funcional del péptido antimicrobiano SNAKIN-1. Ph.D. Dissertation, Universidad de Buenos Aires

Almasia NI, Bazzini A, Hopp HE, Vazquez-Rovere C (2008) Overexpression of snakin-1 gene enhances resistance to Rhizoctonia solani and Erwinia carotovora in transgenic potato plants. Mol Plant Pathol 9:329–338. doi:10.1111/j.1364-3703.2008.00469.x

Bernier F, Berna A (2001) Germins and germin-like proteins: plant do-all proteins. But what do they do exactly? Plant Physiol Biochem 39:545–554. doi:10.1016/S0981-9428(01)01285-2

Blom N, Gammeltoft S, Brunak S (1999) Sequence and structure-based prediction of eukaryotic protein phosphorylation sites. J Mol Biol 294:1351–1362. doi:10.1006/jmbi.1999.3310

Boland GJ, Hall R (1994) Index of plant hosts of Sclerotinia sclerotiorum. Can J Plant Pathol 16:93–108. doi:10.1080/07060669409500766

Canut H, Carrasco A, Galaud JP, Cassan C, Bouyssou H, Vita N, Ferrara P, Pont-Lezica R (1998) High affinity RGD-binding sites at the plasma membrane of Arabidopsis thaliana links the cell wall. Plant J 16:63–71

Carter C, Thornburg RW (1999) Germin-like proteins : structure, phylogeny, and function. J Plant Biol 42:97–108

Carter C, Thornburg RW (2000) Tobacco nectarin I. Purification and characterization as a germin-like, manganese superoxide dismutase implicated in the defense of floral reproductive tissues. J Biol Chem 275:36726–36733. doi:10.1074/jbc.M006461200

Carter C, Graham RA, Thornburg RW (1998) Arabidopsis thaliana contains a large family of germin-like proteins: characterization of cDNA and genomic sequences encoding 12 unique family members. Plant Mol Biol 38:929–943

Cessna SG, Sears VE, Dickman MB, Low PS (2000) Oxalic acid, a pathogenicity factor for Sclerotinia sclerotiorum, suppresses the oxidative burst of the host plant. Plant Cell 12:2191–2200. doi:10.1105/tpc.12.11.2191

Chauhan JS, Rao A, Raghava GPS (2013) In silico platform for prediction of N-, O- and C-glycosites in eukaryotic protein sequences. PLoS ONE 8:e67008. doi:10.1371/journal.pone.0067008

Christensen AB, Thordal-Christensen H, Zimmermann G, Gjetting T, Lyngkjaer MF, Dudler R, Schweizer P (2004) The germin-like protein GLP4 exhibits superoxide dismutase activity and is an important component of quantitative resistance in wheat and barley. Mol Plant Microbe Interact 17:109–117. doi:10.1094/MPMI.2004.17.1.109

Custers JHHV, Harrison SJ, Sela-Buurlage MB, van Deventer E, Lageweg W, Howe PW, van der Meijs PJ, Ponstein AS, Simons BH, Melchers LS, Stuiver MH (2004) Isolation and characterisation of a class of carbohydrate oxidases from higher plants, with a role in active defence. Plant J 39:147–160. doi:10.1111/j.1365-313X.2004.02117.x

Dai F, Xu T, Wolf GA, He Z (2006) Physiological and Molecular Features of the Pathosystem Arabidopsis thaliana L. -Sclerotinia sclerotiorum Libert. J Integr Plant Biol 48:44–52

Davidson RM, Reeves PA, Manosalva PM, Leach JE (2009) Germins: a diverse protein family important for crop improvement. Plant Sci 177:499–510. doi:10.1016/j.plantsci.2009.08.012

Dezar CA, Gago GM, Gonzalez DH, Chan RL (2005) Hahb-4, a sunflower homeobox-leucine zipper gene, is a developmental regulator and confers drought tolerance to Arabidopsis thaliana plants. Transgenic Res 14:429–440

Dezar CA, Giacomelli JI, Manavella PA, Ré DA, Alves-Ferreira M, Baldwin IT, Bonaventure G, Chan RL (2011) HAHB10, a sunflower HD-Zip II transcription factor, participates in the induction of flowering and in the control of phytohormone-mediated responses to biotic stress. J Exp Bot 62:1061–1076. doi:10.1093/jxb/erq339

Di Rienzo JA (2009) fgstatistics version 2009. Accessed November 2014

Di Rienzo JA, Guzman AW, Casanoves F (2002) A multiple-comparisons method based on the distribution of the root node distance of a binary tree. J Agric Biol Environ Stat 7:129–142. doi:10.1198/10857110260141193

Di Rienzo JA, Casanoves F, Balzarini M, Gonzalez L, Tablada M, Robledo CW (2013) Infostat version 2013. http://www.infostat.com.ar/Accessed October 2013

Donaldson PA, Anderson T, Lane BG, Davidson AL, Simmonds DH (2001) Soybean plants expressing an active oligomeric oxalate oxidase from the wheat gf-2.8 (germin) gene are resistant to the oxalate-secreting pathogen Sclerotina sclerotiorum. Physiol Mol Plant Pathol 59:297–307. doi:10.1006/pmpp.2001.0369

Dong X, Ji R, Guo X, Foster SJ, Chen H, Dong C, Liu Y, Hu Q, Liu S (2008) Expressing a gene encoding wheat oxalate oxidase enhances resistance to Sclerotinia sclerotiorum in oilseed rape (Brassica napus). Planta 228:331–340. doi:10.1007/s00425-008-0740-2

Druka A, Kudrna D, Kannangara CG, von Wettstein D, Kleinhofs A (2002) Physical and genetic mapping of barley (Hordeum vulgare) germin-like cDNAs. Proc Natl Acad Sci U S A 99:850–855. doi:10.1073/pnas.022627999

Dunwell JM (1998) Cupins: a new superfamily of functionally diverse proteins that include germins and plant storage proteins. Biotechnol Genet Eng Rev 15:1–32

Dunwell JM, Gibbings JG, Mahmood T, Saqlan Naqvi SM (2008) Germin and germin-like proteins: evolution, structure, and function. CRC Crit Rev Plant Sci 27:342–375. doi:10.1080/07352680802333938

Ehrenbolger GF, Beracochea V, Pelufo L, Almasia NI, Vazquez Rovere C, Hopp HE, Paniego NB, Heinz RA, Lia VV (2012) Sunflower germin-like proteins: evolution, gene structure and functional characterization. In: ASAGIR (ed) Proc. 18th Int. Sunflower Conf. ASAGIR, Mar del Plata, Argentina, pp 586–592

Fernández P, Paniego N, Lew S, Hopp HE, Heinz RA (2003) Differential representation of sunflower ESTs in enriched organ-specific cDNA libraries in a small scale sequencing project. BMC Genom 4:40. doi:10.1186/1471-2164-4-40

Foley RC, Gleason CA, Anderson JP, Hamann T, Singh KB (2013) Genetic and Genomic Analysis of Rhizoctonia solani Interactions with Arabidopsis; Evidence of Resistance Mediated through NADPH Oxidases. PLoS One 8:e56814. doi:10.1371/journal.pone.0056814

Frohman MA, Dush MK, Martin GR (1988) Rapid production of full-length cDNAs from rare transcripts: amplification using a single gene-specific oligonucleotide primer. Proc Natl Acad Sci U S A 85:8998–9002

Gee EPS, Ingber DE, Stultz CM (2008) Fibronectin unfolding revisited: modeling cell traction-mediated unfolding of the tenth type-III repeat. PLoS One 3:e2373. doi:10.1371/journal.pone.0002373

Godfrey D, Able AJ, Dry IB (2007) Induction of a grapevine germin-like protein (VvGLP3)gene is closely linked to the site of Erysiphe necator infection: a possible role in defense? Mol Plant Microbe Interact 20:1112–1125. doi:10.1094/MPMI-20-9-1112

Godoy G, Steadman JR, Dickman MB, Dam R (1990) Use of mutants to demonstrate the role of oxalic acid in pathogenicity of Sclerotinia sclerotiorum on Phaseolus vulgaris. Physiol Mol Plant Pathol 37:179–191. doi:10.1016/0885-5765(90)90010-U

Guan C, Ji J, Jin C, Wang G, Li X, Guan W (2014) Expression of cholera toxin B subunit lumbrokinase in edible sunflower seeds-the use of transmucosal carrier to enhance its fusion protein's effect on protection of rats and mice against thrombosis. Biotechnol Prog 30:1029–1039. doi:10.1002/btpr.1963

Gucciardo S, Wisniewski J-P, Brewin NJ, Bornemann S (2007) A germin-like protein with superoxide dismutase activity in pea nodules with high protein sequence identity to a putative rhicadhesin receptor. J Exp Bot 58:1161–1171. doi:10.1093/jxb/erl282

Guo X, Stotz HU (2007) Defense against Sclerotinia sclerotiorum in Arabidopsis is dependent on jasmonic acid, salicylic acid, and ethylene signaling. Mol Plant Microbe Interact 20:1384–1395. doi:10.1094/MPMI-20-11-1384

Hall TA (1999) BioEdit: a user-friendly biological sequence alignment editor and analysis program for Windows 95/98/NT. Nucleic Acids Symp Ser 41:95–98

Hu X, Bidney DL, Yalpani N, Duvick JP, Crasta O, Folkerts O, Lu G (2003) Overexpression of a gene encoding hydrogen peroxide- generating oxalate oxidase evokes defense responses in sunflower 1. Plant Physiol 133:170–181. doi:10.1104/pp.103.024026

Hu Y, Dong Q, Yu D (2012) Arabidopsis WRKY46 coordinates with WRKY70 and WRKY53 in basal resistance against pathogen Pseudomonas syringae. Plant Sci 185–186:288–297. doi:10.1016/j.plantsci.2011.12.003

Karimi M, Inzé D, Depicker A (2002) GATEWAY vectors for Agrobacterium-mediated plant transformation. Trends Plant Sci 7:193–195

Knecht K, Seyffarth M, Desel C, Thurau T, Sherameti I, Lou B, Oelmüller R, Cai D (2010) Expression of BvGLP-1 encoding a germin-like protein from sugar beet in Arabidopsis thaliana leads to resistance against phytopathogenic fungi. Mol Plant Microbe Interact 23:446–457. doi:10.1094/MPMI-23-4-0446

Kyte J, Doolittle RF (1982) A simple method for displaying the hydropathic character of a protein. J Mol Biol 157:105–132

Lane BG (1994) Oxalate, germin, and the extracellular matrix of higher plants. FASEB J 8:294–301

Legendre L, Rueter S, Heinstein PF, Low PS (1993) Characterization of the Oligogalacturonide-Induced Oxidative Burst in Cultured Soybean (Glycine max) Cells. Plant Physiol 102:233–240

León-Galván F, de Jesús Joaquín-Ramos A, Torres-Pacheco I, Barba de la Rosa AP, Guevara-Olvera L, González-Chavira MM, Ocampo-Velazquez RV, Rico-García E, Guevara-González RG (2011) A germin-like protein gene (CchGLP) of Capsicum chinense Jacq. Is induced during incompatible interactions and displays Mn-superoxide dismutase activity. Int J Mol Sci 12:7301–7313. doi:10.3390/ijms12117301

Liu B, Zhang S, Zhu X, Yang Q, Wu S, Mei M, Mauleon R, Leach J, Mew T, Leung H (2004) Candidate defense genes as predictors of quantitative blast resistance in rice. Mol Plant Microbe Interact 17:1146–1152. doi:10.1094/MPMI.2004.17.10.1146

Livingstone DM, Hampton JL, Phipps PM, Grabau EA (2005) Enhancing resistance to Sclerotinia minor in peanut by expressing a barley oxalate oxidase gene. Plant Physiol 137:1354–1362. doi:10.1104/pp.104.057232

Manavella PA, Dezar CA, Bonaventure G, Baldwin IT, Chan RL (2008) HAHB4, a sunflower HD-Zip protein, integrates signals from the jasmonic acid and ethylene pathways during wounding and biotic stress responses. Plant J 56:376–388. doi:10.1111/j.1365-313X.2008.03604.x

Manavella PA, Chan RL (2009) Transient transformation of sunflower leaf discs via an Agrobacterium-mediated method: applications for gene expression and silencing studies. Nat Protoc 4:1699–1707. doi:10.1038/nprot.2009.178

Manavella PA, Arce AL, Dezar CA, Bitton F, Renou J-P, Crespi M, Chan RL (2006) Cross-talk between ethylene and drought signalling pathways is mediated by the sunflower Hahb-4 transcription factor. Plant J 48:125–137. doi:10.1111/j.1365-313X.2006.02865.x

Manning VA, Hamilton SM, Karplus PA, Ciuffetti LM (2008) The Arg-Gly-Asp-containing, solvent-exposed loop of Ptr ToxA is required for internalization. Mol Plant Microbe Interact 21:315–325. doi:10.1094/MPMI-21-3-0315

Manosalva PM, Davidson RM, Liu B, Zhu X, Hulbert SH, Leung H, Leach JE (2009) A germin-like protein gene family functions as a complex quantitative trait locus conferring broad-spectrum disease resistance in rice. Plant Physiol 149:286–296. doi:10.1104/pp.108.128348

Marino D, Dunand C, Puppo A, Pauly N (2012) A burst of plant NADPH oxidases. Trends Plant Sci 17:9–15. doi:10.1016/j.tplants.2011.10.001

Moretti S, Armougom F, Wallace IM, Higgins DG, Jongeneel CV, Notredame C (2007) The M-Coffee web server: a meta-method for computing multiple sequence alignments by combining alternative alignment methods. Nucleic Acids Res W645-8

Pan H-Y, Whittaker MM, Bouveret R, Berna A, Bernier F, Whittaker JW (2007) Characterization of wheat germin (oxalate oxidase) expressed by Pichia pastoris. Biochem Biophys Res Commun 356:925–929. doi:10.1016/j.bbrc.2007.03.097

Patnaik BB, Kim DH, Oh SH, Song YS, Chanh NDM, Kim JS, Jung WJ, Saha AK, Bindroo BB, Han YS (2012) Molecular cloning and characterization of novel Morus alba germin-like protein gene which encodes for a silkworm gut digestion-resistant antimicrobial protein. PLoS One 7:e50900. doi:10.1371/journal.pone.0050900

Peleg-Grossman S, Melamed-Book N, Cohen G, Levine A (2010) Cytoplasmic H2O2 prevents translocation of NPR1 to the nucleus and inhibits the induction of PR genes in Arabidopsis. Plant Signal Behav 5:1401–1406. doi:10.4161/psb.5.11.13209

Peluffo L (2010) Caracterizacion de los mecanismos de defensa a Sclerotinia sclerotiorum agente causal de la podredumbre humeda de capitulo de girasol a traves del estudio de perfiles metabolicos y transcripcionales. Ph.D. Dissertation, Universidad de Buenos Aires

Perchepied L, Balagué C, Riou C, Claudel-Renard C, Rivière N, Grezes-Besset B, Roby D, Lipm IP, Cnrs-inra UMR, Genomics U, Team T, Brezet ZI, Lumière F (2010) Nitric oxide participates in the complex interplay of defense-related signaling pathways controlling disease resistance to Sclerotinia sclerotiorum in Arabidopsis thaliana. Mol Plant Microbe Interact 23:846–860

Personat J-M, Tejedor-Cano J, Prieto-Dapena P, Almoguera C, Jordano J (2014) Cooverexpression of two Heat Shock Factors results in enhanced seed longevity and in synergistic effects on seedling tolerance to severe dehydration and oxidative stress. BMC Plant Biol 14:56. doi:10.1186/1471-2229-14-56

Petersen TN, Brunak S, von Heijne G, Nielsen H (2011) SignalP 4.0: discriminating signal peptides from transmembrane regions. Nat Methods 8:785–786. doi:10.1038/nmeth.1701

Pfaffl MW (2001) A new mathematical model for relative quantification in real-time RT-PCR. Nucleic Acids Res 29(9): e45

Radonic LM, Zimmermann JM, Zavallo D, Lopez N, Lopez Bilbao M (2006) Rooting in Km selective media as efficient in vitro selection method for sunflower genetic transformation. Electron J Biotechnol. doi:10.2225/vol9-issue3-fulltext-19

Ramakers C, Ruijter JM, Deprez RHL, Moorman AFM (2003) Assumption-free analysis of quantitative real-time polymerase chain reaction (PCR) data. Neurosci Lett 339:62–66

Rietz S, Bernsdorff FEM, Cai D (2012) Members of the germin-like protein family in Brassica napus are candidates for the initiation of an oxidative burst that impedes pathogenesis of Sclerotinia sclerotiorum. J Exp Bot 63:5507–5519. doi:10.1093/jxb/ers203

Schwartz MA (1992) Transmembrane signalling by integrins. Trends Cell Biol 2:304–308. doi:10.1016/0962-8924(92)90120-C

Shetty NP, Mehrabi R, Lütken H, Haldrup A, Kema GHJ, Collinge DB, Jørgensen HJL (2007) Role of hydrogen peroxide during the interaction between the hemibiotrophic fungal pathogen Septoria tritici and wheat. New Phytol 174:637–647. doi:10.1111/j.1469-8137.2007.02026.x

Shetty NP, Jørgensen HJL, Jensen JD, Collinge DB, Shetty HS (2008) Roles of reactive oxygen species in interactions between plants and pathogens. Eur J Plant Pathol 121:267–280. doi:10.1007/s10658-008-9302-5

Sujatha M, Vijay S, Vasavi S, Veera Reddy P, Chander Rao S (2012) Agrobacterium-mediated transformation of cotyledons of mature seeds of multiple genotypes of sunflower (Helianthus annuus L.). Plant Cell, Tissue Organ Cult 110:275–287. doi:10.1007/s11240-012-0149-2

Walz A, Zingen-Sell I, Loeffler M, Sauer M (2008) Expression of an oxalate oxidase gene in tomato and severity of disease caused by Botrytis cinerea and Sclerotinia sclerotiorum. Plant Pathol 57:453–458. doi:10.1111/j.1365-3059.2007.01815.x

Wang Z, Tan X, Zhang Z, Gu S, Li G, Shi H (2012) Defense to Sclerotinia sclerotiorum in oilseed rape is associated with the sequential activations of salicylic acid signaling and jasmonic acid signaling. Plant Sci 184:75–82. doi:10.1016/j.plantsci.2011.12.013

Wang T, Chen X, Zhu F, Li H, Li L, Yang Q, Chi X, Yu S, Liang X (2013) Characterization of peanut germin-like proteins, AhGLPs in plant development and defense. PLoS ONE 8:e61722. doi:10.1371/journal.pone.0061722

Wei Y, Zhang Z, Andersen CH, Schmelzer E, Gregersen PL, Collinge DB, Smedegaard-Petersen V, Thordal-Christensen H (1998) An epidermis/papilla-specific oxalate oxidase like protein in the defence response of barley attacked by the powdery mildew fungus. Plant Mol Biol 36:101–112

Weigel D, Glazebrook J (2006) In planta transformation of Arabidopsis. CSH Protoc 006:pdb.prot4668–. doi: 10.1101/pdb.prot4668

Williams B, Kabbage M, Kim HJ, Britt R, Dickman MB (2011) Tipping the balance: sclerotinia sclerotiorum secreted oxalic acid suppresses host defenses by manipulating the host redox environment. PLoS Pathog 7:e1002107. doi:10.1371/journal.ppat.1002107

Wohlgemuth H, Mittelstrass K, Kschieschan S, Bender J, Weigel H-J, Overmyer K, Kangasjarvi J, Sandermann H, Langebartels C (2002) Activation of an oxidative burst is a general feature of sensitive plants exposed to the air pollutant ozone. Plant Cell Environ 25:717–726. doi:10.1046/j.1365-3040.2002.00859.x

Yamahara T, Shiono T, Suzuki T, Tanaka K, Takio S, Sato K, Yamazaki S, Satoh T (1999) Isolation of a Germin-like Protein with Manganese Superoxide Dismutase activity from cells of a moss, Barbula unguiculata. J Biol Chem 274:33274–33278

Zhou F, Zhang Z, Gregersen PL, Mikkelsen JD, De Neergaard E, Collinge DB, Thordal-Christensen H (1998) Molecular characterization of the oxalate oxidase involved in the response of barley to the powdery mildew fungus 1. Plant Physiol 117:33–41

Zimmermann G, Bäumlein H, Mock H-P, Himmelbach A, Schweizer P (2006) The multigene family encoding germin-like proteins of barley. Regulation and function in Basal host resistance. Plant Physiol 142:181–192. doi:10.1104/pp.106.083824

Zubrzycki J (2015) Estudio de la resistencia a Sclerotinia sclerotiorum en líneas endocriadas de girasol. Ph.D. Dissertation, Universidad de Buenos Aires
Acknowledgments
The authors wish to thank Ing. Dora Barreto for her valuable guidance during infection assays, and Teresa Cabrera, Matias Rodriguez, and Juan Carlos Torres for technical support. We are also grateful to Dr. Janet Higgins for helping us improve the English of the manuscript, and to Dr. Carlos Manacorda and Dr. Sebastián Asurmendi for kindly providing several primers for real-time qPCR experiments. The comments and suggestions of two anonymous reviewers are gratefully acknowledged. This research was supported by the Agencia Nacional de Promoción Científica y Tecnológica (ANPCYT PAE-31700 PID 2008 0073; PICT 2011 1365; PICT 2007 727) and the Instituto Nacional de Tecnología Agropecuaria (INTA PNBIO1131023; PNBIO1131043; AEBIO4461). VVL, RAH, CVR and NBP are career members of the Consejo Nacional de Investigaciones Científicas y Técnicas (CONICET). Dr. HEH is a career member of the Comisión de Investigaciones Científicas de la Provincia de Buenos Aires (CIC).
Conflict of interest
The authors declare that they have no conflict of interest.
Additional information
The sequence used for this study has been deposited at GenBank under accession number KM488198.
Communicated by C.-H. Dong.
About this article
Cite this article
Beracochea, V.C., Almasia, N.I., Peluffo, L. et al. Sunflower germin-like protein HaGLP1 promotes ROS accumulation and enhances protection against fungal pathogens in transgenic Arabidopsis thaliana . Plant Cell Rep 34, 1717–1733 (2015). https://doi.org/10.1007/s00299-015-1819-4
Received:

Revised:

Accepted:

Published:

Issue Date:
Keywords
Germin-like protein

ROS accumulation

Sclerotinia sclerotiorum
Rhizoctonia solani

Sunflower

Arabidopsis thaliana