Abstract
Key message
The K-domain of a blueberry-derived SOC1 -like gene promotes flowering in tobacco without negatively impacting yield, demonstrating potential for manipulation of flowering time in horticultural crops.
Abstract
The SUPPRESSOR OF OVEREXPRESSION OF CONSTANS 1 (SOC1) and SOC1-likes, belonging to the MIKCc (type II) MADS-box gene subfamily, are major floral activators and integrators of plant flowering. Both MADS-domains and K (Keratin)-domains are highly conserved in MIKCc-type MADS proteins. While there are many reports on overexpression of intact MIKCc-type MADS-box genes, few studies have been conducted to investigate the effects of the K-domains. In this report, a 474-bp K-domain of Vaccinium SOC1-like (VcSOC1-K) was cloned from the cDNA library of the northern highbush blueberry (Vaccinium corymbosum L.). Functional analysis of the VcSOC1-K was conducted by ectopically expressing of 35S:VcSOC1-K in tobacco. Reverse transcription PCR confirmed expression of the VcSOC1-K in T0 plants. Phenotypically, T1 transgenic plants (10 T1 plants/event) flowered sooner after seeding, and were shorter with fewer leaves at the time of flowering, than nontransgenic plants; but seed pod production of transgenic plants was not significantly affected. These results demonstrate that overexpression of the K-domain of a MIKCc-type MADS-box gene alone is sufficient to promote early flowering and more importantly without affecting seed production.
Access options
Buy single article
Instant access to the full article PDF.
USD 39.95
Price excludes VAT (USA)
Tax calculation will be finalised during checkout.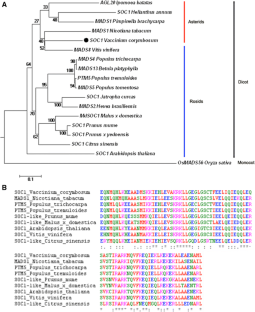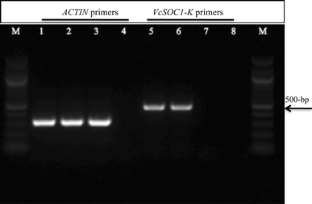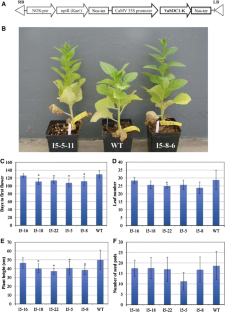 References
Amasino R (2010) Seasonal and developmental timing of flowering. Plant J 6:1001–1013

Arora R, Agarwal P, Ray S, Singh AK, Singh VP, Tyagi AK, Kapoor S (2007) MADS-box gene family in rice: genome-wide identification, organization and expression profiling during reproductive development and stress. Bmc Genomics 8:242

Borner R, Kampmann G, Chandler J, Gleissner R, Wisman E, Apel K, Melzer S (2000) A MADS domain gene involved in the transition to flowering in Arabidopsis. Plant J 24:591–599

Dhanaraj AL, Slovin JP, Rowland LJ (2004) Analysis of gene expression associated with cold acclimation in blueberry floral buds using expressed sequence tags. Plant Sci 166:863–872

Diaz-Riquelme J, Lijavetzky D, Martinez-Zapater JM, Carmona MJ (2009) Genome-wide analysis of MIKCC-type MADS box genes in grapevine. Plant Physiol 149:354–369

Doyle JJ, Doyle JL (1987) A rapid DNA isolation procedure for small quantities of fresh leaf tissue. Phytochem Bull 19:11–15

Ferrario S, Busscher J, Franken J, Gerats T, Vandenbussche M, Angenent GC, Immink RGH (2004) Ectopic expression of the petunia MADS box gene UNSHAVEN accelerates flowering and confers leaf-like characteristics to floral organs in a dominant-negative manner. Plant Cell 16:1490–1505

Gramzow L, Theissen G (2010) A hitchhiker's guide to the MADS world of plants. Genome Biol 11:214

Greenup A, Peacock WJ, Dennis ES, Trevaskis B (2009) The molecular biology of seasonal flowering-responses in Arabidopsis and the cereals. Ann Bot-London 103:1165–1172

Heijmans K, Morel P, Vandenbussche M (2012) MADS-box genes and floral development: the dark side. J Exp Bot 63:5397–5404

Henschel K, Kofuji R, Hasebe M, Saedler H, Munster T, Theissen G (2002) Two ancient classes of MIKC-type MADS-box genes are present in the moss Physcomitrella patens. Mol Biol Evol 19:801–814

Heuer S, Hansen S, Bantin J, Brettschneider R, Kranz E, Lorz H, Dresselhaus T (2001) The maize MADS box gene ZmMADS3 affects node number and spikelet development and is co-expressed with ZmMADS1 during flower development, in egg cells, and early embryogenesis. Plant Physiol 127:33–45

Hileman LC, Sundstrom JF, Litt A, Chen MQ, Shumba T, Irish VF (2006) Molecular and phylogenetic analyses of the MADS-Box gene family in tomato. Mol Biol Evol 23:2245–2258

Hood EE, Gelvin SB, Melchers LS, Hoekema A (1993) New Agrobacterium helper plasmids for gene-transfer to plants. Transgenic Res 2:208–218

Horsch RB, Fry JE, Hoffmann NL, Eichholtz D, Rogers SG, Fraley RT (1985) A simple and general-method for transferring genes into plants. Science 227:1229–1231

Hu LF, Liu SQ (2012) Genome-wide analysis of the MADS-box gene family in cucumber. Genome 55:245–256

Kaufmann K, Melzer R, Theissen G (2005) MIKC-type MADS-domain proteins: structural modularity, protein interactions and network evolution in land plants. Gene 347:183–198

Kwantes M, Liebsch D, Verelst W (2012) How MIKC* MADS-box genes originated and evidence for their conserved function throughout the evolution of vascular plant gametophytes. Mol Biol Evol 29:293–302

Lee J, Lee I (2010) Regulation and function of SOC1, a flowering pathway integrator. J Exp Bot 61:2247–2254

Lee SY, Kim J, Han JJ, Han MJ, An GH (2004) Functional analyses of the flowering time gene OsMADS50, the putative SUPPRESSOR OFOVEREXPRESSION OFCO 1/AGAMOUS-LIKE 20 (SOC1/AGL20) ortholog in rice. Plant J 38:754–764

Lee J, Oh M, Park H, Lee I (2008) SOC1 translocated to the nucleus by interaction with AGL24 directly regulates LEAFY. Plant J 55:832–843

Leseberg CH, Li AL, Kang H, Duvall M, Mao L (2006) Genome-wide analysis of the MADS-box gene family in Populus trichocarpa. Gene 378:84–94

Michaels SD, Amasino RM (1999) FLOWERING LOCUS C encodes a novel MADS domain protein that acts as a repressor of flowering. Plant Cell 11:949–956

Moon J, Suh SS, Lee H, Choi KR, Hong CB, Paek NC, Kim SG, Lee I (2003) The SOC1 MADS-box gene integrates vernalization and gibberellin signals for flowering in Arabidopsis. Plant J 35:613–623

Murashige T, Skoog F (1962) A revised medium for rapid growth and bio assays with tobacco tissue cultures. Physiol Plantarum 15:473–497

Nakano Y, Kawashima H, Kinoshita T, Yoshikawa H, Hisamatsu T (2011) Characterization of FLC, SOC1 and FT homologs in Eustoma grandiflorum: effects of vernalization and post-vernalization conditions on flowering and gene expression. Physiol Plantarum 141:383–393

Parenicova L, de Folter S, Kieffer M, Horner DS, Favalli C, Busscher J, Cook HE, Ingram RM, Kater MM, Davies B, Angenent GC, Colombo L (2003) Molecular and phylogenetic analyses of the complete MADS-box transcription factor family in Arabidopsis: new openings to the MADS world. Plant Cell 15:1538–1551

Pin PA, Nilsson O (2012) The multifaceted roles of FLOWERING LOCUS T in plant development. Plant Cell Environ 35:1742–1755

Ruokolainen S, Ng YP, Albert VA, Elomaa P, Teeri TH (2011) Over-expression of the Gerbera hybrida At-SOC1-like1 gene Gh-SOC1 leads to floral organ identity deterioration. Ann Bot-Lond 107:1491–1499

Ryu CH, Lee S, Cho LH, Kim SL, Lee YS, Choi SC, Jeong HJ, Yi J, Park SJ, Han CD, An G (2009) OsMADS50 and OsMADS56 function antagonistically in regulating long day (LD)-dependent flowering in rice. Plant, Cell Environ 32:1412–1427

Samach A, Onouchi H, Gold SE, Ditta GS, Schwarz-Sommer Z, Yanofsky MF, Coupland G (2000) Distinct roles of CONSTANS target genes in reproductive development of Arabidopsis. Science 288:1613–1616

Shitsukawa N, Ikari C, Mitsuya T, Sakiyama T, Ishikawa A, Takumi S, Murai K (2007) Wheat SOC1 functions independently of WAP1/VRN1, an integrator of vernalization and photoperiod flowering promotion pathways. Physiol Plantarum 130:627–636

Smaczniak C, Immink RGH, Angenent GC, Kaufmann K (2012a) Developmental and evolutionary diversity of plant MADS-domain factors: insights from recent studies. Development 139:3081–3098

Smaczniak C, Immink RGH, Muino JM, Blanvillain R, Busscher M, Busscher-Lange J, Dinh QD, Liu SJ, Westphal AH, Boeren S, Parcy F, Xu L, Carles CC, Angenent GC, Kaufmann K (2012b) Characterization of MADS-domain transcription factor complexes in Arabidopsis flower development. P Natl Acad Sci USA 109:1560–1565

Smykal P, Gennen J, De Bodt S, Ranganath V, Melzer S (2007) Flowering of strict photoperiodic Nicotiana varieties in non-inductive conditions by transgenic approaches. Plant Mol Biol 65:233–242

Sreekantan L, Thomas MR (2006) VvFT and VvMADS8, the grapevine homologues of the floral integrators FT and SOC1, have unique expression patterns in grapevine and hasten flowering in Arabidopsis. Funct Plant Biol 33:1129–1139

Tadege M, Sheldon CC, Helliwell CA, Upadhyaya NM, Dennis ES, Peacock WJ (2003) Reciprocal control of flowering time by OsSOC1 in transgenic Arabidopsis and by FLC in transgenic rice. Plant Biotechnol J 1:361–369

Tamura K, Peterson D, Peterson N, Stecher G, Nei M, Kumar S (2011) MEGA5: molecular evolutionary genetics analysis using maximum likelihood, evolutionary distance, and maximum parsimony methods. Mol Biol Evol 28:2731–2739

Tan FC, Swain SM (2007) Functional characterization of AP3, SOC1 and WUS homologues from citrus (Citrus sinensis). Physiol Plantarum 131:481–495

Theissen G, Becker A, Di Rosa A, Kanno A, Kim JT, Munster T, Winter KU, Saedler H (2000) A short history of MADS-box genes in plants. Plant Mol Biol 42:115–149

Thompson JD, Higgins DG, Gibson TJ, Clustal W (1994) Improving the sensitivity of progressive multiple sequence alignment through sequence weighting, position-specific gap penalties and weight matrix choice. Nucleic Acids Res 22:4673–4680

Wellmer F, Riechmann JL (2010) Gene networks controlling the initiation of flower development. Trends Genet 26:519–527

Zhong XF, Dai X, Xv JH, Wu HY, Liu B, Li HY (2012) Cloning and expression analysis of GmGAL1, SOC1 homolog gene in soybean. Mol Biol Rep 39:6967–6974
About this article
Cite this article
Song, Gq., Walworth, A., Zhao, D. et al. Constitutive expression of the K-domain of a Vaccinium corymbosum SOC1-like (VcSOC1-K) MADS-box gene is sufficient to promote flowering in tobacco. Plant Cell Rep 32, 1819–1826 (2013). https://doi.org/10.1007/s00299-013-1495-1
Received:

Revised:

Accepted:

Published:

Issue Date:

DOI: https://doi.org/10.1007/s00299-013-1495-1
Keywords
Floral initiation

Flowering time

MIKC-type MADS-box gene

SUPPRESSOR OF OVEREXPRESSION OF CONSTANS 1 (SOC1)
Vaccinium corymbosum L.

Woody plant