Abstract
Xanthan gum, a microbial desiccation-resistant polysaccharide prepared commercially by aerobic submerged fermentation from Xanthomonas campestris, has been successfully used as a solidifying agent for plant tissue culture media. Its suitability as a substitute to agar was demonstrated for in vitro seed germination, caulogenesis and rhizogenesis of Albizzia lebbeck, androgenesis in anther cultures of Datura innoxia, and somatic embryogenesis in callus cultures of Calliandra tweedii. Culture media used for eliciting these morphogenic responses were gelled with either 1% xanthan gum or 0.9% agar. Xanthan gum, like agar, supported all these responses.
Access options
Buy single article
Instant access to the full article PDF.
US$ 39.95
Tax calculation will be finalised during checkout.
Subscribe to journal
Immediate online access to all issues from 2019. Subscription will auto renew annually.
US$ 119
Tax calculation will be finalised during checkout.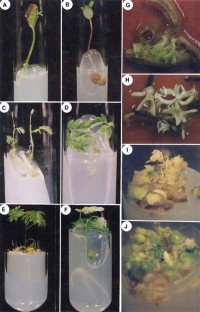 Abbreviations
BA:

6-Benzylamino purine

MS:

Murashige and Skoog's basal medium

B5 :

Gamborg's basal medium
References
Babbar SB, Jain N (1998) 'Isubgol' as an alternative gelling agent for plant tissue culture media. Plant Cell Rep 17:318–322

Babbar SB, Jain R, Walia N (2005) Guar gum as a gelling agent for plant tissue culture media. In Vitro Cell Dev Biol–Plant 41 (in press)

Creager JG, Black JG, Davison VE (1990) Microbiology, principles and applications. Prentice Hall, New Jersey

Eyre MJ, Caswell SC (1991) Sterile culture of Rotylenchulus reniformis on tomato root with gellan gum as a supporting medium. J Nematol 23:229–231

Gamborg OL, Muller RA, Ojima K (1968) Nutrient requirements of suspension cultures of soybean root cells. Exp Cell Res 50:151–158

Gupta SC, Babbar SB (1980) Enhancement of plantlets formation in anther cultures of Datura metel L. by pre-chilling of buds. Z Pflanzenphysiol 96:465–470

Henderson WE, Kinneresley AM (1988) Corn starch as an alternative gelling agent for plant tissue culture. Plant Cell Tissue Organ Cult 15:17–22

Jain N, Babbar SB (2002) Gum katira—a cheap gelling agent for plant tissue culture media. Plant Cell Tissue Organ Cult 71:223–229

Lachke A (2004) Xanthan—a versatile gum. Resonance 9:25–33

McLachlan (1985) Macroalgae (seaweeds): industrial resources and their utilization. Plant and Soil 89:137–157

Murashige T, Skoog F (1962) A revised medium for rapid growth and bioassays with the tobacco tissue cultures. Physiol Plant 15:473–497

Nitsch JP (1969) Experimental androgenesis in Nicotiana. Phytomorphology 19:389–404

Pasqualetto PL, Zimmerman RH, Fordham IM (1988) The influence of cation and gelling agent concentrations on vitrification of apple cultivars in vitro. Plant Cell Tissue Organ Cult 14:31–40

Sorvari S, Toldi O, Ahanen K, Viinämaki T, Hakonen T, Tahvonen R (1997) Using polysaccharides and galactomannans as gelling agents in capsule formation of artificial seeds. J Am Soc Hortic Sci 122:878–883

Trembley L, Trembley FM (1991) Effects of gelling agents, ammonium nitrate and light on the development of Picea mariana (Mill.) B.S.P. (black spruce) and Picea rubens Sarg. (red spruce) somatic embryos. Plant Sci 77:233–242

White PR (1939) Controlled differentiation in plant tissue culture. Bull Torrey Bot Club 66:507–513

Zimmerman RH, Bhardwaj SV, Fordham I (1995) Use of starch-gelled medium for plant tissue culture of some fruit crops. Plant Cell Tissue Organ Cult 43:207–213
Additional information
Communicated by G.C. Phillips
About this article
Cite this article
Jain, R., Babbar, S.B. Xanthan gum: an economical substitute for agar in plant tissue culture media. Plant Cell Rep 25, 81–84 (2006). https://doi.org/10.1007/s00299-005-0039-8
Received:

Revised:

Accepted:

Published:

Issue Date:
Keywords
Agar-agar

Plant tissue culture media

Xanthan gum