Abstract
Sugarcane white leaf (SCWL)-diseased sugarcane plants collected from Udornthani Province, in north-eastern Thailand, were the source for tissue culture experiments. Explants from axillary buds, meristem tips, and leaves grew optimally in Murashige-Skoog medium containing 0.5 mg/l α-naphthaleneacetic acid, 0.5 mg/l 6-benzylaminopurine, and 15% coconut water. Callus development and shoot/root proliferation were more rapid in cultures from diseased than from healthy plants. Disease symptoms continued for 6 years after culture initiation, and SCWL phytoplasma persisted, as confirmed by polymerase chain reaction using both 16S rDNA and 16S-23S rDNA primers. Phytoplasmas in the cultured plantlets were transmissible by grafting to sugarcane and periwinkle, and by feeding of the leafhopper vector Matsumuratettix hiroglyphicus to sugarcane. Although 50% of the plantlets were killed by oxytetracycline at 500 mg/ml, 70–100% of plantlets grown with 200–500 mg/ml oxytetracycline showed symptom remission through 5–8 subcultures. Typical phytoplasma-like bodies, visible by electron microscopy in sieve tubes of untreated diseased plantlets, were absent in antibiotic-treated plantlets. Thus, tissue culture provides a convenient and reliable in vivo system for investigation of SCWL phytoplasma.
Access options
Buy single article
Instant access to the full article PDF.
US$ 39.95
Tax calculation will be finalised during checkout.
Subscribe to journal
Immediate online access to all issues from 2019. Subscription will auto renew annually.
US$ 119
Tax calculation will be finalised during checkout.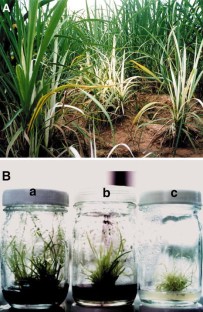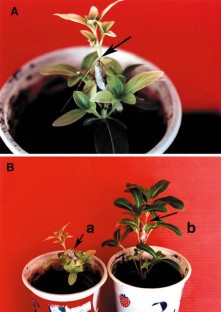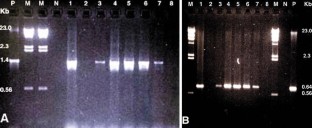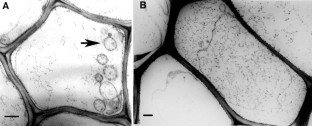 References
Bertaccini A, Davies RE, Lee IM (1992) In vitro micropropagation for maintenance of mycoplasma-like organisms in infected plant tissues. HortScience 27:1041–1043

Chen ZW, ChenYX, Chen TA (1991) Advance in the study of jujube witches' broom disease. J Nanjing Agric Univ 14:49–55

Cousin MT, Roux J, Millet N, Michel MF (1990) Maintenance of MLOs (mycoplasma-like organisms) on Populus alba micropropagation. J Phytopathol 130:17–23

Dai Q, He F-T, Liu P-Y (1997) Elimination of phytoplasma by stem culture from mulberry plants (Morus alba) with dwarf disease. Plant Pathol 46:56–61

Davies DL, Clark MF (1994) Maintenance of mycoplasma-like organisms occurring in Pyrus species by micropropagation and their elimination by tetracycline therapy. Plant Pathol 43:819–823

Doi Y, Teranaka M, Yora K, Asuyama H (1967) Mycoplasma- or PLT group-like microorganisms found in the phloem elements of plants infected with mulberry dwarf, potato witches'-broom, aster yellows or pawlownia witches'-broom. Ann Phytopathol Soc Jpn 33:259–266

Hanboonsong Y, Choosai C, Panyim S, Damak S (2002) Transovarial transmission of sugarcane white leaf phytoplasma in the insect vector Matsumuratetteix hiroglyphicus (Matsumura). Insect Mol Biol 11:97–103. DOI 10.1046/j0962-1075.2001.00314.x

Jacoli GG (1978a) Early phases of degeneration of mycoplasma-like bodies in plant tissue cultures infected with aster yellows: morphological analogies with Mycoplasma hominis. Can J Microbiol 24:1053–1057

Jacoli GG (1978b) Sequential degeneration of mycoplasma-like bodies in plant tissue cultures infected with aster yellows. Can J Bot 56:133–140

Jacoli GG, Ronald WP (1974) Electron microscopic studies of plant tissue cultures infected with the aster yellows disease. J Ultrastruct Res 46:34–42

Jarausch W, Lansac M, Dosba F (1994a) Micropropagation for maintenance of mycoplasma-like organisms in infected Prunus mariana GF 8-1. Acta Hortic 359:169–176

Jarausch W, Saillard C, Dosba F, Bove JM (1994b) Differentiation of mycoplasma-like organisms (MLOs) in European fruit trees by PCR using specific primers derived from the sequence of a chromosomal fragment of the apple proliferation MLO. Appl Environ Microbiol 60:2916–2923

Jarausch W, Lansac M, Dosba F (1996) Long-term maintenance of nonculturable apple-proliferation phytoplasmas in their micropropagated natural host plant. Plant Pathol 45:778–786

Kirkpatrick BC (1989) Strategies for characterizing plant pathogenic mycoplasma-like organisms and their effects on plants. In: Kosuge T, Nester EW (eds) Plant-microbe interactions, molecular and genetic perspectives, vol III. McGraw Hill, New York, pp 241–293

Kollar A, Seemuller E, Bonnet F, Saillard C, Bove JM (1990) Isolation of the DNA of various plant pathogenic mycoplasmalike organisms from infected plants. Phytopathology 80:233–237

Mitsuhashi J, Maramorosch K (1964) Inoculation of plant tissue cultures with aster yellows virus. Virology 23:277–279

Moellers C, Sarkar S (1989) Regeneration of healthy plants from Catharanthus roseus infected with mycoplasma-like organisms through culture. Plant Sci 69:83–90

Murashige T, Skoog F (1969) A revised medium for rapid growth and bioassays with tobacco culture. Physiol Plant 15:473–497

Nakashima K, Kato S, Iwanami S, Murata N (1991) Cloning and detection of chromosomal DNA from mycoplasma like organisms that cause yellow dwarf disease of rice. Appl Environ Microbiol 57:3570–3575

Nakashima K, Chaleeprom W, Wongkaew P, Sirithorn P (1994) Detection of mycoplasma-like organisms associated with white leaf disease of sugarcane in Thailand using DNA probes. JIRCAS J 1:57–67

Nakashima K, Wongkaew P, Chaleeprom W, Sirithorn P, Hayashi T (1999) Molecular detection and characterization of phytoplasmas that cause sugarcane white leaf disease. JIRCAS J 7:1–17

Namba S, Oyaizu H, Kato S, Iwanami S, Tsuchizaki T (1993) Phylogenetic diversity of phytopathogenic mycoplasma like organisms. Int J Syst Bacteriol 43:461–467

Petru E, Ulrychova M (1975) Persistence and spread of mycoplasma in axenic callus tissue cultures of tobacco (Nicotiana glauca Grah) in the presence of kinetin and IAA in nutrient medium. Biol Plant 17:352–356

Raj Bhansali R, Ramawat KG (1993) Micropropagation of little leaf diseased egg plants infected with mycoplasma-like organisms. J Hortic Sci 68:25–30

Sarindu N, Clark MF (1993) Antibody production and identity of MLOs associated with sugar-cane whiteleaf disease and bermuda-grass whiteleaf disease in Thailand. Plant Pathol 42:396–402

Sears BB, Klomparens KL (1989) Leaf tip cultures of the evening primrose allow stable, aseptic culture of mycoplasma-like organism. Can J Plant Pathol 11:343–348

Spurr AR (1969) A low-viscosity epoxy resin embedding medium for electron microscopy. J Ultrastruct Res 26:31

Tanne E, Orenstein S (1997) Identification and typing of grapevine yellows phytoplasma amplified by graft transmission to periwinkle. Vitis 36:35–38

Wang KR, Zhong QH, Khadhair AH, Hiruki C (1994) DNA amplification based on polymerase chain reaction for the sensitive detection of the mycoplasma-like organism associated with paulownia witches' broom. Proc Jpn Acad B 70:87–91

Wongkaew P (1999) Sugarcane white leaf disease and control strategies. Thailand Research Fund. T&R Celeca, Bangkok

Wongkaew P, Sirithorn P, Chaleeprom W, Nakashima K, Hayashi T, Koizumi M (1995) Detection of sugarcane white leaf mycoplasma-like organism in field plants and tissue cultures by DNA probes. In: Matangkasombat P, Yoshida T (eds) Microbial utilization of renewable resources, vol 9. Japan International Center of Cooperative Research in Biotechnology, Osaka, pp 406–419

Wongkaew P, Hanboonsong Y, Sirithorn P, Choosai C, Boonkrong S, Tinnangwattana T, Kitchareonpanya R, Damak S (1997) Differentiation of phytoplasma associated with sugarcane and gramineous weed white leaf disease and sugarcane grassy shoot disease by RFLP and sequencing. Theor Appl Genet 95:660–663

Wongkaew P, Sirithorn P, Hanboonsong Y, Tinnangwattana T, Kitchareonpanya R (1999) Preliminary survey on the white leaf disease predicament in the Northeast Thai. Thai J Cane Sugar 6:36–52
Acknowledgements
This work was supported by a grant from the Thailand Research Fund and Khon Kaen University, and by the Oklahoma Agricultural Experiment Station project # 2052.
Additional information
Communicated by H. Judelson
About this article
Cite this article
Wongkaew, P., Fletcher, J. Sugarcane white leaf phytoplasma in tissue culture: long-term maintenance, transmission, and oxytetracycline remission. Plant Cell Rep 23, 426–434 (2004). https://doi.org/10.1007/s00299-004-0847-2
Received:

Revised:

Accepted:

Published:

Issue Date:
Keywords
Sugarcane tissue culture

SCWL phytoplasma

Persistence

Graft transmission

Insect transmission

Oxytetracycline treatment