Abstract
Epitopes often require co-delivery with an adjuvant or targeting protein to enable recognition by the immune system. This paper reports the ability of transgenic tomato plants to express a fusion protein consisting of the B subunit of the Escherichia coli heat-labile enterotoxin (LTB) and an immunocontraceptive epitope. The fusion protein was found to assemble into pentamers, as evidenced by its ability to bind to gangliosides, and had an average expression level of 37.8 μg g−1 in freeze-dried transgenic tissues. Processing of selected transgenic fruit resulted in a 16-fold increase in concentration of the antigen with minimal loss in detectable antigen. The species-specific nature of this epitope was shown by the inability of antibodies raised against non-target species to detect the LTB fusion protein. The immunocontraceptive ability of this vaccine will be tested in future pilot mice studies.
Access options
Buy single article
Instant access to the full article PDF.
US$ 39.95
Tax calculation will be finalised during checkout.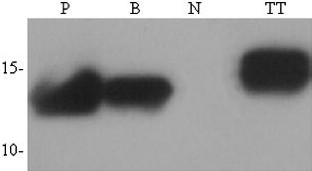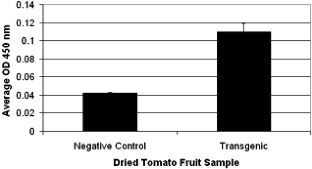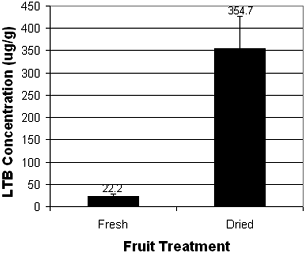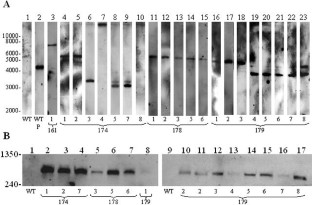 Abbreviations
DW :

Dry weight

ELISA :

Enzyme-linked immunosorbant assay

ETEC :

Entertoxigenic Escherichia coli

FW :

Fresh weight

LTB :

B subunit of Escherichia coli heat-labile enterotoxin

ZP3 :

Zona pellucida glycoprotein 3
References
Arakawa T, Yu J, Chong DK, Hough J, Engen PC, Langridge WH (1998) A plant-based cholera toxin B subunit-insulin fusion protein protects against the development of autoimmune diabetes. Nat Biotechnol 16:934–938

Arakawa T, Yu J, Langridge WH (2001) Synthesis of a cholera toxin B subunit-rotavirus NSP4 fusion protein in potato. Plant Cell Rep 20:343–348

Bagdasarian MM, Nagai M, Frey J, Bagdasarian M (1999) Immunogenicity of Actinobacillus ApxIA toxin epitopes fused to the E. coli heat-labile enterotoxin B subunit. Vaccine 17:441–447

Becker D, Kemper E, Schell J, Masterson R (1992) New plant binary vectors with selectable markers located proximal to the left T-DNA border. Plant Mol Biol 20:1195–1197

Cardenas L, Clements JD (1993) Development of mucosal protection against the heat-stable enterotoxin (ST) of Escherichia coli by oral immunization with a genetic fusion delivered by a bacterial vector. Infect Immun 61:4629–4636

Clements JD, Finkelstein RA (1979) Isolation and characterization of homogeneous heat-labile enterotoxins with high specific activity from Escherichia coli cultures. Infect Immun 24:760–769

Clough SJ, Bent AF (1998) Floral dip: a simplified method for Agrobacterium-mediated transformation of Arabidopsis thaliana. Plant J 16:735–743

Dalsgaard K, Uttenthal A, Jones TD, Xu F, Merryweather A, Hamilton WD, Langeveld JP, Boshuizen RS, Kamstrup S, Lomonossoff GP, Porta C, Vela C, Casal JI, Meloen RH, Rodgers PB (1997) Plant-derived vaccine protects target animals against a viral disease. Nat Biotechnol 15:248–252

Dunbar BS, Prasad SV (1997) Contraceptive vaccine comprising a glycosylated 55KD zona pellucida protein immunogen and method of use of the same in contraception. Off Gaz US Patent Trademark Office Patents 1199:1077

Fitchen J, Beachy RN, Hein MB (1995) Plant virus expressing hybrid coat protein with added murine epitope elicits autoantibody response. Vaccine 13:1051–1057

Frary A, Earle ED (1996) An examination of factors affecting the efficiency of Agrobacterium-mediated transformation of tomato. Plant Cell Rep 16:235–240

Haq TA, Mason HS, Clements JD, Arntzen CJ (1995) Oral immunization with a recombinant bacterial antigen produced in transgenic plants. Science 268:714–716

Hoekema A, Hirsch PR, Hooykaas PJJ, Schilperoort RA (1983) A binary plant vector strategy based on separation of vir- and T-region of the Agrobacterium tumefaciens Ti Plasmid. Nature 303:179–180

Hood EE, Gelvin SB, Melchers LS, Hoekema A (1993) New Agrobacterium helper plasmids for gene transfer to plants. Transgenic Res 2:208–218

Mason HS, Haq TA, Clements JD, Arntzen CJ (1998) Edible vaccine protects mice against Escherichia coli heat-labile enterotoxin (LT): potatoes expressing a synthetic LT-B gene. Vaccine 16:1336–1343

Millar SE, Chamow SM, Baur AW, Oliver C, Robey F, Dean J (1989) Vaccination with a synthetic zona pellucida peptide produces long-term contraception in female mice. Science 246:935–938

Modelska A, Dietzschold B, Sleysh N, Fu ZF, Steplewski K, Hooper DC, Koprowski H, Yusibov V (1998) Immunization against rabies with a plant-derived antigen. Proc Natl Acad Sci USA 95:2481–2485

Murashige T, Skoog F (1962) A revised medium for rapid growth and bioassays with tobacco tissue cultures. Physiol Planta 15:473–497

O'Dowd AM, Botting CH, Precious B, Shawcross R, Randall RE (1999) Novel modifications to the C-terminus of LTB that facilitate site-directed chemical coupling of antigens and the development of LTB as a carrier for mucosal vaccines. Vaccine 17:1442–1453

Pillai D, Dixit A, Alok D, Garg LC (1996) Translational fusion of heat labile enterotoxin chain B and beta-subunit of human chorionic gonadotropin: periplasmic expression in Escherichia coli and its immunogenicity. FEBS Lett 387:23–26

Sambrook J, Fritsch EF, Maniatis T (1989) Molecular cloning: a laboratory manual, 2nd edn. Cold Spring Harbor Laboratory Press, Cold Spring Harbor, N.Y.

Schodel F, Will H, Johansson S, Sanchez J, Holmgren J (1991) Synthesis in Vibrio cholerae and secretion of hepatitis B virus antigens fused to Escherichia coli heat-labile enterotoxin subunit B. Gene 99:255–259

Sewani CR, Bagdasarian MM, Ireland JJ, Bagdasarian M (1998) Display of an inhibin epitope in a surface-exposed loop of the E. coli heat-labile enterotoxin B subunit. Vaccine 16:1611–1619

Sixma TK, Kalk KH, van Zanten BAM, Dauter Z, Kingma J, Witholt B, Hol WGJ (1993) Refined structure of Escherichia coli heat-labile enterotoxin, a close relative of cholera toxin. J Mol Biol 230:890–918

Skinner SM, Killian GJ, Miller LA, Dunbar BS (1994) Characterization of antigenicity and immunogenicity patterns of native and recombinant zona pellucida proteins in the white-tailed deer (Oidocoileus virginianus). J Reprod Fertil 101:295–303

Tacket CO, Mason HS, Losonsky G, Clements JD, Levine MM, Arntzen CJ (1998) Immunogenicity in humans of a recombinant bacterial antigen delivered in a transgenic potato. Nat Med 4:607–609

Tacket CO, Mason HS, Losonsky G, Estes MK, Levine MM, Arntzen CJ (2000) Human immune responses to a novel norwalk virus vaccine delivered in transgenic potatoes. J Infect Dis 182:302–305

Tsuji T, Watanabe K, Miyama A (1995) Monomer of the B subunit of heat-labile enterotoxin from enterotoxigenic Escherichia coli has little ability to bind to GM1 ganglioside compared to its coligenoid. Microbiol Immunol 39: 817–819.

Tung KSK, Ang J, Lou Y (1996) ZP3 peptide vaccine that induces antibody and reversible infertility without autoimmune oophoritis. Am J Reprod Immunol 35:181–183

Wada K, Aota S, Tsuchiya R, Ishibashi F, Gojobori T, Ikemura T (1990) Codon usage tabulated from the GenBank genetic sequence data. Nucleic Acids Res 18:2367–2411

Walmsley AM, Arntzen CJ (2000) Plants for delivery of edible vaccines. Curr Opin Biotechnol 11:126–129

Wigdorovitz A, Perez Filgueira DM, Robertson N, Carrillo C, Sadir AM, Morris TJ, Borca MV (1999) Protection of mice against challenge with foot and mouth disease virus (FMDV) by immunization with foliar extracts from plants infected with recombinant tobacco mosaic virus expressing the FMDV structural protein VP1. Virology 264:85–91
Acknowledgements
For valuable technical assistance, the investigators would like to thank Que Quiang, Tracey Cranston and Joan Lenz. This work was supported by the Co-operative Research Centre for Conservation and Management of Marsupials, Axis Genetics, and Dow AgroSciences LLC.
Additional information
Communicated by E.D. Earle
About this article
Cite this article
Walmsley, A.M., Alvarez, M.L., Jin, Y. et al. Expression of the B subunit of Escherichia coli heat-labile enterotoxin as a fusion protein in transgenic tomato. Plant Cell Rep 21, 1020–1026 (2003). https://doi.org/10.1007/s00299-003-0619-4
Received:

Revised:

Accepted:

Published:

Issue Date:
Keywords
Heat labile toxin

Fusion protein

Immunocontraceptive

Tomato

Transgenic plants