Abstract
We have developed an efficient and cost-effective method for commercial micropropagation of Smooth Cayenne pineapple. In vitro shoots were used as starting materials, and either longitudinal sections of the shoots or leaf bases were used as the explants to regenerate shoots. When these explants were used, the axillary meristems, which usually remain quiescent during shoot multiplication, were able to form new shoots. Subsequent to the regeneration step, additional multiplication was achieved inside a 10-l Nalgene vessel with shoots immersed in liquid medium for 5–10 min/h (periodic immersion bioreactor, PIB). The shoots were then induced to form roots and transferred to soil. Using the above micropropagation method and the PIB, we produced 6,000–8,000 shoots from two initial shoots in less than 6 months. The clonal fidelity of propagated plants was tested in Costa Rican and Indonesian pineapple farms.
Access options
Buy single article
Instant access to the full article PDF.
US$ 39.95
Tax calculation will be finalised during checkout.
Subscribe to journal
Immediate online access to all issues from 2019. Subscription will auto renew annually.
US$ 119
Tax calculation will be finalised during checkout.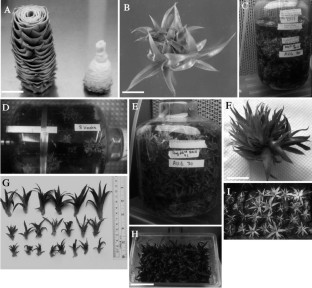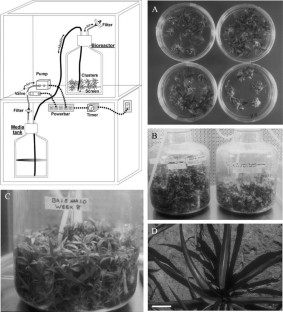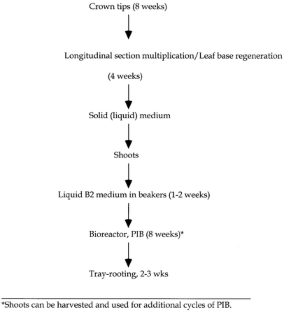 Abbreviations
BA, B :

6-Benzylaminopurine

GA 3 , G :

Gibberellic acid

IBA, I :

Indole-3-butyric acid

NAA, N :

α-Naphthaleneacetic acid

PIB :

Periodic immersion bioreactor

TDZ, T :

Thidiazuron
References
Alvard D, Cote F, Teisson C (1993) Comparison of methods of liquid medium culture for banana micropropagation: effects of temporary immersion of explants. Plant Cell Tissue Organ Cult 32:55–60

DeWald MG, Moore GA, Sherman WB, Evans MH (1988) Production of pineapple plants in vitro. Plant Cell Rep 7:535–537

Escalona M, Lorenzo JC, Gonzalez B, Daquinta M, Gonzalez JL, Desjardins Y, Borroto CG (1999) Pineapple (Ananas comosus L. Merr) micropropagation in temporary immersion systems. Plant Cell Rep 18:743–748

Firoozabady E, Nicholas J, Gutterson N (1995) In vitro plant regeneration and advanced propagation methods for pineapple. In Vitro 31[Abstr]:51A

Fitchet M (1990) Clonal propagation of Queen and Smooth Cayenne pineapple. Acta Hortic 275:261–266

Fitchet-Purnell M (1993) Maximum utilization of pineapple crowns for micropropagation. Acta Hortic 334:325–330

Gamborg OL, Miller RA, Ojima K (1968) Nutrient requirements of suspension cultures of soybean root cells. Exp Cell Res 50:151–158

Kiss E, Kiss J, Gyulai G, Heszky LE (1995) A novel method for rapid micropropagation of pineapple. HortScience 30:127–129

Mathews HV, Rangan TS (1979) Multiple plantlets in lateral bud and leaf explant in vitro cultures of pineapple. Sci Hortic 11:319–328

Murashige T, Skoog F (1962) A revised medium for rapid growth and bioassays with tobacco tissue culture. Physiol Plant 15:473–497

Zepeda C, Sagawa Y (1981) In vitro propagation of pineapple. HortScience 16:495
Acknowledgements
We thank Julie Nicholas and Matthew Heckert for their excellent technical assistance, Matthew Heckert for the PIB drawing, and our collaborators at Agribiotecnología de Costa Rica, in particular Oscar Arias, and at Fitotek Unggul in Indonesia, in particular Kariana Safarwan, for their valuable discussions during this project and evaluation of the plants in the field. The project was partially funded by the United States Agency for International Development (grant nos. DAN-4197-A-00-1126-00 and LAG-4197-A-00-2032-00).
Additional information
Communicated by G.C. Phillips
About this article
Cite this article
Firoozabady, E., Gutterson, N. Cost-effective in vitro propagation methods for pineapple. Plant Cell Rep 21, 844–850 (2003). https://doi.org/10.1007/s00299-003-0577-x
Received:

Revised:

Accepted:

Published:

Issue Date:
Keywords
Ananas comosus

Bioreactor

Shoot culture

Micropropagation

Plant regeneration