Abstract
Enthesitis, a characteristic of spondyloarthritis, has been paid considerable attention by researchers, and numerous enthesitis-related studies have been published in recent years. However, no study has been conducted to analyze enthesitis-related researches with bibliometric methods. This study aimed to provide a broad understanding of enthesitis-related researches and explore the direction of hot topics and future research trends from a bibliometric perspective. The global literatures on enthesitis published from 2012 to 2021 were scanned in the Web of Science Core Collection databases. Visualization and bibliometric analyses were generated by an online bibliometric platform and VOSviewer software to explore the hot topics and research trends. A total of 1,181 documents were included in this study. Publications were mainly from these countries in North America and Western Europe. Among these countries, the United States was the leading country with the maximum publication counts (210), highest h-index (47), and largest collaboration network as of June 29, 2022. The most influential journal and powerful author were Journal of Rheumatology and Professor Mease PJ, respectively. Co-occurrence analysis of keywords identified that "axial spondyloarthritis", "interleukin 23", and "secukinumab" might be the future hotspots. More and more attention had been paid to enthesitis in the past 10 years. Present studies focused on the effect of inflammatory cytokines involved in the pathogenesis and the development of antibodies against these factors. These studies played a key role in understanding the research direction and subsequent management of enthesitis, and helped researchers extract hidden valuable information for further study.
Access options
Buy single article
Instant access to the full article PDF.
USD 39.95
Price excludes VAT (USA)
Tax calculation will be finalised during checkout.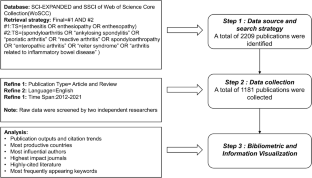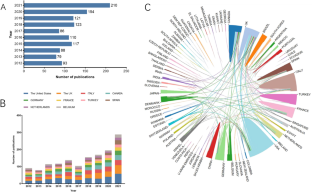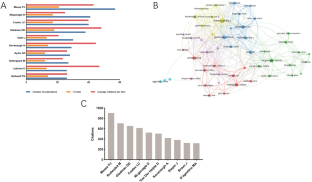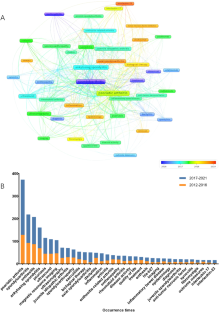 References
Sieper J, Poddubnyy D (2017) Axial spondyloarthritis. Lancet 390(10089):73–84

McGonagle D, Gibbon W, Emery P (1998) Classification of inflammatory arthritis by enthesitis. Lancet 352(9134):1137–1140

Gracey E, Burssens A, Cambré I et al (2020) Tendon and ligament mechanical loading in the pathogenesis of inflammatory arthritis. Nat Rev Rheumatol 16(4):193–207

Rizzo A, Guggino G, Ferrante A, Ciccia F (2018) Role of subclinical gut inflammation in the pathogenesis of spondyloarthritis. Front Med (Lausanne) 5:63

Sharif K, Bridgewood C, Dubash S, McGonagle D (2020) Intestinal and enthesis innate immunity in early axial spondyloarthropathy. Rheumatology (Oxford) 59(Suppl4):iv67–iv78

Akyol A, Kocyigit BF (2021) Publication activity in the field of Sjögren's syndrome: a ten-year web of science based analysis. Rheumatol Int 41(4):763–769

Kocyigit BF, Akyol A (2021) Bibliometric analysis of publication activity in the field of familial Mediterranean fever in 2010–2019: a Scopus-based study. Rheumatol Int 41(11):2015–2023

Wu H, Cheng K, Guo Q et al (2021) Mapping knowledge structure and themes trends of osteoporosis in rheumatoid arthritis: a bibliometric analysis. Front Med (Lausanne) 8:787228

Akyol A, Kocyigit BF (2021) Ankylosing spondylitis rehabilitation publications and the global productivity: a web of science-based bibliometric analysis (2000–2019). Rheumatol Int 41(11):2007–2014

Tang F, Dai WB, Li XL, Turghun D, Huang H, Fan YQ (2021) Publication trends and hot spots in femoroacetabular impingement research: a 20-year bibliometric analysis. J Arthroplasty 36(8):2698–2707

Zhang Y, Xu Y, Li S (2021) Bibliometrics analysis of diagnostic test accuracy studies of bladder cancer. Dis Markers 2021:8870353

Sherlock JP, Joyce-Shaikh B, Turner SP et al (2012) IL-23 induces spondyloarthropathy by acting on ROR-γt+ CD3+CD4-CD8- entheseal resident T cells. Nat Med 18(7):1069–1076

Benham H, Rehaume LM, Hasnain SZ et al (2014) Interleukin-23 mediates the intestinal response to microbial β-1,3-glucan and the development of spondyloarthritis pathology in SKG mice. Arthritis Rheumatol 66(7):1755–1767

Wu H, Li Y, Tong L, Wang Y, Sun Z (2021) Worldwide research tendency and hotspots on hip fracture: a 20-year bibliometric analysis. Arch Osteoporos 16(1):73

Mease PJ, Fleischmann R, Deodhar AA et al (2014) Effect of certolizumab pegol on signs and symptoms in patients with psoriatic arthritis: 24-week results of a Phase 3 double-blind randomised placebo-controlled study (RAPID-PsA). Ann Rheum Dis 73(1):48–55

Mease PJ, Armstrong AW (2014) Managing patients with psoriatic disease: the diagnosis and pharmacologic treatment of psoriatic arthritis in patients with psoriasis. Drugs 74(4):423–441

de Winter JJ, van Mens LJ, van der Heijde D, Landewé R, Baeten DL (2016) Prevalence of peripheral and extra-articular disease in ankylosing spondylitis versus non-radiographic axial spondyloarthritis: a meta-analysis. Arthritis Res Ther 18(1):196

Schett G, Lories RJ, D'Agostino MA et al (2017) Enthesitis: from pathophysiology to treatment. Nat Rev Rheumatol 13(12):731–741

Feld J, Chandran V, Haroon N, Inman R, Gladman D (2018) Axial disease in psoriatic arthritis and ankylosing spondylitis: a critical comparison. Nat Rev Rheumatol 14(6):363–371

Sieper J, Poddubnyy D, Miossec P (2019) The IL-23-IL-17 pathway as a therapeutic target in axial spondyloarthritis. Nat Rev Rheumatol 15(12):747–757

McGonagle DG, McInnes IB, Kirkham BW, Sherlock J, Moots R (2019) The role of IL-17A in axial spondyloarthritis and psoriatic arthritis: recent advances and controversies. Ann Rheum Dis 78(9):1167–1178

McInnes IB, Behrens F, Mease PJ et al (2020) Secukinumab versus adalimumab for treatment of active psoriatic arthritis (EXCEED): a double-blind, parallel-group, randomised, active-controlled, phase 3b trial. Lancet 395(10235):1496–1505

Armstrong AW, Read C (2020) Pathophysiology, clinical presentation, and treatment of psoriasis: a review. JAMA 323(19):1945–1960

Mease PJ, Landewé R, Rahman P et al (2021) Secukinumab provides sustained improvement in signs and symptoms and low radiographic progression in patients with psoriatic arthritis: 2-year (end-of-study) results from the FUTURE 5 study. RMD Open 7(2):e001600

Braun J, Baraliakos X, Deodhar A et al (2019) Secukinumab shows sustained efficacy and low structural progression in ankylosing spondylitis: 4-year results from the MEASURE 1 study. Rheumatology (Oxford) 58(5):859–868

Ritchlin C, Adamopoulos IE (2021) Axial spondyloarthritis: new advances in diagnosis and management. BMJ 372:m4447

Gossec L, Siebert S, Bergmans P et al (2022) Persistence and effectiveness of the IL-12/23 pathway inhibitor ustekinumab or tumour necrosis factor inhibitor treatment in patients with psoriatic arthritis: 1-year results from the real-world PsABio Study. Ann Rheum Dis 81(6):823–830

Deodhar A, Gensler LS, Sieper J et al (2019) Three multicenter, randomized, double-blind, placebo-controlled studies evaluating the efficacy and safety of ustekinumab in axial spondyloarthritis. Arthritis Rheumatol 71(2):258–270

Braun J, Landewé RB (2022) No efficacy of anti-IL-23 therapy for axial spondyloarthritis in randomised controlled trials but in post-hoc analyses of psoriatic arthritis-related "physician-reported spondylitis." Ann Rheum Dis 81(4):466–468
Funding
This research does not receive any specific grant from funding agencies in the public, commercial, or not-for-profit sectors.
Ethics declarations
Conflict of interest
The authors declare that there is no conflict of interest regarding the publication of this article.
Ethical approval
This research did not involve human experiments and, therefore, did not require ethical approval.
Consent for publication
All co-authors take full responsibility for the accuracy and integrity of all aspects of the work, and agree to publish in Rheumatology International Journal.
Additional information
Publisher's Note
Springer Nature remains neutral with regard to jurisdictional claims in published maps and institutional affiliations.
Supplementary Information
Below is the link to the electronic supplementary material.
Rights and permissions
Springer Nature or its licensor (e.g. a society or other partner) holds exclusive rights to this article under a publishing agreement with the author(s) or other rightsholder(s); author self-archiving of the accepted manuscript version of this article is solely governed by the terms of such publishing agreement and applicable law.
About this article
Cite this article
Zhang, Y., Hu, L., Liao, S. et al. Bibliometric analysis of publications on enthesitis in spondyloarthritis in 2012–2021 based on web of science core collection databases. Rheumatol Int 43, 173–182 (2023). https://doi.org/10.1007/s00296-022-05227-9
Received:

Accepted:

Published:

Issue Date:

DOI: https://doi.org/10.1007/s00296-022-05227-9
Keywords