Abstract
To design and develop a smartphone application for a structured hand exercise programme for patients with rheumatoid arthritis (RA) in Turkey and to test its usability. We followed a two-stage process: (1) Design and Development and (2) Usability testing. In stage 1, we used a qualitative user-centered design approach. We conducted a focus group (8 therapists and people with RA) to discuss the content, features and design to produce a prototype of the application. In a second focus group session, the participants tested the prototype, provided feedback and further revisions were made. In stage 2, 17 participants with RA used the app for 4 to 6 weeks. The System Usability Scale and the adapted Usability, Satisfaction and Ease to Use Questionnaires were used to measure usability, ease of use. Semi-structured interviews were conducted to explore user experiences with the application with 17 participants. In stage 1, the following themes were identified from the focus groups (a) login techniques (b) self-monitoring (c) exercises, (d) exercise diary, (e) information, (f) behavioral change and encouragement (g) exercise adherence. In stage 2, 3 themes were determined from interviews: (a) learning and accuracy, (b) ease of use, (c) motivation and adherence. USE and SUS scores indicated that users reported a high level of usability, satisfaction and ease of use. A mobile app for hand exercise for people with RA was developed using a mixed-method and iterative design. Participants perceived the mobile app as easy to use with high levels of satisfaction.
Access options
Buy single article
Instant access to the full article PDF.
USD 39.95
Price excludes VAT (USA)
Tax calculation will be finalised during checkout.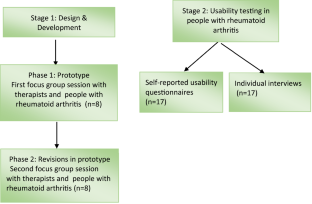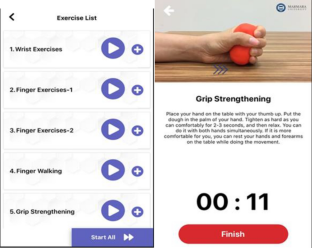 References
McInnes IB, Schett G (2011) The pathogenesis of rheumatoid arthritis. N Engl J Med 365(23):2205–2219. https://doi.org/10.1056/NEJMra1004965

Arab Alkabeya H, Hughes AM, Adams J (2019) Factors associated with hand and upper arm functional disability in people with rheumatoid arthritis: a systematic review. Arthritis Care Res (Hoboken) 71(11):1473–1481. https://doi.org/10.1002/acr.23784

Vliet Vlieland TP, van der Wijk TP, Jolie IM, Zwinderman AH, Hazes JM (1996) Determinants of hand function in patients with rheumatoid arthritis. J Rheumatol 23:835–840

Bodur H, Yilmaz O, Keskin D (2006) Hand disability and related variables in patients with rheumatoid arthritis. Rheumatol Int 26(6):541–544. https://doi.org/10.1007/s00296-005-0023-1

National Institute for Health and Clinical Excellence (NICE) (2018) Rheumatoid arthritis in adults: management. NICE Guideline 100. Available at: www.nice.org.uk/ng100. Accessed 20 Aug 2020

Lamb SE, Williamson EM, Heine PJ, Adams J, Dosanjh S, Dritsaki M, Glover MJ, Lord J, McConkey C, Nichols V, Rahman A (2015) Exercises to improve function of the rheumatoid hand (SARAH): a randomised controlled trial. Lancet 385(9966):421–429. https://doi.org/10.1016/S0140-6736(14)60998-3

Srikesavan C, Williamson E, Cranston T, Hunter J, Adams J, Lamb SE (2018) An online hand exercise intervention for adults with rheumatoid arthritis (mySARAH): design, development, and usability testing. J Med Internet Res 20(6):e10457. https://doi.org/10.2196/10457

WHO guideline: recommendations on digital interventions for health system strengthening. Geneva: World Health Organization; 2019. Licence: CC BY-NC-SA 3.0 IGO.

WHO Global Observatory for eHealth. (2011). mHealth: new horizons for health through mobile technologies: second global survey on eHealth. World Health Organization. https://apps.who.int/iris/handle/10665/44607. Accessed 20 Aug 2020

Peretti A, Amenta F, Tayebati SK, Nittari G, Mahdi SS (2017) Telerehabilitation: review of the state of the art and areas of application. JMIR Rehabil Assist Technol 4(2):e7. https://doi.org/10.2196/rehab.7511

Rogante M, Grigioni M, Cordella D, Giacomozzi C (2010) Ten years of telerehabilitation: a literatüre overview of technologies and clinical applications. Neurorehabilitation 27(4):287–304. https://doi.org/10.3233/NRE-2010-0612

Emmerson KB, Harding KE, Fong C, Taylor NF (2019) A resource analysis of the use of the video function of electronic devices for home exercise instruction in rehabilitation. Disabil Rehabil 17:1–5. https://doi.org/10.1080/09638288.2019.1663281

Maurits MP, Yuminaga H, Huizinga TWJ, Knevel R (2019) Mobile health applications in rheumatology: could they improve our care and research? Int J Clin Rheumatol 14(1):44–49. https://doi.org/10.4172/1758-4272.1000223

Argent R, Daly A, Caulfield B (2018) Patient involvement with home-based exercise programs: can connected health interventions influence adherence? JMIR Mhealth Uhealth 6(3):e47. https://doi.org/10.2196/mhealth.8518

Dicianno BE, Parmanto B, Fairman AD, Crytzer TM, Yu DX, Pramana G, Coughenour D, Petrazzi AA (2015) Perspectives on the evolution of mobile (mHealth) technologies and application to rehabilitation. Phys Ther 95(3):397–405. https://doi.org/10.2522/ptj.20130534

Rowland SP, Fitzgerald JE, Holme T, Powell J, McGregor A (2020) What is the clinical value of mHealth for patients? NPJ Digit Med 3:4. https://doi.org/10.1038/s41746-019-0206-x

Romeo A, Edney S, Plotnikoff R, Curtis R, Ryan J, Sanders I, Crozier A, Maher C (2019) Can smartphone apps increase physical activity? systematic review and meta-analysis. J Med Internet Res 21(3):e12053. https://doi.org/10.2196/12053

Machado GC, Pinheiro MB, Lee H, Ahmed OH, Hendrick P, Williams C, Kamper SJ (2016) Smartphone apps for the self-management of low back pain: a systematic review. Best Pract Res Clin Rheumatol 30(6):1098–1109. https://doi.org/10.1016/j.berh.2017.04.002

Schafer AGM, Zalpour C, von Piekartz H, Hall TM, Paelke V (2018) The efficacy of electronic health-supported home exercise interventions for patients with osteoarthritis of the knee: systematic review. J Med Internet Res 20(4):e152. https://doi.org/10.2196/jmir.9465

Voth EC, Oelke ND, Jung ME (2016) A theory-based exercise app to enhance exercise adherence: a pilot study. JMIR Mhealth Uhealth 4(2):e62. https://doi.org/10.2196/mhealth.4997

Azevedo R, Bernardes M, Fonseca J, Lima A (2015) Smartphone application for rheumatoid arthritis self-management: cross-sectional study revealed the usefulness, willingness to use and patients' needs. Rheumatol Int 35(10):1675–1685. https://doi.org/10.1007/s00296-015-3270-9

Schnall R, Rojas M, Bakken S, Brown W, Carballo-Dieguez A, Carry M, Gelaude D, Mosley JP, Travers J (2016) A user-centered model for designing consumer mobile health (mHealth) applications (apps). J Biomed Inform 60:243–251. https://doi.org/10.1016/j.jbi.2016.02.002

Alwashmi MF, Hawboldt J, Davis E, Fetters MD (2019) The iterative convergent design for mobile health usability testing: mixed methods approach. JMIR Mhealth Uhealth 7(4):e11656. https://doi.org/10.2196/11656

Trotter RT 2nd (2012) Qualitative research sample design and sample size: resolving and unresolved issues and inferential imperatives. Prev Med 55(5):398–400. https://doi.org/10.1016/j.ypmed.2012.07.003

Faulkner L (2003) Beyond the five-user assumption: benefits of increased sample sizes in usability testing. Behav Res Methods Instrum Comput 35(3):379–383. https://doi.org/10.3758/bf03195514

Stonbraker S, Cho H, Hermosi G, Pichon A, Schnall R (2018) Usability testing of a mhealth app to support self-management of HIV-associated non-AIDS related symptoms. Stud Health Technol Inform 250:106–110

Usability.gov. Reporting usability test results URL:https://www.usability.gov/how-to-and-tools/methods/ reporting-usability-test-results.html [accessed 2018–07–29] [Website Cache ID 71HbqLiLc]

Broekhuis M, Velsen LV, Hermens H (2019) Assessing usability of eHealth technology: a comparison of usability benchmarking instruments. Int J Med Infor 128:4–31. https://doi.org/10.1016/j.ijmedinf.2019.05.001

Gao M, Kortum P, Oswald F (2018) Psychometric evaluation of the USE (usefulness, satisfaction, and ease of use) questionnaire for reliability and validity. Proc Hum Factors Ergon Soc Annu Meet 62(1):1414–1418. https://doi.org/10.1177/1541931218621322

Cai RA, Beste D, Chaplin H, Varakliotis S, Suffield L, Josephs F, Sen D, Wedderburn LR, Ioannou Y, Hailes S, Eleftheriou D (2017) Developing and evaluating jiapp: acceptability and usability of a smartphone app system to improve self-management in young people with juvenile idiopathic arthritis. JMIR Mhealth Uhealth 5(8):e121. https://doi.org/10.2196/mhealth.7229

QSR International (1999) NVivo Qualitative Data Analysis Software [Software]. Available from https://qsrinternational.com/nvivo/nvivo-products/

Braun V, Clarke V, Terry G (2014) Thematic analysis. In: Rohleder P, Lyons A (eds) Qualitative research in clinical and health psychology. Palgrave MacMillan, Basingstoke
Acknowledgements
We would like to thank the health professionals and study participants who contributed to this work.
Funding
This research was funded by The Scientific and Technological Research Council of Turkey, the SE2020 Translational Fund for Social Impact at the University of Oxford and the National Institute for Health Research Applied Research Collaboration Oxford and Thames Valley at Oxford Health NHS Foundation Trust and supported by the NIHR Biomedical Research Unit, Oxford. Marmara University, Scientific Research Projects Committee supported the study. The views expressed are those of the author(s) and not necessarily those of the NHS, the NIHR or the Department of Health and Social Care.
Ethics declarations
Conflict of interest
There are no conflicts of interest to declare.
Ethical approval
The study protocol was approved by the Clinical Research Ethics Committee of Marmara University Medical Faculty, Turkey (Number: 06.2019.577).
Informed consent
Informed consent was obtained from all participants.
Additional information
Publisher's Note
Springer Nature remains neutral with regard to jurisdictional claims in published maps and institutional affiliations.
Supplementary Information
Below is the link to the electronic supplementary material.
About this article
Cite this article
Tonga, E., Williamson, E., Srikesavan, C. et al. A hand exercise mobile app for people with rheumatoid arthritis in Turkey: design, development and usability study. Rheumatol Int 41, 1151–1160 (2021). https://doi.org/10.1007/s00296-021-04860-0
Received:

Accepted:

Published:

Issue Date:

DOI: https://doi.org/10.1007/s00296-021-04860-0
Keywords