Abstract
The objective of this study is to investigate whether the type of biologics (TNFi or others) or type of rheumatic diseases (RA or AS) influence the conversion rate of initially negative tuberculosis (TB) screening test results. A total of 119 patients with RA or AS who had negative baseline interferon-γ release assay (IGRA) results assessed by QuantiFERON-TB Gold in tube (QTF-GIT) were included. All patients received biologic agents, and rescreening with QTF-GIT was performed after a median of 25.9 months from the baseline test. Clinical characteristics and IFN-γ levels were compared between converters and non-converters. Logistic regression analysis was performed to identify factors associated with positive conversion. IGRA conversion was found in 14 of 119 patients (11.8%). The converters were older (53.4 ± 14.2 vs 44.4 ± 15.5 years, p = 0.040), had higher baseline TB-specific IFN-γ responses (0.105 [0.018–0.205] vs 0.010 [0.000–0.035] IU/ml, p = 0.001) and higher incidence of active TB (14.3% vs 0.0%, p = 0.013). The number of patients with RA or AS was 9 (64.3%) or 5 (35.7%) in converters, and 45 (42.9%) or 60 (57.1%) in non-converters. In terms of use of biologics, TNFi of monoclonal antibody form was less commonly used in the converters (p = 0.024). In the logistic regression analysis, type of disease and type of biologics used were not associated with IGRA conversion, whereas baseline TB-specific IFN-γ response was significantly associated with IGRA conversion (OR 1.083, 95% CI 1.019–1.151, p = 0.011). Serial monitoring of LTBI with IGRA retesting is needed during biologic treatment, regardless of the type of rheumatic diseases or type biologics used.
Access options
Buy single article
Instant access to the full article PDF.
USD 39.95
Price includes VAT (USA)
Tax calculation will be finalised during checkout.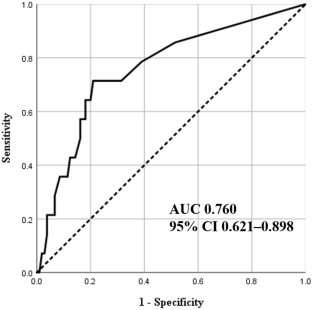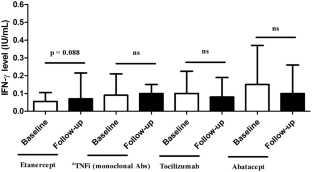 References
1.

Aaltonen KJ, Virkki LM, Malmivaara A, Konttinen YT, Nordstrom DC, Blom M (2012) Systematic review and meta-analysis of the efficacy and safety of existing TNF blocking agents in treatment of rheumatoid arthritis. PLoS ONE 7:e30275

2.

Callhoff J, Sieper J, Weiss A, Zink A, Listing J (2015) Efficacy of TNFalpha blockers in patients with ankylosing spondylitis and non-radiographic axial spondyloarthritis: a meta-analysis. Ann Rheum Dis 74:1241–1248

3.

Leombruno JP, Einarson TR, Keystone EC (2009) The safety of anti-tumour necrosis factor treatments in rheumatoid arthritis: meta and exposure-adjusted pooled analyses of serious adverse events. Ann Rheum Dis 68:1136–1145

4.

Rubbert-Roth A (2012) Assessing the safety of biologic agents in patients with rheumatoid arthritis. Rheumatology (Oxford) 51(Suppl 5):v38–47

5.

British Thoracic Society Standards of Care Committee (2005) BTS recommendations for assessing risk and for managing Mycobacterium tuberculosis infection and disease in patients due to start anti-TNF-alpha treatment. Thorax 60:800–805

6.

Carmona L, Gomez-Reino JJ, Rodriguez-Valverde V, Montero D, Pascual-Gomez E, Mola EM et al (2005) Effectiveness of recommendations to prevent reactivation of latent tuberculosis infection in patients treated with tumor necrosis factor antagonists. Arthritis Rheum 52:1766–1772

7.

Hatzara C, Hadziyannis E, Kandili A, Koutsianas C, Makris A, Georgiopoulos G et al (2015) Frequent conversion of tuberculosis screening tests during anti-tumour necrosis factor therapy in patients with rheumatic diseases. Ann Rheum Dis 74:1848–1853

8.

Son CN, Jun JB, Kim JH, Sung IH, Yoo DH, Kim TH (2014) Follow-up testing of interferon-gamma release assays are useful in ankylosing spondylitis patients receiving anti-tumor necrosis factor alpha for latent tuberculosis infection. J Korean Med Sci 29:1090–1093

9.

Scrivo R, Sauzullo I, Mengoni F, Iaiani G, Vestri AR, Priori R et al (2012) Serial interferon-gamma release assays for screening and monitoring of tuberculosis infection during treatment with biologic agents. Clin Rheumatol 31:1567–1575

10.

Chen DY, Shen GH, Chen YM, Chen HH, Hsieh CW, Lan JL (2012) Biphasic emergence of active tuberculosis in rheumatoid arthritis patients receiving TNFalpha inhibitors: the utility of IFNgamma assay. Ann Rheum Dis 71:231–237

11.

Kim KH, Lee SW, Chung WT, Kim BG, Woo KS, Han JY et al (2011) Serial interferon-gamma release assays for the diagnosis of latent tuberculosis infection in patients treated with immunosuppressive agents. Korean J Lab Med 31:271–278

12.

Cuomo G, D'Abrosca V, Iacono D, Pantano I (2017) The conversion rate of tuberculosis screening tests during biological therapies in patients with rheumatoid arthritis. Clin Rheumatol 36:457–461

13.

Singh JA, Furst DE, Bharat A, Curtis JR, Kavanaugh AF, Kremer JM et al (2012) 2012 update of the 2008 American College of Rheumatology recommendations for the use of disease-modifying antirheumatic drugs and biologic agents in the treatment of rheumatoid arthritis. Arthritis Care Res (Hoboken) 64:625–639

14.

Favalli EG, Caporali R, Sinigaglia L, Pipitone N, Miniati I, Montecucco C et al (2011) Recommendations for the use of biologic therapy in rheumatoid arthritis: update from the Italian Society for Rheumatology II. Safety. Clin Exp Rheumatol 29:S15–27

15.

Cantini F, Niccoli L, Goletti D (2014) Tuberculosis risk in patients treated with non-anti-tumor necrosis factor-alpha (TNF-alpha) targeted biologics and recently licensed TNF-alpha inhibitors: data from clinical trials and national registries. J Rheumatol Suppl 91:56–64

16.

Souto A, Maneiro JR, Salgado E, Carmona L, Gomez-Reino JJ (2014) Risk of tuberculosis in patients with chronic immune-mediated inflammatory diseases treated with biologics and tofacitinib: a systematic review and meta-analysis of randomized controlled trials and long-term extension studies. Rheumatology (Oxford) 53:1872–1885

17.

Jambaldorj E, Han M, Jeong JC, Koo TY, Min SI, Song EY et al (2017) Poor predictability of QuantiFERON-TB assay in recipients and donors for tuberculosis development after kidney transplantation in an intermediate-TB-burden country. BMC Nephrol 18:88

18.

Chung W, Lee K, Jung Y, Kim Y, Park J, Sheen S et al (2015) Serum CXCR3 ligands as biomarkers for the diagnosis and treatment monitoring of tuberculosis. Int J Tuberc Lung Dis 19:1476–1484

19.

World Health Organization (2019) Global health observatory data repository. Incidence Data by country. https://apps.who.int/gho/data/view.main.57040ALL?lang=en. Accessed 21 Oct 2019

20.

Mazurek GH, Jereb J, Vernon A, LoBue P, Goldberg S, Castro K (2010) Updated guidelines for using Interferon Gamma Release Assays to detect Mycobacterium tuberculosis infection—United States, 2010. MMWR Recomm Rep 59:1–25

21.

Aletaha D, Neogi T, Silman AJ, Funovits J, Felson DT, Bingham CO 3rd et al (2010) 2010 rheumatoid arthritis classification criteria: an American College of Rheumatology/European League Against Rheumatism collaborative initiative. Ann Rheum Dis 69:1580–1588

22.

van der Linden S, Valkenburg HA, Cats A (1984) Evaluation of diagnostic criteria for ankylosing spondylitis. A proposal for modification of the New York criteria. Arthritis Rheum 27:361–368

23.

Nestorov I (2005) Clinical pharmacokinetics of TNF antagonists: how do they differ? Semin Arthritis Rheum 34:12–18

24.

Dixon WG, Hyrich KL, Watson KD, Lunt M, Galloway J, Ustianowski A et al (2010) Drug-specific risk of tuberculosis in patients with rheumatoid arthritis treated with anti-TNF therapy: results from the British Society for Rheumatology Biologics Register (BSRBR). Ann Rheum Dis 69:522–528

25.

Mori T, Sakatani M, Yamagishi F, Takashima T, Kawabe Y, Nagao K et al (2004) Specific detection of tuberculosis infection: an interferon-gamma-based assay using new antigens. Am J Respir Crit Care Med 170:59–64

26.

Scrivo R, Sauzullo I, Mengoni F, Priori R, Coppola M, Iaiani G et al (2013) Mycobacterial interferon-gamma release variations during longterm treatment with tumor necrosis factor blockers: lack of correlation with clinical outcome. J Rheumatol 40:157–165

27.

Schiff MH, Kremer JM, Jahreis A, Vernon E, Isaacs JD, van Vollenhoven RF (2011) Integrated safety in tocilizumab clinical trials. Arthritis Res Ther 13:R141

28.

Mariette X, Gottenberg JE, Ravaud P, Combe B (2011) Registries in rheumatoid arthritis and autoimmune diseases: data from the French registries. Rheumatology (Oxford) 50:222–229

29.

Lahiri M, Dixon WG (2015) Risk of infection with biologic antirheumatic therapies in patients with rheumatoid arthritis. Best Pract Res Clin Rheumatol 29:290–305

30.

Calarota SA, Aberle JH, Puchhammer-Stockl E, Baldanti F (2015) Approaches for monitoring of non virus-specific and virus-specific T-cell response in solid organ transplantation and their clinical applications. J Clin Virol 70:109–119

31.

Fernandez-Ruiz M, Kumar D, Humar A (2014) Clinical immune-monitoring strategies for predicting infection risk in solid organ transplantation. Clin Transl Immunol 3:e12

32.

Caston JJ, Cantisan S, Gonzalez-Gasca F, Paez-Vega A, Abdel-Hadi H, Illescas S et al (2016) Interferon-gamma production by CMV-specific CD8+ T lymphocytes provides protection against cytomegalovirus reactivation in critically ill patients. Intensive Care Med 42:46–53

33.

Tarasewicz A, Debska-Slizien A, Rutkowski B (2016) Clinical utility of QuantiFERON-cytomegalovirus test in management of kidney transplant recipients. Transplant Proc 48:1650–1653

34.

Cliff JM, Kaufmann SH, McShane H, van Helden P, O'Garra A (2015) The human immune response to tuberculosis and its treatment: a view from the blood. Immunol Rev 264:88–102
Acknowledgements
This study was supported by a grant of the Korean Health Technology R&D Project, Ministry for Health and Welfare, Republic of Korea (HI14C1774). We thank Hye Sun Lee, Ph.D. and Sinae Kim, M.S., Biostatistics Collaboration Unit, Yonsei University College of Medicine, for statistical consultation. We also thank Editage (https://www.editage.co.kr) for English editing.
Ethics declarations
Conflict of interest
The authors declare that there are no conflicts of interest in relation to this article.
Ethical approval
All procedures were performed in accordance with the ethical standards of the Institutional Review Board of Gangnam Severance Hospital (IRB No: 3-2016-0240) and with the 1964 Helsinki declaration. The approval date of IRB was October 17, 2016.
Related congress abstract publication
Preliminary data of this study was presented in the poster presentation session of EULAR Congress 2017 that was held in Madrid, Spain; Min-Chan Park, Hye Won Kim, Sang Hoon Han (2017) Positive conversion of tuberculosis screening results and incidence of active tuberculosis infection in patients receiving biologic treatment. Ann Rheum Dis 76 Suppl 2:762. https://doi.org/10.1136/annrheumdis-2017-eular.1286; presentation number, FRI0717; and presentation date, June 16, 2017.
Additional information
Publisher's Note
Springer Nature remains neutral with regard to jurisdictional claims in published maps and institutional affiliations.
About this article
Cite this article
Kim, H.W., Kwon, O.C., Han, S.H. et al. Positive conversion of interferon-γ release assay in patients with rheumatic diseases treated with biologics. Rheumatol Int 40, 471–479 (2020). https://doi.org/10.1007/s00296-019-04510-6
Received:

Accepted:

Published:

Issue Date:
Keywords
Interferon-γ release assay

Biologics

Tuberculosis

Rheumatoid arthritis

Ankylosing spondylitis