Abstract
In patients with gout, the serum uric acid (SUA) is usually lower during acute gouty attacks than during intercritical periods. It has been suggested that systemic inflammatory response can cause this phenomenon. The objective is to determine whether therapy with TNF inhibitors (TNFis) affects SUA levels in patients with systemic autoimmune rheumatic diseases (SARDs) and whether SUA changes correlate with pro-inflammatory cytokines or with the oxidative stress marker allantoin. In this study, SUA, CRP, creatinine, MCP-1, IFN-α2, IFN-γ, Il-1β, IL-6, IL-8, IL-10, IL-12, IL-17a, IL-18, IL-23, IL-33, TNF-α, and allantoin levels were measured prior to and after 3 months of TNFis treatment in patients with SARDs. The values obtained in the biochemical assays were then tested for associations with the patients' demographic and disease-related data. A total of 128 patients (rheumatoid arthritis, n = 44; ankylosing spondylitis, n = 45; psoriatic arthritis, n = 23; and adults with juvenile idiopathic arthritis, n = 16) participated in this study. Among the entire patient population, SUA levels significantly increased 3 months after starting treatment with TNFis (279.5 [84.0] vs. 299.0 [102.0] μmol/l, p < 0.0001), while the levels of CRP, IL-6, IL-8, and MCP-1 significantly decreased. Male sex was the most powerful baseline predictor of ΔSUA in univariate and multivariate models. None of the measured laboratory-based parameters had statistically significant effects on the magnitude of ΔSUA. 3 months of anti-TNF therapy increased the levels of SUA in patients with SARDs, but neither the measured pro-inflammatory cytokines nor the oxidation to allantoin appeared responsible for this effect.
This is a preview of subscription content,
to check access.
Access this article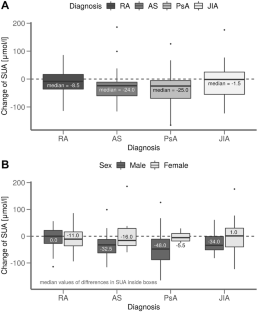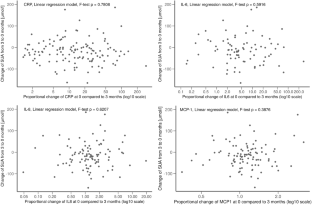 Similar content being viewed by others
References
Schlesinger N, Schumacher HR Jr, Beutler AM (1998) Serum uric acid in acute gout. Ann Rheum Dis 57(7):443–444

McCarty DJ (1994) Gout without hyperuricemia. JAMA 271(4):302–303. https://doi.org/10.1001/jama.1994.03510280064034

Logan JA, Morrison E, McGill PE (1997) Serum uric acid in acute gout. Ann Rheum Dis 56(11):696–697

Waldron JL, Ashby HL, Razavi C, Thomas OL, Chugh S, Deshpande S, Ford C, Gama R (2013) The effect of the systemic inflammatory response, as provoked by elective orthopaedic surgery, on serum uric acid in patients without gout: a prospective study. Rheumatology (Oxford, England) 52(4):676–678. https://doi.org/10.1093/rheumatology/kes327

Tsutani H, Yoshio N, Ueda T (2000) Interleukin 6 reduces serum urate concentrations. J Rheumatol 27(2):554

Urano W, Yamanaka H, Tsutani H, Nakajima H, Matsuda Y, Taniguchi A, Hara M, Kamatani N (2002) The inflammatory process in the mechanism of decreased serum uric acid concentrations during acute gouty arthritis. J Rheumatol 29(9):1950–1953

Ames BN, Cathcart R, Schwiers E, Hochstein P (1981) Uric acid provides an antioxidant defense in humans against oxidant- and radical-caused aging and cancer: a hypothesis. Proc Natl Acad Sci USA 78(11):6858–6862

Becker BF (1993) Towards the physiological function of uric acid. Free Radic Biol Med 14(6):615–631

Re R, Pellegrini N, Proteggente A, Pannala A, Yang M, Rice-Evans C (1999) Antioxidant activity applying an improved ABTS radical cation decolorization assay. Free Radic Biol Med 26(9–10):1231–1237

Kellogg EW 3rd, Fridovich I (1977) Liposome oxidation and erythrocyte lysis by enzymically generated superoxide and hydrogen peroxide. J Biol Chem 252(19):6721–6728

Yeldandi AV, Patel YD, Liao M, Kao FT, Rao MS, Reddy JK, Le Beau MM (1992) Localization of the human urate oxidase gene (UOX) to 1p22. Cytogenet Cell Genet 61(2):121–122. https://doi.org/10.1159/000133386

Kaur H, Halliwell B (1990) Action of biologically-relevant oxidizing species upon uric acid. Identification of uric acid oxidation products. Chem Biol Interact 73(2–3):235–247

Hellsten Y, Svensson M, Sjodin B, Smith S, Christensen A, Richter EA, Bangsbo J (2001) Allantoin formation and urate and glutathione exchange in human muscle during submaximal exercise. Free Radic Biol Med 31(11):1313–1322

Kand'ar R, Zakova P, Muzakova V (2006) Monitoring of antioxidant properties of uric acid in humans for a consideration measuring of levels of allantoin in plasma by liquid chromatography. Clin Chim Acta 365(1–2):249–256. https://doi.org/10.1016/j.cca.2005.09.002

Marrocco I, Altieri F, Peluso I (2017) Measurement and clinical significance of biomarkers of oxidative stress in humans. Oxid Med Cell Longev 2017:6501046. https://doi.org/10.1155/2017/6501046

Grootveld M, Halliwell B (1987) Measurement of allantoin and uric acid in human body fluids. A potential index of free-radical reactions in vivo? Biochem J 243(3):803–808

Stamp LK, Turner R, Khalilova IS, Zhang M, Drake J, Forbes LV, Kettle AJ (2014) Myeloperoxidase and oxidation of uric acid in gout: implications for the clinical consequences of hyperuricaemia. Rheumatology 53(11):1958–1965. https://doi.org/10.1093/rheumatology/keu218

Lyngdoh T, Marques-Vidal P, Paccaud F, Preisig M, Waeber G, Bochud M, Vollenweider P (2011) Elevated serum uric acid is associated with high circulating inflammatory cytokines in the population-based Colaus study. PLoS One 6(5):e19901. https://doi.org/10.1371/journal.pone.0019901

Ruggiero C, Cherubini A, Ble A, Bos AJ, Maggio M, Dixit VD, Lauretani F, Bandinelli S, Senin U, Ferrucci L (2006) Uric acid and inflammatory markers. Eur Heart J 27(10):1174–1181. https://doi.org/10.1093/eurheartj/ehi879

Shi Y, Evans JE, Rock KL (2003) Molecular identification of a danger signal that alerts the immune system to dying cells. Nature 425(6957):516–521. https://doi.org/10.1038/nature01991

Braga TT, Forni MF, Correa-Costa M, Ramos RN, Barbuto JA, Branco P, Castoldi A, Hiyane MI, Davanso MR, Latz E, Franklin BS, Kowaltowski AJ, Camara NOS (2017) Soluble uric acid activates the NLRP3 inflammasome. Sci Rep 7:39884. https://doi.org/10.1038/srep39884

Busso N, So A (2010) Mechanisms of inflammation in gout. Arthritis Res Ther 12(2):206. https://doi.org/10.1186/ar2952

Torres R, Macdonald L, Croll SD, Reinhardt J, Dore A, Stevens S, Hylton DM, Rudge JS, Liu-Bryan R, Terkeltaub RA, Yancopoulos GD, Murphy AJ (2009) Hyperalgesia, synovitis and multiple biomarkers of inflammation are suppressed by interleukin 1 inhibition in a novel animal model of gouty arthritis. Ann Rheum Dis 68(10):1602–1608. https://doi.org/10.1136/ard.2009.109355

Lopera-Mesa TM, Mita-Mendoza NK, van de Hoef DL, Doumbia S, Konate D, Doumbouya M, Gu W, Traore K, Diakite SA, Remaley AT, Anderson JM, Rodriguez A, Fay MP, Long CA, Diakite M, Fairhurst RM (2012) Plasma uric acid levels correlate with inflammation and disease severity in Malian children with Plasmodium falciparum malaria. PLoS One 7(10):e46424. https://doi.org/10.1371/journal.pone.0046424

Panoulas VF, Milionis HJ, Douglas KMJ, Nightingale P, Kita MD, Klocke R, Elisaf MS, Kitas GD (2007) Association of serum uric acid with cardiovascular disease in rheumatoid arthritis. Rheumatology 46(9):1466–1470. https://doi.org/10.1093/rheumatology/kem159

Panoulas VF, Douglas KMJ, Milionis HJ, Nightingale P, Kita MD, Klocke R, Metsios GS, Stavropoulos-Kalinoglou A, Elisaf MS, Kitas GD (2007) Serum uric acid is independently associated with hypertension in patients with rheumatoid arthritis. J Hum Hypertens 22:177. https://doi.org/10.1038/sj.jhh.1002298

Ogihara H, Ogihara T, Miki M, Yasuda H, Mino M (1995) Plasma copper and antioxidant status in Wilson's disease. Pediatr Res 37(2):219–226. https://doi.org/10.1203/00006450-199502000-00016

Lembo S, Capasso R, Balato A, Cirillo T, Flora F, Zappia V, Balato N, Ingrosso D, Ayala F (2014) MCP-1 in psoriatic patients: effect of biological therapy. J Dermatol Treat 25(1):83–86. https://doi.org/10.3109/09546634.2013.782091

Walters HM, Pan N, Lehman TJ, Adams A, Kalliolias GD, Zhu YS, Santiago F, Nguyen J, Sitaras L, Cunningham-Rundles S, Walsh TJ, Toussi SS (2016) The impact of disease activity and tumour necrosis factor-α inhibitor therapy on cytokine levels in juvenile idiopathic arthritis. Clin Exp Immunol 184(3):308–317. https://doi.org/10.1111/cei.12782

Feldmann M, Maini SR (2008) Role of cytokines in rheumatoid arthritis: an education in pathophysiology and therapeutics. Immunol Rev 223:7–19. https://doi.org/10.1111/j.1600-065X.2008.00626.x

Calabrese LH, Rose-John S (2014) IL-6 biology: implications for clinical targeting in rheumatic disease. Nat Rev Rheumatol 10(12):720–727. https://doi.org/10.1038/nrrheum.2014.127

Ware CF (2005) Network communications: lymphotoxins, LIGHT, and TNF. Annu Rev Immunol 23:787–819. https://doi.org/10.1146/annurev.immunol.23.021704.115719

Schulz M, Dotzlaw H, Neeck G (2014) Ankylosing spondylitis and rheumatoid arthritis: serum levels of TNF-alpha and Its soluble receptors during the course of therapy with etanercept and infliximab. Biomed Res Int 2014:675108. https://doi.org/10.1155/2014/675108

Daskalopoulou SS, Tzovaras V, Mikhailidis DP, Elisaf M (2005) Effect on serum uric acid levels of drugs prescribed for indications other than treating hyperuricaemia. Curr Pharm Des 11(32):4161–4175

Schlesinger N (2014) Treatment of acute gout. Rheum Dis Clin N Am 40(2):329–341. https://doi.org/10.1016/j.rdc.2014.01.008

Riccardi C, Bruscoli S, Migliorati G (2002) Molecular mechanisms of immunomodulatory activity of glucocorticoids. Pharmacol Res 45(5):361–368

Akanji AO, Mojiminiyi OA, Abdella N (2000) Beneficial changes in serum apo A-1 and its ratio to apo B and HDL in stable hyperlipidaemic subjects after Ramadan fasting in Kuwait. Eur J Clin Nutr 54(6):508–513

Sorensen LB (1965) Role of the intestinal tract in the elimination of uric acid. Arthritis Rheumatol 8(5):694–706

Abramson RG, Levitt MF (1976) Use of pyrazinamide to assess renal uric acid transport in the rat: a micropuncture study. Am J Physiol 230(5):1276–1283. https://doi.org/10.1152/ajplegacy.1976.230.5.1276
Acknowledgements
We would like to thank Dr. Laszlo Wenchich and the members of the Department of Clinical Biochemistry and Hematology (Institute of Rheumatology) for their kind assistance with the biochemical measurements.
Funding
This work was supported by the Charles University Research Grant GA UK no. 940517, the Ministry of Health of the Czech Republic (Institute of Rheumatology—Conceptual Development of Research Organization, 00023728), and the Czech Science Foundation, Grant no. 19-18005Y. LH was a recipient of the ARTICULUM Fellowship.
Ethics declarations
Conflict of interest
All authors declare that there is no conflict of interest regarding the publication of this article.
Ethical approval
All procedures in this study were in accordance with the ethical standards of the institutional and national research committee (Czech Multicentre Research Ethics Committee, no. 201611 S300 and Institutional Ethics Committee of Institute of Rheumatology, Prague, Czech Republic, no. 10113/2016) and with the 1964 Helsinki declaration and its later amendments.
Additional information
Publisher's Note
Springer Nature remains neutral with regard to jurisdictional claims in published maps and institutional affiliations.
About this article
Cite this article
Hasikova, L., Pavlikova, M., Hulejova, H. et al. Serum uric acid increases in patients with systemic autoimmune rheumatic diseases after 3 months of treatment with TNF inhibitors. Rheumatol Int 39, 1749–1757 (2019). https://doi.org/10.1007/s00296-019-04394-6
Received:

Accepted:

Published:

Issue Date:

DOI: https://doi.org/10.1007/s00296-019-04394-6
Keywords