Abstract
Juvenile idiopathic arthritis is the most common chronic rheumatic disease of childhood resulting in disability in untreated cases. Disease modifying anti-rheumatic drugs form the first-line treatment in JIA. However, the data about leflunomide (LFN) in treatment of JIA is limited. We reviewed the medical files of JIA patients who were followed-up regularly and had received LFN. A total of 38 patients were included to the study. Among them, 24 had oligoarticular JIA, eleven had polyarticular JIA, two had ERA and one had psoriatic arthritis. 36 were initially treated with methotrexate and two patients diagnosed with ERA were treated with sulfasalazine. Sulfasalazine treatment was switched to LFN due to inadequate response at the 3rd month of therapy. Methotrexate was ceased due to gastrointestinal intolerance in 36 patients. Of these 36 patients, 19 patients had either low disease activity (n = 13) or remission (n = 6). LFN was administered to 13 patients with low disease activity. During the follow-up of the six patients in remission, relapse ensued and LFN treatment was started. The remaining 17 patients had moderate (n = 10) or high (n = 7) disease activity requiring biologic agents. But due to inadequate response to biologic agents, LFN was added to the therapy. All of the patients were clinically inactive at the last visit. Only two adverse events resolving within 2 weeks were noted (Lymphopenia = 1, elevated liver enzymes = 1). LFN may be an alternative therapy in case of MTX intolerance or toxicity.
Access options
Buy single article
Instant access to the full article PDF.
USD 39.95
Price excludes VAT (USA)
Tax calculation will be finalised during checkout.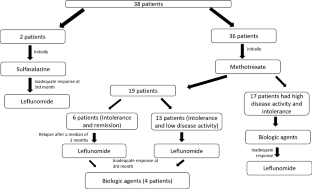 References
Petty RE, Southwood TR, Manners P, Baum J, Glass DN, Goldenberg J, International League of Associations for R et al (2004) International League of Associations for Rheumatology classification of juvenile idiopathic arthritis: second revision, Edmonton, 2001. J Rheum 31:390–392

Beukelman T, Patkar NM, Saag KG, Tolleson-Rinehart S, Cron RQ, DeWitt EM, Ilowite NT et al (2011) 2011 American College of Rheumatology recommendations for the treatment of juvenile idiopathic arthritis: initiation and safety monitoring of therapeutic agents for the treatment of arthritis and systemic features. Arthritis Care Res (Hoboken) 63:465–482

Ringold S, Weiss PF, Colbert RA, DeWitt EM, Lee T, Onel K, Juvenile Idiopathic Arthritis Research Committee of the Childhood A, Rheumatology Research A et al (2014) Childhood Arthritis and Rheumatology Research Alliance consensus treatment plans for new-onset polyarticular juvenile idiopathic arthritis. Arthritis Care Res (Hoboken) 66:1063–1072

Ringold S, Angeles-Han ST, Beukelman T, Lovell D, Cuello CA, Becker ML et al (2019) 2019 American College of Rheumatology/Arthritis Foundation Guideline for the Treatment of Juvenile Idiopathic Arthritis: therapeutic Approaches for Non-Systemic Polyarthritis, Sacroiliitis, and Enthesitis. Arthritis Rheumatol 71:846–863

Silverman E, Spiegel L, Hawkins D, Petty R, Goldsmith D, Schanberg L et al (2005) Long-term open-label preliminary study of the safety and efficacy of leflunomide in patients with polyarticular-course juvenile rheumatoid arthritis. Arthritis Rheum 52:554–562

McErlane F, Beresford MW, Baildam EM, Chieng SE, Davidson JE, Foster HE et al (2013) Validity of a three-variable juvenile arthritis disease activity score in children with new-onset juvenile idiopathic arthritis. Ann Rheum Dis 72:1983–1988

Demirkaya E, Consolaro A, Sonmez HE, Giancane G, Simsek D, Ravelli A (2016) Current research in outcome measures for pediatric rheumatic and autoinflammatory diseases. Curr Rheumatol Rep 18:8

Akkoc Y, Karatepe AG, Akar S, Kirazli Y, Akkoc N (2005) A Turkish version of the bath ankylosing spondylitis disease activity index: reliability and validity. Rheumatol Int 25:280–284

Yalcinkaya F, Ozen S, Ozcakar ZB, Aktay N, Cakar N, Duzova A et al (2009) A new set of criteria for the diagnosis of familial Mediterranean fever in childhood. Rheumatol (Oxf) 48:395–398

Silverman E, Mouy R, Spiegel L, Jung LK, Saurenmann RK, Lahdenne P et al (2005) Leflunomide or methotrexate for juvenile rheumatoid arthritis. N Engl J Med 352:1655–1666

Gao JS, Wu H, Tian J (2003) Treatment of patients with juvenile rheumatoid arthritis with combination of leflunomide and methotrexate. Zhonghua Er Ke Za Zhi 41:435–438

Chickermane PR, Khubchandani RP (2015) Evaluation of the benefits of sequential addition of leflunomide in patients with polyarticular course juvenile idiopathic arthritis failing standard dose methotrexate. Clin Exp Rheumatol 33:287–292

Alcantara AC, Leite CA, Leite AC, Sidrim JJ, Silva FS Jr, Rocha FA (2014) A longterm prospective real-life experience with leflunomide in juvenile idiopathic arthritis. J Rheumatol 41:338–344

Molina C, Modesto C, Martin-Begue N, Arnal C (2013) Leflunomide, a valid and safe drug for the treatment of chronic anterior uveitis associated with juvenile idiopathic arthritis. Clin Rheumatol 32:1673–1675

Bichler J, Benseler SM, Krumrey-Langkammerer M, Haas JP, Hugle B (2015) Leflunomide is associated with a higher flare rate compared to methotrexate in the treatment of chronic uveitis in juvenile idiopathic arthritis. Scand J Rheumatol 44:280–283

Smolen JS, Kalden JR, Scott DL, Rozman B, Kvien TK, Larsen A, Loew-Friedrich I, Oed C, Rosenburg R (1999) Efficacy and safety of leflunomide compared with placebo and sulphasalazine in active rheumatoid arthritis: a double-blind, randomised, multicentre trial. European Leflunomide Study Group. Lancet 353:259–266
Ethics declarations
Conflict of interest
The authors have declared no conflicts of interest.
Ethical approval
The study was reviewed and approved by the ethical review committee of Kanuni Sultan Süleyman Training and Research Hospital.
Informed consent
All these patient files were evaluated retrospectively and all patients were anonymous. When the patients admitted to the hospital, the parents gave a general consent approving anonymous data use for academic purpose.
Additional information
Publisher's Note
Springer Nature remains neutral with regard to jurisdictional claims in published maps and institutional affiliations.
About this article
Cite this article
Ayaz, N.A., Karadağ, Ş.G., Çakmak, F. et al. Leflunomide treatment in juvenile idiopathic arthritis. Rheumatol Int 39, 1615–1619 (2019). https://doi.org/10.1007/s00296-019-04385-7
Received:

Accepted:

Published:

Issue Date:

DOI: https://doi.org/10.1007/s00296-019-04385-7
Keywords
Leflunomide

Juvenile idiopathic arthritis