Abstract
The mechanisms responsible for increased cardiovascular risk in patients with rheumatoid arthritis (RA) involve local and systemic inflammatory processes. We aimed to compare inflammatory markers and mortality risk in patients with acute coronary syndrome (ACS) with and without RA. The study involved 95 ACS patients (46 with RA and 49 without RA) and 40 healthy controls. Serum levels of Receptor Activator of Nuclear Factor Kappa B Ligand (sRANKL), Osteoprotegerin (sOPG), high-sensitivity C-reactive protein (hs-CRP) and high-sensitivity Tropinin I (hs-TnI) were tested in all participants. Additionally, ACS patients were assessed on RANKL expression (exRANKL) on coronary arteries and mortality risk on the Global Registry of Acute Coronary Events scale (GRACE). exRANKL was established in 35 (76%) ACS patients with RA, vs. 19 (39%) patients without RA, p < 0.001. RA patients had significantly higher levels of sRANKL and sOPG at 24 h and 48 h compared to ACS patients without RA and healthy controls (sRANKL 24 h: 121.33 vs. 51.67 vs. 36.94, p = 0.019; sRANKL 48 h: 89.21 vs. 36.95 vs. 36.94, p = 0.004; sOPG 24 h: 207.71 vs. 69.39 vs. 111.91, p < 0.001; sOPG 48 h: 143.36 vs. 69.38 vs. 111.91, p < 0.001). RA patients had significantly higher RANKL:OPG ratio at 48 h (0.062 vs. 0.53 vs. 0.33, p < 0.001), hs-CRP (28.82 vs. 23.67 vs. 2.60, p < 0.001) and hs-TnI (0.90 vs. 0.76 vs. 0.012). GRACE risk score was significantly higher in RA patients vs. those without RA (140.45 vs. 125.50, p = 0.030) and correlated with exRANKL, RANKL:OPG, hs-CRP, and hs-TnI. Our results indicate that exRANKL, inflammatory markers and mortality risk are amplified in ACS patients with RA compared to ACS patients without RA.
Access options
Buy single article
Instant access to the full article PDF.
US$ 39.95
Tax calculation will be finalised during checkout.
Subscribe to journal
Immediate online access to all issues from 2019. Subscription will auto renew annually.
US$ 119
Tax calculation will be finalised during checkout.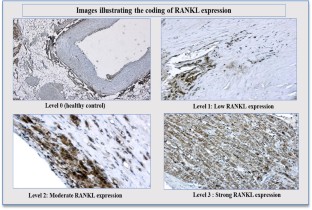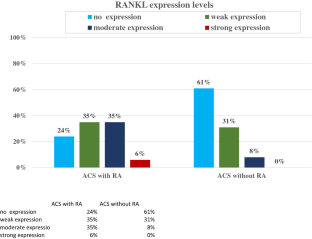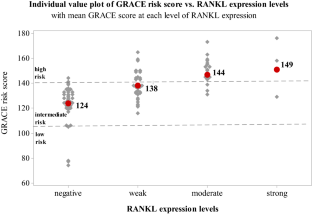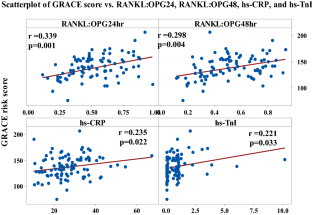 References
1.

Cimbrone A (1995) Vascular endothelium: an integrator of pathophysiologic stimuli in atherosclerosis. Am J Cardiol 75:67–70

2.

Faccini A, Kaski C, Camici G (2016) Coronary microvascular dysfunction in chronic inflammatory rheumatoid disease. Eur Heart J 37(23):1799–1806

3.

Gasparyan AY, Stavropoulos-Kalinoglou A, Mikhailidis P, Toms E, Douglas M, Kitas D (2010) The rationale for comparative studies of accelerated atherosclerosis in rheumatic diseases. Curr Vasc Pharmacol 4:437–449

4.

Avina-Zubieta A, Choi K, Sadatsafavi M, Etminan M, Esdaile M, Lacaille D (2008) Risk of cardiovascular mortality in patients with rheumatoid arthritis: a meta-analysis of observational studies. Arthritis Rheumatol 59(12):1690–1697

5.

Gasparyan AY (2012) Cardiovascular risk and inflammation: pathophysiological mechanisms, drug design, and targets. Curr Pharm Design 18(11):1447–1449

6.

Castellon X, Bogdanova V (2013) Screening for subclinical atherosclerosis by noninvasive methods in asymptomatic patients with risk factors. Clin Interv Aging 8:573–580

7.

Wallberg-Jonsson S, Ohman M, Dahlqvist S (1997) Cardiovascular morbidity and mortality in patients with seropositive rheumatoid arthritis in Northern Sweden. J Rheumatol 24(3):445–451

8.

Wang J, Tan G-J, Han L-H, Bai Y-Y, He M, Liu H-B (2017) Novel biomarkers for cardiovascular risk prediction. J Geriatr Cardiol 2:135–150

9.

Patterson CC, Blankenberg S, Ben-Shlomo Y, Heslop L, Bayer A, Lowe G, Zeller T, Gallacher J, YoungI Yarnell J (2015) Which biomarkers are predictive specifically for cardiovascular or for non-cardiovascular mortality in men? Evidence from the Caerphilly Prospective Study (CaPS). Int J Cardiol 201:113–118

10.

Schoppet M, Preissner K, Hofbaue L (2002) RANK ligand and osteoprotegerin paracrine regulators of bone metabolism and vascular function. Arterioscler Thromb Vasc Biol 22:549–553

11.

Geusens P (2012) The role of RANK ligand/osteoprotegerin in rheumatoid arthritis. Ther Adv Musculoskelet Dis. 4(4):225–233

12.

Montecucco F, Steffens S, Mach F (2007) The Immune response is involved in atherosclerotic plaque calcification: could the RANKL/RANK/OPG system be a marker of plaque instabilitiy? Clin Dev Immunol. https://doi.org/10.1155/2007/75805

13.

Mohammadpour AH, Shamsara J, Nazemi S, Ghadirzadeh S, Shahsav S, Ramezani M (2012) Evaluation of RANKL/OPG serum concentration ratio as a new biomarker for coronary artery calcification: a pilot study. Thrombosis. https://doi.org/10.1155/2012/306263

14.

Sandberg W, Yndestad A, Øie E, Smith C, Ueland T, Ovchinnikova O et al (2006) Enhanced T-cell expression of RANK ligand in acute coronary syndrome possible role in plaque destabilization. Arterioscler Thromb Vasc Biol 26:85–863

15.

Crisafulli A, Micari A, Altavilla D, Saporito F, Sardella A, Passaniti M, Raffa S, Danneo G, Lucà F, Mioni C, Arrigo F, Squadrito F (2005) Serum levels of osteoprotegerin and RANKL in patients with ST elevation acute myocardial infarction. Clin Sci 109:389–395

16.

Wilson AM, Ryan MC, Boyle AJ (2005) The novel role of C-reactive protein in cardiovascular disease: risk marker or pathogen. Int J Cardiol 106(3):291–297

17.

Everett BM, Brooks MM, Vlachos HEA, Chaitman BR, Frye RL, Bhatt DL (2015) Troponin and cardiac events in stable ischemic heart disease and diabetes. N Engl J Med 373:610–620

18.

Cullen L, Mueller C, Parsonage WA et al (2013) Validation of high-sensitivity troponin I in a 2-hour diagnostic strategy to assess 30-day outcomes in emergency department patients with possible acute coronary syndrome. J Am Coll Cardiol 62(14):1242–1249

19.

Thygesen K, Mair J, Giannitsis E, Mueller C, Lindahl B, Blankenberg S, Huber K, Plebani M, Biasucci L, Tubaro M (2012) How to use high-sensitivity cardiac troponins in acute cardiac care. Eur Heart J 33(18):2252–2257

20.

Huang W, Fitzgerald G, Goldberg J, Gore J, McManus H, Awad H, Waring E, Allison J, Saczynski S, Kiefe I, Fox A, Anderson A, McManus D (2016) Performance of the GRACE risk score 2.0 simplified algorithm for predicting 1—year death after hospitalization for an acute coronary syndrome in a contemporary multiracial cohort. Am J Cardiol 118(8):1105–1110

21.

IBM Corp. Released (2016). IBM SPSS statistics for Windows, version 24.0. Armonk, IBMCorp

22.

Bernardes M, Vieira TS, Martins MJ, Lucas R, Costa L, Pereira JG, Ventura F, Martins E (2017) Myocardial perfusion in rheumatoid arthritis patients: associations with traditional risk factors and novel biomarkers. Biomed Res J. https://doi.org/10.1155/2017/6509754

23.

Remuzgo-Martínez S, Genre F, López-Mejías R, Ubilla B, Mijares V, Pina T, Corrales A, Blanco R, Martín J, Llorca J, González-Gay M (2016) Expression of osteoprotegerin and its ligands, RANKL and TRAIL in rheumatoid arthritis. Sci Rep. https://doi.org/10.1038/srep29713

24.

Gerber TC (2009) Diagnostic and prognostic implications of coronary artery calcification detected by computed tomography. Calcif Tissue Int 91:123–137

25.

Gupta S, Gupta VK, Arora S (2013) Relationship of high-sensitive C-reactive protein with cardiovascular risk factors, clinical presentation and angiographic profile in patients with acute coronary syndrome: an Indian perspective. Indian Heart J 65(3):359–365

26.

Milano SS, de Moura OV, Augusto A, Bordin S, Marques GL (2018) C-reactive protein is a predictor of mortality in ST-segment elevation acute myocardial infarction. Int J Cardiovasc Sci. https://doi.org/10.5935/2359-4802.20180086

27.

Kaptoge S, Di Angelantonio E, Pennells L, Wood AM, White IR, Gao P, Danesh J (2012) C-reactive protein, fibrinogen, and cardiovascular disease prediction. N Engl J Med 367(14):1310–1320

28.

Underhill HR, Yuan C, Yarnykh VL, Chu B, Oikawa M, Polissar NL, Schwartz SM, Jarvik GP, Hatsukami TS (2009) Arterial remodeling in corrected subclinical carotid artery disease. JACC Cardiovasc Imaging 2(12):1381–1389

29.

Freek WV (2015) The GRACE registry: how real-life evidence contributes to acute coronary syndrome guidelines. Euro Heart J Suppl. https://doi.org/10.1093/eurheartj/suv039
Ethics declarations
Ethical approval
All procedures were conducted in accordance with the WMA Declaration of Helsinki (1964) and approved by the local research ethics committee at the Medical University in Plovdiv.
Conflict of interest
All authors declare that they have no conflict of interest.
Informed consent
Informed consent was obtained from each participant involved in this research.
Additional information
Publisher's Note
Springer Nature remains neutral with regard to jurisdictional claims in published maps and institutional affiliations.
About this article
Cite this article
Popova, V., Vazhev, Z., Geneva-Popova, M. et al. Comparison of RANKL expression, inflammatory markers, and cardiovascular risk in patients with acute coronary syndrome with and without rheumatoid arthritis. Rheumatol Int 39, 1723–1732 (2019). https://doi.org/10.1007/s00296-019-04367-9
Received:

Accepted:

Published:

Issue Date:
Keywords
Acute coronary syndrome

Rheumatoid arthritis

Inflammatory biomarkers

Mortality

RANKL

GRACE