Abstract
The treat-to-target approach for serum uric acid is the recommended model in gout management according to the 2012 American College of Rheumatology (ACR) guidelines. Adherence to urate-lowering therapy (ULT) can be difficult for patients due to barriers, which include medication burden, financial hardship, and lack of medical literacy. Our aim was to create a pharmacist-managed referral for the titration of ULT to target serum uric acid (sUA) levels in a complex patient population. We utilized a clinical database to query patients seen at a rheumatology clinic over a 12-month period with an ICD-10 diagnosis for gout. The referral criteria were indications for ULT per the 2012 ACR guidelines. Rheumatology providers, consisting of attendings, fellows, and a physician assistant, were asked to refer the identified patients to the pharmacist-managed titration program. The intervention group consisted of 19 referred patients and the control group consisted of 28 non-referred patients. The baseline sUA (median (IQR)) at the time of referral was 8.8 (2) mg/dL for the intervention group and 7.6 (2.8) mg/dL for the control group (p = 0.2). At the end of the study period, the sUA was 6.1 (1.4) mg/dL for the intervention group and 6.8 (3.2) mg/dL for the control group (p = 0.08). At the end of the study period, 6 of 19 (32%) intervention group and 7 of 28 (25%) control group were at goal (p = 0.3). A newly instituted pharmacist-managed titration program was able to achieve lower average sUA levels in referred patients compared to demographically similar individuals who received standard gout management.
Access options
Buy single article
Instant access to the full article PDF.
USD 39.95
Price excludes VAT (USA)
Tax calculation will be finalised during checkout.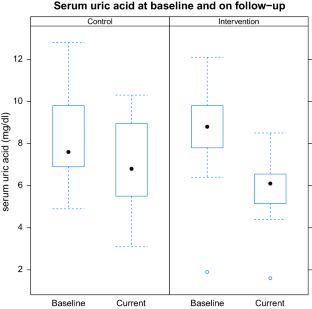 References
Zhu Y, Pandya BJ, Choi HK (2011) Prevalence of gout and hyperuricemia in the US general population: the National Health and Nutrition Examination Survey 2007–2008. Arthritis Rheum 63:3136–3141

Zhu Y, Pandya BJ, Choi HK (2012) Comorbidities of gout and hyperuricemia in the US general population: NHANES 2007–2008. Am J Med 125:679–687

Vincent ZL, Gamble G, House M et al (2017) Predictors of mortality in people with recent-onset gout: a prospective observational study. J Rheumatol 44:368–373

Singh JA, Sarkin A, Shieh M et al (2011) Health care utilization in patients with gout. Semin Arthritis Rheum 40:501–511

Perez-Ruiz F, Desideri G (2018) Improving adherence to gout therapy: an expert review. Ther Clin Risk Manag 14:793–802

De Vera MA, Marcotte G, Rai S, Galo JS, Bhole V (2014) Medication adherence in gout: a systematic review. Arthritis Care Res 66:1551–1559

Oderda GM, Shiozawa A, Walsh M et al (2014) Physician adherence to ACR gout treatment guidelines: perception versus practice. Postgrad Med 126:257–267

Roddy E, Zhang W, Doherty M (2007) Concordance of the management of chronic gout in a UK primary-care population with the EULAR gout recommendations. Ann Rheum Dis 66:1311–1315

Robinson PC, Taylor WJ, Dalbeth N (2015) An observational study of gout prevalence and quality of care in a National Australian General Practice Population. J Rheumatol 42:1702–1707

Khanna D, Fitzgerald JD, Khanna PP et al (2012) 2012 American College of Rheumatology Guidelines for Management of Gout. Part 1: systematic nonpharmacologic and pharmacologic therapeutic approaches to hyperuricemia. Arthritis Care Res 64:1431–1446

R Development Core Team (2005) R: a language and environment for statistical computing. Vienna: R Foundation for Statistical Computing. http://www.R-project.org. Accessed 26 Sept 2018

Doherty M, Jenkins W, Richardson H et al (2018) Efficacy and cost-effectiveness of nurse-led care involving education and engagement of patients and a treat-to-target urate-lowering strategy versus usual care for gout: a randomised controlled trial. Lancet 392:1403–1412

Lim AYN, Shen L, Tan CH et al (2012) Achieving treat to target in gout: a clinical practice improvement project. Scand J Rheumatol 41:450–457

Goldfien R, Pressman A, Jacobson A, Ng M, Avina A (2016) A pharmacist-staffed, virtual gout management clinic for achieving target serum uric acid levels: a randomized clinical trial. Perm J 20:18–23

Michaud J, Beatty J (2018) Quality of gout management in a rheumatology clinic using a provider-pharmacist team-based approach [abstract]. Arthritis Rheumatol 70 (suppl 10). https://acrabstracts.org/abstract/quality-of-gout-management-in-a-rheumatology-clinic-using-a-provider-pharmacist-team-based-approach/
Funding
Jean W. Liew is supported by a National Institutes of Health training Grant (T32AR007108).
Ethics declarations
Conflict of interest
The authors declare they have no conflicts of interest.
Additional information
Publisher's Note
Springer Nature remains neutral with regard to jurisdictional claims in published maps and institutional affiliations.
About this article
Cite this article
Huang, I.J., Liew, J.W., Morcos, M.B. et al. Pharmacist-managed titration of urate-lowering therapy to streamline gout management. Rheumatol Int 39, 1637–1641 (2019). https://doi.org/10.1007/s00296-019-04333-5
Received:

Accepted:

Published:

Issue Date:

DOI: https://doi.org/10.1007/s00296-019-04333-5
Keywords
Crystal arthropathies

Hyperuricemia

Gout

Patient compliance