Abstract
Rickettsia rickettsii, a tick borne disease, is the pathogen responsible for inducing Rocky Mountain Spotted Fever (RMSF), an illness that can progress to fulminant multiorgan failure and death. We present a case where R. rickettsii, acquired on a camping trip, precipitated a flare of peripheral arthritis and episcleritis in an HLA-B27 positive patient. Although Yersinia, Salmonella, Mycobacteria, Chlamydia, Shigella, Campylobacter, and Brucella have been previously associated with HLA-B27 spondyloarthritis, this unusual case demonstrates that obligate intracellular rickettsial organisms, and specifically, R. rickettsii, can also induce flares of HLA-B27 spondyloarthritis. Rickettsial infections in general can rapidly become fatal in both healthy and immunosuppressed patients, and thus, prompt diagnosis and therapy are required.
Access options
Buy single article
Instant access to the full article PDF.
USD 39.95
Price excludes VAT (USA)
Tax calculation will be finalised during checkout.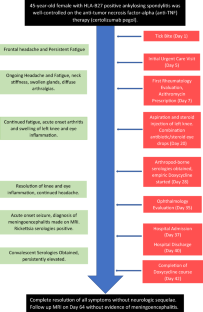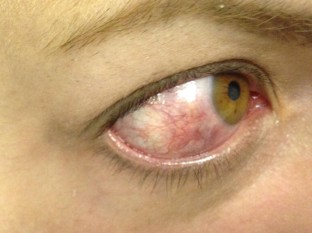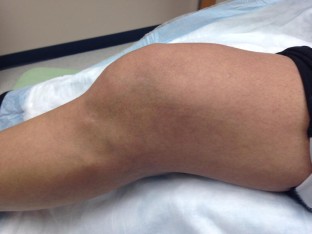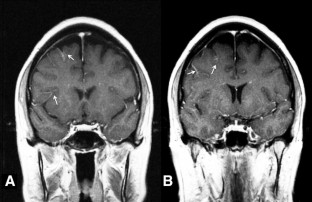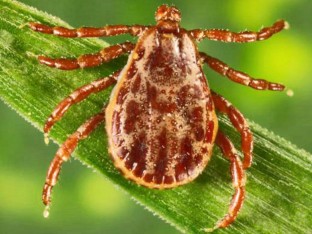 References
Kwas H (2019) Spondyloarthritis. American College of Rheumatology. https://www.rheumatology.org/I-Am-A/Patient-Caregiver/Diseases-Conditions/Spondyloarthritis. Accessed 15 Feb 2019

Hannu T (2011) Reactive arthritis. Best Pract Res Clin Rheumatol 25:347–357

Sheehan NJ (2004) The ramifications of HLA-B27. J R Soc Med 97:10–14

Biggs HM, Barton Behravesh C, Bradley KK et al (2016) Diagnosis and management of tickborne Rickettsial diseases: Rocky Mountain spotted fever and other spotted fever group rickettsioses, ehrlichioses, and anaplasmosis—United States. MMWR Recomm Rep 65:1–44

Center for Disease Control and Prevention (2019) Treatment, Rocky Mountain spotted fever (RMSF) CDC. https://www.cdc.gov/rmsf/healthcare-providers/treatment.html. Accessed 18 Feb 2019

Juckett G (2015) Arthropod-borne diseases: the Camper's Uninvited Guests. Microbiology Spectrum. https://doi.org/10.1128/microbiolspec.iol5-0001-2014

Buckingham SC (2005) Tick-Borne infections in children: epidemiology, clinical manifestations, and optimal management strategies. Pediatric Drugs 7:163–176

Sexton DJ, Mclain MT (2017) Treatment of Rocky Mountain spotted fever. https://www.uptodate.com/contents/treatment-of-rocky-mountain-spotted-fever. Accessed February 8, 2019 (UpToDate 2018)

Walker DH (1996) Rickettsiae. In: Baron S (ed) Medical microbiology, chap 38, 4th edn. University of Texas Medical Branch at Galveston, Galveston

Socolovschi C, Mediannikov O, Raoult D, Parola P (2009) The relationship between spotted fever group Rickettsiae and Ixodid ticks. Vet Res. https://doi.org/10.1051/vetres/2009017

Center for Disease Control and Prevention (2019) Epidemiology and statistics, Rocky Mountain spotted fever (RMSF), CDC. https://www.cdc.gov/rmsf/stats/index.html. Accessed 24 Feb 2019

Bonawitz C, Castillo M, Mukherji SK (1997) Comparison of CT and MR features with clinical outcome in patients with rocky mountain spotted fever. AJNR Am J Neuroradiol 18:459–464

Saarinen M, Ekman P, Ikeda M, Virtala M, Grönberg A, Yu DTY, Arvilommi H, Granfors K (2002) Invasion of Salmonella into human intestinal epithelial cells is modulated by HLA-B27. Rheumatology (Oxford) 41:651–657

Chen B, Li J, He C, Li D, Tong W, Zou Y, Xu W (2017) Role of HLA-B27 in the pathogenesis of ankylosing spondylitis (review). Mol Med Rep 15:1943

Antoniou AN, Lenart I, Kriston-Vizi J et al (2019) Salmonella exploits HLA-B27 and host unfolded protein responses to promote intracellular replication. Ann Rheum Dis 78:74–82

Zhao Y, Tang H, Tan C, Zhao H, Liu Y (2017) HLA-B27 correlates with the intracellular elimination, replication, and trafficking of Salmonella Enteritidis collected from reactive arthritis patients. Med Sci Monit 23:5420–5429

Bas S, Kvien TK, Buchs N, Fulpius T, Gabay C (2003) Lower level of synovial fluid interferon-γ in HLA-B27-positive than in HLA-B27-negative patients with Chlamydia trachomatis reactive arthritis. Rheumatology (Oxford) 42:461–467

Rihl M, Klos A, Köhler L, Kuipers JG (2006) Reactive arthritis. Best Pract Res Clin Rheumatol 20:1119–1137

Misra R, Gupta L (2017) Time to revisit the concept of reactive arthritis. Nat Rev Rheumatol 13:327

Sundy JS, Allen NB, Sexton DJ (1996) Rocky mountain spotted fever presenting with acute monarticular arthritis. Arthritis Rheum 39:175–176

Chaudhry MA, Hal Scofield R (2013) Atypical Rocky Mountain spotted fever with polyarticular arthritis. Am J Med Sci 346:427–429

Premaratna R, Chandrasena TGAN, Rajapakse RPVJ, Eremeeva ME, Dasch GA, Bandara NKBKRGW, de Silva HJ (2009) Rickettsioses presenting as major joint arthritis and erythema nodosum: description of four patients. Clin Rheumatol 28:867–868

Vaphiades MS (2003) Rocky Mountain spotted fever as a cause of macular star figure. J Neuroophthalmol 23:276–278

Lam BL (2006) Rocky mountain spotted fever. Ann Ophthalmol (Skokie) 38:3–4

Raja H, Starr MR, Bakri SJ (2016) Ocular manifestations of tick-borne diseases. Surv Ophthalmol 61:726–744

Sathiamoorthi S, Smith W (2016) The eye and tick-borne disease in the United States. Curr Opin Ophthalmol 27:530–537

Koo S, Marty FM, Baden LR (2010) Infectious complications associated with immunomodulating biologic agents. Infect Dis Clin North Am 24:285–306

Nicholson WL, Paddock CD (2018) Rickettsial (spotted & typhus fevers) & related infections, including anaplasmosis & ehrlichiosis. Center for Disease Control and Prevention. https://wwwnc.cdc.gov/travel/yellowbook/2018/infectious-diseases-related-to-travel/rickettsial-spotted-and-typhus-fevers-and-related-infections-including-anaplasmosis-and-ehrlichiosis#5251. Accessed 8 Feb 2019
Funding
There was no funding for this report.
Ethics declarations
Conflict of interest
None of the authors have a conflict of interest.
Research involving human participants and/or animals
This was a case study exempted by the local Investigational Review Board (IRB). No animal studies were performed.
Informed consent
The subject gave informed consent to participate prior to all interventions and specifically provided permission for publication of this de-identified data, case report, and manuscript. All studies were carried out in accordance with the World Medical Association Declaration of Helsinki (JBJS 79A:1089-98, 1997). Patient confidentiality was protected according to the U.S. Health Insurance Portability and Accountability Act (HIPAA) and all data have been de-identified.
Additional information
Publisher's Note
Springer Nature remains neutral with regard to jurisdictional claims in published maps and institutional affiliations.
About this article
Cite this article
Redford, A.H., Trost, J.R., Sibbitt, W.L. et al. HLA-B27 spondyloarthritis and spotted fever rickettsiosis: case-based review. Rheumatol Int 39, 1643–1650 (2019). https://doi.org/10.1007/s00296-019-04330-8
Received:

Accepted:

Published:

Issue Date:

DOI: https://doi.org/10.1007/s00296-019-04330-8
Keywords