Abstract
Nasal biopsy is the essential method for differentiating and diagnosing granulomatosis with polyangiitis (GPA) in patients with chronic rhinosinusitis. Nevertheless, in the real clinical settings, there are several cases unable for nasal biopsy. Hence, in this study, we investigated initial clinical manifestations and laboratory factors which could be helpful for diagnosing GPA in cases unable for nasal biopsy performance. We retrospectively reviewed the medical records of 45 patients with GPA. Twenty-five patients exhibited chronic rhinosinusitis, among which 16 patients underwent nasal biopsy. We applied the 2007 European Medicines Agency algorithm for the classification of GPA, the 2012 Chapel Hill Consensus Conferences Nomenclature of Vasculitis and the 2017 American College of Rheumatology/European League Against Rheumatism provisional classification criteria for GPA to them for reclassifying GPA. Among six patients without granuloma on nasal biopsy, three patients with only antineutrophil cytoplasmic antibody (ANCA) and chronic rhinosinusitis could be classified as GPA due to proteinase 3 (PR3)-ANCA (or cytoplasmic (C)-ANCA) positivity. Among nine patients without nasal biopsy, three patients with only chronic rhinosinusitis could be classified as GPA due to GPA-specific lung lesions. When we excluded an item of granuloma in ten GPA patients with granuloma on nasal biopsy, four patients without ANCAs could be classified as GPA due to GPA-specific lung lesions and cartilaginous involvement. In conclusion, PR3-ANCA (or C-ANCA) positivity, GPA-specific lung lesions and cartilaginous involvement could help physicians in charge make a final diagnosis of GPA in cases unable for nasal biopsy.
Access options
Buy single article
Instant access to the full article PDF.
US$ 39.95
Tax calculation will be finalised during checkout.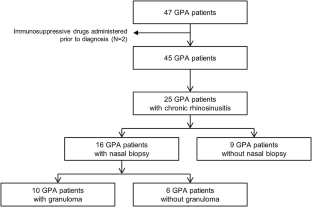 References
1.

Jennette JC, Falk RJ, Bacon PA et al (2013) 2012 revised International Chapel Hill consensus conference nomenclature of vasculitides. Arthritis Rheum 65:1–11

2.

Comarmond C, Cacoub P (2014) Granulomatosis with polyangiitis (Wegener): clinical aspects and treatment. Autoimmun Rev 13:1121–1125

3.

Lutalo PM, D'Cruz DP (2014) Diagnosis and classification of granulomatosis with polyangiitis (aka Wegener's granulomatosis). J Autoimmun 48–49:94–98

4.

Watts R, Lane S, Hanslik T et al (2007) Development and validation of a consensus methodology for the classification of the ANCA-associated vasculitides and polyarteritis nodosa for epidemiological studies. Ann Rheum Dis 66:222–227

5.

Reinhold-Keller E, Beuge N, Latza U et al (2000) An interdisciplinary approach to the care of patients with Wegener's granulomatosis: long-term outcome in 155 patients. Arthritis Rheum 43:1021–1032

6.

Gómez-Puerta JA, Hernández-Rodríguez J, López-Soto A, Bosch X (2009) Antineutrophil cytoplasmic antibody-associated vasculitides and respiratory disease. Chest 136:1101–1111

7.

Mukhtyar C, Lee R, Brown D et al (2009) Modification and validation of the Birmingham Vasculitis Activity Score (version 3). Ann Rheum Dis 68:1827–1832

8.

Stone JH, Hoffman GS, Merkel PA et al (2001) A disease-specific activity index for Wegener's granulomatosis: modification of the Birmingham Vasculitis Activity Score. International Network for the Study of the Systemic Vasculitides (INSSYS). Arthritis Rheum 44:912–920

9.

Rosenfeld RM (2016) Clinical practice. Acute sinusitis in adults. N Engl J Med 375:962–970

10.

Chang SY, Keogh KA, Lewis JE et al (2013) IgG4-positive plasma cells in granulomatosis with polyangiitis (Wegener's): a clinicopathologic and immunohistochemical study on 43 granulomatosis with polyangiitis and 20 control cases. Hum Pathol 44:2432–2437

11.

Paik YS, Liess BD, Scheidt TD, Ingram EA, Zitsch RP 3rd (2010) Extranodal nasal-type natural killer/T-cell lymphoma masquerading as recalcitrant sinusitis. Head Neck 32:268–273

12.

Del Buono EA, Flint A (1991) Diagnostic usefulness of nasal biopsy in Wegener's granulomatosis. Hum Pathol 22:107–110

13.

Matsubara O, Yoshimura N, Doi Y, Tamura A, Mark EJ (1996) Nasal biopsy in the early diagnosis of Wegener's (pathergic) granulomatosis. Significance of palisading granuloma and leukocytoclastic vasculitis. Virchows Arch 428:13–19

14.

Yoo J, Kim HJ, Ahn SS et al (2018) The utility of the ACR/EULAR 2017 provisional classification criteria for granulomatosis with polyangiitis in Korean patients with antineutrophil cytoplasmic antibody-associated vasculitis. Clin Exp Rheumatol 36(Suppl 111):85–87

15.

Guillevin L, Pagnoux C, Seror R et al (2011) The Five-Factor Score revisited: assessment of prognoses of systemic necrotizing vasculitides based on the French Vasculitis Study Group (FVSG) cohort. Medicine (Baltimore) 90:19–27

16.

Csernok E, Moosig F (2014) Current and emerging techniques for ANCA detection in vasculitis. Nat Rev Rheumatol 10:494–501

17.

Noel N, André C, Bengoufa D et al (2013) Performance evaluation of three assays for the detection of PR3-ANCA in granulomatosis with polyangiitis in daily practice. Autoimmun Rev 12:1118–1122

18.

Shi JB, Fu QL, Zhang H et al (2015) Epidemiology of chronic rhinosinusitis: results from a cross-sectional survey in seven Chinese cities. Allergy 70:533–539

19.

Kim YS, Kim NH, Seong SY, Kim KR, Lee GB, Kim KS (2011) Prevalence and risk factors of chronic rhinosinusitis in Korea. Am J Rhinol Allergy 25:117–121

20.

Knight A, Ekbom A, Brandt L, Askling J (2008) What is the significance in routine care of c-ANCA/PR3-ANCA in the absence of systemic vasculitis? A case series. Clin Exp Rheumatol 26:S53–S56

21.

Kokan N, Hosomi Y, Inamoto S, Ohnishi K, Tanimoto H, Nibu K (2006) Microscopic polyangiitis histologically confirmed by biopsy from nasal cavity and paranasal sinuses: a case report. Rheumatol Int 26:936–938

22.

Borner U, Landis BN, Banz Y et al (2012) Diagnostic value of biopsies in identifying cytoplasmic antineutrophil cytoplasmic antibody-negative localized Wegener's granulomatosis presenting primarily with sinonasal disease. Am J Rhinol Allergy 26:475–480

23.

Millet A, Pederzoli-Ribeil M, Guillevin L, Witko-Sarsat V, Mouthon L (2013) Antineutrophil cytoplasmic antibody-associated vasculitides: Is it time to split up the group? Ann Rheum Dis 72:1273–1279

24.

Dautremont JF, Rudmik L (2015) When are we operating for chronic rhinosinusitis? A systematic review of maximal medical therapy protocols prior to endoscopic sinus surgery. Int Forum Allergy Rhinol 5:1095–1103

25.

Peng KA, Kita AE, Suh JD, Bhuta SM, Wang MB (2014) Sinonasal lymphoma: case series and review of the literature. Int Forum Allergy Rhinol 4:670–674

26.

Lee YS, Cho HJ, Yoo HS, Shin YS, Park HS (2014) A case of IgG4-related disease with bronchial asthma and chronic rhinosinusitis in Korea. J Korean Med Sci 29:599–603

27.

Kim KY, Bae JH, Park JS, Lee SS (2014) Primary sinonasal tuberculosis confined to the unilateral maxillary sinus. Int J Clin Exp Pathol 7:815–818

28.

Yates M, Watts RA, Bajema IM et al (2016) EULAR/ERA-EDTA recommendations for the management of ANCA-associated vasculitis. Ann Rheum Dis 75:1583–1594

29.

Masiak A, Zdrojewski Z, Pęksa R et al (2017) The usefulness of histopathological examinations of non-renal biopsies in the diagnosis of granulomatosis with polyangiitis. Reumatologia 55:230–236
Acknowledgements
The authors thank Mr. Minyoung Kevin Kim for correcting and revising English.
Funding
This research was supported by Basic Science Research Program through the National Research Foundation of Korea (NRF) funded by the Ministry of Education (2017R1D1A1B03029050) and a grant from the Korea Health Technology R&D Project through the Korea Health Industry Development Institute, funded by the Ministry of Health and Welfare, Republic of Korea (HI14C1324).
Ethics declarations
Conflict of interest
All the authors declare that they have no conflict of interest.
Ethical approval
All the procedures performed in studies involving human participants were in accordance with the ethical standards of the institutional and/or national research committee and with the 1964 Helsinki Declaration and its later amendments or comparable ethical standards.
Informed consent
This study was approved by the Institutional Review Board (IRB) of Severance Hospital (4-2017-0673), and the patient's written informed consent was waived by the approving IRB, as this was a retrospective study.
Additional information
Publisher's Note
Springer Nature remains neutral with regard to jurisdictional claims in published maps and institutional affiliations.
About this article
Cite this article
Yoo, J., Ahn, S.S., Jung, S.M. et al. Should nasal biopsy inevitably be performed for classifying granulomatosis with polyangiitis in patients with rhinosinusitis? A retrospective chart review study. Rheumatol Int 39, 885–892 (2019). https://doi.org/10.1007/s00296-019-04282-z
Received:

Accepted:

Published:

Issue Date:
Keywords
Granulomatosis with polyangiitis

Nasal biopsy

PR3-ANCA

Lung

Cartilage