Abstract
The introduction of tumor necrosis factor-alpha (TNF-α)-targeting drugs has given new opportunities in the treatment of various inflammatory rheumatic diseases and has been the most important development in the treatment of spondyloarthritis (SpA). However, the increasing use and longer follow-up periods of treatment also pose risks of developing various adverse effects ranging from common ones including infections to uncommon renal complications. This report describes a case of infliximab-induced focal segmental glomerulosclerosis (FSGS) in a 40-year-old female patient with ankylosing spondylitis (AS) who presented with asymptomatic proteinuria and microscopic hematuria. To the best of our knowledge, this is the second reported case of FSGS attributed to infliximab (IFX). A review of the English literature was conducted for cases of possible IFX-associated renal disorders in patients with SpA and SpA spectrum diseases. In this respect, the reported renal pathologies were IgA nephropathy, crescentic glomerulonephritis, acute renal artery occlusion, acute tubulointerstitial nephritis (ATIN), FSGS, and membranous glomerulopathy. Furthermore, partial or complete resolution was reported after cessation of therapy. In conclusion, although renal complications of TNF inhibitors (TNFi) are uncommon, spot urine evaluation may be recommended in the follow-up of patients treated with TNFi.
This is a preview of subscription content, log in to check access.
Access options
Buy single article
Instant access to the full article PDF.
US$ 39.95
Price includes VAT for USA
Subscribe to journal
Immediate online access to all issues from 2019. Subscription will auto renew annually.
US$ 199
This is the net price. Taxes to be calculated in checkout.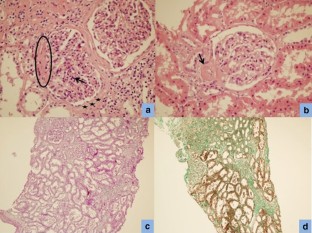 References
1.

Samson M, Espigol-Frigole G, Terrades-Garcia N, Prieto-Gonzalez S, Corbera-Bellalta M, Alba-Rovira R, Hernandez-Rodriguez J, Audia S, Bonnotte B, Cid MC (2018) Biological treatments in giant cell arteritis & Takayasu arteritis. Eur J Intern Med 50:12–19. https://doi.org/10.1016/j.ejim.2017.11.003

2.

Ramos-Casals M, Brito-Zeron P, Munoz S, Soto MJ, Group BS (2008) A systematic review of the off-label use of biological therapies in systemic autoimmune diseases. Medicine (Baltimore) 87(6):345–364. https://doi.org/10.1097/MD.0b013e318190f170

3.

Ramos-Casals M, Brito-Zeron P, Soto MJ, Cuadrado MJ, Khamashta MA (2008) Autoimmune diseases induced by TNF-targeted therapies. Best Pract Res Clin Rheumatol 22(5):847–861. https://doi.org/10.1016/j.berh.2008.09.008

4.

Lee SH, Lee EJ, Chung SW, Song R, Moon JY, Lee SH, Lim SJ, Lee YA, Hong SJ, Yang HI (2013) Renal involvement in ankylosing spondylitis: prevalence, pathology, response to TNF-a blocker. Rheumatol Int 33(7):1689–1692. https://doi.org/10.1007/s00296-012-2624-9

5.

Strobel ES, Fritschka E (1998) Renal diseases in ankylosing spondylitis: review of the literature illustrated by case reports. Clin Rheumatol 17(6):524–530

6.

Jones DW, Mansell MA, Samuell CT, Isenberg DA (1987) Renal abnormalities in ankylosing spondylitis. Br J Rheumatol 26(5):341–345

7.

Leonard D, Cortese C, Wadei HM, Porter Ii IE, Aslam N (2018) Behcet's syndrome and focal segmental glomerulosclerosis with nephrotic syndrome - successful treatment with etanercept. Clin Nephrol 89(5):371–375. https://doi.org/10.5414/CN109262

8.

Dumitrescu G, Dahan K, Treton X, Corcos O, Bouhnik Y, Stefanescu C (2015) Nephrotic syndrome after infliximab treatment in a patient with ulcerative colitis. J Gastrointestin Liver Dis 24(2):249–251. https://doi.org/10.15403/jgld.2014.1121.242.infx

9.

Jacquet A, Francois H, Frangie C, Yahiaoui Y, Ferlicot S, Micelli C, Mariette X, Durrbach A (2009) IgA nephropathy associated with ankylosing spondylitis is not controlled by infliximab therapy. Nephrol Dial Transplant 24(11):3540–3542. https://doi.org/10.1093/ndt/gfp314

10.

Hatakeyama T, Komatsuda A, Matsuda A, Togashi M, Maki N, Masai R, Sawada K, Wakui H (2008) Renal amyloidosis associated with extracapillary glomerulonephritis and vasculitis in a patient with inflammatory bowel disease treated with infliximab. Clin Nephrol 70(3):240–244

11.

Lemaitre C, Iwanicki-Caron I, Vecchi CD, Bertiaux-Vandaele N, Savoye G (2013) Acute renal artery occlusion following infliximab infusion. World J Nephrol 2(3):90–93. https://doi.org/10.5527/wjn.v2.i3.90

12.

Ota M, Iwai H, Imai K, Kamiya M, Yoshihashi-Nakazato Y, Miyasaka N, Kohsaka H (2016) Acute Tubulointerstitial Nephritis Associated with Infliximab in a Patient with Crohn's Disease. Intern Med 55(10):1367–1370. https://doi.org/10.2169/internalmedicine.55.5834

13.

Yoo YJ, Chung SY, Gu DH, Ko GJ, Pyo HJ, Kwon YJ, Bak YT, Won NH (2014) A case of late onset-acute tubulointerstitial nephritis with infliximab and mesalazine treatment in a patient with Crohn's disease. Korean J Gastroenterol 63(5):308–312

14.

Chin G, Luxton G, Harvey JM (2005) Infliximab and nephrotic syndrome. Nephrol Dial Transplant 20(12):2824–2826. https://doi.org/10.1093/ndt/gfi180

15.

Sato T, Kawasaki Y, Ito A, Izumi H, Kawamorita N, Yamashita S, Mitsuzuka K, Matsuura T, Watanabe M, Arai Y (2018) Infliximab-Induced Tubulointerstitial Nephritis with Image Findings of Striated Nephrogram in Crohn's Disease. Tohoku J Exp Med 245(3):149–152. https://doi.org/10.1620/tjem.245.149

16.

Piga M, Chessa E, Ibba V, Mura V, Floris A, Cauli A, Mathieu A (2014) Biologics-induced autoimmune renal disorders in chronic inflammatory rheumatic diseases: systematic literature review and analysis of a monocentric cohort. Autoimmun Rev 13(8):873–879. https://doi.org/10.1016/j.autrev.2014.05.005

17.

Kluger N, Du-Thanh A, Bessis D, Servel MF, Mourad G (2015) Psoriasis-associated IgA nephropathy under infliximab therapy. Int J Dermatol 54(3):e79–e80. https://doi.org/10.1111/ijd.12622

18.

Ueno Y, Tanaka S, Onitake T, Hanaoka R, Yoshioka K, Ito M, Chayama K (2009) Infliximab treatment for Crohn's disease in a patient with IgA nephropathy. Clin J Gastroenterol 2(6):380–383. https://doi.org/10.1007/s12328-009-0112-x

19.

Prinz JC (2011) Autoimmune-like syndromes during TNF blockade: does infection have a role? Nat Rev Rheumatol 7(7):429–434. https://doi.org/10.1038/nrrheum.2011.35

20.

McCarthy ET, Sharma M (2002) Indomethacin protects permeability barrier from focal segmental glomerulosclerosis serum. Kidney Int 61(2):534–541. https://doi.org/10.1046/j.1523-1755.2002.00172.x

21.

Laurent J, Belghiti D, Bruneau C, Lagrue G (1987) Diclofenac, a nonsteroidal anti-inflammatory drug, decreases proteinuria in some glomerular diseases: a controlled study. Am J Nephrol 7(3):198–202. https://doi.org/10.1159/000167463

22.

Vogt L, Laverman GD, Navis G (2010) Time for a comeback of NSAIDs in proteinuric chronic kidney disease? Neth J Med 68(12):400–407

23.

de Borst MH, Nauta FL, Vogt L, Laverman GD, Gansevoort RT, Navis G (2012) Indomethacin reduces glomerular and tubular damage markers but not renal inflammation in chronic kidney disease patients: a post-hoc analysis. PLoS One 7(5):e37957. https://doi.org/10.1371/journal.pone.0037957
Funding
There is no source(s) of support in the form of grants or industrial support.
Ethics declarations
Conflict of interest
All the authors declare that they have no conflicts of interest.
Informed consent
The patient gave a written informed consent before written.
About this article
Cite this article
Yarkan Tuğsal, H., Zengin, B., Kenar, G. et al. Infliximab-associated focal segmental glomerulosclerosis in a patient with ankylosing spondylitis. Rheumatol Int 39, 561–567 (2019). https://doi.org/10.1007/s00296-019-04241-8
Received:

Accepted:

Published:

Issue Date:
Keywords
Infliximab

Focal segmental glomerulosclerosis

Ankylosing spondylitis