Abstract
Previously, we reported the short-term effects of tacrolimus in treating lupus nephritis (LN); however, long-term data are lacking. We conducted a retrospective study of 26 adult patients with LN. Tacrolimus was initiated at a dose of 3 mg/day after induction therapy. We retrospectively collected data on renal response; modified lupus nephritis disease activity index (m-LNDAI), including hematuria, proteinuria, complement 3, anti-double-stranded DNA antibody, and estimated glomerular filtration rate (eGFR); and prednisolone (PSL) dose. Three patients discontinued tacrolimus treatment because of related complications, including acute myeloblastic leukemia, tremor, or a general personal choice or a desire to become pregnant. We analyzed data from 23 patients who were treated with tacrolimus over a 5-year period. The mean urinary protein/creatinine ratio decreased from a baseline of 0.24 (min 0.00–max 4.20) to 0.00 (0.00–7.05) at 5 years (p = 0.0134), while eGFR levels remained unchanged throughout the 5 years. The mean m-LNDAI decreased from a baseline of 3.00 (0.00–12.0) to 2.00 (0.00–4.00) at 5 years (p = 0.0074). The mean PSL dose decreased from a baseline of 0.33 (0.00–0.75) mg/kg/day to 0.15 (0.15–0.33) at 5 years (p = 0.001). Our results suggest that tacrolimus is potentially effective for treating LN and that the current dosage was generally well tolerated for long-term maintenance treatment in our patients with LN.
Access options
Buy single article
Instant access to the full article PDF.
USD 39.95
Price excludes VAT (USA)
Tax calculation will be finalised during checkout.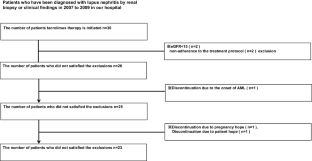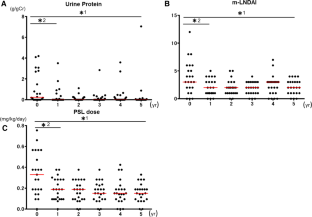 Abbreviations
Tac:

Tacrolimus

LN:

Lupus nephritis

PSL:

Prednisolone

m-LNDAI:

Modified lupus nephritis disease activity index

eGFR:

Estimated glomerular filtration rate

SLE:

Systemic lupus erythematosus

APCs:

Antigen-presenting cells

MZB:

Mizoribine

MMF:

Mycophenolate mofetil

CyA:

Cyclosporine A

CYC:

Cyclophosphamide

AZA:

Azathioprine
References
Lee YH, Lee HS, Choi SJ, Dai Ji J, Song GG (2011) Efficacy and safety of tacrolimus therapy for lupus nephritis: a systematic review of clinical trials. Lupus 20(6):636–640

Lech M, Anders HJ (2013) The pathogenesis of lupus nephritis. J Am Soc Nephrol 24(9):1357–1366

Mak A, Kow NY (2014) The pathology of T cells in systemic lupus erythematosus. J Immunol Res 2014:419029

Konya C, Paz Z, Tsokos GC (2014) The role of T cells in systemic lupus erythematosus: an update. Curr Opin Rheumatol 26(5):493–501

Moulton VR, Tsokos GC (2011) Abnormalities of T cell signaling in systemic lupuserythematosus. Arthritis Res Ther 13(2):207

Wofsy D, Seaman WE (1987) Reversal of advanced murine lupus in NZB/NZW F1 mice by treatment with monoclonal antibody to L3T4. J Immunol 138(10):3247–3253

Jevnikar AM, Grusby MJ, Glimcher LH (1994) Prevention of nephritis in major histocompatibility complex class II-deficient MRL-lpr mice. J Exp Med 179(4):1137–1143

Uchida K, Asamiya Y, Takei T, Itabashi M, Sugiura H, Tsukada M, Nitta K (2010) Pharmacokinetics of orally administered tacrolimus in lupus nephritis patients. Yakugaku Zasshi 130(1):113–118

Asamiya Y, Uchida K, Otsubo S, Takei T, Nitta K (2009) Clinical assessment of tacrolimus therapy in lupus nephritis: one-year follow-up study in a single center. Nephron Clin Pract 113(4):c330–6

Tan EM, Cohen AS, Fries JF, Masi AT, McShane DJ, Rothfield NF, Schaller JG, Talal N, Winchester RJ (1982) The 1982 revised criteria for the classification of systemic lupus erythematosus. Arthritis Rheum 25(11):1271–1277

Weening JJ, D'Agati VD, Schwartz MM, Seshan SV, Alpers CE, Appel GB, Balow JE, Bruijn JA, Cook T, Ferrario F, Fogo AB, Ginzler EM, Hebert L, Hill G, Hill P, Jennette JC, Kong NC, Lesavre P, Lockshin M, Looi LM, Makino H, Moura LA, Nagata M, International Society of Nephrology Working Group on the Classification of Lupus Nephritis, Renal Pathology Society Working Group on the Classification of Lupus Nephritis (2004) The classification of glomerulonephritis in systemic lupus erythematosus revisited. Kidney Int 65(2):521–530

Matsuo S, Imai E, Horio M, Yasuda Y, Tomita K, Nitta K, Yamagata K, Tomino Y, Yokoyama H, Hishida A (2009) Collaborators developing the Japanese equation for estimated GFR. Revised equations for estimated GFR from serum creatinine in Japan. Am J Kidney Dis 53(6):982–992

Miyasaka N, Kawai S, Hashimoto H (2009) Efficacy and safety of tacrolimus for lupus nephritis: a placebo-controlled double-blind multicenter study. Mod Rheumatol 19(6):606–615

Moroni G, Quaglini S, Maccario M, Banfi G, Ponticelli C (1996) "Nephritic flares" are predictors of bad long-term renal outcome in lupus nephritis. Kidney Int 50(6):2047–2053

Takei T, Itabashi M, Moriyama T, Kojima C, Shiohira S, Shimizu A, Tsuruta Y, Ochi A, Amemiya N, Mochizuki T, Uchida K, Tsuchiya K, Nitta K (2013) Effect of single-dose rituximab on steroid-dependent minimal-change nephrotic syndrome in adults. Nephrol Dial Transpl 28(5):1225–1232

Wallace DJ, Podell T, Weiner J, Klinenberg JR, Forouzesh S, Dubois EL (1981) Systemic lupus erythematosus—survival patterns. Experience with 609 patients. JAMA 245(9):934–938

Mok CC, Kwok RC, Yip PS (2013) Effect of renal disease on the standardized mortality ratio and life expectancy of patients with systemic lupus erythematosus. Arthritis Rheum 65(8):2154–2160

Ruiz-Irastorza G, Danza A, Khamashta M (2012) Glucocorticoid use and abuse in SLE. Rheumatology (Oxford) 51(7):1145–1153

Dooley MA, Jayne D, Ginzler EM, Isenberg D, Olsen NJ, Wofsy D, Eitner F, Appel GB, Contreras G, Lisk L, Solomons N, ALMS Group (2011) Mycophenolate versus azathioprine as maintenance therapy for lupus nephritis. N Engl J Med 365(20):1886–1895

Gourley MF, Austin HA III, Scott D, Yarboro CH, Vaughan EM, Muir J, Boumpas DT, Klippel JH, Balow JE, Steinberg AD (1996) Methylprednisolone and cyclophosphamide, alone or in combination, in patients with lupus nephritis. A randomized, controlled trial. Ann Intern Med 125(7):549–557

Moroni G, Doria A, Ponticelli C (2009) Cyclosporine (CsA) in lupus nephritis: assessing the evidence. Nephrol Dial Transpl 24(1):15–20

Hannah J, Casian A, D'Cruz D (2016) Tacrolimus use in lupus nephritis: a systematic review and meta-analysis. Autoimmun Rev 15(1):93–101

Lieberman LA, Tsokos GC (2010) The IL-2 defect in systemic lupus erythematosus disease has an expansive effect on host immunity. J Biomed Biotechnol 2010:740619

Crispín JC, Kyttaris VC, Terhorst C, Tsokos GC (2010) T cells as therapeutic targets in SLE. Nat Rev Rheumatol 6(6):317–325

Zhang Z, Kyttaris VC, Tsokos GC (2009) The role of IL-23/IL-17 axis in lupus nephritis. J Immunol 183(5):3160–3169

Faul C, Donnelly M, Merscher-Gomez S, Chang YH, Franz S, Delfgaauw J, Chang JM, Choi HY, Campbell KN, Kim K, Reiser J, Mundel P (2008) The actin cytoskeleton of kidney podocytes is a direct target of the antiproteinuric effect of cyclosporine A. Nat Med 14(9):931–938

Kino T, Hatanaka H, Hashimoto M, Nishiyama M, Goto T, Okuhara M, Kohsaka M, Aoki H, Imanaka H (1987) FK-506, a novel immunosuppressant isolated from a Streptomyces. I. Fermentation, isolation, and physico-chemical and biological characteristics. J Antibiot (Tokyo) 40(9):1249–1255

Kino T, Hatanaka H, Miyata S, Inamura N, Nishiyama M, Yajima T, Goto T, Okuhara M, Kohsaka M, Aoki H et al (1987) FK-506, a novel immunosuppressant isolated from a Streptomyces. II. Immunosuppressive effect of FK-506 in vitro. J Antibiot (Tokyo) 40(9):1256–1265

Tse KC, Lam MF, Tang SC, Tang CS, Chan TM (2007) A pilot study on tacrolimus treatment in membranous or quiescent lupus nephritis with proteinuria resistant to angiotensin inhibition or blockade. Lupus 16(1):46–51

Yap DY, Ma MK, Mok MM, Kwan LP, Chan GC, Chan TM (2014) Long-term data on tacrolimus treatment in lupus nephritis. Rheumatology 53(12):2232–2237
Acknowledgements
We thank Dr. Yoei Miyabe, who helped with the statistical analysis. We thank Edanz Group (http://www.edanzediting.com/ac) for editing a draft of this manuscript.
Ethics declarations
Conflict of interest
All authors have declared no conflict of interest.
Informed consent
This study complied with the guidelines of the Declaration of Helsinki and was approved by the Tokyo Women's Medical University Ethics Committee under Approval Number #4226, January 6, 2017. We received oral consent from all patients and provided them with the opportunity to opt out.
About this article
Cite this article
Karasawa, K., Uchida, K., Kodama, M. et al. Long-term effects of tacrolimus for maintenance therapy of lupus nephritis: a 5-year retrospective study at a single center. Rheumatol Int 38, 2271–2277 (2018). https://doi.org/10.1007/s00296-018-4154-6
Received:

Accepted:

Published:

Issue Date:

DOI: https://doi.org/10.1007/s00296-018-4154-6
Keywords