Abstract
Complex Regional Pain Syndrome type 1 (CRPS-1) is a disabling painful disease whose hallmark is pain disproportionate to inciting event. CRPS is also characterized by symptoms and signs, such as vasomotor, sudomotor, trophic and motor changes. Therapeutic approach of CRPS-1 still remains a challenge for clinicians treating a disease with potential heavy consequences on patient prognosis. In the past years, the treatment with bisphosphonates (BPs) has gained some success as confirmed by the results of a number of meta-analyses. The aim of this paper is to point out the pivotal role of bone in CRPS pathogenesis. The efficacy of BPs is likely to be related to bone tissue involvement in the early pathophysiological steps of the disease, as demonstrated by evidences highlighting the central role of bone in the initial phases. Bone can become a source of inflammatory cytokines when triggered by a direct injury. Moreover, peptidergic fibers that innervate both mineralized bone and bone marrow can play a role in triggering or maintaining the microvascular disturbance at bone level. Indeed, bone involvement is consistent with the mineralization disturbance as well as the results of instrumental investigations (e.g., MRI, bone scan). In this regard, an intriguing issue relies on the excellent therapeutic response to BPs treatment of other diseases (e.g., Transient Osteoporosis of the Hip and Regional Migratory Osteoporosis) that share with CRPS-1 some clinical and instrumental features.
This is a preview of subscription content, log in to check access.
Access options
Buy single article
Instant access to the full article PDF.
US$ 39.95
Price includes VAT for USA
Subscribe to journal
Immediate online access to all issues from 2019. Subscription will auto renew annually.
US$ 199
This is the net price. Taxes to be calculated in checkout.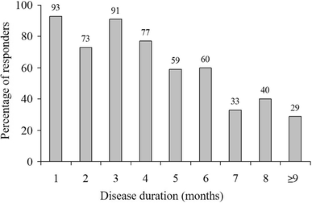 References
1.

Duong S, Bravo D, Todd KJ, Finlayson RJ, De QH, Tran (2018) Treatment of complex pain syndrome: an updated systematic review and narrative synthesis. Can J Anesth 65:658–684

2.

Chevreau M, Romand X, Gaudin P, Juvin R, Baillet A (2017) Bisphosphonates for treatment of complex regional pain syndrome type 1: A systematic literature review and meta-analysis of randomized controlled trials versus placebo. Joint Bone Spine 84:393–399

3.

Xu J, Yang J, Lin P, Rosenquist E, Cheng J (2016) Intravenous therapies for complex regional pain syndrome: a systematic review. Anesth Analg 122:843–856

4.

Wertli MM, Kessels AG, Perez RS, Bachmann LM, Brunner F (2014) Rational pain management in complex regional pain syndrome 1 (CRPS 1)-a network meta-analysis. Pain Med 15:1575–1589

5.

De QH, Tran, Duong S, Bertini P, Finlayson RJ (2010) Treatment of complex regional pain syndrome: a review of the evidence. Can J Anesth 57:149–166

6.

Sudeck P (1900) Über die acute entzündliche knochenatrophie. Archiv Klin Chir 62:147–156

7.

de Mos M, de Bruijn AGJ, Huygen FJPM, Dieleman JP, Stricker BHC, Sturkenboom MCJM (2007) The incidence of complex regional pain syndrome: a population-based study. Pain 129:12–20

8.

de Mos M, Huygen FJ, Dieleman JP, Koopman JS, Stricker BH, Sturkenboom MC (2009) Medical history and the onset of complex regional pain syndrome (CRPS). Pain 139:458–466

9.

Bouvier M, Colson F, Noel E, Tebib JG, Felman C (1997) Two new case-reports of reflex sympathetic dystrophy syndrome in patients with osteogenesis imperfecta. Review of the literature. Rev Rhum Engl Ed 64:202–204

10.

Kramer H, Hofbauer LC, Szalay G, Breimhorst M, Eberle T, Zieschang K, Rauner M, Schlereth T, Schreckenberger M, Birklein F (2014) Osteoprotegerin: a new biomarker for impaired bone metabolism in complex regional pain syndrome? Pain 155:889–895

11.

Coderre TJ, Bennett GJ (2010) A hypothesis for the cause of complex regional pain syndrome-Type I (reflex sympathetic dystrophy): pain due to deep-tissue. Pain Med 11:1224–1238

12.

Loi F, Còrdova LA, Pajarinen J, Lin T, Yao Z, Goodman SB (2016) Inflammation, fracture and bone repair. Bone 86:119–130

13.

Arlet J, Ficat CCJ (1996) Vascular explorations and pathology of reflex sympathetic dystrophy. Baillere's Clin Orthop 2:273–290

14.

Hofmann S, Fialka V, Kramer J, Leder K, Kramer J, Plenk H Jr (1996) Bone marrow oedema syndrome of the hip and its relationship to avascular necrosis and reflex sympathetic dystrophy. Baillere's Clin Orthop 2:291–313

15.

Chapurlat RD, Duboeuf FP, Liens D, Meunier PJ (1996) Dual energy X-ray absorptiometry in patients with lower limb reflex sympathetic dystrophy syndrome. J Rheumatol 9:1557–1559

16.

Bickerstaff DR, Charlesworth D, Kanis JA (1993) Changes in cortical and trabecular bone in algodystrophy. Br J Rheumatol 32:46–51

17.

Birklein F, Weber M, Neundörfer B (2000) Increased skin lactate in complex regional pain syndrome: evidence for tissue hypoxia? Neurology 55:1213–1215

18.

Basle MF, Rebel A, Renier JC (1983) Bone tissue in reflex sympathetic dystrophy syndrome - Sudeck's atrophy: structural and ultrastructural studies. Metab Bone Dis Relat Res 4:305–311

19.

Varenna M, Zucchi F, Ghiringhelli D, Binelli L, Bevilacqua M, Bettica P, Sinigaglia L (2000) Intravenous clodronate in the treatment of reflex sympathetic dystrophy syndrome. A randomized, double blind, placebo controlled study. J Rheumatol 27:1477–1483

20.

Varenna M (2014) Bisphosphonates beyond their anti-osteoclastic properties. The lesson of complex regional pain syndrome. Rheumatology 53:965–967

21.

Varenna M, Adami S, Sinigaglia L (2014) Bisphosphonates in Complex Regional Pain syndrome type I: how do they work? Clin Exp Rheumatol 32:451–454

22.

Varenna M, Manara M, Rovelli F, Zucchi F, Sinigaglia L (2017) Predictors of responsiveness to bisphosphonate treatment in patients with complex regional pain syndrome type I: a retrospective chart analysis. Pain Med 18:1131–1138

23.

Wertli MM, Brunner F, Steurer j, Held U (2017) Usefulness of bone scintigraphy for the diagnosis of complex regional pain syndrome 1: A systematic review and Bayesian meta-analysis. PLoS One 12:e0173688. https://doi.org/10.1371/journal.pone.0173688

24.

Wang L, Guo TZ, Hou S, Wei T, Li WW, Shi X, Clark JD, Kingery WS (2016) Bisphosphonates inhibit pain, bone loss, and inflammation in a rat tibia fracture model of complex regional pain syndrome. Anesth Analg 123:1033–1045

25.

Harden RN, Oaklander AL, Burton AW, Perez RS, Richardson K, Swan M, Barthel J, Costa B, Graciosa JR, Bruehl S (2013) Complex regional pain syndrome: practical diagnostic and treatment guidelines, 4th edn. Pain Med 14:180–229
Ethics declarations
Conflict of interest
MV received honoraria from Abiogen Pharma for consulting activities. CC has no conflicts of interest to report.
About this article
Cite this article
Varenna, M., Crotti, C. Bisphosphonates in the treatment of complex regional pain syndrome: is bone the main player at early stage of the disease?. Rheumatol Int 38, 1959–1962 (2018). https://doi.org/10.1007/s00296-018-4101-6
Received:

Accepted:

Published:

Issue Date:
Keywords
Algodistrophy

Bone

CRPS-1

Treatment

Bisphoshponates