Abstract
Mirtazapine is commonly used to treat major depressive disorder. Due to its effects on multiple neurotransmitters, it has been investigated for possible benefits in patients with fibromyalgia. The objective of this systematic review is to assess the efficacy and safety of mirtazapine in the treatment of patients with fibromyalgia. Pubmed (1946-May 2018), Embase (1947-May 2018), CENTRAL, and ClinicalTrials.gov were queried using the search term combination: fibromyalgia, pain, chronic pain, neuralgia, neuropathic pain, chronic widespread pain, or chronic pain syndrome and mirtazapine. Studies appropriate to the objective were evaluated, including three randomized, placebo-controlled trials and one open-label trial, investigating the effect of mirtazapine in patients with fibromyalgia. In patients with fibromyalgia, treatment with mirtazapine resulted in improvements in pain, sleep, and quality of life. Study durations ranged from 6 to 13 weeks and studies used varying dosing strategies for mirtazapine. Minor occurrences of somnolence, weight gain, nasopharyngitis, dry mouth, and increased appetite were reported with mirtazapine use. Based on the reviewed literature, mirtazapine appears to be a promising therapy to improve pain, sleep, and quality of life in patients with fibromyalgia. These benefits were demonstrated in patients that were treatment naïve and those that had failed previous therapies. Additional clinical evidence through larger and longer length trials would be of benefit to further define the role of mirtazapine for patients with fibromyalgia.
This is a preview of subscription content, log in to check access.
Access options
Buy single article
Instant access to the full article PDF.
US$ 39.95
Price includes VAT for USA
Subscribe to journal
Immediate online access to all issues from 2019. Subscription will auto renew annually.
US$ 199
This is the net price. Taxes to be calculated in checkout.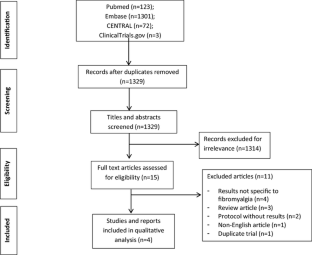 References
1.

Mirtazapine tablets [package insert] (2016) Updated 2016. Mylan Pharmaceuticals Inc., Morgantown

2.

Queiroz LP (2013) Worldwide epidemiology of fibromyalgia. Curr Pain Headache Rep 17:356

3.

Kia S, Choy E (2017) Update on treatment guideline in fibromyalgia syndrome with focus on pharmacology. Biomedicines 5:E20

4.

Clauw DJ (2014) Fibromyalgia: a clinical review. JAMA 311:1547–1555

5.

Phillips K, Clauw DJ (2013) Central pain mechanisms in the rheumatic diseases: future directions. Arthritis Rheum 65:291–302

6.

Kato K, Sullivan PF, Evengård B, Pedersen NL (2009) A population-based twin study of functional somatic syndromes. Psychol Med 39:497–505

7.

Jahan F, Nanji K, Qidwai W, Qasim R (2012) Fibromyalgia syndrome: an overview of pathophysiology, diagnosis and management. Oman Med J 27:192–195

8.

Wolfe F, Smythe HA, Yunus MB et al (1990) The American College of Rheumatology 1990 criteria for the classification of fibromyalgia. Report of the Multicenter Criteria Committee. Arthritis Rheum 33:160–172

9.

Wolfe F, Clauw DJ, Fitzcharles MA et al (2011) Fibromyalgia criteria and severity scales for clinical and epidemiological studies: a modification of the ACR preliminary diagnostic criteria for fibromyalgia. J Rheumatol 38:1113–1122

10.

Wolfe F, Clauw DJ, Fitzcharles MA, at al (2016) Revisions to the 2010/2011 fibromyalgia diagnostic criteria. Semin Arthritis Rheum 46:319–329

11.

Macfarlane GJ, Kronisch C, Dean LE et al (2017) EULAR revised recommendations for the management of fibromyalgia. Ann Rheum Dis 76:318–328

12.

Higgins JPT, Green S (2011) Cochrane Handbook for Systematic Reviews of Interventions Version 5.1.0. (updated March 2011). The Cochrane Collaboration. http://handbook.cochrane.org. Accessed 23 May 2018

13.

Moher D, Liberati A, Tetzlaff J et al (2009) Preferred reporting items for systematic reviews and meta-analyses: the PRISMA statement. Ann Intern Med 151:264–269

14.

Jadad AR, Moore RA, Carroll D et al (1996) Assessing the quality of reports of randomized clinical trials: is blinding necessary? Control Clin Trials 17:1–12

15.

Slim K, Nini E, Forestier D, Kwiatkowski F, Panis Y, Chipponi J (2003) Methodological index for non-randomized studies (minors): development and validation of a new instrument. ANZ J Surg 73:712–716

16.

Samborski W, Lezańska-Szpera M, Rybakowski JK (2004) Effects of antidepressant mirtazapine on fibromyalgia symptoms. Rocz Akad Med Bialymst 49:265–269

17.

Yeephu S, Suthisisang C, Suttiruksa S, Prateepavanich P, Limampai P, Russell IJ (2013) Efficacy and safety of mirtazapine in fibromyalgia syndrome patients: a randomized placebo-controlled pilot study. Ann Pharmacother 47:921–932

18.

Miki K, Murakami M, Oka H, Onozawa K, Yoshida S, Osada K (2016) Efficacy of mirtazapine for the treatment of fibromyalgia without concomitant depression: a randomized, double-blind, placebo-controlled phase IIa study in Japan. Pain 157:2089–2096

19.

Suttiruksa S, Yeephu S, Prateepavanich P, Suthisisang C (2016) Effects of mirtazapine on quality of life of Thai patients with fibromyalgia syndrome: a double-blind, randomized, placebo-controlled trial. Asian Biomed 10:435–445

20.

Verbunt JA, Pernot DH, Smeets RJ (2008) Disability and quality of life in patients with fibromyalgia. Health Qual Life Outcomes 6:8

21.

Theadom A, Cropley M, Humphrey KL (2007) Exploring the role of sleep and coping in quality of life in fibromyalgia. J Psychosom Res 62:145–151

22.

Bigatti SM, Hernandez AM, Cronan TA, Rand KL (2008) Sleep disturbances in fibromyalgia syndrome: relationship to pain and depression. Arthritis Rheum 59:961–967

23.

Lexi-Comp Online (2018) Lexi-Comp, Inc., Hudson, Ohio. Available at: http://online.lexi.com/. Accessed 19 Jan 2018
Funding
No external funding was secured for this review.
Ethics declarations
Conflict of interest
The authors have no conflicts of interest to disclose.
Ethical approval
This article does not contain any studies with human participants or animals performed by any of the authors.
Financial disclosure
The authors report no financial relationships relevant to this article to disclose.
About this article
Cite this article
Ottman, A.A., Warner, C.B. & Brown, J.N. The role of mirtazapine in patients with fibromyalgia: a systematic review. Rheumatol Int 38, 2217–2224 (2018). https://doi.org/10.1007/s00296-018-4068-3
Received:

Accepted:

Published:

Issue Date:
Keywords
Pain

Chronic pain

Fatigue

Sleep

Quality of life

Depression