Abstract
Gout is the most common inflammatory arthritis and is increasing in relevance due to its rising prevalence and incidence. Dual-energy CT (DECT) and ultrasound (US) are the most frequently used imaging modalities for the diagnosis of gout and for the follow-up of patients receiving therapy. Although DECT has the highest diagnostic accuracy for gout and shows consistently excellent reader agreement in the assessment of urate deposition change after therapy, US also performs well and remains just as important an imaging tool in these realms due to its practical advantages in cost, availability, and safety. This article reports the current status of these two modalities in regard to diagnosis and therapy follow-up.
This is a preview of subscription content, log in to check access.
Access options
Buy single article
Instant access to the full article PDF.
US$ 39.95
Price includes VAT for USA
Subscribe to journal
Immediate online access to all issues from 2019. Subscription will auto renew annually.
US$ 199
This is the net price. Taxes to be calculated in checkout.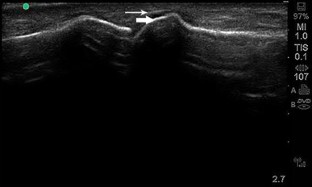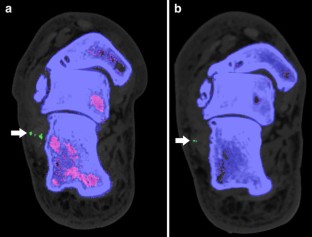 References
1.

Kuo CF, Grainge MJ, Zhang W, Doherty M (2015) Global epidemiology of gout: prevalence, incidence and risk factors. Nat Rev Rheumatol 11:649–62

2.

Minichiello E, Semerano L, Boissier MC (2016) Time trends in the incidence, prevalence, and severity of rheumatoid arthritis: a systematic literature review. Joint Bone Spine 83(6):625–630

3.

Newberry SJ, FitzGerald JD, Motala A et al (2017) Diagnosis of gout: a systematic review in support of an American College of Physicians Clinical Practice Guideline. Ann Intern Med 166(1):27–36

4.

Neogi T, Jansen TL, Dalbeth N, Fransen J, Schumacher HR, Berendsen D et al (2015) 2015 Gout classification criteria: an American College of Rheumatology/European League Against Rheumatism collaborative initiative. Arthritis Rheumatol 67:2557–2568

5.

Grainger R, Dalbeth N, Keen H, Durcan L, Lawrence Edwards N, Perez-Ruiz F et al (2015) Imaging as an outcome measure in gout studies: report from the OMERACT Gout Working Group. J Rheumatol 42:2460–2464

6.

Dalbeth N, Doyle AJ (2018) Imaging tools to measure treatment response in gout. Rheumatology (Oxford) 57(suppl_1):i27–i34

7.

Gruber M, Bodner G, Rath E, Supp G, Weber M, Schueller-Weidekamm C (2015) Dual-energy computed tomography compared with ultrasound in the diagnosis of gout. Rheumatol Oxf Engl 53(1):173–179

8.

Zhu L, Wu H, Wu X, Sun W, Zhang T, Ye L, Wang W, Wang J (2015) Comparison between dual-energy computed tomography and ultrasound in the diagnosis of gout of various joints. Acad Radiol 22(12):1497–1502

9.

Ogdie A, Taylor WJ, Weatherall M, Fransen J, Jansen TL, Neogi T, Schumacher HR, Dalbeth N (2015) Imaging modalities for the classification of gout: systematic literature review and meta-analysis. Ann Rheum Dis 74(10):1868–1874

10.

Huppertz A, Hermann KG, Diekhoff T, Wagner M, Hamm B, Schmidt WA (2014) Systemic staging for urate crystal deposits with dual-energy CT and ultrasound in patients with suspected gout. Rheumatol Int 34(6):763–771

11.

Lee YH, Song GG (2017) Diagnostic accuracy of dual-energy computed tomography in patients with gout: a meta-analysis. Semin Arthritis Rheum 47:95–101

12.

Lee YH, Song GG (2017) Diagnostic accuracy of ultrasound in patients with gout: a meta-analysis. Semin Arthritis Rheum. https://doi.org/10.1016/j.semarthrit.2017.09.012 (Epub ahead of print)

13.

Wu H, Xue J, Ye L, Zhou Q, Shi D, Xu R (2014) The application of dual-energy computed tomography in the diagnosis of acute gouty arthritis. Clin Rheumatol 33(7):975–979

14.

Bongartz T, Glazebrook KN, Kavros SJ et al (2015) Dual-energy CT for the diagnosis of gout: an accuracy and diagnostic yield study. Ann Rheum Dis 74:1072–1077

15.

Jia E, Zhu J, Huang W, Chen X, Li J (2018) Dual-energy computed tomography has limited diagnostic sensitivity for short-term gout. Clin Rheumatol 37(3):773–777

16.

Araujo EG, Bayat S, Petsch C, Englbrecht M, Faustini F, Kleyer A et al (2015) Tophus resolution with pegloticase: a prospective dual-energy CT study. RMD Open 1:e000075

17.

Bayat S, Aati O, Rech J, Sapsford M, Cavallaro A, Lell M, Araujo E, Petsch C, Stamp LK, Schett G, Manger B, Dalbeth N (2016) Development of a dual-energy computed tomography scoring system for measurement of urate deposition in gout. Arthritis Care Res 68(6):769–775

18.

Sun Y, Chen H, Zhang Z, Ma L, Zhou J, Zhou Y, Ding Y, Jin X, Jiang L (2015) Dual-energy computed tomography for monitoring the effect of urate-lowering therapy in gouty arthritis. Int J Rheum Dis 18(8):880–885

19.

Rajan A, Aati O, Kalluru R, Gamble GD, Horne A, Doyle AJ, McQueen FM, Dalbeth N (2013) Lack of change in urate deposition by dual-energy computed tomography among clinically stable patients with long-standing tophaceous gout: a prospective longitudinal study. Arthritis Res Ther 15(5):R160

20.

Metzger SC, Koehm M, Wichmann JL, Buettner S, Scholtz JE, Beeres M et al (2016) Dual-energy CT in patients with suspected gouty arthritis: effects on treatment regimen and clinical outcome. Acad Radiol 23(3):267–272

21.

Finkenstaedt T, Manoliou A, Toniolo M, Higashigaito K, Andreisek G, Guggenberger R, Michel B, Alkadhi H (2016) Gouty arthritis: the diagnostic and therapeutic impact of dual-energy CT. Eur Radiol 26(11):3989–3999

22.

Gamala M, Linn-Rasker SP, Nix M, Heggelman BGF, van Laar JM, Pasker-de Jong PCM, Jacobs JWG, Klaasen R (2018) Gouty arthritis: decision-making following dual-energy CT scan in clinical practice, a retrospective analysis. Clin Rheumatol. https://doi.org/10.1007/s10067-018-3980-y (epub ahead of print)

23.

Ottaviania S, Gilla G, Aubruna A, Palazzoa E, Meyera O, Dieudéa P (2015) Ultrasound in gout: A useful tool for following urate-lowering therapy. Joint Bone Spine 82:42–44

24.

Thiele RG, Schlesinger N (2010) Ultrasonography shows disappearance of monosodium urate crystal deposition on hyaline cartilage after sustained normouricemia is achieved. Rheumatol Int 30:495–503

25.

Peiteado D, Villalba A, Martin-Mola E, Balsa A, De Miguel E (2017) Ultrasound sensitivity to changes in gout: a longitudinal study after two years of treatment. Clin Exp Rheumatol 35:746–751

26.

Das S, Goswami RP, Ghosh A et al (2017) Temporal evolution of urate crystal deposition over articular cartilage after successful urate-lowering therapy in patients with gout: an ultrasonographic perspective. Mod Rheumatol 27:518–523

27.

Pascart T, Grandjean A, Norberciak L, Ducoulombier V, Motte M, Luraschi H et al (2017) Ultrasonography and dual-energy computed tomography provide different quantification of urate burden in gout: results from a cross-sectional study. Arthritis Res Ther 19:171

28.

Modjinou DV, Krasnokutsky S, Gyftopoulos S, Pike VC, Karis E, Keenan RT et al (2017) Comparison of dual-energy CT, ultrasound and surface measurement for assessing tophus dissolution during rapid urate debulking. Clin Rheumatol 36:2101–2107

29.

Ramon A, Bohm-Sigrand A, Pottecher P, Richette P, Maillefert JF, Devilliers H, Ornetti P (2018) Role of dual-energy CT in the diagnosis and follow-up of gout: systematic analysis of the literature. Clin Rheumatol 37(3):587–595

30.

Peiteado D, Villalba A, Martin-Mola E, de Miguel E (2015) Reduction but not disappearance of Doppler signal after two years of treatment for gout. Do we need a more intensive treatment? Clin Exp Rheumatol 33:385–390

31.

Choi HK, Burns LC, Shojania K, Koenig N, Reid G, Abufayyah M, Law G, Kydd AS, Ouellette H, Nicolaou S (2012) Dual energy CT in gout: a prospective validation study. Ann Rheum Dis 71(9):1466–1471
Ethics declarations
Conflict of interest
Hillary W. Garner, M.D. and Daniel E. Wessell, M.D., Ph.D. declare that they have no conflict of interest.
About this article
Cite this article
Garner, H.W., Wessell, D.E. Current status of ultrasound and dual-energy computed tomography in the evaluation of gout. Rheumatol Int 38, 1339–1344 (2018). https://doi.org/10.1007/s00296-018-4033-1
Received:

Accepted:

Published:

Issue Date:
Keywords
Gout

Imaging

Dual energy

Computed tomography

Ultrasound