Abstract
Previous studies have shown that fibromyalgia syndrome (FMS) is associated with low level of physical activity and exercise, which may lead to an increased risk of osteoporosis. However, studies of bone mineral density (BMD) in fibromyalgia have shown conflicting results. Thus, we conducted a systematic review and meta-analysis to better characterize the association between FMS and BMD. A comprehensive search of the databases MEDLINE and EMBASE was performed from inception through May 2016. The inclusion criterion was the observational studies' assessment of the association between fibromyalgia and bone mineral density in adult subjects. Fibromyalgia was diagnosed in accordance with the American College of Rheumatology criteria for the diagnosis of fibromyalgia syndrome. BMD was measured at the lumbar spine and femoral neck by dual-energy X-ray absorptiometry. Pooled mean difference (MD) of BMD at each site and 95% confidence interval (CI) were calculated using a random-effect, generic inverse variance method. The between-study heterogeneity of effect size was quantified using the Q statistic and I 2. Data were extracted from four observational studies involving 680 subjects. At lumbar spine (L2–L4), BMD is significantly decreased in patients with FMS compared with controls with pooled MD of −0.02 (95% CI −0.03 to −0.01, P value = 0.003, I 2 = 0%) (Fig. 1). At femoral neck, BMD is not significantly decreased in patients with FMS compared with controls with pooled MD of 0.01 (95% CI −0.02 to 0.01, P value = 0.23, I 2 = 0%) (Fig. 2). In this meta-analysis, we observe that BMD at lumbar spine is decreased in FMS compared with normal individuals. Patients with FMS should be assessed for risk of osteoporosis.


Access options
Buy single article
Instant access to the full article PDF.
USD 39.95
Price excludes VAT (USA)
Tax calculation will be finalised during checkout.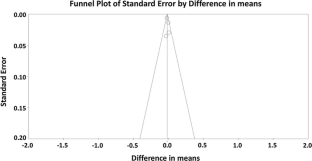 References
Olama SM, Senna MK, Elarman MM, Elhawary G (2013) Serum vitamin D level and bone mineral density in premenopausal Egyptian women with fibromyalgia. Rheumatol Int 33(1):185–192. doi:10.1007/s00296-012-2361-0

Goldenberg DL, Burckhardt C, Crofford L (2004) Management of fibromyalgia syndrome. JAMA 292(19):2388–2395. doi:10.1001/jama.292.19.2388

Gomez-Cabello A, Vicente-Rodriguez G, Navarro-Vera I, Martinez-Redondo D, Diez-Sanchez C, Casajus JA (2015) Influences of physical fitness on bone mass in women with fibromyalgia. Adapt Phys Activ Q 32(2):125–136. doi:10.1123/APAQ.2014-0193

Rivera J, Esteve-Vives J, Vallejo MA, Rejas J, Grupo I (2011) Factors associated with temporary work disability in patients with fibromyalgia. Rheumatol Int 31(11):1471–1477. doi:10.1007/s00296-010-1523-1

Verbunt JA, Pernot DH, Smeets RJ (2008) Disability and quality of life in patients with fibromyalgia. Health Qual Life Outcomes 6:8. doi:10.1186/1477-7525-6-8

Jensen B, Wittrup IH, Bliddal H, Danneskiold-Samsoe B, Faber J (2003) Bone mineral density in fibromyalgia patients–correlation to disease activity. Scand J Rheumatol 32(3):146–150

Swezey RL, Adams J (1999) Fibromyalgia: a risk factor for osteoporosis. J Rheumatol 26(12):2642–2644

Jacobsen S, Gam A, Egsmose C, Olsen M, Danneskiold-Samsoe B, Jensen GF (1993) Bone mass and turnover in fibromyalgia. J Rheumatol 20(5):856–859

Zerahn B, Bliddal H, Møller P, Borgwardt A, Danneskiold-Samsøe B (2001) Bone mass in the calcaneus in patients with fibromyalgia. J Musculoskelet Pain 9(1):17–23. doi:10.1300/J094v09n01_03

Stroup DF, Berlin JA, Morton SC, Olkin I, Williamson GD, Rennie D, Moher D, Becker BJ, Sipe TA, Thacker SB (2000) Meta-analysis of observational studies in epidemiology: a proposal for reporting. Meta-analysis of observational studies in epidemiology (MOOSE) group. JAMA 283(15):2008–2012

Stang A (2010) Critical evaluation of the Newcastle-Ottawa scale for the assessment of the quality of nonrandomized studies in meta-analyses. Eur J Epidemiol 25(9):603–605. doi:10.1007/s10654-010-9491-z

Higgins JP, Thompson SG, Deeks JJ, Altman DG (2003) Measuring inconsistency in meta-analyses. BMJ 327(7414):557–560. doi:10.1136/bmj.327.7414.557

Sterne JA, Egger M (2001) Funnel plots for detecting bias in meta-analysis: guidelines on choice of axis. J Clin Epidemiol 54(10):1046–1055

Buyukbese MA, Pamuk ON, Yurekli OA, Yesil N (2013) Effect of fibromyalgia on bone mineral density in patients with fibromylagia and rheumatoid arthritis. J Postgrad Med 59(2):106–109. doi:10.4103/0022-3859.113825

Mateos F, Valero C, Olmos JM, Casanueva B, Castillo J, Martinez J, Hernandez JL, Gonzalez Macias J (2014) Bone mass and vitamin D levels in women with a diagnosis of fibromyalgia. Osteoporos Int 25(2):525–533. doi:10.1007/s00198-013-2434-2

Al-Allaf AW, Mole PA, Paterson CR, Pullar T (2003) Bone health in patients with fibromyalgia. Rheumatology (Oxford) 42(10):1202–1206. doi:10.1093/rheumatology/keg356

Michelson D, Stratakis C, Hill L, Reynolds J, Galliven E, Chrousos G, Gold P (1996) Bone mineral density in women with depression. N Engl J Med 335(16):1176–1181. doi:10.1056/NEJM199610173351602

Fishbain D (2000) Evidence-based data on pain relief with antidepressants. Ann Med 32(5):305–316

Babu AS, Ikbal FM, Noone MS, Joseph AN, Danda D (2015) Does low bone density influence symptoms and functional status in patients with fibromyalgia? Observations from rural South India. Int J Rheum Dis 18(8):850–853. doi:10.1111/1756-185X.12649
Ethics declarations
Conflict of interest
Sikarin Upala, Wai Chung Yong, and Anawin Sanguankeo declare that they have no conflict of interests.
Ethical approval
This article does not contain any studies with human participants or animals performed by any of the authors.
Electronic supplementary material
Below is the link to the electronic supplementary material.
About this article
Cite this article
Upala, S., Yong, W.C. & Sanguankeo, A. Bone mineral density is decreased in fibromyalgia syndrome: a systematic review and meta-analysis. Rheumatol Int 37, 617–622 (2017). https://doi.org/10.1007/s00296-016-3625-x
Received:

Accepted:

Published:

Issue Date:

DOI: https://doi.org/10.1007/s00296-016-3625-x
Keywords