Abstract
Although exercise is often recommended for managing osteoarthritis (OA), limited evidence-based exercise options are available for older adults with OA. This study compared the effects of Hatha yoga (HY) and aerobic/strengthening exercises (ASE) on knee OA. Randomized controlled trial with three arms design was used: HY, ASE, and education control. Both HY and ASE groups involved 8 weekly 45-min group classes with 2–4 days/week home practice sessions. Control group received OA education brochures and weekly phone calls from study staff. Standardized instruments were used to measure OA symptoms, physical function, mood, spiritual health, fear of falling, and quality of life at baseline, 4 and 8 weeks. HY/ASE adherences were assessed weekly using class attendance records and home practice video recordings. Primary analysis of the difference in the change from baseline was based on intent-to-treat and adjusted for baseline values. Eight-three adults with symptomatic knee OA completed the study (84% female; mean age 71.6 ± 8.0 years; mean BMI 29.0 ± 7.0 kg/m2). Retention rate was 82%. Compared to the ASE group at 8 weeks, participants in the HY group had a significant improvement from baseline in perception of OA symptoms (−9.6 [95% CI −15.3, −4]; p = .001), anxiety (−1.4 [95% CI −2.7, −0]; p = .04), and fear of falling (−4.6 [−7.5, −1.7]; p = .002). There were no differences in class/home practice adherence between HY and ASE. Three non-serious adverse events were reported from the ASE group. Both HY and ASE improved symptoms and function but HY may have superior benefits for older adults with knee OA.
Trial registration The full trial protocol is available at clinicaltrials.gov (NCT02525341).
Access options
Buy single article
Instant access to the full article PDF.
US$ 39.95
Tax calculation will be finalised during checkout.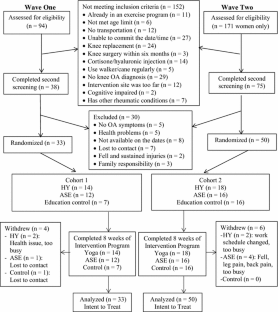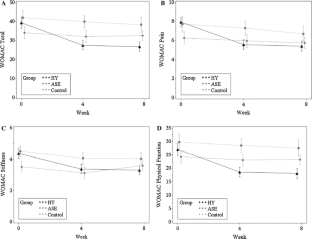 References
1.

Loeser RF (2010) Age-related changes in the musculoskeletal system and the development of osteoarthritis. Clin Geriatr Med 26(3):371–386

2.

Hootman JL, Helmick CG (2006) Projections of US prevalence of arthritis and associated activity limitations. Arthritis Rheumatol 54(1):226–229

3.

Center for Disease Control and Prevention. Osteoarthritis. http://www.cdc.gov/arthritis/basics/osteoarthritis.htm. Accessed 12 May 2016

4.

Axford J, Butt A, Heron C et al (2010) Prevalence of anxiety and depression in osteoarthritis: use of the Hospital Anxiety and Depression Scale as a screening tool. Clin Rheumatol 29(11):1277–1283

5.

Ng CT, Tan MP (2013) Osteoarthritis and falls in the older person. Age Ageing 42(5):561–566

6.

Alkan BM, Fidan F, Tosun A et al (2014) Quality of life and self-reported disability in patients with knee osteoarthritis. Mod Rheumatol 24(1):166–171

7.

Nelson AE, Allen KD, Golightly YM et al (2014) A systematic review of recommendations and guidelines for the management of osteoarthritis: the Chronic Osteoarthritis Management Initiative of the US Bone and Joint Initiative. Semin Arthritis Rheum 43(6):701–712

8.

Penninx BW, Messier SP, Rejeski WJ et al (2001) Physical exercise and the prevention of disability in activities of daily living in older persons with osteoarthritis. Arch Intern Med 161(19):2309–2316

9.

Hunter DJ, Eckstein F (2009) Exercise and osteoarthritis. J Anat 214(2):197–207

10.

Juhl C, Christensen R, Roos EM et al (2014) Impact of exercise type and dose on pain and disability in knee osteoarthritis: a systematic review and meta-regression analysis of randomized controlled trials. Arthritis Rheumatol 66(3):622–636

11.

Roddy E, Zhang W, Doherty M et al (2005) Evidence-based recommendations for the role of exercise in the management of osteoarthritis of the hip or knee—the MOVE consensus. Rheumatology 44(1):67–73

12.

Bennell KL, Hinman RS (2001) A review of the clinical evidence for exercise in osteoarthritis of the hip and knee. J Sci Med Sport 14(1):4–9

13.

Patel NK, Newstead AH, Ferrer RL (2012) The effects of yoga on physical functioning and health related quality of life in older adults: a systematic review and meta-analysis. J Altern Complement Med 18(10):902–917

14.

Roland KP, Jakobi JM, Jones GR (2011) Does yoga engender fitness in older adults? A critical review. J Aging Phys Act 19(1):62–79

15.

Cheung C, Park J, Wyman JF (2016) Effects of yoga on symptoms, physical function, and psychosocial outcomes in adults with osteoarthritis: a focused review. Am J Phys Med Rehabil 95(2):139–151

16.

Schutzer KA, Graves BS (2004) Barriers and motivations to exercise in older adults. Prev Med 39(5):1056–1061

17.

Belza B, Walwick J, Shiu-Thornton S et al (2004) Older adult perspectives on physical activity and exercise: voices from multiple cultures. Prev Chronic Dis 1(4):A09

18.

Taylor MJ (2003) Yoga therapeutics: an ancient, dynamic systems theory. Tech Orthop 18:115–125

19.

Ferrari ML, Thuraisingam S, Känel RV (2015) Expectations and effects of a single yoga session on pain perception. Int J Yoga 8(2):154–157

20.

Ferguson B (2014) ACSM's guidelines for exercise testing and prescription 9th Ed. J Can Chiropr Assoc 58(3):328

21.

O'Connor FG (ed) (2013) ACSM's sports medicine: a comprehensive review. Lippincott Williams & Wilkins, Philadelphia

22.

Altman R, Asch E, Bloch D et al (1986) Development of criteria for the classification and reporting of osteoarthritis: classification of osteoarthritis of the knee American Rheumatology Classification. Arthritis Rheum 29(8):1039–1048

23.

Hannan MT, Felson DT, Pincus T (2000) Analysis of the discordance between radiographic changes and knee pain in osteoarthritis of the knee. J Rheumatol 27(6):1513–1517

24.

Lethbridge-Çejku M, Scott WW, Reichle R et al (1995) Association of radiographic features of osteoarthritis of the knee with knee pain: data from the Baltimore Longitudinal Study of Aging. Arthritis Rheum 8(3):182–188

25.

Pfeiffe E (1975) A short portable mental status questionnaire for the assessment of organic brain deficit in elderly patients. J Am Geriatr Soc 23:433–441

26.

Resnick B, Ory MG, Hora K et al (2008) A proposal for a new screening paradigm and tool called Exercise Assessment and Screening for You (EASY). J Aging Phys Act 16(2):215–233

27.

Bellamy N, Buchanan WW, Goldsmith CH et al (1988) Validation study of WOMAC: a health status instrument for measuring clinically important patient relevant outcomes to antirheumatic drug therapy in patients with osteoarthritis of the hip or knee. J Rheumatol 15:1833–1840

28.

Guralnik JM, Simonsick EM, Ferrucci L et al (1994) A short physical performance battery assessing lower extremity function: association with self-reported disability and prediction of mortality and nursing home admission. J Gerontol 49(2):M85–M94

29.

Grace EM, Gerecz EM, Kassam YB et al (1988) 50-foot walking time: a critical assessment of an outcome measure in clinical therapeutic trials of antirheumatic drugs. Br J Rheumatol 27(5):372–374

30.

Zigmond AS, Snaith RP (1983) The hospital anxiety and depression scale. Acta Psychiatr Scand 67:361–370

31.

Yardley L, Beyer N, Hauer K et al (2005) Development and initial validation of the Falls Efficacy Scale International (FES-I). Age Ageing 34(6):614–619. doi:10.1093/ageing/afi196

32.

Reed PG (1991) Self-transcendence and mental health in oldest-old adults. Nurs Res 40(1):5–11

33.

Reed PG (2009) Demystifying self-transcendence for mental health nursing practice and research. Arch Psychiatr Nurs 23(5):397–400. doi:10.1016/j.apnu.2009.06.006

34.

Molzahn AE (2007) Spirituality in later life: effect on quality of life. J Gerontol Nurs 33(1):32–39

35.

Ware JE, Kosinski M, Keller SD (1996) A 12-item Short Form health survey. Construction of scales and preliminary tests of reliability and validity. Med Care 34:220–233

36.

Cheung C, Wyman JF, Resnick B, Savik K (2014) Yoga for managing knee osteoarthritis in older women: a pilot randomized controlled trial. BMC Complement Altern Med 14:160. doi:10.1186/1472-6882-14-160

37.

Hunter DJ, McDougall JJ, Keefe FJ (2009) The symptoms of osteoarthritis and the genesis of pain. Med Clin N Am 93(1):83–100

38.

Vallath N (2010) Perspectives on Yoga inputs in the management of chronic pain. Indian J Palliat Care 16(1):1–7

39.

Nespor K (1991) Pain management and yoga. Int J Psychosom 38(1–4):76–81

40.

Morone NE, Greco CM (2007) Mind-body interventions for chronic pain in older adults: a structured review. Pain Med 8:359–375

41.

Chin A, Paw MJ, van Uffelen JG et al (2008) The functional effects of physical exercise training in frail older people. Sports Med 38(9):781–793

42.

Hadjistavropoulos T, Delbaere K, Fitzgerald TD (2011) Reconceptualizing the role of fear of falling and balance confidence in fall risk. J Aging Health 23(1):3–23

43.

Smith C, Hancock H, Blake-Mortimer J et al (2007) A randomised comparative trial of yoga and relaxation to reduce stress and anxiety. Complement Ther Med 15(2):77–83

44.

Thoits P, Hewitt LN (2001) Volunteer work and well-being. J Health Soc Behav 1:115–131

45.

Lin Y, Zhu M, Su Z (2015) The pursuit of balance: an overview of covariate-adaptive randomization techniques in clinical trials. Contemp Clin Trials 45:21–25

46.

Kelley GA, Kelley KS (2013) Dropouts and compliance in exercise interventions targeting bone mineral density in adults: a meta-analysis of randomized controlled trials. J Osteoporosis 2013:1–19
Acknowledgements
The authors want to thank Catherine Justice, Registered Yoga Teacher, and Mary Clapp, Certified Personal Trainer for implementing the intervention classes, and the Directors of the Jewish Community Centers for providing the classrooms and assisting in recruitment.
Funding
This study was funded by the University of Iowa Hartford Center Geriatric Nursing Excellent Pilot Grant, and Deborah E. Powell Center of Mature Women's Health and Research Grants. It is also supported in part by the National Center for Advancing Translational Sciences Award UL1TR000114. The study sponsors played no role in study design, methods, participant recruitment, data collection, data analysis or development of this manuscript.
Authors' contributions
The authors CC and JW conceived the study and carried out the design. UB provided exercise consultation and assisted with the development of the ASE intervention program. TM participated in the design of the study and provided geriatric consultations. KR provided statistical consultations. MM performed the statistical analyses. CC, KR, and MM interpreted the results. CC drafted the manuscript. All authors critically reviewed, revised, and approved the final manuscript.
Ethics declarations
Conflict of interest
The authors, Corjena Cheung, Jean Wyman, Ulf Bronas, Teresa McCarthy, Kyle Rudser, and Michelle Mathison declare that they have no financial, personal, or potential conflict of interests that could potentially or inappropriately influence (bias) their work and conclusions have no conflict of interest. The University of Minnesota's Institutional Review Board granted approval of the study.
Ethical standards
All procedures performed in studies involving human participants were in accordance with the ethical standards of the institutional and/or national research committee and with the 1964 Helsinki Declaration and its later amendments or comparable ethical standards.
Informed consent
Informed consent was obtained from all individual participants included in the study. Measures were taken throughout the study to ensure safety to prevent yoga or exercise-related injury. Participants' data were kept private and confidential.
About this article
Cite this article
Cheung, C., Wyman, J.F., Bronas, U. et al. Managing knee osteoarthritis with yoga or aerobic/strengthening exercise programs in older adults: a pilot randomized controlled trial. Rheumatol Int 37, 389–398 (2017). https://doi.org/10.1007/s00296-016-3620-2
Received:

Accepted:

Published:

Issue Date:
Keywords
Knee osteoarthritis

Hatha yoga

Aerobic and strengthening exercises

Older adults