Abstract
Previous cross-sectional studies have suggested an association between migraine and rheumatoid arthritis (RA), but no longitudinal study has been performed to evaluate the temporal relationship between the two conditions. The purpose of the present population-based, propensity score-matched cohort study was to investigate whether migraineurs are at a higher risk of developing RA. A total of 58,749 subjects aged between 20 and 90 years with at least two ambulatory visits with a diagnosis of migraine were recruited in the migraine group. We fit a logistic regression model that included age, sex, comorbid conditions, and socioeconomic status as covariates to compute the propensity score. The non-migraine group consisted of 58,749 propensity score-matched, randomly sampled subjects without migraine. The RA-free survival curves were generated using the Kaplan–Meier method. Stratified Cox proportional hazard regression was used to estimate the effect of migraine on the risk of RA. During follow-up, 461 subjects in the migraine group and 220 in the non-migraine group developed RA. The incidence rate of RA was 3.18 (95% confidence interval [CI] 2.90–3.49) per 1000 person-years in the migraine group and 1.54 (95% CI 1.34–1.76) per 1000 person-years in the non-migraine group. Compared to the non-migraine group, the crude hazard ratio of RA for the migraine group was 2.15 (95% CI 1.82–2.56, P < 0.0001), and the multivariable-adjusted hazard ratio was 1.91 (95% CI 1.58–2.31, P < 0.0001). This study showed that patients with migraine had an increased risk of developing RA.
Access options
Buy single article
Instant access to the full article PDF.
USD 39.95
Price includes VAT (USA)
Tax calculation will be finalised during checkout.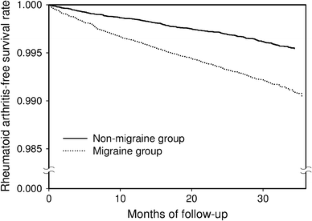 References
1.

Le H, Tfelt-Hansen P, Russell MB, Skytthe A, Kyvik KO, Olesen J (2011) Co-morbidity of migraine with somatic disease in a large population-based study. Cephalalgia 31(1):43–64. doi:10.1177/0333102410373159

2.

Kalaydjian A, Merikangas K (2008) Physical and mental comorbidity of headache in a nationally representative sample of US adults. Psychosom Med 70(7):773–780. doi:10.1097/PSY.0b013e31817f9e80

3.

D'Agostino RB Jr (1998) Propensity score methods for bias reduction in the comparison of a treatment to a non-randomized control group. Stat Med 17(19):2265–2281

4.

Mackie SL, Taylor JC, Twigg S, Martin SG, Steer S, Worthington J, Barton A, Wilson AG, Hocking L, Young A, Emery P, Barrett JH, Morgan AW (2012) Relationship between area-level socio-economic deprivation and autoantibody status in patients with rheumatoid arthritis: multicentre cross-sectional study. Ann Rheum Dis 71(10):1640–1645. doi:10.1136/annrheumdis-2011-201003

5.

Putrik P, Ramiro S, Keszei AP, Hmamouchi I, Dougados M, Uhlig T, Kvien TK, Boonen A (2016) Lower education and living in countries with lower wealth are associated with higher disease activity in rheumatoid arthritis: results from the multinational COMORA study. Ann Rheum Dis 75(3):540–546. doi:10.1136/annrheumdis-2014-206737

6.

Liu C, Hung Y, Chuang Y, Chen Y, Weng W, Liu J, Liang K (2006) Incorporating development stratification of Taiwan townships into sampling design of large scale health interview survey (in Chinese). J Health Manag 4:1–22

7.

Huang YP, Chen LS, Yen MF, Fann CY, Chiu YH, Chen HH, Pan SL (2013) Parkinson's disease is related to an increased risk of ischemic stroke—a population-based propensity score-matched follow-up study. PLoS ONE 8(9):e68314. doi:10.1371/journal.pone.0068314

8.

Parsons L(2004) Performing a 1:N Case-Control Match on Propensity Score. In: Proceedings of the 29th Annual SAS Users Group International Conference, Montréal, Canada, paper no. 165-29. SAS Institute Inc, North Carolina 9–12 May 2004

9.

Austin PC (2008) A critical appraisal of propensity-score matching in the medical literature between 1996 and 2003. Stat Med 27(12):2037–2049. doi:10.1002/sim.3150

10.

Normand ST, Landrum MB, Guadagnoli E, Ayanian JZ, Ryan TJ, Cleary PD, McNeil BJ (2001) Validating recommendations for coronary angiography following acute myocardial infarction in the elderly: a matched analysis using propensity scores. J Clin Epidemiol 54(4):387–398

11.

Goadsby PJ, Lipton RB, Ferrari MD (2002) Migraine–current understanding and treatment. N Engl J Med 346(4):257–270. doi:10.1056/NEJMra010917

12.

Danese E, Montagnana M, Lippi G (2014) Platelets and migraine. Thromb Res 134(1):17–22. doi:10.1016/j.thromres.2014.03.055

13.

Saengjaroentham C, Supornsilpchai W, Ji-Au W, Srikiatkhachorn A, Maneesri-le Grand S (2015) Serotonin depletion can enhance the cerebrovascular responses induced by cortical spreading depression via the nitric oxide pathway. Int J Neurosci 125(2):130–139. doi:10.3109/00207454.2014.908876

14.

Zeller J, Weissbarth E, Baruth B, Mielke H, Deicher H (1983) Serotonin content of platelets in inflammatory rheumatic diseases. correlation with clinical activity. Arthritis Rheum 26(4):532–540

15.

Cloez-Tayarani I, Petit-Bertron AF, Venters HD, Cavaillon JM (2003) Differential effect of serotonin on cytokine production in lipopolysaccharide-stimulated human peripheral blood mononuclear cells: involvement of 5-hydroxytryptamine2A receptors. Int Immunol 15(2):233–240

16.

Sacre S, Medghalchi M, Gregory B, Brennan F, Williams R (2010) Fluoxetine and citalopram exhibit potent antiinflammatory activity in human and murine models of rheumatoid arthritis and inhibit toll-like receptors. Arthritis Rheum 62(3):683–693. doi:10.1002/art.27304

17.

Kling A, Seddighzadeh M, Arlestig L, Alfredsson L, Rantapaa-Dahlqvist S, Padyukov L (2008) Genetic variations in the serotonin 5-HT2A receptor gene (HTR2A) are associated with rheumatoid arthritis. Ann Rheum Dis 67(8):1111–1115. doi:10.1136/ard.2007.074948

18.

Snir O, Hesselberg E, Amoudruz P, Klareskog L, Zarea-Ganji I, Catrina AI, Padyukov L, Malmstrom V, Seddighzadeh M (2013) Genetic variation in the serotonin receptor gene affects immune responses in rheumatoid arthritis. Genes Immun 14(2):83–89. doi:10.1038/gene.2012.56

19.

Qiu C, Frederick IO, Sorensen T, Aurora SK, Gelaye B, Enquobahrie DA, Williams MA (2015) Sleep disturbances among pregnant women with history of migraines: a cross-sectional study. Cephalalgia 35(12):1092–1102. doi:10.1177/0333102415570493

20.

Uhlig BL, Engstrom M, Odegard SS, Hagen KK, Sand T (2014) Headache and insomnia in population-based epidemiological studies. Cephalalgia 34(10):745–751. doi:10.1177/0333102414540058

21.

Walters AB, Hamer JD, Smitherman TA (2014) Sleep disturbance and affective comorbidity among episodic migraineurs. Headache 54(1):116–124. doi:10.1111/head.12168

22.

Phillips DJ, Savenkova MI, Karatsoreos IN (2015) Environmental disruption of the circadian clock leads to altered sleep and immune responses in mouse. Brain Behav Immun 47:14–23. doi:10.1016/j.bbi.2014.12.008

23.

Hsiao YH, Chen YT, Tseng CM, Wu LA, Lin WC, Su VY, Perng DW, Chang SC, Chen YM, Chen TJ, Lee YC, Chou KT (2015) Sleep disorders and increased risk of autoimmune diseases in individuals without sleep apnea. Sleep 38(4):581–586. doi:10.5665/sleep.4574

24.

Wen CP, Tsai SP, Chung WS (2008) A 10-year experience with universal health insurance in Taiwan: measuring changes in health and health disparity. Ann Intern Med 148(4):258–267
Funding
This study was funded by the Department of Health, Executive Yuan, Republic of China [Grant Numbers DOH93-TD-M-113-030, DOH94-TD-M-113-004, and DOH95-TD-M-113-002].
Ethics declarations
Conflict of interest
Yi-Chia Wang, Ya-Ping Huang, Mei-Ting Wang, Hsin-I Wang, Shin-Liang Pan declare that they have no conflict of interest.
Research involving Human Participants and informed consent
Any data carrying personally identifiable information were encrypted before data processing to protect the individual privacy as required by Personal Information Protection Act. Since the data were de-identified and were analyzed anonymously for research purposes, no written informed consent was required and this study was exempt from full review by the National Taiwan University Hospital Research Ethics Committee.
About this article
Cite this article
Wang, YC., Huang, YP., Wang, MT. et al. Increased risk of rheumatoid arthritis in patients with migraine: a population-based, propensity score-matched cohort study. Rheumatol Int 37, 273–279 (2017). https://doi.org/10.1007/s00296-016-3604-2
Received:

Accepted:

Published:

Issue Date:
Keywords
Migraine

Rheumatoid arthritis

Propensity score

Risk factors