Abstract
This review explores the prevalence and factors associated with disturbed sleep for patients with ankylosing spondylitis and non-radiographic axial spondyloarthritis in order to clarify consistent findings in this otherwise disparate research field. The association of physical, demographic and psychological factors correlating with poor sleep was explored, and the effectiveness of interventions assessed. Ten electronic databases were searched: AMED, CINAHL, Embase, Medline, PsycINFO, PubMed, Scopus, Web of Science, OpenGrey and BASE. Following application of inclusion and exclusion criteria, 29 articles were critically assessed on the basis of methodology, experimental design, ethics and quality of sleep data, leading to the selection of 15 studies for final review. Poor sleep was reported in 35–90% of patients with axial spondyloarthritis and is more prevalent within this clinical population compared to healthy control subjects. Disturbed sleep is an important aspect of disease for patients and reflects the severity of disease activity, pain, fatigue and functional disability. However, the direction of this relationship is undetermined. Associations with age, gender, years spent in education, quality of life and depression have also been demonstrated. Anti-TNF medication is effective in reducing poor sleep, and exercise has also produced beneficial results. Future research into poor sleep should take account of its multifactorial nature. There is also a current lack of research investigating non-pharmacological interventions or combination therapies. A standardised, validated measurement of poor sleep, appropriate for regular patient screening, would be a useful first step for future research.
Access options
Buy single article
Instant access to the full article PDF.
USD 39.95
Price excludes VAT (USA)
Tax calculation will be finalised during checkout.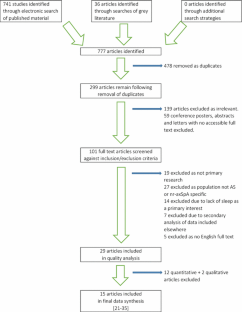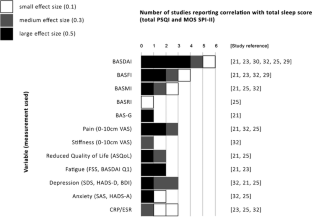 References
Kiltz U, Baraliakos X, Karakostas P, Igelmann M, Kalthoff L, Klink C, Krause D, Schmitz-bortz E, Flörecke M, Bollow M, Braun J (2012) Do patients with non-radiographic axial spondylarthritis differ from patients with ankylosing spondylitis? Arthritis Care Res 64:1415–1422

Boonen A, Sieper J, van der Heijde D, Dougados M, Bukowski JF, Valluri S, Vlahos B, Kotak S (2015) The burden of non-radiographic axial spondyloarthropathy. Semin Arthritis Rheum 44:556–562

Dalyan M, Güner A, Tuncer S, Bilgiç A, Arasil T (1999) Disability in ankylosing spondylitis. Disabil Rehabil 21:74–79

Bostan E, Borman P, Bodur H, Barca N (2003) Functional disability and quality of life in patients with ankylosing spondylitis. Rheumatol Int 23:121–126

Rudwaleit M, Metter A, Listing J, Sieper J, Braun J (2006) Inflammatory back pain in ankylosing spondylitis: a reassessment of the clinical history for application as classification and diagnostic criteria. Arthritis Rheum 54:569–578

Hart F, Taylor R, Huskisson E (1970) Pain at night. Lancet 295:881–884

Tanfield M (1978) Ankylosing spondylitis and sleep. Lancet 311:944–945

Sengupta R, Stone MA (2007) The assessment of ankylosing spondylitis in clinical practice. Nat Clin Pract Rheumatol 3:496–503

Callis Duffin K, Wong B, Horn EJ, Krueger GG (2009) Psoriatic arthritis is a strong predictor of sleep interference in patients with psoriasis. J Am Acad Dermatol 60:604–608

Duruöz MT, Sari Sürmeli Z, Uçar Ü, Topçu E, Duruöz E (2013) Evaluation of sleep quality in psoriatic arthritis patients. Ann Rheum Dis 72:A682

Taylor-Gjevre R, Gjevre JA, Skomro R, Nair BV (2011) Assessment of sleep health in patients with rheumatic disease. Int J Clin Rheumatol 6:207–218

Kinnucan JA, Rubin DT, Ali T (2013) Sleep and inflammatory bowel disease: exploring the relationship between sleep disturbances and inflammation. Gastroenterol Hepatol 9:718–727

Wolfe F, Michaud K, Li T (2006) Sleep disturbance in patients with rheumatoid arthritis: evaluation by medical outcomes study and visual analog sleep scales. J Rheumatol 33:1942–1951

Ananthakrishnan AN, Long MD, Martin CF, Sandler RS, Kappelman MD (2013) Sleep disturbance and risk of active disease in patients with Crohn's disease and ulcerative colitis. Clin Gastroenterol Hepatol 1:965–971

Da Costa D, Zummer M, Fitzcharles MA (2009) Determinants of sleep problems in patients with spondyloarthropathy. Musculoskelet Care 7:143–161

Heiberg T, Lie E, van Der Heijde D, Kvien TK (2011) Sleep problems are of higher priority for improvement for patients with ankylosing spondylitis than for patients with other inflammatory arthropathies. Ann Rheum Dis 70:872

Ward MM (1999) Health-related quality of life in ankylosing spondylitis: a survey of 175 patients. Arthritis Care Res 12:247–255

Eilertsen G, Ormstad H, Kirkevold M, Mengshoel A, Söderberg S, Olsson M (2015) Similarities and differences in the experience of fatigue among people living with fibromyalgia, multiple sclerosis, ankylosing spondylitis and stroke. J Clin Nurs 24:2023–2034

Deshpande K, Wininger K (2009) Spinal cord stimulation for pain management in ankylosing spondylitis: a case report. Neuromodulation 12:54–59

Moher D, Liberati A, Tetzlaff J, Altman DG (2009) PRISMA Group: preferred reporting items for systematic reviews and meta-analyses: the PRISMA statement. Ann Intern Med 151:264–269

Abdulaziez O, Asaad T (2012) Sleep problems in ankylosing spondylitis: polysomnographic pattern and disease related variables. Egypt Rheumatol 34:59–65

Altan L, Bingöl U, Aslan M, Yurtkuran M (2006) The effect of balneotherapy on patients with ankylosing spondylitis. Scand J Rheumatol 35:283–289

Aydin E, Bayraktar K, Turan Y, Kurt Omurlu I, Tastaban E, Sendur O (2015) Sleep quality in patients with ankylosing spondylitis. Rev Bras Reumatol 55:340–345

Bao C, Huang F, Khan M, Fei K, Wu Z, Zhuang Y, Gathany T, Han C, Hsia E (2014) Safety and efficacy of golimumab in Chinese patients with active ankylosing spondylitis: 1-year results of a multicentre, randomized, double-blind, placebo-controlled phase III trial. Rheumatol 53:1654–1663

Batmaz I, Sariyildiz M, Dilek B, Bez Y, Karakoc M, Cevik R (2013) Sleep quality and associated factors in ankylosing spondylitis: relationship with disease parameters, psychological status and quality of life. Rheumatol Int 33:1039–1045

Deodhar A, Braun J, Inman R, Mack M, Parasuraman S, Buchanan J, Hsu B, Gathany T, van der Heijde D (2010) Golimumab reduces sleep disturbance in patients with active ankylosing spondylitis: results from a randomized, placebo-controlled trial. Arthritis Care Res 62:1266–1271

Dougados M, Tsai WC, Saaibi DL, Bonin R, Bukowski J, Pedersen R, Vlahos B, Kotak S (2015) Evaluation of health outcomes with etanercept treatment in patients with early nonradiographic axial spondyloarthritis. J Rheumatol 42:1835–1841

Hultgren S, Broman J, Gudbjörnsson B, Hetta J, Lindqvist U (2000) Sleep disturbances in outpatients with ankylosing spondylitis a questionnaire study with gender implications. Scand J Rheumatol 29:365–369

Jiang Y, Yang M, Wu H, Song H, Zhan F, Liu S, Gao G, Liu Z, Hu Z, He P, Zhang S, Hu Z, Lin Z, Zhang Y, Li Y, Shen L, Huang A, Liao Z, Cao S, Wei Y, Li L, Li Q, Lv Q, Qi J, Huang J, Li T, Jin O, Pan Y (2015) The relationship between disease activity measured by the BASDAI and psychological status, stressful life events, and sleep quality in ankylosing spondylitis. Clin Rheumatol 34:503–510

Karadağ O, Nakas D, Kalyoncu U, Akdoğan A, Kiraz S, Ertenli I (2012) Effect of anti-TNF treatment on sleep problems in ankylosing spondylitis. Rheumatol Int 32:1909–1913

Karapolat H, Akkoc Y, Sari I, Eyigor S, Akar S, Kirazli Y, Akkoc N (2008) Comparison of group-based exercise versus home-based exercise in patients with ankylosing spondylitis: effects on Bath Ankylosing Spondylitis Indices, quality of life and depression. Clin Rheumatol 27:695–700

Li Y, Zhang S, Zhu J, Du X, Huang F (2012) Sleep disturbances are associated with increased pain, disease activity, depression, and anxiety in ankylosing spondylitis: a case-control study. Arthritis Res Ther 14:R215

Rudwaleit M, Gooch K, Michel B, Herold M, Thörner A, Wong R, Kron M, Chen N, Kupper H (2011) Adalimumab improves sleep and sleep quality in patients with active ankylosing spondylitis. J Rheumatol 38:79–86

Sieper J, Kivitz A, Van Tubergen A, Deodhar A, Coteur G, Woltering F, Landewe R (2015) Impact of certolizumab pegol on patient-reported outcomes in patients with axial spondyloarthritis. Arthritis Care Res 67:1475–1480

Solak Ö, Fidan F, Dündar Ü, Türel A, Ayçiçek A, Kavuncu V, Unlü M (2009) The prevalence of obstructive sleep apnoea syndrome in ankylosing spondylitis patients. Rheumatol 48:433–435

Critical Appraisal Skills Programme (2014) CASP checklists. CASP, Oxford. http://www.casp.uk/net. Accessed 8 Oct 2015

Doward LC, Spoorenberg A, Cook SA, Whalley D, Helliwell PS, Kay LJ, McKenna SP, Tennant A, van der Heijde D, Chamberlain MA (2003) The development of the ASQOL: a quality of life instrument specific to ankylosing spondylitis. Ann Rheum Dis 62:20–26

Johns MW (1991) A new method for measuring daytime sleepiness: the Epworth sleepiness scale. Sleep 14:540–545

Jenkins CD, Stanton B-A, Niemcryk SJ, Rose RM (1988) A scale for the estimation of sleep problems in clinical research. J Clin Epidemiol 41:313–321

Hays R, Stewart A (1992) Sleep measures. In: Ware JE Jr, Sherbourne CD (1992) The MOS 36-item short-form health survey (SF-36): I. Conceptual framework and item selection. Med Care 30(6):473–483

Hunt S, McEwan J, McKenna S (1985) Measuring health status: a new tool for clinicians and epidemiologists. J R Coll Gen Pract 35 (273):185–188

Buysse DJ, Reynolds CF, Monk TH, Berman SR, Kupfer DJ (1989) The Pittsburgh Sleep Quality Index: a new instrument for psychiatric practice and research. Psychiatry Res 28:193–213

Hetta J, Almqvist M, Ågren H, Hambert G, Liljenberg B, Roos BE (1985) Prevalence of sleep disturbances and related symptoms in a middle-aged Swedish population. In: Koella WP, Ruther E, Schulz H (eds) Sleep '84. Gustav Fischer Verlag, Stuttgart, pp 373–376

Tekatas A, Pamuk ON (2015) Increased frequency of restless leg syndrome in patients with ankylosing spondylitis. Int J Rheum Dis 18:58–62

Weinstock LB, Walters AS, Paueksakon P (2012) Restless legs syndrome—theoretical roles of inflammatory and immune mechanisms. Sleep Med Rev 6:341–354

Yamamoto J, Okamoto Y, Shibuya E, Nishimura M, Kawakami Y (2000) Obstructive sleep apnea syndrome induced by ossification of the anterior longitudinal ligament with ankylosing spondylitis. Nihon Kokyuki Gakkai Zasshi 38:413–416

Ohayon MM, Carskadon MA, Guilleminault C, Vitiello MV (2004) Metaanalysis of quantitative sleep parameters from childhood to old age in healthy individuals: developing normative sleep values across the human lifespan. Sleep 27:1255–1273

Sivertsen B, Krokstad S, Øverland S, Mykletun A (2009) The epidemiology of insomnia: associations with physical and mental health. The HUNT-2 study. J Psychosom Res 67:109–116

Sivertsen B, Lallukka T, Salo P, Pallesen S, Hysing M, Krokstad S, Øverland S (2014) Insomnia as a risk factor for ill health: results from the large population-based prospective HUNT Study in Norway 2014. J Sleep Res 23:124–132

López-Medina C, Schiotis RE, Font-Ugalde P, Castro-Villegas MC, Calvo-Gutiérrez J, Ortega-Castro R, Jiménez-Gasco R, Escudero-Contreras A, Collantes-Estévez E (2016) Assessment of fatigue in spondyloarthritis and its association with disease activity. J Rheumatol 43:751–757

Abad V, Guilleminault C (2014) Sleep deprivation and rheumatologic disease. Sleep deprivation and disease: effects on the body, brain and behavior. Springer, New York, pp 149–170

Ruof J, Stucki G (1999) Validity aspects of erythrocyte sedimentation rate and C-reactive protein in ankylosing spondylitis: a literature review. J Rheumatol 26:966–970

Günaydin R, Göksel Karatepe A, Ceşmeli N, Kaya T (2009) Fatigue in patients with ankylosing spondylitis: relationships with disease-specific variables, depression, and sleep disturbance. Clin Rheumatol 28:1045–1051

Da Costa D, Zummer M, Fitzcharles M (2011) Biopsychosocial determinants of physical and mental fatigue in patients with spondyloarthropathy. Rhematol Int 31(4):473–480

Missaoui B, Revel M (2006) Fatigue in ankylosing spondylitis. Ann Readapt Med Phys 49:389–391

Spath-Schwalbe E, Hansen K, Schmidt F, Schrezenmeier H, Marshall L, Burger K, Fehm HL, Born J (1998) Acute effects of recombinant human interleukin-6 on endocrine and central nervous sleep functions in healthy men. J Clin Endocrinol Metab 83:1573–1579

Vgontzas A, Zoumakis M, Papanicolaou D, Bixler E, Prolo P, Lin HM, Vela-Bueno A, Kales A, Chrousos GP (2002) Chronic insomnia is associated with a shift of interleukin-6 and tumor necrosis factor secretion from nighttime to daytime. Metabolism 51:887–892

Smith MT, Haythornthwaite JA (2004) How do sleep disturbance and chronic pain inter-relate? Insights from the longitudinal and cognitive-behavioral clinical trials literature. Sleep Med Rev 8:119–132

Kundermann B, Krieg JC, Schreiber W, Lautenbacher S (2004) The effect of sleep deprivation on pain. Pain Res Manag 9:25–32

Moore AR (2013) What works for whom? Determining the efficacy and harm of treatments for pain. Pain 154:S77–S86

Moldofsky H (2001) Sleep and pain. Sleep Med Rev 5:387–398

Jeong HJ, Lee TH, Lee JM, Choi G, Son CN, Kim JM, Cho YW, Kim SH (2014) Sleep disturbances in Korean patients with ankylosing spondylitis are associated with increased disease activity. J Rheum Dis 21:241–247

Irwin M (2002) Effects of sleep and sleep loss on immunity and cytokines. Brain Behav Immunol 16:503–512

Koh WH, Pande I, Samuels A, Jones SD, Calin A (1997) Low dose amitriptyline in ankylosing spondylitis: a short term, double blind, placebo controlled study. J Rheumatol 24(11):2158–2161

Koltyn KF (2000) Analgesia following exercise. A review. Sports Med 29:85–98

Masiero S, Bonaldo L, Pigatto M, Nigro AL, Ramonda R, Punzi L (2011) Rehabilitation treatment in patients with ankylosing spondylitis stabilized with tumor necrosis factor inhibitor therapy. A randomized controlled trial. J Rheumatol 38(7):1335–1342

Mease P, Rao S, Joshi A, Clifford S, Vernon C, Cifaldi M (2013) Quality of life, physical function and symptoms in non-radiographic axial spondyloarthritis: The patient perspective. Arthritis Rheumatol 65:S1053

Takahashi S, Kapas L, Fang J, Krueger JM (1999) Somnogenic relationships between tumor necrosis factor and interleukin-1. Am J Physiol 276(4):R1132–R1140

Born J, Lange T, Hansen K, Molle M, Fehm HL (1997) Effects of sleep and circadian rhythm on human circulating immune cells. J Immunol 158:4454–4464

Everson CA (1993) Sustained sleep deprivation impairs host defense. Am J Physiol 265(5):R1148–R1154

Brophy S, Calin A (2002) Definition of disease flare in ankylosing spondylitis: the patients' perspective. J Rheumatol 29:954–958

Ranjbaran Z, Keefer L, Stepanski E, Farhadi A, Keshavarzian A (2007) The relevance of sleep abnormalities to chronic inflammatory conditions. Inflamm Res 56:51–57

Hsiao Y, Chen Y, Tseng C, Wu L, Lin W, Su V, Perng D, Chang S, Chen Y, Chen T, Lee Y, Chou K (2015) Sleep disorders and increased risk of autoimmune diseases in individuals without sleep apnea. Sleep 38:581–586

Kang J, Lin H (2012) Obstructive sleep apnea and the risk of autoimmune diseases: a longitudinal population based study. Sleep Med 13:583–588
Acknowledgements
We would like to offer a special acknowledgement to the following for support of their time and expertise during the research and writing of this project: Dr. Alison Lee, Coordinator of Graduate Studies in Psychology; Dr Robert Irwin, Senior Lecturer at Bath Spa University; Charles Jenkins, Producer at BBC Bristol.
Ethics declarations
Conflict of interest
Shaaron Leverment declares that she has no conflict of interest. Alison Wadeley declares that she has no conflict of interest. Emily Clarke declares that she has no conflict of interest. Dr. Raj Sengupta has received research grants from Abbvie and Pfizer, speaker honoraria from Abbvie, Pfizer, UCB, Novartis, Roche, MSD and is a member of BSR Biologics guideline group, Advisor to NICE Guideline TA383.
Ethical standard
All procedures performed in studies involving human participants were in accordance with the ethical standards of the institutional and/or national research committee and with the 1964 Helsinki Declaration and its later amendments or comparable ethical standards.
Human and animal rights
This article does not contain any studies with animals performed by any of the authors.
Electronic supplementary material
Below is the link to the electronic supplementary material.
About this article
Cite this article
Leverment, S., Clarke, E., Wadeley, A. et al. Prevalence and factors associated with disturbed sleep in patients with ankylosing spondylitis and non-radiographic axial spondyloarthritis: a systematic review. Rheumatol Int 37, 257–271 (2017). https://doi.org/10.1007/s00296-016-3589-x
Received:

Accepted:

Published:

Issue Date:

DOI: https://doi.org/10.1007/s00296-016-3589-x
Keywords
Spondyloarthritis

Insomnia

BASDAI

ASQoL

Anti-TNF

Inflammation