Abstract
Pain which persists after healing is expected to have taken place, or which exists in the absence of tissue damage, is termed chronic pain. By definition chronic pain cannot be treated and cured in the conventional biomedical sense; rather, the patient who is suffering from the pain must be given the tools with which their long-term pain can be managed to an acceptable level. This article will provide an overview of treatment approaches available for the management of persistent non-malignant pain. As well as attempting to provide relief from the physical aspects of pain through the judicious use of analgesics, interventions, stimulations, and irritations, it is important to pay equal attention to the psychosocial complaints which almost always accompany long-term pain. The pain clinic offers a biopsychosocial approach to treatment with the multidisciplinary pain management programme; encouraging patients to take control of their pain problem and lead a fulfilling life in spite of the pain.
Access options
Buy single article
Instant access to the full article PDF.
USD 39.95
Price excludes VAT (USA)
Tax calculation will be finalised during checkout.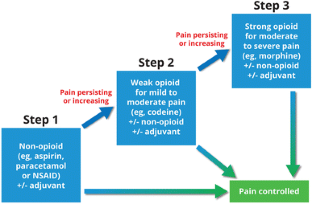 References
Turk D, Melzack R (2011) The measurement of pain and the assessment of people experiencing pain. In: Turk D, Melzack R (eds) Handbook of pain assessment, 3rd edn. Guilford Press, New York, p 542

International Association for the Study of Pain (1986) Classification of chronic pain: introduction. Pain 24:S3–S8. doi:10.1016/0304-3959(86)90107-7

Melzack R, Wall PD (1996) The challenge of pain, 2nd edn. Penguin, London

Bandura A (1978) The self system in reciprocal determinism. Am Psychol 33:344–358. doi:10.1037/0003-066X.33.4.344

Engel G (1977) The need for a new medical model: a challenge for biomedicine. Science 196:129–136

Jacobson L, Mariano A (2001) General considerations of chronic pain. In: Loeser J (ed) Bonica's management of pain, 3rd edn. Lippincott, Williams & Wilkins, Philadelphia, pp 241–254

Loeser J (1991) The role of chronic pain clinics in managing back pain. In: Frymoyer J (ed) Adult spine Princ. Pract. Raven Press, New York, pp 221–229

Gasparyan AY, Ayvazyan L, Blackmore H, Kitas GD (2011) Writing a narrative biomedical review: considerations for authors, peer reviewers, and editors. Rheumatol Int 31:1409–1417. doi:10.1007/s00296-011-1999-3

Ventafridda V, Saita L, Ripamonti C, De Conno F (1985) WHO guidelines for the use of analgesics in cancer pain. Int J Tissue React 7:93–96

WHO (2013) WHO's cancer pain ladder for adults. http://www.who.int/cancer/palliative/painladder/en/. Accessed 30 Nov 2015

Kalso E, Edwards JE, Moore RA, McQuay HJ (2004) Opioids in chronic non-cancer pain: systematic review of efficacy and safety. Pain 112:372–380. doi:10.1016/j.pain.2004.09.019

Rang H, Dale M, Ritter J, Flower R, Henderson G (2012) Rang & Dale's Pharmacology, 7th edn. Elsevier, London

Vane JR, Bakhle YS, Botting RM (1998) Cyclooxygenases 1 and 2. Annu Rev Pharmacol Toxicol 38:97–120. doi:10.1146/annurev.pharmtox.38.1.97

Silverstein F, Faich G, Goldstein J (2000) Gastrointestinal toxicity with celecoxib vs nonsteroidal anti-inflammatory drugs for osteoarthritis and rheumatoid arthritis: the CLASS study: a randomized. JAMA 284:1247–1255

Bombardier C, Laine L, Reicin A, Shapiro D, Burgos-Vargas R, Davis B, Day R, Ferraz MB, Hawkey CJ, Hochberg MC, Kvien TK (2000) Comparison of upper gastrointestinal toxicity of rofecoxib and naproxen in patients with rheumatoid arthritis. VIGOR Study Group. N Engl J Med 343:1520–1528

Schnitzer TJ, Burmester GR, Mysler E, Hochberg MC, Doherty M, Ehrsam E, Gitton X, Krammer G, Mellein B, Matchaba P, Gimona A, Hawkey CJ (2004) Comparison of lumiracoxib with naproxen and ibuprofen in the Therapeutic Arthritis Research and Gastrointestinal Event Trial (TARGET), reduction in ulcer complications: randomised controlled trial. Lancet 364:665–674. doi:10.1016/S0140-6736(04)16893-1

Solomon SD, McMurray JJV, Pfeffer MA, Wittes J, Fowler R, Finn P, Anderson WF, Zauber A, Hawk E, Bertagnolli M (2005) Cardiovascular risk associated with celecoxib in a clinical trial for colorectal adenoma prevention. N Engl J Med 352:1071–1080. doi:10.1056/NEJMoa050405

Bresalier RS, Sandler RS, Quan H, Bolognese JA, Oxenius B, Horgan K, Lines C, Riddell R, Morton D, Lanas A, Konstam MA, Baron JA (2005) Cardiovascular events associated with rofecoxib in a colorectal adenoma chemoprevention trial. N Engl J Med 352:1092–1102. doi:10.1056/NEJMoa050493

Mukherjee D, Nissen SE, Topol EJ (2001) Risk of cardiovascular events associated with selective COX-2 inhibitors. JAMA, J Am Med Assoc 286:954–959. doi:10.1001/jama.286.8.954

Nussmeier NA, Whelton AA, Brown MT, Langford RM, Hoeft A, Parlow JL, Boyce SW, Verburg KM (2005) Complications of the COX-2 inhibitors parecoxib and valdecoxib after cardiac surgery. N Engl J Med 352:1081–1091. doi:10.1056/NEJMoa050330

Kerr DJ, Dunn JA, Langman MJ, Smith JL, Midgley RSJ, Stanley A, Stokes JC, Julier P, Iveson C, Duvvuri R, McConkey CC (2007) Rofecoxib and cardiovascular adverse events in adjuvant treatment of colorectal cancer. N Engl J Med 357:360–369. doi:10.1056/NEJMoa071841

Cullen L, Kelly L, Connor SO, Fitzgerald DJ (1998) Selective cyclooxygenase-2 inhibition by nimesulide in man. J Pharmacol Exp Ther 287:578–582

McAdam BF, Catella-Lawson F, Mardini IA, Kapoor S, Lawson JA, FitzGerald GA (1999) Systemic biosynthesis of prostacyclin by cyclooxygenase (COX)-2: the human pharmacology of a selective inhibitor of COX-2. Proc Natl Acad Sci 96:272–277. doi:10.1073/pnas.96.1.272

Zarraga IGE, Schwarz ER (2007) Coxibs and heart disease. What we have learned and what else we need to know. J Am Coll Cardiol 49:1–14. doi:10.1016/j.jacc.2006.10.003

Capone ML, Tacconelli S, Sciulli MG, Grana M, Ricciotti E, Minuz P, Di Gregorio P, Merciaro G, Patrono C, Patrignani P (2004) Clinical pharmacology of platelet, monocyte, and vascular cyclooxygenase inhibition by naproxen and low-dose aspirin in healthy subjects. Circulation 109:1468–1471. doi:10.1161/01.CIR.0000124715.27937.78

Hecken A, Schwartz JI, Depré M, Lepeleire I, Dallob A, Tanaka W, Wynants K, Buntinx A, Arnout J, Wong PH, Ebel DL (2000) Comparative inhibitory activity of rofecoxib, meloxicam, diclofenac, ibuprofen, and naproxen on COX2 versus COX1 in healthy volunteers. J Clin Pharmacol 40:1109–1120

Kearney PM, Baigent C, Godwin J, Halls H, Emberson JR, Patrono C (2006) Do selective cyclo-oxygenase-2 inhibitors and traditional non-steroidal anti-inflammatory drugs increase the risk of atherothrombosis? Meta-analysis of randomised trials. BMJ 332:1302–1308. doi:10.1136/bmj.332.7553.1302

McGettigan P, Henry D (2006) Cardiovascular risk and inhibition of cyclooxygenase: a systematic review of the observational studies of selective and nonselective inhibitors of cyclooxygenase 2. JAMA 296:1633–1644. doi:10.1001/jama.296.13.jrv60011

Ray WA, Varas-Lorenzo C, Chung CP, Castellsague J, Murray KT, Stein CM, Daugherty JR, Arbogast PG, García-Rodríguez LA (2009) Cardiovascular risks of nonsteroidal antiinflammatory drugs in patients after hospitalization for serious coronary heart disease. Circ Cardiovasc Qual Outcomes 2:155–163. doi:10.1161/CIRCOUTCOMES.108.805689

Bhala N, Emberson J, Merhi A, Abramson S, Arber N, Baron JA, Bombardier C, Cannon C, Farkouh ME, FitzGerald GA, Goss P, Halls H, Hawk E, Hawkey C, Hennekens C, Hochberg M, Holland LE, Kearney PM, Laine L, Lanas A, Lance P, Laupacis A, Oates J, Patrono C, Schnitzer TJ, Solomon S, Tugwell P, Wilson K, Wittes J, Baigent C (2013) Vascular and upper gastrointestinal effects of non-steroidal anti-inflammatory drugs: meta-analyses of individual participant data from randomised trials. Lancet (London, England) 382:769–79. doi:10.1016/S0140-6736(13)60900-9

European Medicines Agency (2005) Press Release: European Medicines Agency concludes action on COX-2 inhibitors. http://www.ema.europa.eu/docs/en_GB/document_library/Press_release/2010/01/WC500059088.pdf. Accessed 7 Mar 2016

European Medicines Agency (2006) Press Release: European Medicines Agency review concludes positive benefit–risk balance for nonselective NSAIDs. http://www.ema.europa.eu/docs/en_GB/document_library/Press_release/2009/12/WC500017362.pdf. Accessed 7 Mar 2016

Solomon DH, Rassen JA, Glynn RJ, Garneau K, Levin R, Lee J, Schneeweiss S (2010) The comparative safety of opioids for nonmalignant pain in older adults. Arch Intern Med 170:1979–1986. doi:10.1001/archinternmed.2010.450

Christie MJ (2008) Cellular neuroadaptations to chronic opioids: tolerance, withdrawal and addiction. Br J Pharmacol 154:384–396. doi:10.1038/bjp.2008.100

Trescot AM, Helm S, Hansen H, Benyamin R, Glaser SE, Adlaka R, Patel S (2008) Opioids in the management of chronic non-cancer pain: an update of American Society of the Interventional Pain Physicians' (ASIPP) Guidelines. Pain Phys 11:S5–S62

Ballantyne JC, Mao J (2003) Opioid therapy for chronic pain. N Engl J Med 349:1943–1953. doi:10.1056/NEJMra025411

Ngian G-S, Guymer EK, Littlejohn GO (2011) The use of opioids in fibromyalgia. Int J Rheum Dis 14:6–11. doi:10.1111/j.1756-185X.2010.01567.x

Goldenberg DL, Burckhardt C, Crofford L (2014) Manag Fibromyalgia Syndr 292:2388–2395

Harris RE, Clauw DJ, Scott DJ, McLean SA, Gracely RH, Zubieta J-K (2007) Decreased central–opioid receptor availability in fibromyalgia. J Neurosci 27:10000–10006. doi:10.1523/JNEUROSCI.2849-07.2007

Painter JT, Crofford LJ (2013) Chronic opioid use in fibromyalgia syndrome: a clinical review. J Clin Rheumatol 19:72–77. doi:10.1097/RHU.0b013e3182863447

Fitzcharles M, Ste-marie PA, Goldenberg DL, John X, Abbey S, Choinière M, Ko G, Moulin D, Panopalis P, Proulx J, Shir Y (2012) 2012 Canadian Guidelines for the diagnosis and management of fibromyalgia syndrome. Pain Res Manag 18:1–52

Bernardy K, Klose P, Uçeyler N, Kopp I, Häuser W (2008) Methodological fundamentals for the development of the guideline. Schmerz 22:244–254. doi:10.1007/s00482-008-0670-8

Grape S, Schug SA, Lauer S, Schug BS (2010) Formulations of fentanyl for the management of pain. Drugs 70:57–72. doi:10.2165/11531740-000000000-00000

Pergolizzi J, Aloisi AM, Dahan A, Filitz J, Langford R, Likar R, Mercadante S, Morlion B, Raffa RB, Sabatowski R, Sacerdote P, Torres LM, Weinbroum AA (2010) Current Knowledge of Buprenorphine and Its Unique Pharmacological Profile. Pain Pract 10:428–450. doi:10.1111/j.1533-2500.2010.00378.x

Dworkin RH, O'Connor AB, Backonja M, Farrar JT, Finnerup NB, Jensen TS, Kalso EA, Loeser JD, Miaskowski C, Nurmikko TJ, Portenoy RK, Rice ASC, Stacey BR, Treede R-D, Turk DC, Wallace MS (2007) Pharmacologic management of neuropathic pain: evidence-based recommendations. Pain 132:237–251. doi:10.1016/j.pain.2007.08.033

Campbell BJ, Rowbotham M, Davies PS, Jacob P, Benowitz NL (2002) Systemic absorption of topical lidocaine in normal volunteers, patients with post-herpetic neuralgia, and patients with acute herpes zoster. J Pharm Sci 91:1343–1350. doi:10.1002/jps.10133

Derry S, Wiffen P, Moore R, Quinlan J (2014) Topical lidocaine for neuropathic pain in adults (Review). Cochrane Database Syst Rev 7:1–50

Micó JA, Ardid D, Berrocoso E, Eschalier A (2006) Antidepressants and pain. Trends Pharmacol Sci 27:348–354. doi:10.1016/j.tips.2006.05.004

Arnold LM, Keck PEJ, Welge JA (2000) Antidepressant treatment of fibromyalgia. A meta-analysis and review. Psychosomatics 41:104–113

Häuser W, Walitt B, Fitzcharles M-A, Sommer C (2014) Review of pharmacological therapies in fibromyalgia syndrome. Arthritis Res Ther 16:201. doi:10.1186/ar4441

Watson CPN, Chipman ML, Monks RC (2006) Antidepressant analgesics: a systematic review and comparative study. In: McMahon S, Koltzenburg M (eds) Wall Melzack's Textb. Pain, 5th edn. Elsevier, London, p 1280

Taylor CP, Angelotti T, Fauman E (2007) Pharmacology and mechanism of action of pregabalin: the calcium channel alpha2-delta subunit as a target for antiepileptic drug discovery. Epilepsy Res 73:137–150. doi:10.1016/j.eplepsyres.2006.09.008

Field MJ, Cox PJ, Stott E, Melrose H, Offord J, Su T-Z, Bramwell S, Corradini L, England S, Winks J, Kinloch RA, Hendrich J, Dolphin AC, Webb T, Williams D (2006) Identification of the alpha2-delta-1 subunit of voltage-dependent calcium channels as a molecular target for pain mediating the analgesic actions of pregabalin. Proc Natl Acad Sci USA 103:17537–17542. doi:10.1073/pnas.0409066103

Crofford LJ, Mease PJ, Simpson SL, Young JP, Martin SA, Haig GM, Sharma U (2008) Fibromyalgia relapse evaluation and efficacy for durability of meaningful relief (FREEDOM): a 6-month, double-blind, placebo-controlled trial with pregabalin. Pain 136:419–431. doi:10.1016/j.pain.2008.02.027

Vargas-Schaffer G (2010) Is the WHO analgesic ladder still valid? Twenty-four years of experience. Can Fam Physician 56(514–7):e202–e205

Pergolizzi BJV, Raffa RB (2014) The WHO pain ladder: do we need another step? Pract Pain Manag 14:1–17

Watts RW, Silagy CA (1995) A meta-analysis on the efficacy of epidural corticosteroids in the treatment of sciatica. Anaesth Intensive Care 23:564–569

McQuay H, Moore R (1998) Epidural corticosteroids for sciatica. In: An evidence-based Resour. Pain Reli. Oxford University Press, Oxford, p 270

Boswell MV, Colson JD, Sehgal N, Dunbar EE, Epter R (2007) A systematic review of therapeutic facet joint interventions in chronic spinal pain. Pain Physician 10:229–253

Staal JB, de Bie R, de Vet HC, Hildebrandt J, Nelemans P (2008) Injection therapy for subacute and chronic low-back pain. Cochrane Database Syst Rev CD001824. doi:10.1002/14651858.CD001824.pub3

Geurts JW, van Wijk RM, Stolker RJ, Groen GJ (2001) Efficacy of radiofrequency procedures for the treatment of spinal pain: a systematic review of randomized clinical trials. Reg Anesth Pain Med 26:394–400. doi:10.1053/rapm.2001.23673

Schofferman J, Kine G (2004) Effectiveness of repeated radiofrequency neurotomy for lumbar facet pain. Spine (Phila Pa 1976) 29:2471–2473

Onofrio B, Yaksh T, Arnold P (1981) Continuous low-dose intrathecal morphine administration in the treatment of chronic pain of malignant origin. Mayo Clin Proc 56:516–520

Levy R, Salzman D (1997) Implanted drug delivery systems for control of chronic pain. In: North R, Levy R (eds) Neurosurg. Manag. Pain. Springer, New York, pp 302–324

Prager J (2002) Neuraxial medication delivery: the development and maturity of a concept for treating chronic pain of spinal origin. Spine (Phila Pa 1976) 27:2593–2605

Raphael JH, Duarte RV, Southall JL, Nightingale P, Kitas GD (2013) Randomised, double-blind controlled trial by dose reduction of implanted intrathecal morphine delivery in chronic non-cancer pain. BMJ Open 3:e003061

Melzack R, Wall PD (1965) Pain mechanisms: a new theory. Science 150:971–979. doi:10.1126/science.150.3699.971

Linderoth B, Foreman RD (1999) Physiology of spinal cord stimulation: review and update. Neuromodulation 2:150–164. doi:10.1046/j.1525-1403.1999.00150.x

NICE (2008) Spinal cord stimulation for chronic pain of neuropathic or ischaemic origin. In: NICE Technol. Apprais. Guid. [TA159]. http://www.nice.org.uk/guidance/ta159/. Accessed 26 Nov 2015

Cameron T (2004) Safety and efficacy of spinal cord stimulation for the treatment of chronic pain: a 20-year literature review. J Neurosurg 100:254–267

Kumar K, Taylor RS, Jacques L, Eldabe S, Meglio M, Molet J, Thomson S, O'Callaghan J, Eisenberg E, Milbouw G, Buchser E, Fortini G, Richardson J, North RB (2008) The effects of spinal cord stimulation in neuropathic pain are sustained: a 24-month follow-up of the prospective randomized controlled multicenter trial of the effectiveness of spinal cord stimulation. Neurosurgery 63:762–770. doi:10.1227/01.NEU.0000325731.46702.D9

Sparkes E, Duarte RV, Mann S, Lawrence TR, Raphael JH (2015) Analysis of psychological characteristics impacting spinal cord stimulation treatment outcomes: a prospective assessment. Pain Physician 18:E369–E377

Linderoth B, Foreman RD (2006) Mechanisms of spinal cord stimulation in painful syndromes: role of animal models. Pain Med 7:S14–S26. doi:10.1111/j.1526-4637.2006.00119.x

Wu M, Linderoth B, Foreman RD (2008) Putative mechanisms behind effects of spinal cord stimulation on vascular diseases: a review of experimental studies. Auton Neurosci 138:9–23. doi:10.1016/j.autneu.2007.11.001

Claeys LG, Horsch S (1996) Transcutaneous oxygen pressure as predictive parameter for ulcer healing in endstage vascular patients treated with spinal cord stimulation. Int Angiol 15:344–349

Amann W, Berg P, Gersbach P, Gamain J, Raphael JH, Ubbink DT (2003) Spinal cord stimulation in the treatment of non-reconstructable stable critical leg ischaemia: results of the European Peripheral Vascular Disease Outcome Study (SCS-EPOS). Eur J Vasc Endovasc Surg 26:280–286. doi:10.1053/ejvs.2002.1876

Norrsell H, Eliasson T, Albertsson P, Augustinsson LE, Emanuelsson H, Eriksson P, Mannheimer C (1998) Effects of spinal cord stimulation on coronary blood flow velocity. Coron Artery Dis 9:273–278

Kingma JG, Linderoth B, Ardell JL, Armour JA, DeJongste MJ, Foreman RD (2001) Neuromodulation therapy does not influence blood flow distribution or left-ventricular dynamics during acute myocardial ischemia. Auton Neurosci 91:47–54. doi:10.1016/S1566-0702(01)00285-5

Hautvast RWM, Blanksma PK, Dejongste MJL, Pruim J, Van Der WE, Vaalburg W, Lie KI (1996) Effect of spinal cord stimulation on myocardial blood flow assessed by positron emission tomography in patients with refractory angina pectoris. Am J Cardiol 77:462–467

Börjesson M, Andrell P, Lundberg D, Mannheimer C (2008) Spinal cord stimulation in severe angina pectoris—a systematic review based on the Swedish Council on Technology assessment in health care report on long-standing pain. Pain 140:501–508. doi:10.1016/j.pain.2008.10.016

Taylor RS, De Vries J, Buchser E, Dejongste MJL (2009) Spinal cord stimulation in the treatment of refractory angina: systematic review and meta-analysis of randomised controlled trials. BMC Cardiovasc Disord 9:13. doi:10.1186/1471-2261-9-13

Eldabe S, Thomson S, Duarte R, Brookes M, DeBelder M, Raphael J, Davies E, Taylor R (2016) The effectiveness and cost-effectiveness of spinal cord stimulation for refractory angina (RASCAL Study): a pilot randomized controlled trial. Neuromodulation 19:60–70

Rasche D, Rinaldi PC, Young RF, Tronnier VM (2006) Deep brain stimulation for the treatment of various chronic pain syndromes. Neurosurg Focus 21:E8. doi:10.3171/foc.2006.21.6.10

Bittar RG, Kar-Purkayastha I, Owen SL, Bear RE, Green A, Wang S, Aziz TZ (2005) Deep brain stimulation for pain relief: a meta-analysis. J Clin Neurosci 12:515–519. doi:10.1016/j.jocn.2004.10.005

Boccard SGJ, Pereira EAC, Aziz TZ (2015) Deep brain stimulation for chronic pain. J Clin Neurosci 22:1537–1543. doi:10.1016/j.jocn.2015.04.005

NICE (2011) Deep brain stimulation for refractory chronic pain syndromes (excluding headache). NICE Interv Proced Guid 382:2–7

Cruccu G, Aziz TZ, Garcia-Larrea L, Hansson P, Jensen TS, Lefaucheur J-P, Simpson BA, Taylor RS (2007) EFNS guidelines on neurostimulation therapy for neuropathic pain. Eur J Neurol 14:952–970. doi:10.1111/j.1468-1331.2007.01916.x

Boccard SGJ, Pereira EAC, Moir L, Aziz TZ, Green AL (2013) Long-term outcomes of deep brain stimulation for neuropathic pain. Neurosurgery 72:221–230. doi:10.1227/NEU.0b013e31827b97d6

Rosen AC, Ramkumar M, Nguyen T, Hoeft F (2009) Noninvasive transcranial brain stimulation and pain. Curr Pain Headache Rep 13:12–17

Marlow NM, Bonilha HS, Short EB (2013) Efficacy of transcranial direct current stimulation and repetitive transcranial magnetic stimulation for treating fibromyalgia syndrome: a systematic review. Pain Pract 13:131–145. doi:10.1111/j.1533-2500.2012.00562.x

Reinert A, Treede R, Bromm B (2000) The pain inhibiting pain effect: an electrophysiological study in humans. Brain Res 862:103–110

Wand-Tetley JI (1956) Historical methods of counter-irritation. Ann Phys Med 3:90–99

Carroll D, Ra M, Hj M, Fairman F, Tramèr M, Leijon G (2000) Transcutaneous electrical nerve stimulation (TENS) for chronic pain (Review). Cochrane Libr 4:1–42

Kane K, Taub A (1975) A history of local electrical analgesia. Pain 1:125–138

Johnson MI (2014) Transcutaneous electrical nerve stimulation (TENS): research to support clinical practice. Oxford University Press, Oxford

Nash T, Williams J, Machin D (1990) TENS: does the type of stimulus really matter? Pain Clin 3:161–168

McQuay H, Moore R, Eccleston C, Morley S, Williams AC (1997) Systematic review of outpatient services for chronic pain control. Health Technol Assess (Rockv) 1:138

Raphael JH, Raheem TA, Southall JL, Bennett A, Ashford RL, Williams S (2011) Randomized double-blind sham-controlled crossover study of short-term effect of percutaneous electrical nerve stimulation in neuropathic pain. Pain Med 12:1515–1522. doi:10.1111/j.1526-4637.2011.01215.x

Turnbull A (1850) Tincture of capsaicin as a remedy for chilblains and toothache. Dublin Free Press, Dublin, pp 95–96

Szallasi A, Blumberg PM (1999) Vanilloid (Capsaicin) receptors and mechanisms. Pharmacol Rev 51:159–212

Anand P, Bley K (2011) Topical capsaicin for pain management: therapeutic potential and mechanisms of action of the new high-concentration capsaicin 8 patch. Br J Anaesth 107:490–502. doi:10.1093/bja/aer260

Jones VM, Moore KA, Peterson DM (2011) Capsaicin 8% Topical Patch (Qutenza)—a review of the evidence. J Pain Palliat Care Pharmacother

Maihofner C, Heskamp M-L (2013) Prospective, non-interventional study on the tolerability and analgesic effectiveness over 12 weeks after a single application of capsaicin 8% cutaneous patch in 1044 patients with peripheral neuropathic pain: first results of the QUEPP study. Curr Med Res Opin 29:673–683. doi:10.1185/03007995.2013.792246

Health and Social Care Information Centre (2014) Prescription cost analysis—England 2013. HSCIC 677

Oosterveld FG, Rasker JJ (1994) Treating arthritis with locally applied heat or cold. Semin Arthritis Rheum 24:82–90

Brosseau L, Yonge K a, Robinson V, Marchand S, Judd M, Wells G, Tugwell P (2003) Thermotherapy for treatment of osteoarthritis. Cochrane Database Syst Rev CD004522. doi:10.1016/S0031-9406(05)60490-7

Malanga GA, Nadler SF (1999) Nonoperative treatment of low back pain. Mayo Clin Proc 74:1135–1148. doi:10.4065/74.11.1135

Lehmann JF, Warren CG, Scham SM (1974) Therapeutic heat and cold. Clin Orthop Relat Res 99:207–245

Le Bars D, Dickenson AH, Besson JM (1979) Diffuse noxious inhibitory controls (DNIC). I. Effects on dorsal horn convergent neurones in the rat. Pain 6:283–304

Moont R, Pud D, Sprecher E, Sharvit G, Yarnitsky D (2010) "Pain inhibits pain" mechanisms: is pain modulation simply due to distraction? Pain 150:113–120. doi:10.1016/j.pain.2010.04.009

Melzack R (1999) From the gate to the neuromatrix. Pain 82:S121–S126

Breivik H, Collett B, Ventafridda V, Cohen R, Gallacher D (2006) Survey of chronic pain in Europe: prevalence, impact on daily life, and treatment. Eur J Pain 10:287–333

Price C, Hoggart B, Olukoga O, Williams ACDC, Bottle A (2012) National Pain Audit Final Report 2010–2012

Sabers S (2003) The role of physical therapy in chronic pain. In: Rice A, Warfield C, Justins D, Eccleston C (eds) Clin. Pain Manag. Chronic Pain. Arnold, London, pp 313–324

Hayden J, Van Tulder M, Malmivaara A, Koes B (2005) Exercise therapy for treatment of non-specific low back pain. Cochrane Database Syst Rev 2:1–83

Engel J (2013) Evaluation and pain management. In: Pendleton H, Schultz-Krohn W (eds) Pendretti's Occup. Ther, 7th edn. Elsevier, Mosby, p 1328

Claxton AJ, Cramer J, Pierce C (2001) A systematic review of the associations between dose regimens and medication compliance. Clin Ther 23:1296–1310. doi:10.1016/S0149-2918(01)80109-0

Turk DC, Monarch E (2002) Biopsychosocial perspective on chronic pain. In: Turk D, Gatchel RJ (eds) Psychological approaches to pain management, 2nd edn. Guilford Press, New York, NY, p 590

Williams S (2013) Pain Management Programmes 2013 National Directory of Services

Jeffery MM, Butler M, Stark A, Kane RL (2011) Multidisciplinary pain programs for chronic noncancer pain. Agency for Healthcare Research and Quality (US), Rockville

Loeser JD, Turk DC (2001) Multidisciplinary pain management. In: Loeser JD (ed) Bonica's Management Pain, 3rd edn. Lippincott, Williams & Wilkins, Philadelphia, pp 2069–2079

British Pain Society (2013) The British Pain Society Guidelines for Pain Management Programmes for adults

Beck A, Rush A, Shaw B, Emery G (1979) Cognitive therapy of depression. Guilford Press, New York

Eccleston C (2001) Role of psychology in pain management. Br J Anaesth 87:144–152. doi:10.1093/bja/87.1.144

Turk D, Meichenbaum D, Genest M (1983) Pain and behavioral medicine: a cognitive–behavioral perspective. Guilford Press, New York

Bogaards MC, ter Kuile MM (1994) Treatment of recurrent tension headache: a meta-analytic review. Clin J Pain 10:174–190

Morley S, Eccleston C, Williams A (1999) Systematic review and meta-analysis of randomized controlled trials of cognitive behaviour therapy and behaviour therapy for chronic pain in adults, excluding headache. Pain 80:1–13

Hoffman B, Papas R, Chatkoff D, Kerns R (2007) Meta-analysis of psychological interventions for chronic low back pain. Heal Psychol 26:1–9. doi:10.1037/0278-6133.26.1.1

Henschke N, Ostelo R, Van Tulder M, Vlaeyen J, Morley S, Assendelft W, Main C (2010) Behavioural treatment for chronic low-back pain (Review). Cochrane Database Syst Rev 7:1–124

Williams ACDC, Eccleston C, Morley S (2012) Psychological therapies for the management of chronic pain (excluding headache) in adults (Review). Cochrane Libr 11:1–107

Moore RK, Groves D, Bateson S, Barlow P, Hammond C, Leach AA, Chester MR (2005) Health related quality of life of patients with refractory angina before and one year after enrolment onto a refractory angina program. Eur J Pain 9:305–310. doi:10.1016/j.ejpain.2004.07.013

Moore RKG, Groves DG, Bridson JD, Grayson AD, Wong H, Leach A, Lewin RJP, Chester MR (2007) A brief cognitive–behavioral intervention reduces hospital admissions in refractory angina patients. J Pain Symptom Manag 33:310–316. doi:10.1016/j.jpainsymman.2006.10.009

Hayes SC, Strosahl KD, Wilson KG (1999) Acceptance and commitment therapy: an experiential approach to behavior change. Guilford Press, New York

Hayes S (2004) Acceptance and commitment therapy, relational frame theory, and the third wave of behavioral and cognitive therapies. Behav Ther 35:639–665. doi:10.1016/S0005-7894(04)80013-3

Hayes S (2004) Acceptance and commitment therapy and the new behaviour therapies. In: Hayes SC, Follette V, Linehan M (eds) Mindfulness and acceptance: expanding the cognitive–behavioral tradition. Guilford Press, New York, pp 1–29

Hayes SC, Luoma JB, Bond FW, Masuda A, Lillis J (2006) Acceptance and commitment therapy: model, processes and outcomes. Behav Res Ther 44:1–25. doi:10.1016/j.brat.2005.06.006

McCracken LM, Morley S (2014) The psychological flexibility model: a basis for integration and progress in psychological approaches to chronic pain management. J Pain 15:221–234. doi:10.1016/j.jpain.2013.10.014

Sturgeon J (2014) Psychological therapies for the management of chronic pain. Psychol Res Behav Manag 7:115–124. doi:10.2147/PRBM.S44762

Kabat-Zinn J (1994) Wherever you go, there you are: mindfulness meditation in everyday life. Hyperion, New York

Veehof MM, Oskam M-J, Schreurs KMG, Bohlmeijer ET (2011) Acceptance-based interventions for the treatment of chronic pain: a systematic review and meta-analysis. Pain 152:533–542. doi:10.1016/j.pain.2010.11.002

Hann KEJ, McCracken LM (2014) A systematic review of randomized controlled trials of Acceptance and Commitment Therapy for adults with chronic pain: outcome domains, design quality, and efficacy. J Context Behav Sci 3:1–39. doi:10.1016/j.jcbs.2014.10.001
Acknowledgments
This research received no specific grant from any funding agency in the public, commercial, or not-for-profit sectors.
Ethics declarations
Conflict of interest
NHW, RVD, and JHR declare that they have no conflicts of interest.
Ethical approval
This article does not contain any studies with human participants or animals performed by any of the authors.
About this article
Cite this article
Hylands-White, N., Duarte, R.V. & Raphael, J.H. An overview of treatment approaches for chronic pain management. Rheumatol Int 37, 29–42 (2017). https://doi.org/10.1007/s00296-016-3481-8
Received:

Accepted:

Published:

Issue Date:

DOI: https://doi.org/10.1007/s00296-016-3481-8
Keywords