Abstract
The aim of this study was to investigate the immediate and long-term effects of a one-year multimodal program, with the addition of upper cervical manipulative therapy, on fibromyalgia management outcomes in addition to three-dimensional (3D) postural measures. This randomized clinical trial with one-year follow-up was completed at the research laboratory of our university. A total of 120 (52 female) patients with fibromyalgia syndrome (FMS) and definite C1-2 joint dysfunction were randomly assigned to the control or an experimental group. Both groups received a multimodal program; additionally, the experimental group received upper cervical manipulative therapy. Primary outcomes were the Fibromyalgia Impact Questionnaire (FIQ), whereas secondary outcomes included Pain Catastrophizing Scale (PCS), algometric score, Pittsburgh Sleep Quality Index (PSQI), Beck Anxiety Inventory (BAI), Beck Depression Inventory (BDI), and 3D postural measures. Measures were assessed at three time intervals: baseline, 12 weeks, and 1 year after the 12-week follow-up. The general linear model with repeated measures indicated a significant group × time effect in favor of the experimental group on the measures of 3D postural parameters (P < .0005), FIQ (P < .0005), PCS (P < .0005), algometric score (F = P < .0005), PSQI (P < .0005), BAI (P < .0005), and BDI (P < .0005). The addition of the upper cervical manipulative therapy to a multimodal program is beneficial in treating patients with FMS.
Access options
Buy single article
Instant access to the full article PDF.
US$ 39.95
Tax calculation will be finalised during checkout.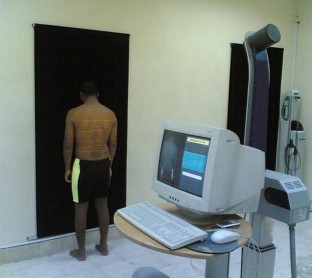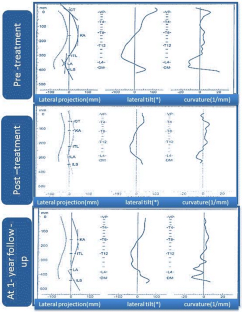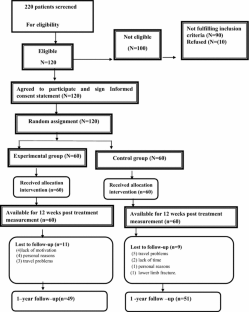 References
1.

Smith HS, Harris R, Clauw D (2011) Fibromyalgia: an afferent processing disorder leading to a complex pain generalized syndrome. Pain Phys 14:E217–E245

2.

Mork PJ, Vasseljen O, Nilsen TI (2010) Association between physical exercise, body mass index, and risk of fibromyalgia: longitudinal data from the Norwegian Nord-Trondelag Health Study. Arthritis Care Res (Hoboken) 62:611–617

3.

Bennett RM, Jones J, Turk DC et al (2007) An internet survey of 2596 people with fibromyalgia. BMC Musculoskelet Disord 8:27–38

4.

Wilson HD, Robinson JP, Turk DC (2009) Toward the identification of symptom patterns in people with fibromyalgia. Arthritis Rheum 61:527–534

5.

Mease PJ, Arnold LM, Crofford LJ et al (2008) Identifying the clinical domains of fibromyalgia: contributions from clinician and patient delphi exercises. Arthritis Rheum 59:603–952

6.

Branco JC, Bannwarth B, Failde I et al (2010) Prevalence of fibromyalgia: a survey in five European countries. Semin Arthritis Rheum 39:448–453

7.

Nüesch E, Häuser W, Bernardy K et al (2013) Comparative efficacy of pharmacological and non-pharmacological interventions in fibromyalgia syndrome: network meta-analysis. Ann Rheum Dis 72(6):955–962

8.

Busse JW, Ebrahim S, Connell G et al (2013) Systematic review and network meta-analysis of interventions for fibromyalgia: a protocol. Syst Rev 2(1):18

9.

Nöller V, Sprott H (2003) Prospective epidemiological observations on the course of the disease in fibromyalgia patients. J Negat Results Biomed 2:4–9

10.

Hartz AJ, Noyes R, Bentler SE et al (2000) Unexplained symptoms in primary care: perspectives of doctors and patients. Gen Hosp Psychiatry 22:144–152

11.

Hiemeyer K, Lutz R, Menninger H (1990) Dependence of tender points upon posture: a key to the understanding of fibromyalgia syndrome. J Man Med 5:169–174

12.

Mueller A, Hartmann M, Eich W (2000) Inanspruchnahme medizinischer Versorgungsleistungen. Untersuchung bei Patienten mit Fibromyalgiesyndrom (FMS) [Health care utilization in patients with fibromyalgia syndrome (FMS)]. Schmerz 14:77–83 (German)

13.

Bandakl E, Amris K, Bliddal H et al (2013) Muscle fatigue in fibromyalgia is in the brain, not in the muscles: a case–control study of perceived versus objective muscle fatigue. Ann Rheum Dis 72:963–966

14.

Lee YC, Nassikas NJ, Clauw DJ (2011) The role of the central nervous system in the generation and maintenance of chronic pain in rheumatoid arthritis, osteoarthritis and fibromyalgia. Arthritis Res Ther 13:211

15.

Clauw DJ, Arnold LM, McCarberg BH (2011) The science of fibromyalgia. Mayo Clin Proc 86:907–911

16.

McLain RF, Pickar JG (1998) Mechanoreceptor endings in human thoracic and lumbar facet joints. Spine 23(2):168–173

17.

Bankoul S, Neuhuber WL (1990) A cervical primary afferent input to vestibular nuclei as demonstrated by retrograde transport of wheat germ agglutinin-horseradish peroxidase in the rat. Exp Brain Res 79:405–411

18.

Neuhuber WL (1998) Characteristics of the innervation of the head and neck. Orthopade 27(12):794–801

19.

Haavik-Taylor H, Murphy B (2007) Cervical spine manipulation alters sensorimotor integration: a somatosensory evoked potential study. Clin Neurophysiol 118(2):391–402

20.

Haavik-Taylor H, Murphy B (2008) Altered sensorimotor integration with cervical spine manipulation. J Manipulative Physiol Ther 31(2):115–126

21.

Haavik-Taylor H, Murphy B (2012) The role of spinal manipulation in addressing disordered sensorimotor integration and altered motor control. J Electromyogr Kinesiol 22(5):768–776

22.

Murphy BA, Haavik-Taylor H, Wilson SA et al (2003) Changes in median nerve somatosensory transmission and motor output following transient deafferentation of the radial nerve in humans. Clin Neurophysiol 114(8):1477–1488

23.

Murphy BA, Haavik-Taylor H, Wilson SA et al (2003) Rapid reversible changes to multiple levels of the human somatosensory system following the cessation of repetitive contractions: a somatosensory evoked potential study. Clin Neurophysiol 114(8):1531–1537

24.

Taylor HH, Murphy B (2008) Altered sensorimotor integration with cervical spine manipulation. J Manipulative Physiol Ther 31:115–126

25.

Haavik-Taylor H, Murphy B (2010) The effects of spinal manipulation on central integration of dual somatosensory input observed after motor training: a crossover study. J Manipulative Physiol Ther 33(4):261–272

26.

Morningstar MW, Pettibon BR, Schlappi H et al (2005) Reflex control of the spine and posture: a review of the literature from a chiropractic perspective. Chiropr Osteopat 13:16

27.

Diab A (2012) The role of forward head correction in management of adolescent idiopathic scoliotic patients: a randomized controlled trial. Clin Rehabil 26:1123–1132

28.

Wolfe F, Smythe HA, Yunus MB et al (1990) The American College of Rheumatology 1990 criteria for the classification of fibromyalgia. Arthritis Rheum 33:160–172

29.

Schaefer C, Chandran A, Hufstader M et al (2011) The comparative burden of mild, moderate and severe fibromyalgia: results from a cross-sectional survey in the United States. Health Qual Life Outcomes 9:71

30.

Ogince M, Hall T, Robinson K, Blackmore AM (2007) The diagnostic validity of the cervical flexion-rotation test in C1/2-related cervicogenic head-ache. Man Ther 12:256–262

31.

Luciano JV, Martinez N, Penarrubia-Maria MT et al (2011) Effectiveness of a psychoeducational treatment programme implemented in general practice for fibromyalgia patients: a randomized controlled trial. Clin J Pain 27(5):383–391

32.

Turk DC, Meichenbaum D, Genest M (1983) Pain and behavioral medicine: a cognitive-behavioral perspective. Guilford, New York

33.

Ost L (1987) Applied relaxation: description of a coping technique and review of controlled studies. Behav Res Ther 25:397–409

34.

Maitland GD, Hengeveld E, Banks K et al (2000) Maitland's vertebral manipulation, 6th edn. Butterworth, London

35.

Srifi N, Bahiri R, Rostom S et al (2013) The validity and reliability of the Moroccan version of the Revised Fibromyalgia Impact Questionnaire. Rheumatol Int 33:179–183

36.

Lippold C, Danesh G, Hoppe G et al (2007) Trunk inclination, pelvic tilt and Pelvic rotation in relation to the craniofacial morphology in adult. Angle Orthod 77:29–35

37.

Campbell CM, McCauley L, Bounds SC et al (2012) Changes in pain catastrophizing predict later changes in fibromyalgia clinical and experimental pain report: cross-lagged panel analyses of dispositional and situational catastrophizing. Arthritis Res Ther 14:R231

38.

Tastekin N, Uzunca K, Sut N et al (2010) Discriminative value of tender points in fibromyalgia syndrome. Pain Med 11:466–471

39.

Buysse DJ, Reynolds CF, Monk TH et al (1989) The Pittsburgh sleep quality index: a new instrument for psychiatric practice and research. Psychiatry Res 28:193–213

40.

Beck AK, Epstein N, Brown G et al (1988) An inventory for measuring clinical anxiety: psychometrics properties. J Consult Clin Psychol 56:893–897

41.

Beck AT, Ward CH, Mendelson M et al (1961) An inventory for measuring depression. Arch Gen Psychiatry 4:561–571

42.

Bennett RM, Bushmakin AG, Cappelleri JC et al (2009) Minimal clinically important difference in the fibromyalgia impact questionnaire. J Rheumatol 36:1304–1311

43.

Ledin T, Hafstrom A, Fransson PA et al (2003) Influence of neck proprioception on vibration-induced postural sway. Acta Otolaryngol 123:594–599

44.

Karnath HO, Konczak J, Dichgans J (2000) Effect of prolonged neck muscle vibration on lateral head tilt in severe spasmodic torticollis. J Neurol Neurosurg Psychiatry 69:658–660

45.

Zhu Y, Haldeman S, Starr A et al (1993) Paraspinal muscle evoked cerebral potentials in patients with unilateral low back pain. Spine 18(8):1096–1102

46.

Zhu Y, Haldeman S, Hsieh C-YJ et al (2000) Do cerebral potentials to magnetic stimulation of paraspinal muscles reflect changes in palpable muscle spasm, low back pain, and activity scores? J Manipulative Physiol Ther 232(7):458–464

47.

Harrison DE, Harrison DD, Janik TJ (2001) Comparison of axial and flexural stresses in lordosis and three buckled configurations of the cervical spine. Clin Biomech (Bristol, Avon) 16:276–278

48.

Diab AA, Moustafa IM (2012) The efficacy of forward head correction on nerve root function and pain in cervical spondylotic radiculopathy: a randomized trial. Clin Rehabil 26:351–361

49.

Mannerkorpi K, Ahlmen M, Ekdahl C (2002) Six- and 24-month follow-up of pool exercise therapy and education for patients with fibromyalgia. Scand J Rheumatol 31:306–310

50.

King SJ, Wessel J, Bhambhani Y et al (2002) The effects of exercise and education, individually or combined, in women with fibromyalgia. J Rheumatol 29:2620–2627

51.

Koulil SV (2007) Cognitive-behavioural therapies and exercise program for patients with fibromyalgia: state of the art and future directions. Ann Rheum Dis 66:571–581

52.

Häuser W, Bernardy K, Arnold B et al (2009) Efficacy of multicomponent treatment in fibromyalgia syndrome: a meta-analysis of randomized controlled clinical trials. Arthritis Rheum 61:216–224

53.

Dolphens M, Cagnie B, Coorevits P et al (2012) Sagittal standing posture and its association with spinal pain: a school-based epidemiological study of 1196 Flemish adolescents before age at peak height velocity. Spine (Phila Pa 1976) 37:1657–1666

54.

Travell JG, Simons D (1973) Myofascial pain and dysfunction: the trigger point manual. Williams & Wilkins, Philadelphia

55.

Seaman DR, Winterstein JF (1998) Dysafferentation: a novel term to describe the neuropathophysiological effects of joint complex dysfunction. A look at likely mechanisms of symptom generation. J Manipulative Physiol Ther 21:267–280
Acknowledgments
We express our sincere gratitude to all of the patients who kindly participated in this study. We are grateful to the management and staff of the El-Farouk Hospital, Cairo, Egypt, for supporting this trial.
Conflict of interest
None.
About this article
Cite this article
Moustafa, I.M., Diab, A.A. The addition of upper cervical manipulative therapy in the treatment of patients with fibromyalgia: a randomized controlled trial. Rheumatol Int 35, 1163–1174 (2015). https://doi.org/10.1007/s00296-015-3248-7
Received:

Accepted:

Published:

Issue Date:
Keywords
Fibromyalgia

Randomized controlled trial

Cervical

Manipulation