Abstract
Not all patients with osteoarthritis (OA) show the same disease progression, as some of them remain relatively stable over time, while others progress to severe structural deterioration of the joint. In this sense, the main goal of both genetic and protein biomarkers in OA is to predict not only the risk of OA at an earlier stage of the disease but also which OA patients are more likely to progress to severe disease. Taking into account the incidence of the mitochondria and the mtDNA haplogroups in the pathogenesis of OA, the main objective of this work was to evaluate the incidence of the mtDNA haplogroups in the radiographic progression of the OA disease in a well-characterized follow-up cohort of Spanish patients. DNA from 281 OA patients from Hospital Universitario A Coruña was isolated to determine the European mtDNA haplogroups. Knee or hip radiographs from all affected joints were obtained at two time points with at least 36 months apart. Radiographs were evaluated using the Kellgren/Lawrence (K/L) scale; radiographic OA progression was defined as any radiographic worsening of the K/L joint score. Statistical analyses included Kaplan–Meier survival curves and Cox regression models. Patients belonging to the cluster TJ showed a slower radiographic OA progression than patients in the cluster KU (p = 0.036). Moreover, patients carrying the most common mtDNA haplogroup H are more apt to require total joint replacement surgery than non-H patients (p = 0.049). The inherited mitochondrial variants influence the radiographic progression of OA and could be considered among the genetic variants taken into account when the radiographic progression of OA is analyzed.
Access options
Buy single article
Instant access to the full article PDF.
US$ 39.95
Tax calculation will be finalised during checkout.
Subscribe to journal
Immediate online access to all issues from 2019. Subscription will auto renew annually.
US$ 119
Tax calculation will be finalised during checkout.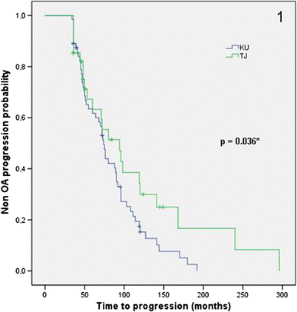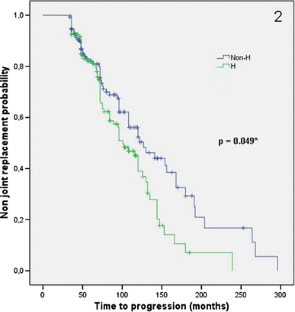 Abbreviations
ABI:

Applied biosystems

ACR:

American college of Rheumatology

ATP:

Adenosine triphosphate

BMI:

Body mass index

CI:

Confidence interval

CILP:

Cartilage intermediate layer protein

DNA:

Deoxyribonucleic acid

GDF5:

Growth differentiation factor 5

HR:

Hazard ratio

IL1RN:

Interleukin-1 receptor antagonist

JSW:

Joint space width

KL:

Kellgren and Lawrence

MRC:

Mitochondrial respiratory chain

mtDNA:

Mitochondrial deoxyribonucleic acid

OA:

Osteoarthritis

OAI:

Osteoarthritis initiative

OR:

Odds ratio

OXHPOS:

Oxidative phosphorylation system

PCR:

Polymerase chain reaction

RFLP:

Restriction fragment length polymorphism

ROS:

Reactive oxygen species

SBE:

Single base extension

SNP:

Single nucleotide polymorphism

SPSS:

Statistical package for the social sciences
References
1.

Felson DT, Zhang Y (1998) An update on the epidemiology of knee and hip osteoarthritis with a view to prevention. Arthritis Rheum 41(8):1343–1355

2.

Valdes AM, Spector TD (2011) Genetic epidemiology of hip and knee osteoarthritis. Nat Rev Rheumatol 7(1):23–32

3.

Blanco FJ, Rego I, Ruiz-Romero C (2011) The role of mitochondria in osteoarthritis. Nat Rev Rheumatol 7(3):161–169

4.

Maneiro E, Martin MA, de Andres MC et al (2003) Mitochondrial respiratory activity is altered in osteoarthritic human articular chondrocytes. Arthritis Rheum 48(3):700–708

5.

Kim HA, Blanco FJ (2007) Cell death and apoptosis in osteoarthritic cartilage. Curr Drug Targets 8(2):333–345

6.

Cillero-Pastor B, Carames B, Lires-Dean M, Vaamonde-Garcia C, Blanco FJ, Lopez-Armada MJ (2008) Mitochondrial dysfunction activates cyclooxygenase 2 expression in cultured normal human chondrocytes. Arthritis Rheum 58(8):2409–2419

7.

Blanco FJ, Lopez-Armada MJ, Maneiro E (2004) Mitochondrial dysfunction in osteoarthritis. Mitochondrion 4(5–6):715–728

8.

Henrotin Y, Kurz B (2007) Antioxidant to treat osteoarthritis: dream or reality? Curr Drug Targets 8(2):347–357

9.

Grishko VI, Ho R, Wilson GL, Pearsall AW (2009) Diminished mitochondrial DNA integrity and repair capacity in OA chondrocytes. Osteoarthritis Cartilage 17(1):107–113

10.

Torroni A, Huoponen K, Francalacci P et al (1996) Classification of European mtDNAs from an analysis of three European populations. Genetics 144(4):1835–1850

11.

Rego-Perez I, Fernandez-Moreno M, Fernandez-Lopez C, Arenas J, Blanco FJ (2008) Mitochondrial DNA haplogroups: role in the prevalence and severity of knee osteoarthritis. Arthritis Rheum 58(8):2387–2396

12.

Rego I, Fernández-Moreno M, Fernández-López C et al (2010) Role of European mitochondrial DNA haplogroups in the prevalence of hip osteoarthritis in Galicia, Northern Spain. Ann Rheum Dis 69(1):210–213

13.

Soto-Hermida A, Fernandez-Moreno M, Oreiro N, Fernandez-Lopez C, Rego-Perez I, Blanco FJ (2014) mtDNA haplogroups and osteoarthritis in different geographic populations. Mitochondrion 15:18–23

14.

Fang H, Liu X, Shen L et al (2014) Role of mtDNA haplogroups in the prevalence of knee osteoarthritis in a southern Chinese population. Int J Mol Sci 15(2):2646–2659

15.

Rego-Pérez I, Fernández-Moreno M, Deberg M et al (2010) Mitochondrial DNA haplogroups modulate the serum levels of biomarkers in patients with osteoarthritis. Ann Rheum Dis 69(5):910–917

16.

Rego-Perez I, Fernandez-Moreno M, Deberg M et al (2011) Mitochondrial DNA haplogroups and serum levels of proteolytic enzymes in patients with osteoarthritis. Ann Rheum Dis 70(4):646–652

17.

Garnero P, Ayral X, Rousseau JC et al (2002) Uncoupling of type II collagen synthesis and degradation predicts progression of joint damage in patients with knee osteoarthritis. Arthritis Rheum 46(10):2613–2624

18.

Valdes AM, Hart DJ, Jones KA et al (2004) Association study of candidate genes for the prevalence and progression of knee osteoarthritis. Arthritis Rheum 50(8):2497–2507

19.

Kamarainen OP, Solovieva S, Vehmas T et al (2008) Common interleukin-6 promoter variants associate with the more severe forms of distal interphalangeal osteoarthritis. Arthritis Res Ther 10(1):R21

20.

Attur M, Wang HY, Kraus VB, et al (2010) Radiographic severity of knee osteoarthritis is conditional on interleukin 1 receptor antagonist gene variations. Ann Rheum Dis 69(5):856–861

21.

Altman R, Asch E, Bloch D et al (1986) Development of criteria for the classification and reporting of osteoarthritis. Classification of osteoarthritis of the knee. Diagnostic and Therapeutic Criteria Committee of the American Rheumatism Association. Arthritis Rheum 29(8):1039–1049

22.

Zhang W, McWilliams DF, Ingham SL et al (2011) Nottingham knee osteoarthritis risk prediction models. Ann Rheum Dis 70(9):1599–1604

23.

Vilím V, Olejárová M, Machácek S, Gatterová J, Kraus VB, Pavelka K (2002) Serum levels of cartilage oligomeric matrix protein (COMP) correlate with radiographic progression of knee osteoarthritis. Osteoarthritis Cartilage 10(9):707–713

24.

Botha-Scheepers S, Riyazi N, Watt I et al (2009) Progression of hand osteoarthritis over 2 years: a clinical and radiological follow-up study. Ann Rheum Dis 68(8):1260–1264

25.

Martínez-Redondo D, Marcuello A, Casajús JA et al (2010) Human mitochondrial haplogroup H: the highest VO2max consumer—is it a paradox? Mitochondrion 10(2):102–107

26.

Gómez-Durán A, Pacheu-Grau D, López-Gallardo E et al (2010) Unmasking the causes of multifactorial disorders: OXPHOS differences between mitochondrial haplogroups. Hum Mol Genet 19(17):3343–3353

27.

Mishmar D, Ruiz-Pesini E, Golik P et al (2003) Natural selection shaped regional mtDNA variation in humans. Proc Natl Acad Sci USA 100(1):171–176

28.

Kenney MC, Chwa M, Atilano SR et al (2013) Mitochondrial DNA variants mediate energy production and expression levels for CFH, C3 and EFEMP1 genes: implications for age-related macular degeneration. PLoS One 8(1):e54339

29.

Ruiz-Pesini E, Lapeña AC, Díez-Sánchez C et al (2000) Human mtDNA haplogroups associated with high or reduced spermatozoa motility. Am J Hum Genet 67(3):682–696

30.

Larsen S, Díez-Sánchez C, Rabøl R, Ara I, Dela F, Helge JW (2014) Increased intrinsic mitochondrial function in humans with mitochondrial haplogroup H. Biochim Biophys Acta 1837(2):226–231

31.

Ruiz-Pesini E, Mishmar D, Brandon M, Procaccio V, Wallace DC (2004) Effects of purifying and adaptive selection on regional variation in human mtDNA. Science 303(5655):223–226

32.

Wallace DC (1999) Mitochondrial diseases in man and mouse. Science 283(5407):1482–1488

33.

Mueller EE, Brunner SM, Mayr JA, Stanger O, Sperl W, Kofler B (2012) Functional differences between mitochondrial haplogroup T and haplogroup H in HEK293 cybrid cells. PLoS One 7(12):e52367

34.

Hudson G, Panoutsopoulou K, Wilson I et al (2013) No evidence of an association between mitochondrial DNA variants and osteoarthritis in 7393 cases and 5122 controls. Ann Rheum Dis 72(1):136–139

35.

Zeggini E, Panoutsopoulou K, Southam L et al (2012) Identification of new susceptibility loci for osteoarthritis (arcOGEN): a genome-wide association study. Lancet 380(9844):815–823

36.

Zhai G, Hart DJ, Kato BS, MacGregor A, Spector TD (2007) Genetic influence on the progression of radiographic knee osteoarthritis: a longitudinal twin study. Osteoarthritis Cartilage 15(2):222–225

37.

Kerkhof HJ, Doherty M, Arden NK et al (2011) Large-scale meta-analysis of interleukin-1 beta and interleukin-1 receptor antagonist polymorphisms on risk of radiographic hip and knee osteoarthritis and severity of knee osteoarthritis. Osteoarthritis Cartilage 19(3):265–271

38.

Miyamoto Y, Mabuchi A, Shi D et al (2007) A functional polymorphism in the 5′ UTR of GDF5 is associated with susceptibility to osteoarthritis. Nat Genet 39(4):529–533

39.

Takahashi H, Nakajima M, Ozaki K, Tanaka T, Kamatani N, Ikegawa S (2010) Prediction model for knee osteoarthritis based on genetic and clinical information. Arthritis Res Ther 12(5):R187

40.

Valdes AM, Doherty M, Spector TD (2008) The additive effect of individual genes in predicting risk of knee osteoarthritis. Ann Rheum Dis 67(1):124–127
Acknowledgments
The authors express appreciation to Lourdes Sanjurjo and Maria Dolores Velo and to the Department of Orthopaedic Surgery from the CHU A Coruña. This study was supported by grants from Fundación Española de Reumatologia (programa GEN-SER) and from Fondo Investigación Sanitaria (CIBER- CB06/01/0040)-Spain, Fondo Investigacion Sanitaria-PI 12/329 Ministerio Ciencia en Innovacion PLE2009-0144, with participation of funds from FEDER (European Community). Ignacio Rego-perez was supported by Contrato Miguel Servet-Fondo Investigacion Sanitaria (CP12/03192).
Conflict of interest
The authors declare that they have no conflict interest.
About this article
Cite this article
Soto-Hermida, A., Fernández-Moreno, M., Pértega-Díaz, S. et al. Mitochondrial DNA haplogroups modulate the radiographic progression of Spanish patients with osteoarthritis. Rheumatol Int 35, 337–344 (2015). https://doi.org/10.1007/s00296-014-3104-1
Received:

Accepted:

Published:

Issue Date:
Keywords
Mitochondria

Haplogroups

Osteoarthritis

Cartilage

Progression

K/L grade