Abstract
The purpose of this study is to determine whether there are some differences in the treatment responses to a multidisciplinary fibromyalgia (FM) treatment related with the baseline body mass index (BMI) of the participants. Inclusion criteria consisted of female sex, a diagnosis of FM (American College of Rheumatology criteria), age between 18 and 60 years, and between 3 and 8 years of schooling. Baseline BMI was determined, and patients were randomly assigned to one of the two treatment conditions: conventional pharmacologic treatment or multidisciplinary treatment. Outcome measures were pain intensity, functionality, catastrophizing, psychological distress, health-related quality of life, and sleep disturbances. One hundred thirty patients participated in the study. No statistical significant differences regarding pre-treatment outcomes were found among the different BMI subgroups, and between the two experimental conditions for each BMI category. General linear model analysis showed a significant interaction group treatment × time in pain intensity (p < .01), functionality (p < .0001), catastrophizing (p < .01), psychological distress (p < .0001), sleep index problems (p < .0001), and health-related quality of life (p < .05). No significant interactions were found in BMI × time, and in BMI × group treatment × time. There are not differences among normal weight, overweight and obese patients with FM regarding their response to a multidisciplinary treatment programme for FM which combines pharmacological treatment, education, physical therapy and cognitive behavioural therapy.
Access options
Buy single article
Instant access to the full article PDF.
USD 39.95
Price includes VAT (USA)
Tax calculation will be finalised during checkout.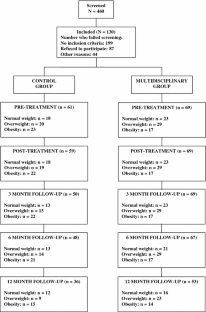 References
1.

Bernardy K, Füber N, Köllner V, Häuser W (2010) Efficacy of cognitive-behavioral therapies in fibromyalgia syndrome: a systematic review and meta-analysis of randomized controlled trials. J Rheumatol 37:1991–2005

2.

Clauw DJ (2009) Fibromyalgia: an overview. Am J Med 122:S3–S13

3.

Neumann L, Buskila D (2003) Epidemiology of fibromyalgia. Curr Pain Headache Rep 7:362–368

4.

Branco JC, Bannwarth B, Failde I, Abelló J, Blotman F, Spaeth M, Saraiva F, Nacci F, Thomas E, Caubère JP, Le Lay K, Taieb Ch (2010) Prevalence of fibromyalgia: a survey in five European countries. Semin Arthritis Rheum 39:448–453

5.

Bergman S (2005) Psychosocial aspects of chronic widespread pain and fibromyalgia. Disabil Rehabil 27:675–683

6.

Wolfe F, Ross K, Anderson J, Russell IJ, Hebert L (1995) The prevalence and characteristics of fibromyalgia in the general population. Arthritis Rheum 38:19–28

7.

Bannwarth B, Blotman F, Roué-Le Lay K, Caubère JP, André E, Taïeb Ch (2009) Fibromyalgia syndrome in the general population of France: a prevalence study. Joint Bone Spine 76:184–187

8.

Salaffi F, Sarzi Puttini P, Girolimetti R, Atzeni F, Gasparini S, Grassi W (2009) Health-related quality of life in fibromyalgia patients: a comparison with rheumatoid arthritis patients and the general population using the SF-36 health survey. Clin Exp Rheumatol 27:S67–S74

9.

White KP, Speechley M, Harth M, Ostbye T (1999) The London Fibromyalgia Epidemiology Study: the prevalence of fibromyalgia syndrome in London, Ontario. J Rheumatol 26:1570–1576

10.

Bennet RM, Jones J, Turk DC, Russell IJ, Matallana L (2007) An internet survey of 2.596 people with fibromyalgia. BMC Musculoskelet Disord 8:27

11.

Kim CH, Luedtke CA, Vincent A, Thompson JA, Oh TH (2012) Association between body mass index and response to a brief interdisciplinary treatment programme in fibromyalgia. Am J Phys Med Rehabil 91:574–583

12.

Neumann L, Lerner E, Glazer Y, Bolotin A, Shefer A, Buskila D (2008) A cross-sectional study of relationship between body mass index and clinical characteristics, tenderness measures, quality of life, and physical functioning in fibromyalgia patients. Clin Rheumatol 27:1543–1547

13.

Okifuji A, Donaldson GW, Barck L, Fine PG (2010) Relationship between fibromyalgia and obesity in pain, function, mood, and sleep. J Pain 11:1329–1337

14.

Yunus MB, Arslan S, Aldag JC (2002) Relationship between body mass index and fibromyalgia features. Scand J Rheumatol 31:27–31

15.

Webb R, BrammahT Lunt M, Urwin M, Allison T, Symmons D (2003) Prevalence and predictors of intense, chronic, and disabling neck and back pain in the UK general population. Spine 28:1195–1202

16.

Janke EA, Collins A, Kozak AT (2007) Overview of the relationship between pain and obesity: what do we know? Where do we go next? J Rehabil Res Dev 44:245–262

17.

Shiri R, Solovieva S, Husgafvel-Pursiainen K, Taimela S, Saarikoski LA, Huupponen R, Viikari J, Raitakari OT, Viikari-Juntura E (2008) The association between obesity and the prevalence of low back pain in young adults: the cardiovascular risk in young Finns study. Am J Epidemiol 167:1110–1119

18.

Bond DS, Roth J, Nash JM, Wing RR (2011) Migraine and obesity: epidemiology, possible mechanisms, and the potential role of weight loss treatment. Obes Rev 12:362–371

19.

Aparicio VA, Ortega FB, Carbonell-Baeza A, Camiletti D, Ruiz JR, Delgado-Fernández MD (2011) Relationship of weight status with mental and physical health in female fibromyalgia patients. Obes Facts 4:443–448

20.

Arranz L, Canela MA, Rafecas M (2012) Relationship between body mass index, fat mass and lean mass with SF-36 quality of life scores in a group of fibromyalgia patients. Rheumatol Int 32:3605–3611

21.

Cordero MD, Alcocer-Gómez E, Cano-Garcia FJ, Sánchez-Domínguez B, Fernández-Riejo P, Moreno Fernández AM, Fernández-Rodríguez A, De Miguel (2014) Clinical symptoms in fibromyalgia are associated to overweight and lípido profile. Rheumatol Int 34:419–422

22.

Mork PJ, Vasseljen O, Nilsen TIL (2010) Association between physical exercice, body mass index, and risk of fibromyalgia: longitudinal data from the Norwegian-Nord-Trøndelag health study. Arthritis Care Res 62:611–617

23.

Timmerman GM, Calfa NA, Stuifbergen AK (2013) Correlates of body mass index in women with fibromyalgia. Orthop Nurs 32:113–119

24.

van Koulil S, Effting M, Kraaimaat FW (2007) Cognitive-behavioural therapies and exercice programmes for patients with fibromyalgia: state of the art and future directions. Ann Rheum Dis 66:571–581

25.

Kim CH, Luedtke CA, Vincent A, Thompson JA, Oh TH (2012) Association of body mass index with symptom severity and quality of life in patients with fibromyalgia. Arthritis Care Res 64:224–228

26.

Häuser W, Bernardy K, Arnold B, Offenbächer M, Schiltenwolf M (2009) Efficacy of multicomponent treatment in fibromyalgia syndrome: a meta-analysis of randomized controlled clinical trials. Arthritis Rheum 61:216–224

27.

Oh TH, Hoskin TL, Luedtke CA, Weingarten TN, Vincent A, Kim CH, Thompson JM (2012) Predictors of clinical outcome in fibromyalgia after a brief interdisciplinary fibromyalgia treatment program: single center experience. PM R 4:257–263

28.

Castel A, Fontova R, Montull S, Periñán R, Poveda MJ, Miralles I, Cascón-Pereira R, Hernández P, Aragonés N, Salvat I, Castro S, Monterde S, Padrol A, Sala J, Añez C, Rull M (2013) Efficacy of a multidisciplinary fibromyalgia treatment adapted for women with low educational levels: a randomized controlled trial. Arthritis Care Res 65:412–431

29.

Wolfe F, Smythe HA, Yunus MB, Bennett RM, Bombardier C, Goldenberg DL, Tugwell P, Campbell SM, Abeles SM, Clark P, Fam AG, Farber SJ, Fietchner JJ, Franklin CM, Gatter RA, Hamaty D, Lessard J, Litchbroun AS, Masi AT, McCain GA, Reynolds WJ, Romano TJ, Russell IJ, Sheon RP (1990) The American College of Rheumatology 1990 criteria for the classification of fibromyalgia: report of the multicenter criteria committee. Arthritis Rheum 33:160–172

30.

Bjelland I, Dahl AA, Haug TT, Neckelmann D (2002) The validity of the Anxiety and Depression Scale: an updated literature review. J Psychosom Res 52:69–77

31.

Rivera J, Alegre C, Ballina FJ, Carbonell J, Carmona L, Castel B, Collado A, Esteve JJ, Martínez FG, Tornero J, Vallejo MA, Vidal J (2006) Documento de consenso de la Sociedad Española de Reumatología sobre la fibromialgia. Reumatol Clin 2:S55–S66

32.

Altan L, Bingöl U, Aykaç M, Koç Z, Yurtkuran M (2004) Investigation of the effects of pool-based exercise on fibromyalgia syndrome. Rheumatol Int 24:274–277

33.

Jones KD, Burckhardt CS, Clark SR, Bennett RM, Potempa KM (2002) A randomized controlled trial of muscle strengthening versus flexibility training in fibromyalgia. J Rheumatol 29(5):1041–1048

34.

Schultz JH (1969) El entrenamiento autógeno: autorrelajación contemplativa. Editorial Científico-Médica, Barcelona

35.

Dworkin RH, Siegfried RN (1994) Are all those pain ratings necessary? (letter to the editor). Pain 58:279

36.

Jensen MP, Turner JA, Romano JM, Fisher LD (1999) Comparative reliability and validity of chronic pain intensity measures. Pain 83:157–162

37.

Zigmond AS, Snaith RP (1983) The Hospital Anxiety and Depression Scale. Acta Psychiatr Scand 67:361–370

38.

Herrmann C (1997) International experiences with the Hospital Anxiety and Depression Scale: a review of validation data and clinical results. J Psychosom Res 42:17–41

39.

Rosenstiel AK, Keefe FJ (1983) The use of coping strategies in chronic low back pain patients: relationships to patient characteristics and current adjustment. Pain 17:33–44

40.

Burckhardt CS, Henriksson C (2001) The Coping Strategies Questionnaire-Swedish version: evidence of reliability and validity in patients with fibromyalgia. Scand J Behav Ther 30:97–107

41.

Burckhardt CS, Clark SR, Bennett RM (1991) The Fibromyalgia Impact Questionnaire: development and validation. J Rheumatol 18:728–733

42.

Burckhardt CS (2006) Multidisciplinary approaches for management of fibromyalgia. Curr Pharm Des 12:59–66

43.

Rossy LA, Buckelew SP, Dorr N, Hagglund KJ, Thayer JF, McIntosh MJ, Hewett JE, Johnson JE (1999) A meta-analysis of fibromyalgia treatment interventions. Ann Behav Med 21:180–191

44.

Hays RD, Steward AL (1992) Sleep measures. In: Steward AL, Ware JE (eds) Measuring functioning and well-being: the Medical Out-comes Study approach. Duke University Press, Durham, pp 235–259

45.

Cappelleri JC, Bushmakin AG, McDermott AM, Dukes E, Sadosky A, Petrie CD, Martin S (2009) Measurement properties of the Medical Outcomes Study Sleep Scale in patients with fibromyalgia. Sleep Med 10:766–770

46.

Martin S, Chandran A, Zografos L, Zlateva G (2009) Evaluation of the impact of fibromyalgia on patients' sleep and the content validity of two sleep scales. Health Qual Life Outcomes 7:64–70

47.

Nelson EC, Wasson JH, Kirk JW (1987) Assessment of function in routine clinical practice: description of the COOP chart method and preliminary findings. J Chronic Dis 40:55–60

48.

Al Morales García, Arenas Jiménez MD, Reig-Ferrer A, Alvarez-Ude F, Malek T, Moledous A, Gil MT, Cotilla EM (2011) Dispositional optimism in patients on chronic haemodialysis and its possible influence on their clinical course. Nefrologia 31:199–205

49.

Arenas MD, Alvarez-Ude F, Reig-Ferrer A, Zito JP, Gil MT, Carretón MA, Albiach B, Moledous A (2007) Emotional distress and health-related quality of life in patients on hemodialysis: the clinical value of COOP-WONCA charts. J Nephrol 20:304–310

50.

Holis S, Campbell F (1999) What is meant by intention to treat analysis? Survey of published randomised controlled trials. BJM 19:670–674

51.

Farrar JT, Young JP, LaMoreaux L, Werth JL, Poole RM (2001) Clinical importance of changes in chronic pain intensity measured on an 11-point numerical pain rating scale. Pain 94:149–158

52.

Bennett RM, Bushmakin AG, Cappelleri JC, Zlateva G, Sadosky AB (2009) Minimal clinically important difference in the fibromyalgia impact questionnaire. J Rheumatol 36:1304–1311

53.

Torres X, Bailles E, Valdes M, Gutierrez F, Peri JM, Arias A, Gomez E, Collado A (2013) Personality does not distinguish people with fibromyalgia but identifies subgroups of patients. Gen Hosp Psychiatry 35:640–648

54.

Goossens MEJB, Vlaejen JWS, Hidding A, Kole-Snijders A, Evers SMAA (2005) Treatment expectancy affects outcomes of cognitive-behavioral interventions in chronic pain. Clin J Pain 21:18–26
Acknowledgments
We would like to thank Marta Salvat, Patricia Zaldívar and Eva Luque, scholarships holder in our unit, for their efficient collaboration in the project. We would also like to thank all the participants for their collaboration and patience, without whom we would not have been able to accomplish this study. Supported by the Foundation Marató TV3 Grant Number 070910.
Conflict of interest
None of the authors have any conflict of interests.
About this article
Cite this article
Castel, A., Castro, S., Fontova, R. et al. Body mass index and response to a multidisciplinary treatment of fibromyalgia. Rheumatol Int 35, 303–314 (2015). https://doi.org/10.1007/s00296-014-3096-x
Received:

Accepted:

Published:

Issue Date:
Keywords
Fibromyalgia

Body mass index

Multidisciplinary treatment

Physical therapy

Psychological therapy