Abstract
The purpose of this study was to determine the effects of an oral preparation containing hyaluronic acid on osteoarthritic knee joint pain and function as well as changes in inflammatory cytokines, bradykinin, and leptin. We also used heavy water to determine the turnover rates of glycosaminoglycans in synovial fluid. This was a double-blind, randomized, placebo-controlled study of 40 subjects over a period of 3 months. Visual analog scale, Western Ontario McMaster pain, and WOMAC function scores were recorded. Serum and synovial fluid were measured by enzyme-linked immunosorbent assays for inflammatory cytokines, bradykinin, and leptin. In 20 subjects, terminal heavy water ingestion was used for spectral analyses of serum and joint fluid samples. There were statistically significant improvements in pain and function. Both serum and synovial fluid samples showed significant decreases for a majority of inflammatory cytokines, leptin, and bradykinin in the oral hyaluronic acid preparation group. Heavy water analyses revealed a significant decrease in hyaluronic acid turnover in the synovial fluid of the treatment group. A preparation containing hyaluronic acid and other glycosaminoglycans holds promise for a safe and effective agent for the treatment for patients with knee osteoarthritis and who are overweight. Further studies will be required to see whether this is a disease-modifying agent.
Access options
Buy single article
Instant access to the full article PDF.
USD 39.95
Price excludes VAT (USA)
Tax calculation will be finalised during checkout.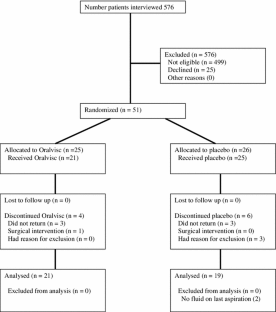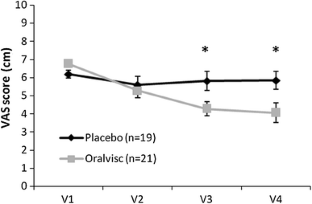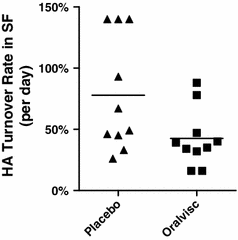 References
Goldring MB, Goldring SR (2007) Osteoarthritis. J Cell Physiol 213(3):626–634. doi:10.1002/jcp.21258

Theis KA, Helmick CG, Hootman JM (2007) Arthritis burden and impact are greater among U.S. women than men: intervention opportunities. J Womens Health (Larchmt) 16(4):441–453

Peat G, McCarney R, Croft P (2001) Knee pain and osteoarthritis in older adults: a review of community burden and current use of primary health care. Ann Rheum Dis 60(2):91–97

Kotlarz H, Gunnarsson CL, Fang H, Rizzo JA (2009) Insurer and out-of-pocket costs of osteoarthritis in the US: evidence from national survey data. Arthritis Rheum 60(12):3546–3553

Berger A, Hartrick C, Edelsberg J, Sadosky A, Oster G (2011) Direct and indirect economic costs among private-sector employees with osteoarthritis. J Occup Environ Med 53(11):1228–1235. doi:10.1097/JOM.0b013e3182337620

Praemer A, Furner S, Rice DP (1999) Musculoskeletal conditions in the United States. American Academy of Orthopaedic Surgeons, Chicago

Arendt-Nielsen L, Nie H, Laursen MB, Laursen BS, Madeleine P, Simonsen OH, Graven-Nielsen T (2010) Sensitization in patients with painful knee osteoarthritis. Pain 149(3):573–581. doi:10.1016/j.pain.2010.04.003

Huang PL (2009) A comprehensive definition for metabolic syndrome. Dis Model Mech 2(5–6):231–237. doi:10.1242/dmm.001180

Velasquez MT, Katz JD (2010) Osteoarthritis: another component of metabolic syndrome? Metab Syndr Relat Disord 8(4):295–305. doi:10.1089/met.2009.0110

Yoshimura N, Muraki S, Oka H, Tanaka S, Kawaguchi H, Nakamura K, Akune T (2012) Accumulation of metabolic risk factors such as overweight, hypertension, dyslipidaemia, and impaired glucose tolerance raises the risk of occurrence and progression of knee osteoarthritis: a 3-year follow-up of the ROAD study. Osteoarthr Cartil 20(11):1217–1226. doi:10.1016/j.joca.2012.06.006

Felson DT (2005) The sources of pain in knee osteoarthritis. Curr Opin Rheumatol 17(5):624–628

Okamoto M, Atsuta Y (2010) Cartilage degeneration is associated with augmented chemically-induced joint pain in rats: a pilot study. Clin Orthop Relat Res 468(5):1423–1427. doi:10.1007/s11999-009-1193-z

Kelley JM, Hughes LB, Bridges SL Jr (2008) Does gamma-aminobutyric acid (GABA) influence the development of chronic inflammation in rheumatoid arthritis? J Neuroinflammation 5:1. doi:10.1186/1742-2094-5-1

Pritchett JW (1997) Substance P level in synovial fluid may predict pain relief after knee replacement. J Bone Joint Surg Br 79(1):114–116

Jean YH, Wen ZH, Chang YC, Hsieh SP, Lin JD, Tang CC, Chen WF, Chou AK, Wong CS (2008) Increase in excitatory amino acid concentration and transporters expression in osteoarthritic knees of anterior cruciate ligament transected rabbits. Osteoarthr Cartil 16(12):1442–1449

Raja SN, Meyer RA, Campbell JN (1988) Peripheral mechanisms of somatic pain. Anesthesiology 68(4):571–590

Petho G, Reeh PW (2012) Sensory and signaling mechanisms of bradykinin, eicosanoids, platelet-activating factor, and nitric oxide in peripheral nociceptors. Physiol Rev 92(4):1699–1775. doi:10.1152/physrev.00048.2010

Buckwalter JA (1997) Articular cartilage. Part I: tissue design and chondrocyte-matrix interactions. J Bone Joint Surg Am 79(4):600–611

Maroudas A (1979) Physicochemical properties of articular cartilage. In: Freeman MAR (ed) Adult articular cartilage, 2nd edn. Pitman Medical, Tunbridge Wells, pp 215–290

Mason RM (1990) Assessment of turnover of proteoglycans in vivo. In: Maroudas A, Kuettner KE (eds) Methods in cartilage research. Academic Press, New York, pp 116–119

Caligaris M, Canal CE, Ahmad CS, Gardner TR, Ateshian GA (2009) Investigation of the frictional response of osteoarthritic human tibiofemoral joints and the potential beneficial tribological effect of healthy synovial fluid. Osteoarthr Cartil 17(10):1327–1332. doi:10.1016/j.joca.2009.03.020

Bagga H, Burkhardt D, Sambrook P, March L (2006) Longterm effects of intraarticular hyaluronan on synovial fluid in osteoarthritis of the knee. J Rheumatol 33(5):946–950

Jones PJ, Leitch CA, Li ZC, Connor WE (1993) Human cholesterol synthesis measurement using deuterated water. Theoretical and procedural considerations. Arterioscler Thromb 13(2):247–253

Misell LM, Hwang ES, Au A, Esserman L, Hellerstein MK (2005) Development of a novel method for measuring in vivo breast epithelial cell proliferation in humans. Breast Cancer Res Treat 89(3):257–264. doi:10.1007/s10549-004-2228-5

Turner SM, Murphy EJ, Neese RA, Antelo F, Thomas T, Agarwal A, Go C, Hellerstein MK (2003) Measurement of TG synthesis and turnover in vivo by 2H2O incorporation into the glycerol moiety and application of MIDA. Am J Physiol Endocrinol Metab 285(4):E790–E803

Busch R, Kim YK, Neese RA, Schade-Serin V, Collins M, Awada M, Gardner JL, Beysen C, Marino ME, Misell LM, Hellerstein MK (2006) Measurement of protein turnover rates by heavy water labeling of nonessential amino acids. Biochim Biophys Acta 1760(5):730–744. doi:10.1016/j.bbagen.2005.12.023

Price JC, Holmes WE, Li KW, Floreani NA, Neese RA, Turner SM, Hellerstein MK (2012) Measurement of human plasma proteome dynamics with (2)H(2)O and liquid chromatography tandem mass spectrometry. Anal Biochem 420(1):73–83. doi:10.1016/j.ab.2011.09.007

Li KW, Turner SM (2006) Simultaneous measurement of cell and matrix turnover in cartilage: effects of IL-1 and BMP-7 in vitro and application in vivo [abstract]. Trans Annu Meet Orthop Res Soc 31:1472

Gandhi R, Takahashi M, Syed K, Davey JR, Mahomed NN (2010) Relationship between body habitus and joint leptin levels in a knee osteoarthritis population. J Orthop Res 28(3):329–333. doi:10.1002/jor.21000

Lis G, Wassenaar LI, Hendry MJ (2008) High-precision laser spectroscopy D/H and 18O/16O measurements of microliter natural water samples. Anal Chem 80(1):287–293. doi:10.1021/ac701716q

Li KW, Siraj SA, Cheng EW, Awada M, Hellerstein MK, Turner SM (2009) A stable isotope method for the simultaneous measurement of matrix synthesis and cell proliferation in articular cartilage in vivo. Osteoarthr Cartil 17(7):923–932. doi:10.1016/j.joca.2009.01.006

Balazs EA, Denlinger JL (1993) Viscosupplementation: a new concept in the treatment of osteoarthritis. J Rheumatol Suppl 39:3–9

Ghosh P, Guidolin D (2002) Potential mechanism of action of intra-articular hyaluronan therapy in osteoarthritis: are the effects molecular weight dependent? Semin Arthritis Rheum 32(1):10–37

Balogh L, Polyak A, Mathe D, Kiraly R, Thuroczy J, Terez M, Janoki G, Ting Y, Bucci LR, Schauss AG (2008) Absorption, uptake and tissue affinity of high-molecular-weight hyaluronan after oral administration in rats and dogs. J Agric Food Chem 56(22):10582–10593. doi:10.1021/jf8017029

Tashiro T, Seino S, Sato T, Matsuoka R, Masuda Y, Fukui N (2012) Oral administration of polymer hyaluronic acid alleviates symptoms of knee osteoarthritis: a double-blind, placebo-controlled study over a 12-month period. Sci World J 2012:167928. doi:10.1100/2012/167928

Asari A, Kanemitsu T, Kurihara H (2010) Oral administration of high molecular weight hyaluronan (900 kDa) controls immune system via Toll-like receptor 4 in the intestinal epithelium. J Biol Chem 285(32):24751–24758. doi:10.1074/jbc.M110.104950

Kapoor M, Martel-Pelletier J, Lajeunesse D, Pelletier JP, Fahmi H (2011) Role of proinflammatory cytokines in the pathophysiology of osteoarthritis. Nat Rev Rheumatol 7(1):33–42. doi:10.1038/nrrheum.2010.196

Schulze-Tanzil G, Zreiqat H, Sabat R, Kohl B, Halder A, Muller RD, John T (2009) Interleukin-10 and articular cartilage: experimental therapeutical approaches in cartilage disorders. Curr Gene Ther 9(4):306–315

Golias C, Charalabopoulos A, Stagikas D, Charalabopoulos K, Batistatou A (2007) The kinin system—bradykinin: biological effects and clinical implications. Multiple role of the kinin system—bradykinin. Hippokratia 11(3):124–128

Karvonen-Gutierrez CA, Harlow SD, Mancuso P, Jacobson J, de Leon CF, Nan B (2012) Leptin levels are associated with radiographic knee osteoarthritis among a cohort of mid-life women. Arthritis Care Res (Hoboken). doi:10.1002/acr.21922

Gualillo O (2007) Further evidence for leptin involvement in cartilage homeostases. Osteoarthritis Cartilage 15(8):857–860. doi:10.1016/j.joca.2007.04.015

Gegout PP, Francin PJ, Mainard D, Presle N (2008) Adipokines in osteoarthritis: friends or foes of cartilage homeostasis? Joint Bone Spine 75(6):669–671. doi:10.1016/j.jbspin.2008.07.008

Iliopoulos D, Malizos KN, Tsezou A (2007) Epigenetic regulation of leptin affects MMP-13 expression in osteoarthritic chondrocytes: possible molecular target for osteoarthritis therapeutic intervention. Ann Rheum Dis 66(12):1616–1621. doi:10.1136/ard.2007.069377

Bonet ML, Granados N, Palou A (2011) Molecular players at the intersection of obesity and osteoarthritis. Curr Drug Targets 12(14):2103–2128

Issa RI, Griffin TM (2012) Pathobiology of obesity and osteoarthritis: integrating biomechanics and inflammation. Pathobiol Aging Age Relat Dis 2 (2012). doi:10.3402/pba.v2i0.17470

Griffin TM, Guilak F (2008) Why is obesity associated with osteoarthritis? Insights from mouse models of obesity. Biorheology 45(3–4):387–398

Iannacone W, Korostoff E, Pollack SR (1979) Microelectrode study of stress-generated potentials obtained from uniform and nonuniform compression of human bone. J Biomed Mater Res 13(5):753–763

Samuels J, Krasnokutsky S, Abramson SB (2008) Osteoarthritis: a tale of three tissues. Bull NYU Hosp Jt Dis 66(3):244–250

Castillo V, Bendele AM, Li K, Martinez-Puig D, Turner SM, Chetrit C (2010) Effects of oral administration of Hyal-Joint® in 17 day rat developing type II collagen arthritis [abstract 545]. Osteoarthr Cartil 18(Suppl 2):S244–S245

Li KW, Turner SM (2005) Turnover of synovial fluid hyaluronan: a potential kinetic biomarker of early osteoarthritis [abstract P61]. Osteoarthr Cartil 13(Suppl 1):S40
About this article
Cite this article
Nelson, F.R., Zvirbulis, R.A., Zonca, B. et al. The effects of an oral preparation containing hyaluronic acid (Oralvisc®) on obese knee osteoarthritis patients determined by pain, function, bradykinin, leptin, inflammatory cytokines, and heavy water analyses. Rheumatol Int 35, 43–52 (2015). https://doi.org/10.1007/s00296-014-3047-6
Received:

Accepted:

Published:

Issue Date:

DOI: https://doi.org/10.1007/s00296-014-3047-6
Keywords
Osteoarthritis

Clinical Outcomes Research

Knee

Cytokines

Pain

Function