Abstract
The aim of this study is to determine the efficacy of low-level laser therapy (LLLT) in reducing acute and chronic neck pain as measured by the visual analog scale (VAS). A systematic search of nine electronic databases was conducted to identify original articles. For study selection, two reviewers independently assessed titles, abstracts, and full text for eligibility. Methodological quality was assessed using the Detsky scale. Data were analyzed using random-effects model in the presence of heterogeneity and fixed-effect model in its absence. Heterogeneity was assessed using Cochran's Q statistic and quantifying I 2. Risk ratios (RR) with 95 % confidence intervals (CI) were reported. Eight randomized controlled trials involving 443 patients met the strict inclusion criteria. Inter-rater reliability for study selection was 92.8 % (95 % CIs 80.9–100 %) and for methodological quality assessment was 83.9 % (95 % CIs 19.4–96.8 %). Five trials included patients with cervical myofascial pain syndrome (CMPS), and three trials included different patient populations. A meta-analysis of five CMPS trials revealed a mean improvement of VAS score of 10.54 with LLLT (95 % CI 0.37–20.71; Heterogeneity I 2 = 65 %, P = 0.02). This systematic review provides inconclusive evidence because of significant between-study heterogeneity and potential risk of bias. The benefit seen in the use of LLLT, although statistically significant, does not constitute the threshold of minimally important clinical difference.
Access options
Buy single article
Instant access to the full article PDF.
USD 39.95
Price excludes VAT (USA)
Tax calculation will be finalised during checkout.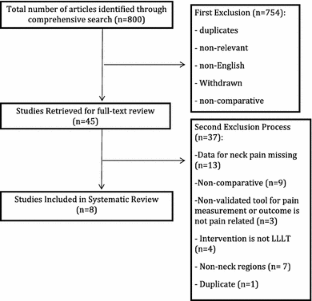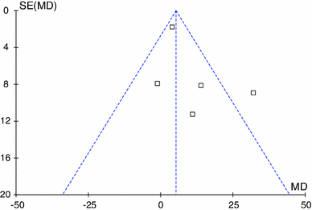 Abbreviations
CI:

Confidence interval

CID:

Clinical important difference

CMPS:

Cervical myofascial pain syndrome

ICC:

Intraclass correlation coefficient

LLLT:

Low-level laser therapy

RCT:

Randomized controlled trial

RR:

Risk ratio

VAS:

Visual analog scale
References
Hoy DG, Protani M, De R, Buchbinder R (2010) The epidemiology of neck pain. Best Pract Res Clin Rheumatol 24(6):783–792

Loeser JD, Bonica JJ, Technologies Ovid I (2000) Bonica's management of pain, 3rd edn. Lippincott Williams & Wilkins, Philadelphia

Goroll AH (2000) Evaluation of neck pain. Primary care medicine. Lippincott Williams & Wilkins, Philadelphia, pp 844–847

Guzman J, Haldeman S, Carroll LJ, Carragee EJ, Hurwitz EL, Peloso P et al (2008) Clinical practice implications of the bone and joint decade 2000–2010 task force on neck pain and its associated disorders: from concepts and findings to recommendations. Spine 33(4 Suppl):S199–S213

Brosseau L, Robinson V, Wells G, Debie R, Gam A, Harman K et al (2005) Low level laser therapy (classes I, II and III) for treating rheumatoid arthritis. Cochrane Database Syst Rev 4:CD002049

Wesselmann U, Lin SF, Rymer WZ (1991) Selective decrease of small sensory neurons in lumbar dorsal root ganglia labeled with horseradish peroxidase after ND: YAG laser irradiation of the tibial nerve in the rat. Exp Neurol 111(2):251–262

Palma J, Juri H, Campana V et al (1983) Blockade of inflammatory signals by laser radiation. Lasers Surg Med 3(1 Suppl):11

Sattayut S, Hughes F, Bradley P (1999) 820 nm gallium aluminium arsenide laser modulation of a prostaglandin E2 production in interleukin 1 stimulated myoblasts. Laser Ther 11(2):88–95

Gur A, Sarac AJ, Cevik R, Altindag O, Sarac S (2004) Efficacy of 904 nm gallium Arsenide low level laser therapy in the management of chronic myofascial pain in the neck: a double-blind and randomize-controlled trial. Lasers Surg Med 35(3):229–235

Yousefi-Nooraie R, Schonstein E, Heidari K, Rashidian A, Pennick V, Akbari-Kamrani M et al (2008) Low level laser therapy for nonspecific low-back pain. Cochrane Database Syst Rev 2:CD005107

Gam AN, Thorsen H, Lonnberg F (1993) The effect of low-level laser therapy on musculoskeletal pain: a meta-analysis. Pain 52(1):63–66

Chow RT, Johnson MI, Lopes-Martins RA, Bjordal JM (2009) Efficacy of low-level laser therapy in the management of neck pain: a systematic review and meta-analysis of randomised placebo or active-treatment controlled trials. Lancet 374(9705):1897–1908

Detsky AS, Naylor CD, O'Rourke K, McGeer AJ, L'Abbe K (1992) Incorporating variations in the quality of individual randomized trials into meta-analysis. J Clin Epidemiol 45(3):225–265

Hatala R, Keitz S, Wyer P et al (2005) Evidence-based medicine teaching tips working group. Tips for learners of evidence-based medicine: 4. Assessing heterogeneity of primary studies in systematic reviews and whether to combine their results. CMAJ 172:661–665

Landis JR, Koch GG (1977) The measurement of observer agreement for categorical data. Biometrics 33(1):159–174

Farrar JT, Young JP, LaMoreaux L, Werth JL, Poole RM (2001) Clinical importance of changes in chronic pain intensity measured on an 11-point numerical pain rating scale. Pain 94(2):149–158

Shiri R, Viikari-Juntura E (2010) Low-level laser therapy for neck pain. Lancet 375(9716):721–722

Verhagen AP, Schellingerhout JM (2010) Low-level laser therapy for neck pain. Lancet 375(9716):721

Bijur PE, Silver W, Gallagher EJ (2001) Reliability of the visual analog scale for measurement of acute pain. Acad Emerg Med 8(12):1153–1157

Williamson A, Hoggart B (2005) Pain: a review of three commonly used pain rating scales. J Clin Nurs 14(7):798–804

Altan L, Bingol U, Aykac M, Yurtkuran M (2005) Investigation of the effect of GaAs laser therapy on cervical myofascial pain syndrome. Rheumatol Int 25(1):23–27

Ceccherelli F, Altafini L, Castro GL, Avila A, Ambrosio F, Giron GP (1989) Diode laser in cervical myofascial pain: a double-blind study versus placebo. Clin J Pain 5(4):301–304

Chow RT, Heller GZ, Barnsley L (2006) The effect of 300 mW, 830 nm laser on chronic neck pain: a double-blind, randomized, placebo-controlled study. Pain 124(1–2):201–210

Chow RT, Barnsley L, Heller GZ, Siddall PJ (2004) A pilot study of low-power laser therapy in the management of chronic neck pain. J Musculoskeletal Pain 12(2):71–81

Dundar U, Evcik D, Samli F, Pusak H, Kavuncu V (2007) The effect of gallium arsenide aluminum laser therapy in the management of cervical myofascial pain syndrome: a double blind, placebo-controlled study. Clin Rheumatol 26(6):930–934

Ilbuldu E, Cakmak A, Disci R, Aydin R (2004) Comparison of laser, dry needling, and placebo laser treatments in myofascial pain syndrome. Photomed Laser Surg 22(4):306–311

Ozdemir F, Birtane M, Kokino S (2001) The clinical efficacy of low-power laser therapy on pain and function in cervical osteoarthritis. Clin Rheumatol 20(3):181–184

Konstantinovic LM, Cutovic MR, Milovanovic AN, Jovic SJ, Dragin AS, Letic MD et al (2010) Low-level laser therapy for acute neck pain with radiculopathy: a double-blind placebo-controlled randomized study. Pain Med 11(8):1169–1178

Cadeddu M, Farrokhyar F, Levis C, Cornacchi S, Haines T, Thoma A (2012) Evidence-based surgery working group. Users' guide to the surgical literature. Understanding confidence intervals. Can J Surg 55(3):207–211

Jang H, Lee H (2012) Meta-analysis of pain relief effects by laser irradiation on joint areas. Photomed Laser Surg 30(8):p405–p417
Acknowledgments
We thank Andrea McLellan and Jennifer McKinnell, Health Sciences Librarians, for their guidance in developing a comprehensive search strategy. We also thank Tahrin Mahmood, for masking study results and authors affiliations. We are grateful to Kaelan Moat, Dr. Bingshu Chen, and Dr. Rob Brison for their insightful comments and suggestions.
Conflict of interest
There are no competing interests.
About this article
Cite this article
Kadhim-Saleh, A., Maganti, H., Ghert, M. et al. Is low-level laser therapy in relieving neck pain effective? Systematic review and meta-analysis. Rheumatol Int 33, 2493–2501 (2013). https://doi.org/10.1007/s00296-013-2742-z
Received:

Accepted:

Published:

Issue Date:

DOI: https://doi.org/10.1007/s00296-013-2742-z
Keywords
Neck pain

Laser therapy, low-level

Myofascial pain syndrome

Meta-analysis