Abstract
With increasing age, there may be a decrease in femoral blood flow. In some patients, this may result in local ischaemia, which subsequently may lead to local degenerative changes. Consequently, bone blood flow may play an important role in the aetiology of osteoarthritis of the hip. Little is known about bone blood flow in the femoral head of patients with advanced hip osteoarthritis. The purpose of this study was to evaluate bone blood flow and metabolism in vivo in patients with osteoarthritis of the hip. Ten patients with symptomatic osteoarthritis of the hip were enrolled prospectively. Femoral bone blood flow and metabolism were measured using positron emission tomography together with H 152 O and [18F]fluoride, respectively. Blood flow was 0.054 ± 0.032 mL cm−3 min−1 and 0.041 ± 0.012 mL cm−3 min−1 in symptomatic and contralateral femoral heads, respectively (p = 0.435). The net flux of fluoride from plasma to bone mineral (K i ) was significantly (p = 0.027) higher in the femoral head of the osteoarthritic hip (0.022 ± 0.012 mL cm−3 min−1) than in that of the contralateral hip (0.007 ± 0.005 mL cm−3 min−1). This study showed significant increase in bone metabolism in the proximal femur of patients with symptomatic osteoarthritis of the hip joint. There was no evidence of decreased blood flow.
Access options
Buy single article
Instant access to the full article PDF.
USD 39.95
Price excludes VAT (USA)
Tax calculation will be finalised during checkout.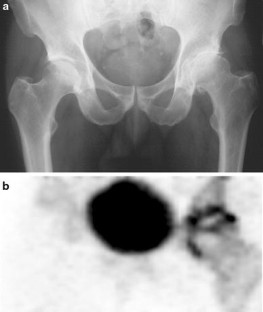 References
Berding G, Burchert W, van den Hoff J, Pytlik C, Neukam FW, Meyer GJ, Gratz KF, Hundeshagen H (1995) Evaluation of the incorporation of bone grafts used in maxillofacial surgery with [18F]fluoride ion and dynamic positron emission tomography. Eur J Nucl Med 22:1133–1140

Berding G, Kirchhoff TD, Burchert W, von der Hoff J, Zeidler H, Hundeshagen H, Knapp WH (1998) [18F]fluoride PET indicates reduced bone formation in severe glucocorticoid-induced osteoporosis. Nuklearmedizin 37:76–79

Bloomfield SA, Hogan HA, Delp MD (2002) Decreases in bone blood flow and bone material properties in aging Fischer-344 rats. Clin Orthop Relat Res (396):248–257

Conaghan PG, Vanharanta H, Dieppe PA (2005) Is progressive osteoarthritis an atheromatous vascular disease? Ann Rheum Dis 64:1539–1541

Ecker TM, Tannast M, Puls M, Siebenrock KA, Murphy SB (2007) Pathomorphologic alterations predict presence or absence of hip osteoarthrosis. Clin Orthop Relat Res 465:46–52

Eriksen EF, Eghbali-Fatourechi GZ, Khosla S (2007) Remodeling and vascular spaces in bone. J Bone Miner Res 22:1–6

Frost ML, Blake GM, Cook GJ, Marsden PK, Fogelman I (2009) Differences in regional bone perfusion and turnover between lumbar spine and distal humerus: (18)F-fluoride PET study of treatment-naive and treated postmenopausal women. Bone 45:942–948

Hawkins RA, Choi Y, Huang SC, Hoh CK, Dahlbom M, Schiepers C, Satyamurthy N, Barrio JR, Phelps ME (1992) Evaluation of the skeletal kinetics of fluorine-18-fluoride ion with PET. J Nucl Med 33:633–642

Hawkins RA, Hoh KC, Phelps ME (1996) PET imaging of the skeletal system. In: Sandler MP, Coleman RE, Wackers FJTh et al (eds) Diagnostic nuclear medicine. Williams & Wilkins, Baltimore, p 725

Hoh CK, Hawkins RA, Dahlbom M, Glaspy JA, Seeger LL, Choi Y, Schiepers CW, Huang SC, Satyamurthy N, Barrio JR (1993) Whole body skeletal imaging with [18F]fluoride ion and PET. J Comput Assist Tomogr 17:34–41

Hunter DJ, Wilson DR (2009) Role of alignment and biomechanics in osteoarthritis and implications for imaging. Radiol Clin North Am 47:553–566

Imhof H, Breitenseher M, Kainberger F, Trattnig S (1997) Degenerative joint disease: cartilage or vascular disease? Skeletal Radiol 26:398–403

Imhof H, Sulzbacher I, Grampp S, Czerny C, Youssefzadeh S, Kainberger F (2000) Subchondral bone and cartilage disease: a rediscovered functional unit. Invest Radiol 35:581–588

Jolles BM, Buchbinder R, Beaton DE (2005) A study compared nine patient-specific indices for musculoskeletal disorders. J Clin Epidemiol 58:791–801

Kubo T, Kimori K, Nakamura F, Inoue S, Fujioka M, Ueshima K, Hirasawa Y, Ushijima Y, Nishimura T (2001) Blood flow and blood volume in the femoral heads of healthy adults according to age: measurement with positron emission tomography (PET). Ann Nucl Med 15:231–235

Lahtinen T, Alhava EM, Karjalainen P, Romppanen T (1981) The effect of age on blood flow in the proximal femur in man. J Nucl Med 22:966–972

Lammertsma AA, Frackowiak RS (1985) Positron emission tomography. Crit Rev Biomed Eng 13:125–169

Laroche M, Ludot I, Thiechart M, Arlet J, Pieraggi M, Chiron P, Moulinier L, Cantagrel A, Puget J, Utheza G (1995) Study of the intraosseous vessels of the femoral head in patients with fractures of the femoral neck or osteoarthritis of the hip. Osteoporos Int 5:213–217

Malinin T, Ouellette EA (2000) Articular cartilage nutrition is mediated by subchondral bone: a long-term autograft study in baboons. Osteoarthr Cartil 8:483–491

Marks R, Allegrante JP (2002) Comorbid disease profiles of adults with end-stage hip osteoarthritis. Med Sci Monit 8:CR305–CR309

Messa C, Goodman WG, Hoh CK, Choi Y, Nissenson AR, Salusky IB, Phelps ME, Hawkins RA (1993) Bone metabolic activity measured with positron emission tomography and [18F]fluoride ion in renal osteodystrophy: correlation with bone histomorphometry. J Clin Endocrinol Metab 77:949–955

Morris MA, Kelly PJ (1980) Use of tracer microspheres to measure bone blood flow in conscious dogs. Calcif Tissue Int 32:69–76

Nakamura F, Fujioka M, Takahashi KA, Ueshima K, Arai Y, Imahori Y, Itani K, Nishimura T, Kubo T (2005) Evaluation of the hemodynamics of the femoral head compared with the ilium, femoral neck and femoral intertrochanteric region in healthy adults: measurement with positron emission tomography (PET). Ann Nucl Med 19:549–555

Pedersen NW, Kiaer T, Kristensen KD, Starklint H (1989) Intraosseous pressure, oxygenation, and histology in arthrosis and osteonecrosis of the hip. Acta Orthop Scand 60:415–417

Piert M, Machulla HJ, Jahn M, Stahlschmidt A, Becker GA, Zittel TT (2002) Coupling of porcine bone blood flow and metabolism in high-turnover bone disease measured by [(15)O]H(2)O and [(18)F]fluoride ion positron emission tomography. Eur J Nucl Med Mol Imaging 29:907–914

Piert M, Winter E, Becker GA, Bilger K, Machulla H, Muller-Schauenburg W, Bares R, Becker HD (1999) Allogenic bone graft viability after hip revision arthroplasty assessed by dynamic [18F]fluoride ion positron emission tomography. Eur J Nucl Med 26:615–624

Piert M, Zittel TT, Becker GA, Jahn M, Stahlschmidt A, Maier G, Machulla HJ, Bares R (2001) Assessment of porcine bone metabolism by dynamic [18F]Fluoride ion PET: correlation with bone histomorphometry. J Nucl Med 42:1091–1100

Piert M, Zittel TT, Machulla HJ, Becker GA, Jahn M, Maier G, Bares R, Becker HD (1998) Blood flow measurements with [(15)O]H2O and [18F]fluoride ion PET in porcine vertebrae. J Bone Miner Res 13:1328–1336

Prisby RD, Ramsey MW, Behnke BJ, Dominguez JM, Donato AJ, Allen MR, Delp MD (2007) Aging reduces skeletal blood flow, endothelium-dependent vasodilation, and NO bioavailability in rats. J Bone Miner Res 22:1280–1288

Sanada M, Taguchi A, Higashi Y, Tsuda M, Kodama I, Yoshizumi M, Ohama K (2004) Forearm endothelial function and bone mineral loss in postmenopausal women. Atherosclerosis 176:387–392

Saridin CP, Raijmakers PG, Kloet RW, Tuinzing DB, Becking AG, Lammertsma AA (2009) No signs of metabolic hyperactivity in patients with unilateral condylar hyperactivity: an in vivo positron emission tomography study. J Oral Maxillofac Surg 67:576–581

Schiepers C, Broos P, Miserez M, Bormans G, De Roo M (1998) Measurement of skeletal flow with positron emission tomography and 18F-fluoride in femoral head osteonecrosis. Arch Orthop Trauma Surg 118:131–135

Schiepers C, Nuyts J, Bormans G, Dequeker J, Bouillon R, Mortelmans L, Verbruggen A, De Roo M (1997) Fluoride kinetics of the axial skeleton measured in vivo with fluorine- 18-fluoride PET. J Nucl Med 38:1970–1976

Schwarz G (1978) Estimating dimension of a model. Ann Stat 6:461–464

Shakoor N, Block JA, Shott S, Case JP (2002) Nonrandom evolution of end-stage osteoarthritis of the lower limbs. Arthritis Rheum 46:3185–3189

Sharma L (2001) Local factors in osteoarthritis. Curr Opin Rheumatol 13:441–446

Sorensen J, Ullmark G, Langstrom B, Nilsson O (2003) Rapid bone and blood flow formation in impacted morselized allografts: positron emission tomography (PET) studies on allografts in 5 femoral component revisions of total hip arthroplasty. Acta Orthop Scand 74:633–643

Temmerman OP, Raijmakers PG, Heyligers IC, Comans EF, Lubberink M, Teule GJ, Lammertsma AA (2008) Bone metabolism after total hip revision surgery with impacted grafting: evaluation using H2 15O and [18F]fluoride PET; a pilot study. Mol Imaging Biol 10:288–293

Ullmark G, Sorensen J, Nilsson O (2009) Bone healing of severe acetabular defects after revision arthroplasty. Acta Orthop 80:179–183

Whiteside LA, Lesker PA, Simmons DJ (1977) Measurement of regional bone and bone marrow blood flow in the rabbit using the hydrogen washout technique. Clin Orthop Relat Res (122):340–346
Conflict of interest
None of the authors declare a conflict of interest.
Ethics approval
The study protocol was approved by the Medical Ethics Review Committee of the VU University Medical Centre. All patients gave written informed consent prior to scanning.
About this article
Cite this article
Temmerman, O.P.P., Raijmakers, P.G.H.M., Kloet, R. et al. In vivo measurements of blood flow and bone metabolism in osteoarthritis. Rheumatol Int 33, 959–963 (2013). https://doi.org/10.1007/s00296-012-2478-1
Received:

Accepted:

Published:

Issue Date:

DOI: https://doi.org/10.1007/s00296-012-2478-1
Keywords
Hip

Osteoarthritis

Bone metabolism

Blood flow

PET