Abstract
Rheumatoid arthritis is a chronic inflammatory disease characterized by the destruction of articular cartilage and bone in a chronic phase. Pathology of rheumatoid arthritis suggests autoimmunity linked to inflammation. In our study, rheumatoid arthritis was induced in Wistar rats by intradermal injections of 100 μl of emulsion containing bovine type II collagen in complete Freund's adjuvant at the base of the tail. Disease developed about 13 ± 1 days after immunization and treatment with hesperidin (HES) at a dose of 160 mg kg−1 body weight was given after onset of disease daily until 20th day. The effect of treatment in the rats was monitored by clinical scoring, biochemical parameters and histological evaluations in joints. A steady increase in the articular elastase, nitric oxide and lipid peroxidation was observed in joints of arthritic rats as compared to control, whereas a significant decrease in reduced glutathione, superoxide dismutase activity and catalase was observed in collagen-induced arthritis rats as compared to control group. The results from the present work indicate that the treatment with hesperidin was effective in bringing about significant changes on all the parameters studied in collagen-induced arthritis rats. These data confirm that erosive destruction of the joint cartilage in collagen-induced arthritis is due free radicals released by activated neutrophils and produced by other biochemical pathways. In the present study, an attempt has been made to amelioration of the disease process by a natural product. These results suggest that oral administration of HES could be effective for treating human RA patients.
Access options
Buy single article
Instant access to the full article PDF.
US$ 39.95
Tax calculation will be finalised during checkout.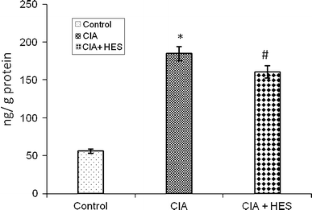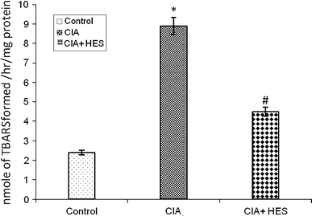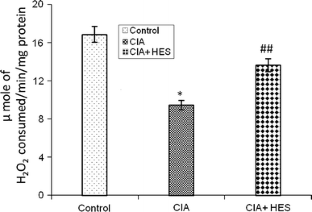 References
1.

Haqqi TM, David CS (1990) T-cell receptor V beta genes repertoire in mice. Possible role in resistance and susceptibility to type II collagen-induced arthritis. J Autoimmun 3(2):113–121

2.

Myers LK, Rosloniec EF, Cremer MA, Kang AH (1997) Collagen-induced arthritis, an animal model of autoimmunity. Life Sci 61(19):1861–1878

3.

Lee DM, Weinblatt ME (2001) Rheumatoid arthritis. Lancet 358(9285):903–911. doi:10.1016/S0140-6736(01)06075-5

4.

Distler JH, Jungel A, Huber LC, Seemayer CA, Reich CF III, Gay RE, Michel BA, Fontana A, Gay S, Pisetsky DS, Distler O (2005) The induction of matrix metalloproteinase and cytokine expression in synovial fibroblasts stimulated with immune cell microparticles. Proc Natl Acad Sci USA 102(8):2892–2897. doi:10.1073/pnas.0409781102

5.

Blake DR, Merry P, Unsworth J, Kidd BL, Outhwaite JM, Ballard R, Morris CJ, Gray L, Lunec J (1989) Hypoxic-reperfusion injury in the inflamed human joint. Lancet 1(8633):289–293

6.

Bauerova K, Bezek A (1999) Role of reactive oxygen and nitrogen species in etiopathogenesis of rheumatoid arthritis. Gen Physiol Biophys 18:15–20

7.

Hagfors L, Leanderson P, Skoldstam L, Andersson J, Johansson G (2003) Antioxidant intake, plasma antioxidants and oxidative stress in a randomized, controlled, parallel, Mediterranean dietary intervention study on patients with rheumatoid arthritis. Nutr J 2:5. doi:10.1186/1475-2891-2-5

8.

Walwadkar SD, Suryakar AN, Katkam RV, Kumbar KM, Ankush RD (2006) Oxidative stress and calcium-phosphorus levels in Rheumatoid arthritis. Indian J Clin Biochem 21(2):134–137

9.

Hitchon CA, El-Gabalawy HS (2004) Oxidation in rheumatoid arthritis. Arthritis Res Ther 6(6):265–278

10.

Lunec J (1990) Free radicals: their involvement in disease processes. Ann Clin Biochem 27(Pt 3):173–182

11.

Campo GM, Avenoso A, Campo S, Ferlazzo AM, Altavilla D, Calatroni A (2003) Efficacy of treatment with glycosaminoglycans on experimental collagen-induced arthritis in rats. Arthritis Res Ther 5(3):R122–R131

12.

Shivaprasad H (2011) Immunomodulation of autoimmune arthritis by herbal CAM. Evid Based Complement Alternat Med 2011:986797

13.

Ahmed S, Anuntiyo J, Malemud CJ, Haqqi TM (2005) Biological basis for the use of botanicals in osteoarthritis and rheumatoid arthritis: a review. Evid Based Complement Alternat Med 2(3):301–308. doi:10.1093/ecam/neh117

14.

Khanna D, Sethi G, Ahn KS, Pandey MK, Kunnumakkara AB, Sung B, Aggarwal A, Aggarwal BB (2007) Natural products as a gold mine for arthritis treatment. Curr Opin Pharmacol 7(3):344–351. doi:10.1016/j.coph.2007.03.002

15.

Erlund I, Meririnne E, Alfthan G, Aro A (2001) Plasma kinetics and urinary excretion of the flavanones naringenin and hesperetin in humans after ingestion of orange juice and grapefruit juice. J Nutr 131(2):235–241

16.

Garg A, Garg S, Zaneveld LJ, Singla AK (2001) Chemistry and pharmacology of the citrus bioflavonoid hesperidin. Phytother Res 15(8):655–669. doi:10.1002/ptr.1074

17.

Tirkey N, Pilkhwal S, Kuhad A, Chopra K (2005) Hesperidin, a citrus bioflavonoid, decreases the oxidative stress produced by carbon tetrachloride in rat liver and kidney. BMC Pharmacol 5:2. doi:10.1186/1471-2210-5-2

18.

Emim JA, Oliveira AB, Lapa AJ (1994) Pharmacological evaluation of the anti-inflammatory activity of a citrus bioflavonoid, hesperidin, and the isoflavonoids, duartin and claussequinone, in rats and mice. J Pharm Pharmacol 46(2):118–122

19.

Guardia T, Rotelli AE, Juarez AO, Pelzer LE (2001) Anti-inflammatory properties of plant flavonoids. Effects of rutin, quercetin and hesperidin on adjuvant arthritis in rat. Farmaco 56(9):683–687

20.

Monforte MT, Trovato A, Kirjavainen S, Forestieri AM, Galati EM, Lo Curto RB (1995) Biological effects of hesperidin, a citrus flavonoid (note II): hypolipidemic activity on experimental hypercholesterolemia in rat. Farmaco 50(9):595–599

21.

Tanaka T, Makita H, Kawabata K, Mori H, Kakumoto M, Satoh K, Hara A, Sumida T, Ogawa H (1997) Chemoprevention of azoxymethane-induced rat colon carcinogenesis by the naturally occurring flavonoids, diosmin and hesperidin. Carcinogenesis 18(5):957–965

22.

Rotelli AE, Guardia T, Juarez AO, de la Rocha NE, Pelzer LE (2003) Comparative study of flavonoids in experimental models of inflammation. Pharmacol Res 48(6):601–606

23.

Kawaguchi K, Maruyama H, Kometani T, Kumazawa Y (2006) Suppression of collagen-induced arthritis by oral administration of the citrus flavonoid hesperidin. Planta Med 72(5):477–479. doi:10.1055/s-2005-916254

24.

Haqqi TM, Anthony DD, Gupta S, Ahmad N, Lee MS, Kumar GK, Mukhtar H (1999) Prevention of collagen-induced arthritis in mice by a polyphenolic fraction from green tea. Proc Natl Acad Sci USA 96(8):4524–4529

25.

Li R, Li J, Cai L, Hu CM, Zhang L (2008) Suppression of adjuvant arthritis by hesperidin in rats and its mechanisms. J Pharm Pharmacol 60(2):221–228. doi:10.1211/jpp.60.2.0011

26.

Larsson P, Kleinau S, Holmdahl R, Klareskog L (1990) Homologous type II collagen-induced arthritis in rats. Characterization of the disease and demonstration of clinically distinct forms of arthritis in two strains of rats after immunization with the same collagen preparation. Arthritis Rheum 33(5):693–701

27.

Utley HG, Bernheim F, Hochstein P (1967) Effect of sulfhydryl reagents on peroxidation in microsomes* 1. Arch Biochem Biophys 118(1):29–32

28.

Sedlak J, Lindsay RH (1968) Estimation of total, protein-bound, and nonprotein sulfhydryl groups in tissue with Ellman's reagent. Anal Biochem 25(1):192–205

29.

Yoshimura K, Nakagawa S, Koyama S, Kobayashi T, Homma T (1994) Roles of neutrophil elastase and superoxide anion in leukotriene B4-induced lung injury in rabbit. J Appl Physiol 76(1):91–96

30.

Sinha AK (1972) Colorimetric assay of catalase. Anal Biochem 47(2):389–394

31.

Beauchamp C, Fridovich I (1971) Superoxide dismutase: improved assays and an assay applicable to acrylamide gels. Anal Biochem 44(1):276–287

32.

Sajad M, Zargan J, Chawla R, Umar S, Sadaqat M, Khan HA (2009) Hippocampal neurodegeneration in experimental autoimmune encephalomyelitis (EAE): potential role of inflammation activated myeloperoxidase. Mol Cell Biochem 328(1–2):183–188. doi:10.1007/s11010-009-0088-3

33.

Bradford MM (1976) A rapid and sensitive method for the quantitation of microgram quantities of protein utilizing the principle of protein-dye binding. Anal Biochem 72:248–254

34.

Durie FH, Fava RA, Foy TM, Aruffo A, Ledbetter JA, Noelle RJ (1993) Prevention of collagen-induced arthritis with an antibody to gp39, the ligand for CD40. Science 261(5126):1328–1330

35.

Brand DD, Latham KA, Rosloniec EF (2007) Collagen-induced arthritis. Nat Protoc 2(5):1269–1275. doi:10.1038/nprot.2007.173

36.

van der Vliet A, Eiserich JP, Halliwell B, Cross CE (1997) Formation of reactive nitrogen species during peroxidase-catalyzed oxidation of nitrite. A potential additional mechanism of nitric oxide-dependent toxicity. J Biol Chem 272(12):7617–7625

37.

Knight JA (2000) Review: free radicals, antioxidants, and the immune system. Ann Clin Lab Sci 30(2):145–158

38.

Babior BM (2000) Phagocytes and oxidative stress. Am J Med 109(1):33–44

39.

Wills ED (1969) Lipid peroxide formation in microsomes. Relationship of hydroxylation to lipid peroxide formation. Biochem J 113(2):333–341

40.

Bauerova K, Ponist S, Mihalova D, Drafi F, Kuncirova V (2011) Utilization of adjuvant arthritis model for evaluation of new approaches in rheumatoid arthritis therapy focused on regulation of immune processes and oxidative stress. Interdiscip Toxicol 4(1):33–39. doi:10.2478/v10102-011-0007-9ITX-4-033

41.

Narendhirakannan RT, Limmy TP (2011) Anti-inflammatory and anti-oxidant properties of Sida rhombifolia stems and roots in adjuvant induced arthritic rats. Immunopharmacol Immunotoxicol. doi:10.3109/08923973.2011.605142

42.

Khan MM, Ishrat T, Ahmad A, Hoda MN, Khan MB, Khuwaja G, Srivastava P, Raza SS, Islam F, Ahmad S (2010) Sesamin attenuates behavioral, biochemical and histological alterations induced by reversible middle cerebral artery occlusion in the rats. Chem Biol Interact 183(1):255–263. doi:10.1016/j.cbi.2009.10.003

43.

Kiziltunc A, Cogalgil S, Cerrahoglu L (1998) Carnitine and antioxidants levels in patients with rheumatoid arthritis. Scand J Rheumatol 27(6):441–445

44.

Hassan MQ, Hadi RA, Al-Rawi ZS, Padron VA, Stohs SJ (2001) The glutathione defense system in the pathogenesis of rheumatoid arthritis. J Appl Toxicol 21(1):69–73. doi:10.1002/jat.736

45.

Tsubata M, Takagaki K, Hirano S, Iwatani K, Abe C (2011) Effects of flavangenol, an extract of French maritime pine bark on collagen-induced arthritis in rats. J Nutr Sci Vitaminol (Tokyo) 57(3):251–257

46.

Szabo C, Thiemermann C (1994) Invited opinion: role of nitric oxide in hemorrhagic, traumatic, and anaphylactic shock and thermal injury. Shock 2(2):145–155

47.

Shukla M, Gupta K, Rasheed Z, Khan KA, Haqqi TM (2008) Bioavailable constituents/metabolites of pomegranate (Punica granatum L) preferentially inhibit COX2 activity ex vivo and IL-1beta-induced PGE2 production in human chondrocytes in vitro. J Inflamm (Lond) 5:9. doi:10.1186/1476-9255-5-9
Acknowledgments
Author is grateful to Indian Council of Medical Research, for senior research fellowship (SRF) and to Central Council of Research in Unani Medicine (CCRUM), Department of AYUSH, Government of India for providing the financial support for this work.
Conflict of interest
The authors declare that they have no conflict of interest.
About this article
Cite this article
Umar, S., Kumar, A., Sajad, M. et al. Hesperidin inhibits collagen-induced arthritis possibly through suppression of free radical load and reduction in neutrophil activation and infiltration. Rheumatol Int 33, 657–663 (2013). https://doi.org/10.1007/s00296-012-2430-4
Received:

Accepted:

Published:

Issue Date:
Keywords
Rheumatoid arthritis

Hesperidin

Articular elastase

Nitric oxide

Free radical