Abstract
This study examined whether a non-thermal, non-invasive, pulsed electromagnetic field (PEMF), known to modulate the calmodulin (CaM)-dependent nitric oxide (NO)/cyclic guanosine monophosphate (cGMP) signaling pathway, could reduce pain in early knee OA. This randomized, placebo-controlled, double-blind pilot clinical study enrolled 34 patients. Patient selection required initial VAS ≥4, 2 h of standing activity per day, and no recent interventions such as cortisone injections or surgery. Results showed VAS pain score decreased in the active cohort by 50 ± 11 % versus baseline starting at day 1 and persisting to day 42 (P < 0.001). There was no significant decrease in VAS versus baseline at any time point in the sham cohort (P = 0.227). The overall decrease in mean VAS score for the active cohort was nearly threefold that of the sham cohort (P < 0.001). The results suggest that non-thermal, non-invasive PEMF therapy can have a significant and rapid impact on pain from early knee OA and that larger clinical trials are warranted.
Access options
Buy single article
Instant access to the full article PDF.
US$ 39.95
Tax calculation will be finalised during checkout.
Subscribe to journal
Immediate online access to all issues from 2019. Subscription will auto renew annually.
US$ 119
Tax calculation will be finalised during checkout.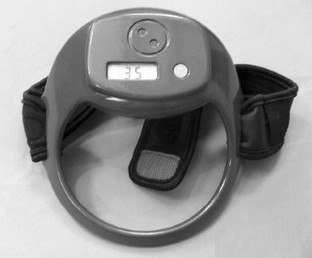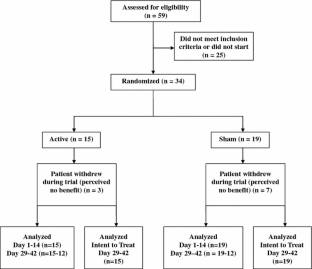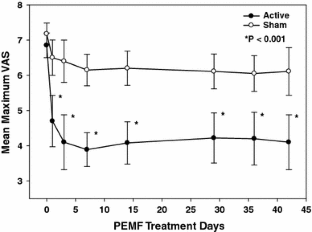 References
1.

Farr J, Mont MA, Garland D, Caldwell JR et al (2006) Pulsed electrical stimulation in patients with osteoarthritis of the knee: follow up in 288 patients who had failed non-operative therapy. Surg Technol Int 15:227–233

2.

Vavken P, Arrich F, Schuhfried O, Dorotka R (2009) Effectiveness of pulsed electromagnetic field therapy in the management of osteoarthritis of the knee: a meta-analysis of randomized controlled trials. J Rehabil Med 41:406–411

3.

Pilla AA, Fitzsimmons RJ, Wu J, Rohde C, Casper D (2011) Electromagnetic fields as first messenger in biological signaling: application to calmodulin-dependent signaling in tissue repair. Biochem Biophys Acta 1810:1236–1245

4.

Pilla AA (2006) Mechanisms and therapeutic applications of time-varying and static magnetic fields. In: Barnes F, Greenebaum B (eds) Biological and medical aspects of electromagnetic fields. CRC Press, Boca Raton, pp 351–411

5.

Nelson FR, Brighton CT, Ryaby J, Simon BJ et al (2003) Use of physical forces in bone healing. J Am Acad Orthop Surg 11(5):344–354

6.

Strauch B, Herman C, Dabb R, Ignarro LJ, Pilla A (2009) Evidence-based use of pulsed electromagnetic field therapy in clinical plastic surgery. Aesthet Surg J 29:135–143

7.

Brighton CT, Wang W, Seldes R, Zhang G et al (2001) Signal transduction in electrically stimulated bone cells. J Bone Joint Surg 83A:1514–1523

8.

Aaron RK, Boyan BD, Ciombor DMCK, Schwartz Z et al (2004) Stimulation of growth factor synthesis by electric and electromagnetic fields. Clin Orthop 419:30–37

9.

Callaghan MJ, Chang EI, Seiser N, Aarabi S et al (2008) Pulsed electromagnetic fields accelerate normal and diabetic wound healing by increasing endogenous FGF-2 release. Plast Reconstr Surg 121:130–141

10.

Fitzsimmons RJ, Gordon SL, Kronberg J, Ganey T, Pilla A (2008) A pulsing electric field (PEF) increases human chondrocyte proliferation through a transduction pathway involving nitric oxide signaling. J Orthop Res 26:854–859

11.

Rohde C, Chiang A, Adipoju O, Casper D, Pilla AA (2010) Effects of pulsed electromagnetic fields on IL-1β and post operative pain: a double-blind, placebo-controlled pilot study in breast reduction patients. Plast Reconstr Surg 125:1620–1629

12.

Pilla AA, Muehsam DJ, Markov MS, Sisken BF (1999) EMF signals and ion/ligand binding kinetics: prediction of bioeffective waveform parameters. Bioelectrochem Bioenerg 48:27–34

13.

Pilla AA (2007) A weak PEMF signal is the first messenger for tissue growth and repair. In: Proceedings, bioelectromagnetics society 29th annual meeting, Kanazawa, Japan, June 10–15, p 468

14.

Hancock CM, Riegger-Krugh C (2008) Modulation of pain in osteoarthritis: the role of nitric oxide. Clin J Pain 24:353–365

15.

Bredt DS (2003) Nitric oxide signaling specificity—the heart of the problem. J Cell Sci 116:9–15

16.

Ren K, Torres R (2009) Role of interleukin-1beta during pain and inflammation. Brain Res Rev 60:57–64

17.

Madhusoodanan KS, Murad F (2007) NO-cGMP signaling and regenerative medicine involving stem cells. Neurochem Res 32:681–694

18.

Bellamy N, Kirwan J, Boers M, Brooks P et al (1997) Recommendations for a core set of outcome measures for future phase III clinical trials in knee, hip and hand osteoarthritis. Consensus development of OMERACT III. J Rheumatol 24:799–802

19.

Sheiner LB, Rubin DB (1995) Intention-to-treat analysis and the goals of clinical trials. Clin Pharmacol Ther 57:6–15

20.

Torres L, Dunlop DD, Peterfy C, Guermazi A, Prasad P, Hayes KW, Song J, Cahue S, Chang A, Marshall M, Sharma L (2006) The relationship between specific tissue lesions and pain severity in persons with knee osteoarthritis. Osteoarthritis Cartilage 14:1033–1040

21.

Pilla AA (1999) State of the art in electromagnetic therapeutics: soft tissue applications. In: Bersani F (ed) Electricity and magnetism in biology and medicine. Plenum, New York, pp 871–874

22.

Pennington GM, Danley DL, Sumko MH, Bucknell A, Nelson JH (1993) Pulsed, non-thermal, high-frequency electromagnetic energy (DIAPULSE) in the treatment of grade I and grade II ankle sprains. Mil Med 158:101–104

23.

Brighton CT, Wang W, Clark CC (2008) The effect of electrical fields on gene and protein expression in human osteoarthritic cartilage explants. J Bone Joint Surg Am 90:833–848

24.

De Mattei M, Pasello M, Pellati A, Stabellini G et al (2003) Effects of electromagnetic fields on proteoglycan metabolism of bovine articular cartilage explants. Connect Tissue Res 44:154–159

25.

De Mattei M, Caruso A, Pezzetti F, Pellati A et al (2001) Effects of pulsed electromagnetic fields on human articular chondrocyte proliferation. Connect Tissue Res 42:269–279

26.

Ciombor DM, Aaron RK, Wang S, Simon B (2003) Modification of osteoarthritis by pulsed electromagnetic field—a morphological study. Osteoarthritis Cartilage 11:455–462

27.

Benazzo F, Cadossi M, Cavani F, Fini M et al (2008) Cartilage repair with osteochondral autografts in sheep: effect of biophysical stimulation with pulsed electromagnetic fields. J Orthop Res 26:631–642

28.

Boopalan PR, Arumugam S, Livingston A, Mohanty M, Chittaranjan S (2011) Pulsed electromagnetic field therapy results in healing of full thickness articular cartilage defect. Int Orthop 35:143–148
Acknowledgments
The authors gratefully acknowledge partial support of this work by the Department of Orthopaedic Surgery, Henry Ford Hospital, Detroit Michigan, and Ivivi Health Sciences, LLC, San Francisco, CA, who manufactured the PEMF devices utilized in this study.
Conflict of interest
FN and RZ have no association with Ivivi Health Sciences. AAP is a basic science consultant to Ivivi Health Sciences and had no contact with patients in this study.
About this article
Cite this article
Nelson, F.R., Zvirbulis, R. & Pilla, A.A. Non-invasive electromagnetic field therapy produces rapid and substantial pain reduction in early knee osteoarthritis: a randomized double-blind pilot study. Rheumatol Int 33, 2169–2173 (2013). https://doi.org/10.1007/s00296-012-2366-8
Received:

Accepted:

Published:

Issue Date:
Keywords
Knee OA

PEMF

Calmodulin

NO signaling