Abstract
Pachydermoperiostosis PDP (idiopathic or primary hypertrophic osteoarthropathy) is a rare congenital disease that inherited in an autosomal fashion. The disease is more common in males and develops gradually from adulthood. The disease is characterized by coarse facial features, clubbing of the fingers and radiographic periostitis of the distal long bones. The patient was a 37-year-old man with acroosteolysis and digital clubbing of hands and feet fingers and lion facies.
Access options
Buy single article
Instant access to the full article PDF.
USD 39.95
Price includes VAT (USA)
Tax calculation will be finalised during checkout.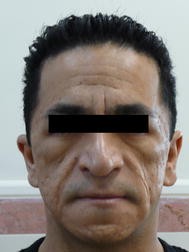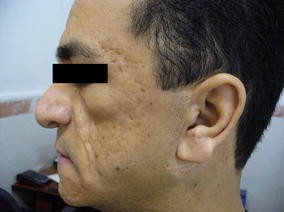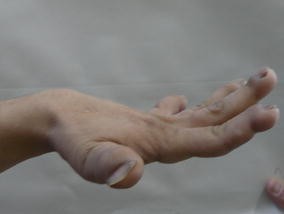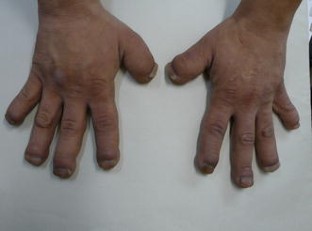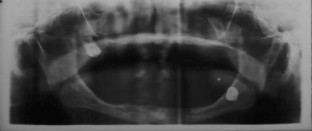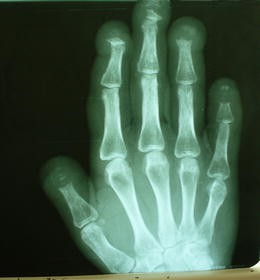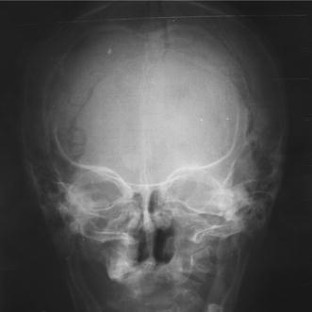 References
1.

Friedreich N (1868) Hyperostose des gesammten skelettes. Virchows Arch [A] (43:83–87

2.

Jaic I (1992) Epidemiology of hypertrophic osteoarthropathy. Clin Exp Rheum 10(suppl 7):13

3.

Hedayati H, Barmada R, Skosey JL (1980) Acrolysis in pachydermoperiostosis, primary or idiopathic hypertrophic osteoarthropathy. Arch Intern Med 140:1087

4.

Touraine A, Solente G, Gole L (1935) Un syndrome osteodermopathique. La pachydermie plicaturee avec pachyperiostose des extremities. Press Med 43:1820–1824

5.

Kerimovic-Morina DJ, Mladenovic V (1992) Primary hypertrophic Osteoarthropathy in 32 patients. Clin Exp Rheum 10(suppl 7) 51–56

6.

Thappa DM, Sethuraman G, Kumar GR, Elangovan S (2000) Primary pachydermoperiostosis: a case report. J Dermatol 27:106–109

7.

Cantatore FP, Mancini L, Ingrosso AM, Carrozzo M (1995) Pachydermoperiostosis: dermatological, neurological and radiological observation. Clin Rheumatol 14:705–707

8.

Gómez Rodríguez N, Ibáñez Ruán J, González Pérez M (2009) Primary hypertrophic osteoarthropathy (pachydermoperiostosis). Report of 2 familial cases and literature review. Reumatol Clin 5(6):259–263

9.

Sega AM, Mackenzie AH (1982) Hypertrophic osteoarthropathy: a ten year retrospective analysis. Semin Arthritis Rheum 12:220

10.

Auger M, Stavrianeas N (2004) Pachydermoperiostosis. Orphanet. Encylcopedia. Available from: http://www.orphanet

11.

Akdeniz BG, Seckin T (2001) Periodontal and alveolar bone abnormalities associated with pachydermoperiostosis. Periodontal Clin Investig 23:5–10

12.

Jajic I, Jajic Z (1992) The spectrum of skeletal and visceral abnormalities in 52 patients with Primary hypertrophic osteoarthropathy. Clin Exp Rheum 10(suppl 7):73

13.

Schumacher HR (1992) Hypertrophic osteoarthropathy: rheumatologic manifestation. Clin Exp Rheumatol 10(suppl 7):35–40

14.

Matucci-Cerinic M, Lotti T, Jajic I, Pignone A, Bussani C, Cagnoni. M (1991) The clinical spectrum of pachydermoperiostosis (primary hypertrophic osteoarthropathy). Medicine 70:208–214

15.

Yukset-Konuk B, Sarmeat A, Ayten GE, Ozdemi M et al (2009) Homozygous mutation in the 15-hydroxyprostaglandin dehydrogenase gene in patients with primary hypertrophic osteoarthropathy. Rheumatol Int 30:39–43

16.

Boisseau-Garsaud AM, Beylot-Barry M, Doutre MS, Beylot C, Baran R (1996) Psoriatic onycho-pachydermo-periostitis. A variant of psoriatic distal interphalangeal arthritis? Arch Dermatol 132:176–180

17.

Cooper RG, Freemori AJ, Relev M, Holt L, Anderson DC, Joyson MI (1992) Bone abnormalities and severe arthritis in Pachydermoperiostosis. Ann Rheum Dis 51:416–419

18.

Bertoni F, Ruggieri P (1984) hypertrophic osteoarthropathy in crohn's disease. Ital Trumatol 10:377–383

19.

Massoud S, Azita A, Najmeh N (2008) Primary hypertrophic osteoarthropathy with myelofibrosis. Rheumatol Int 28:597–600

20.

Tanaka H, Maehama S, Imanaka F, Sakai A, Abe K, Hamada M, Yamashita J, Kimura A, Imamura N, Fujimura K et al (1991) Pachydermoperiostosis with myelofibrosis and anemia: report of a case of anemia of multifactorial causes and its improvement with steroid pulse and iron therapy. Jpn J Med 30(1):73–80

21.

Venencie PY, Boffa GA, Delmas PD, Verola O, Benkaïdali I, Frija J, Pillet B, Puissant A (1988) (1988) Pachydermoperiostosis with gastric hypertrophy, anemia, and increased serum bone Gla-protein levels. Arch Dermatol 124(12):1831–1834

22.

Lam SK, Hui WK, Ho J, Wong KP, Rotter JI, Samloff IM (1983) Pachydermoperiostosis, hypertrophic gastropathy, and peptic ulcer. Gastroentrology 84:834–839

23.

Ikeda F, Okada H, Mizuno M, Kawamoto H, et al (2004) Pachydermoperiostosis associated with juvenile polyps of the stomach and gastric adenocarcinoma. J Gastroenterol 39(4):370–4

24.

Matucci-Cerinic M, Ceruso M, Lotti T, Pignone A, Jajic I (1992) The medical and surgical treatment of finger clubbing and hypertrophic osteoarthropathy. A blind study with colchecine and a surgical approach to finger clubbing reduction. Clin Exp Rheumatol 10(suppl 7):35–40

25.

Guyot-Drouot MH, Solau-Gervais E, Cortet B, Deprez X, Chastanet P, Cotten A, Delcambre B, Flipo RM (2000) Rheumatologic manifestations of Pachydermoperiostosis and preliminary experience with biphosphonates. J Rheumatol 27(10):2418–2423

26.

Monteiro E, Carvalho P, Silva A, Ferraro A (2003) Frontal rhytidectomy: a new approach to improve deep wrinkles in a case of Pachydermoperiostosis. Plast Reconst Surg 112:1189–1191

27.

Friedhofer H, Salles AG, Gemperli R, Ferreira MC (1999) Correction of eyelid anomalies in Pachydermoperiostosis. Ophtal Plast Reconstr Surg 15:361–362
About this article
Cite this article
Poormoghim, H., Hosseynian, A. & Javadi, A. Primary hypertrophic osteoarthropathy. Rheumatol Int 32, 607–610 (2012). https://doi.org/10.1007/s00296-010-1667-z
Received:

Accepted:

Published:

Issue Date:
Keywords
Pachydermoperiostosis

Primary hypertrophic osteoarthropathy

Digital clubbing

Acroosteolysis