Abstract
Vasculopathy, immunological abnormalities, and excessive tissue fibrosis are key elements in the pathogenesis of progressive systemic sclerosis (SSc). Extracorporeal shock waves (ESW) have anti-inflammatory and regenerative effects on different tissues. We hypothesized that ESW can reduce endothelial cell damage and skin fibrosis in patients with SSc. We enrolled 30 patients affected by SSc, 29 females and 1 male. Rodnan Skin Score (RSS) and Visuo-Analogical Scale (VAS) for skin wellness were performed before and immediately after ESW therapy (ESWT) and at 7, 30, 60, and 90 days after the treatment. Sonographic examination of the patients' arms was performed before and 7, 30, 60, 90 days after treatment. Blood samples were obtained before and 30 and 60 days after treatment to measure serological levels of von Willebrand factor, vascular endothelial growth factor, intracellular adhesion molecule-1, monocyte chemotactic protein-1. The number of endothelial progenitor cells (EPCs) and circulating endothelial cells (CECs) were determined at the same time points. After ESWT we observed a rapid and persistent reduction of RSS and decrease of VAS. There was no difference in skin thickness before and after ESWT; however, we observed a more regular skin structure and an improvement in skin vascularization 90 days after treatment. EPCs and CECs increased 60 and 90 days after treatment, while serological biomarkers showed no variation before and after therapy. In conclusion, ESWT resulted in an improvement of VAS, RSS, and of skin vascular score, and in an increase of CECs and EPCs.
Access options
Buy single article
Instant access to the full article PDF.
US$ 39.95
Tax calculation will be finalised during checkout.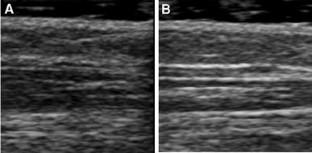 References
1.

Abraham DJ, Varga J (2005) Scleroderma: from cell and molecular mechanisms to disease models. TRENDS Immunol 26:587–595

2.

Matucci Cerinic M, Valentini G, Sorano GG et al (2003) Blood coagulation, fibrinolysis and markers of endothelial dysfunction in systemic sclerosis. Arthritis Rheum 32:285–295

3.

Carvalho JF, Blank M, Shoenfeld Y (2007) Vascular endothelial growth factor (VEGF) in autoimmune disease. J Clin Immunol 27:246–256

4.

Denton CP, Black CM (2005) Targeted therapy comes of age in scleroderma. TRENDS Immunol 26:596–602

5.

Meier R, Kamelger FS, Piza-Katzer H (2005) Shock wave therapy: an innovative treatment method for partial thickness burns. Burns 31:921–922

6.

Mariotto S, Cavalieri E, Amelio E et al (2005) Extracorporeal shock waves: from lithotripsy to anti-inflammatory action by NO production. Nitric Oxide 12:89–96

7.

Ciampa AR, Carcereri de Prati A, Amelio E et al (2005) Nitric oxide mediates anti-inflammatory action of extracorporeal shock waves. FEBS Lett 579:6839–6845

8.

Aicher A, Heeschen C, Sasaki K et al (2006) Low-energy shock wave for enhancing recruitment of endothelial progenitor cells. A new modality to increase efficacy of cell therapy in chronic hind limb ischemia. Circulation 114:2823–2830

9.

Schaden W, Thiele R, Kölpl C et al (2007) Shock wave therapy for acute and chronic soft tissue wounds: a feasibility study. J Surg Res 143:1–12

10.

Rompe JD, Rumler F, Hopf C, Nafe B, Heine J (1995) Extracorporeal shock wave therapy for calcifying tendonitis of the shoulder. Clin Orthop 321:196–201

11.

Haupt G, Haupt A, Ekkernkamp A, Gerety B, Chvapil M (1992) Influence of shock waves on fracture healing. Urology 39:529–532

12.

Rompe JD, Hopft C, Kullmer K, Heine J, Burger R, Nafe B (1996) Low energy extracorporeal shock wave therapy for persistent tennis elbow. Int Orthop 20:23–27

13.

Rompe JD, Hopft C, Nafe B, Burger R (1996) Low-energy extracorporeal shock wave therapy for painful heel: a prospective controlled single-blind study. Arch Orthop 115:75–79

14.

Nishida T, Shimokava H, Keiji O et al (2004) Extracorporeal cardiac shock wave therapy markedly ameliorates ischemia-induced myocardial dysfunction in pigs in vivo. Circulation 110:3055–3061

15.

Romitelli F, Santini SA, Chierici E et al (2007) Comparison of nitrite/nitrate concentration in human plasma and serum samples measured by enzymatic batch Griess assay, ion-pairing HPLC and ion-trap GC-MS: the importance of correct removal of proteins in Griess assay. J Cromatogr B 851:257–267

16.

Wang FS, Wang CJ, Chen YJ et al (2004) Ras induction of superoxide activates ERK-dependent angiogenic transcriptional factor HIF-1 and VEGF-A expression in shock wave-stimulated osteoblasts. J Biol Chem 279:10331–10337

17.

Mariotto S, Carcereri de Prati A, Cavalieri E et al (2009) Extracorporeal shock wave therapy in inflammatory diseases: molecular mechanism that triggers anti-inflammatory action. Curr Med Chem 16:2366–2372

18.

Urbich C, Aicher A, Heeschen C et al (2005) Soluble factors released by endothelial progenitors cells promote migration of endothelial cells and cardiac resident progenitor cells. J Mol Cell Cardiol 39:733–742

19.

Yan X, Zeng B, Chai Y, Luo C, Li X (2008) Improvement of blood flow, expression of nitric oxide, and vascular endothelial growth factor by low-energy shock wave therapy in random-pattern skin flap model. Ann Plast Surg 61:646–653

20.

Chen YJ, Wurtz T, Wang CJ et al (2004) Recruitment of mesenchymal cells and expression of TGF-β1 and VEGF in the early stage of shock wave-promoted bone regeneration of segmental defects in rats. J Orthop Res 22:526–534

21.

Wang SF, Yang KD, Chen RF et al (2002) Extracorporael shock-wave promotes growth and differentiation of bone marrow stromal cells towards osteoprogenitors associated with induction of TGF-β1. J Bone Joint Surg Br 84:457–461

22.

Nurzynska D, Di Meglio F, Castaldo C et al (2008) Shock waves activate in vitro cultured progenitors and precursors of cardiac cell lineages from the human heart. Ultrasound Med Biol 34:334–342
Acknowledgment
We thanks Dr. Ernst Marlinghaus for his invaluable technical support.
Additional information
Elisa Tinazzi and Ernesto Amelio were equally contributed to the work.
About this article
Cite this article
Tinazzi, E., Amelio, E., Marangoni, E. et al. Effects of shock wave therapy in the skin of patients with progressive systemic sclerosis: a pilot study. Rheumatol Int 31, 651–656 (2011). https://doi.org/10.1007/s00296-009-1339-z
Received:

Accepted:

Published:

Issue Date:
Keywords
ESWT: extracorporeal shock wave therapy

SSc: progressive systemic sclerosis

Skin fibrosis

Endothelial cell damage