Abstract
The aim of this study was to assess the structural efficacies of daily glucosamine sulfate and chondroitin sulfate in patients with knee osteoarthritis (OA). The authors surveyed randomized controlled studies that examined the effects of long-term daily glucosamine sulfate and chondroitin sulfate on joint space narrowing (JSN) in knee OA patients using the Medline and the Cochrane Controlled Trials Register, and by performing manual searches. Meta-analysis was performed using a fixed effect model because no between-study heterogeneity was evident. Six studies involving 1,502 cases were included in this meta-analysis, which consisted of two studies on glucosamine sulfate and four studies on chondroitin sulfate. Glucosamine sulfate did not show a significant effect versus controls on minimum JSN over the first year of treatment (SMD 0.078, 95% CI −0.116 to −0.273, P = 0.429). However, after 3 years of treatment, glucosamine sulfate revealed a small to moderate protective effect on minimum JSN (SMD 0.432, 95% CI 0.235–0.628, P < 0.001). The same was observed for chondroitin sulfate, which had a small but significant protective effect on minimum JSN after 2 years (SMD 0.261, 95% CI 0.131–0.392, P < 0.001). This meta-analysis of available data shows that glucosamine and chondroitin sulfate may delay radiological progression of OA of the knee after daily administration for over 2 or 3 years.
This is a preview of subscription content, log in to check access.
Access options
Buy single article
Instant access to the full article PDF.
US$ 39.95
Price includes VAT for USA
Subscribe to journal
Immediate online access to all issues from 2019. Subscription will auto renew annually.
US$ 199
This is the net price. Taxes to be calculated in checkout.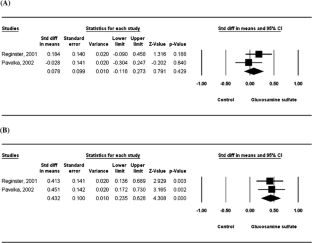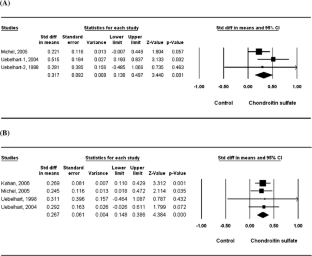 References
1.

Creamer P, Hochberg MC (1997) Osteoarthritis. Lancet 350:503–508

2.

Verbruggen G (2006) Chondroprotective drugs in degenerative joint diseases. Rheumatology 45:129–138

3.

Reginster JY, Bruyere O, Neuprez A (2007) Current role of glucosamine in the treatment of osteoarthritis. Rheumatology 46:731–735

4.

Largo R, Alvarez-Soria MA, Diez-Ortego I, Calvo E, Sanchez-Pernaute O, Egido J, Herrero-Beaumont G (2003) Glucosamine inhibits IL-1beta-induced NFkappaB activation in human osteoarthritic chondrocytes. Osteoarthr Cartil 11:290–298

5.

Hardingham T (1998) Chondroitin sulfate and joint disease. Osteoarthr Cartil 6(Suppl A):3–5

6.

Bali JP, Cousse H, Neuzil E (2001) Biochemical basis of the pharmacologic action of chondroitin sulfates on the osteoarticular system. Semin Arthritis Rheum 31:58–68

7.

Vlad SC, LaValley MP, McAlindon TE, Felson DT (2007) Glucosamine for pain in osteoarthritis: why do trial results differ? Arthritis Rheum 56:2267–2277

8.

Reichenbach S, Sterchi R, Scherer M, Trelle S, Burgi E, Burgi U, Dieppe PA, Juni P (2007) Meta-analysis: chondroitin for osteoarthritis of the knee or hip. Ann Intern Med 146:580–590

9.

Jordan KM, Arden NK, Doherty M, Bannwarth B, Bijlsma JW, Dieppe P, Gunther K, Hauselmann H, Herrero-Beaumont G, Kaklamanis P, Lohmander S, Leeb B, Lequesne M, Mazieres B, Martin-Mola E, Pavelka K, Pendleton A, Punzi L, Serni U, Swoboda B, Verbruggen G, Zimmerman-Gorska I, Dougados M (2003) EULAR Recommendations 2003: an evidence based approach to the management of knee osteoarthritis: Report of a Task Force of the Standing Committee for International Clinical Studies Including Therapeutic Trials (ESCISIT). Ann Rheum Dis 62:1145–1155

10.

Zhang W, Moskowitz RW, Nuki G, Abramson S, Altman RD, Arden N, Bierma-Zeinstra S, Brandt KD, Croft P, Doherty M, Dougados M, Hochberg M, Hunter DJ, Kwoh K, Lohmander LS, Tugwell P (2008) OARSI recommendations for the management of hip and knee osteoarthritis, Part II: OARSI evidence-based, expert consensus guidelines. Osteoarthr Cartil 16:137–162

11.

Pavelka K, Gatterova J, Olejarova M, Machacek S, Giacovelli G, Rovati LC (2002) Glucosamine sulfate use and delay of progression of knee osteoarthritis: a 3-year, randomized, placebo-controlled, double-blind study. Arch Intern Med 162:2113–2123

12.

Reginster JY, Deroisy R, Rovati LC, Lee RL, Lejeune E, Bruyere O, Giacovelli G, Henrotin Y, Dacre JE, Gossett C (2001) Long-term effects of glucosamine sulphate on osteoarthritis progression: a randomised, placebo-controlled clinical trial. Lancet 357:251–256

13.

Kahan A, Reginster JY, Vignon E. STOPP (Study on Osteoarthritis Progression Prevention): a new two-year trial with chondroitin 4&6 sulfate (CS) [abstract]. EULAR 2006 June 23; Amsterdam, The Netherlands: Institut Biochimique SA (IBSA). Available at http://www.ibsa-ch.com/welcome-head/rd-symposia-past_events-2006-intl.htm?id=1439

14.

Michel BA, Stucki G, Frey D, De Vathaire F, Vignon E, Bruehlmann P, Uebelhart D (2005) Chondroitins 4 and 6 sulfate in osteoarthritis of the knee: a randomized, controlled trial. Arthritis Rheum 52:779–786

15.

Uebelhart D, Malaise M, Marcolongo R, de Vathaire F, Piperno M, Mailleux E, Fioravanti A, Matoso L, Vignon E (2004) Intermittent treatment of knee osteoarthritis with oral chondroitin sulfate: a one-year, randomized, double-blind, multicenter study versus placebo. Osteoarthritis Cartilage 12:269–276

16.

Uebelhart D, Thonar EJ, Delmas PD, Chantraine A, Vignon E (1998) Effects of oral chondroitin sulfate on the progression of knee osteoarthritis: a pilot study. Osteoarthr Cartil 6(Suppl A):39–46

17.

Egger M, Smith GD, Phillips AN (1997) Meta-analysis: principles and procedures. BMJ 315:1533–1537

18.

Jadad AR, Moore RA, Carroll D, Jenkinson C, Reynolds DJ, Gavaghan DJ, McQuay HJ (1996) Assessing the quality of reports of randomized clinical trials: is blinding necessary? Control Clin Trials 17:1–12

19.

Egger M, Davey Smith G, Schneider M, Minder C (1997) Bias in meta-analysis detected by a simple, graphical test. BMJ 315:629–634

20.

Corbett J, Gu CC, Rice JP, Reich T, Province MA, Rao DC (2004) Power loss for linkage analysis due to the dichotomization of trichotomous phenotypes. Hum Hered 57:21–27

21.

DerSimonian R, Laird N (1986) Meta-analysis in clinical trials. Control Clin Trials 7:177–188

22.

Higgins JP, Thompson SG (2002) Quantifying heterogeneity in a meta-analysis. Stat Med 21:1539–1558

23.

Rozendaal RM, Koes BW, van Osch GJ, Uitterlinden EJ, Garling EH, Willemsen SP, Ginai AZ, Verhaar JA, Weinans H, Bierma-Zeinstra SM (2008) Effect of glucosamine sulfate on hip osteoarthritis: a randomized trial. Ann Intern Med 148:268–277

24.

Conrozier T (1998) Anti-arthrosis treatments: efficacy and tolerance of chondroitin sulfates (CS 4&6). Presse Med 27:1862–1865 (French)

25.

Malaise M, Marcolongo R, Ubelhart D, Vignon E (1999) Efficacy and tolerability of 800 mg oral chondroitin 4&6 sulfate in the treatment of knee osteoarthritis: a randomized, double-blind, multicentre study versus placebo. Lit Rheumatol 24:31–42 (German)

26.

Ravaud P, Giraudeau B, Auleley GR, Drape JL, Rousselin B, Paolozzi L, Chastang C, Dougados M (1998) Variability in knee radiographing: implication for definition of radiological progression in medial knee osteoarthritis. Ann Rheum Dis 57:624–629

27.

Towheed TE, Anastassiades T (2007) Glucosamine therapy for osteoarthritis: an update. J Rheumatol 34:1787–1790

28.

Richy F, Bruyere O, Ethgen O, Cucherat M, Henrotin Y, Reginster JY (2003) Structural and symptomatic efficacy of glucosamine and chondroitin in knee osteoarthritis: a comprehensive meta-analysis. Arch Intern Med 163:1514–1522
About this article
Cite this article
Lee, Y.H., Woo, J., Choi, S.J. et al. Effect of glucosamine or chondroitin sulfate on the osteoarthritis progression: a meta-analysis. Rheumatol Int 30, 357 (2010). https://doi.org/10.1007/s00296-009-0969-5
Received:

Accepted:

Published:
Keywords
Glucosamine

Chondroitin

Knee

Osteoarthritis

Structural efficacy