Abstract
The aim of this study was to measure the effects of a bi-weekly Raj yoga program on rheumatoid arthritis (RA) disease activity. Subjects were recruited from among RA patients in Dubai, United Arab Emirates by email invitations of the RA database. Demographic data, disease activity indices, health assessment questionnaire (HAQ), and quality of life (QOL) by SF-36 were documented at enrollment and after completion of 12 sessions of Raj yoga. A total of 47 patients were enrolled: 26 yoga and 21 controls. Baseline demographics were similar in both groups. Patients who underwent yoga had statistically significant improvements in DAS28 and HAQ, but not QOL. Our pilot study of 12 sessions of yoga for RA was able to demonstrate statistically significant improvements in RA disease parameters. We believe that a longer duration of treatment could result in more significant improvements.
This is a preview of subscription content, log in to check access.
Access options
Buy single article
Instant access to the full article PDF.
US$ 39.95
Price includes VAT for USA
Subscribe to journal
Immediate online access to all issues from 2019. Subscription will auto renew annually.
US$ 199
This is the net price. Taxes to be calculated in checkout.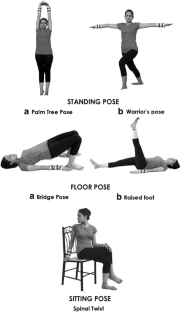 References
1.

Der AC, Wilcox S, Watkins K, Saunders R, Evans AE (2008) Factors associated with exercise participation in adults with arthritis. J Aging Phys Act 16(2):125–143

2.

Neuberger GB, Aaronson LS, Gajewski B, Embretson SE, Cagle PE, Loudon JK et al (2007) Predictors of exercise and effects of exercise on symptoms, function, aerobic fitness, and disease outcomes of rheumatoid arthritis. Arthritis Rheum 57(6):943–952. doi:10.1002/art.22903

3.

Han A, Robinson V, Judd M, Taixiang W, Wells G, Tugwell P (2004) Tai chi for treating rheumatoid arthritis. Cochrane Database Syst Rev (3):CD004849

4.

Gaudin P, Leguen-Guegan S, Allenet B, Baillet A, Grange L, Juvin R (2008) Is dynamic exercise beneficial in patients with rheumatoid arthritis? Joint Bone Spine 75(1):11–17. doi:10.1016/j.jbspin.2007.04.015

5.

Bukowski EL, Conway A, Glentz LA, Kurland K, Galantino ML (2006) The effect of iyengar yoga and strengthening exercises for people living with osteoarthritis of the knee: a case series. Int Q Community Health Educ 26(3):287–305. doi:10.2190/IQ.26.3.f

6.

Kolasinski SL, Garfinkel M, Tsai AG, Matz W, Van DA, Schumacher HR (2005) Iyengar yoga for treating symptoms of osteoarthritis of the knees: a pilot study. J Altern Complement Med 11(4):689–693. doi:10.1089/acm.2005.11.689

7.

Raub JA (2002) Psychophysiologic effects of Hatha yoga on musculoskeletal and cardiopulmonary function: a literature review. J Altern Complement Med 8(6):797–812. doi:10.1089/10755530260511810

8.

Badsha H, Kong KO, Tak PP (2007) Rheumatoid arthritis in Dubai—delayed diagnosis and low usage of disease modifying antirheumatic drugs. Ann Rheum Dis 66(6):835. doi:10.1136/ard.2006.068171

9.

Arnett FC, Edworthy SM, Bloch DA, McShane DJ, Fries JF, Cooper NS et al (1988) The American Rheumatism Association 1987 revised criteria for the classification of rheumatoid arthritis. Arthritis Rheum 31(3):315–324. doi:10.1002/art.1780310302
Acknowledgments
This study was funded by the Emirates Arthritis Foundation and by an unrestricted grant from Abbott Pharmaceuticals. We would like to acknowledge Ms. Gemma Tapado for support in data entry and logistics and Freiburg Medical laboratory, Dubai, United Arab Emirates for ESR testing.
Conflict of interest statement
None.
About this article
Cite this article
Badsha, H., Chhabra, V., Leibman, C. et al. The benefits of yoga for rheumatoid arthritis: results of a preliminary, structured 8-week program. Rheumatol Int 29, 1417–1421 (2009). https://doi.org/10.1007/s00296-009-0871-1
Received:

Accepted:

Published:

Issue Date:
Keywords
Arthritis

Rheumatoid arthritis

Yoga

Exercise