Abstract
The aim of this study was to investigate the efficacy of aquatic exercises in fibromyalgia syndrome (FMS). A total of 63 patients were included and allocated to two groups. Group I (n = 33) received an aquatic exercise program and Group II (n = 30) received a home-based exercise program for 60 min, 3× a week, over 5 weeks. Patients were evaluated for pain (visual analogue scale, VAS), number of tender points (NTP), Beck depression inventory (BDI), and functional capacity (fibromyalgia impact questionnaire, FIQ). All assessment parameters were measured at baseline, and at weeks 4, 12, and 24. There were statistically significant differences in FIQ and NTP in both groups at the end and during follow-up (P < 0.05). Group I showed a statistically significant decrease in BDI scores after 4 and 12 weeks (P < 0.05) that remained after 24 weeks (P < 0.001). In Group II, a significant decrease in BDI scores was observed at the end and during follow-up (P < 0.001). Also, a significant improvement was found in VAS at weeks 4 and 12 in both groups (P < 0.001). The average of reduction in pain scores was 40% in Group1 and 21% in Group II. However, this was still significant at week 24 only in the aquatic therapy group. A comparison of the two groups showed no statistically significant difference for FIQ, NTP, and BDI scores except VAS (P < 0.001) Our results showed that both aquatic therapy and home-based exercise programs have beneficial effects on FIQ, BDI, and NTP. In pain management, only aquatic therapy seems to have long-term effects.
Access options
Buy single article
Instant access to the full article PDF.
US$ 39.95
Tax calculation will be finalised during checkout.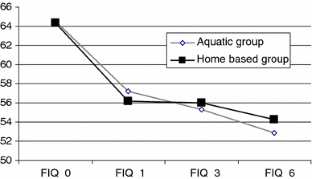 References
1.

Wofe F, Smythe HA, Yunus MB et al (1990) The American College of Rheumatology 1990 criteria for the classification of fibromyalgia: report of the multicenter criteria committee. Arthritis Rheum 33:160–172

2.

Burchardt CS (2006) Multidisciplinary approaches for management of fibromyalgia. Curr Pharm Des 12:59–66

3.

Burchardt CS, Bjelle A (1994) Education programmes for fibromyalgia patients: description and evaluation. Baillieres Clin Rheumatol 8:935–956

4.

Gowans SE, deHueck A (2004) Effectiveness of exercise in management of fibromyalgia. Curr Opin Rheumatol 16:138–142

5.

Rossy LA, Buckelew SP, Dorr N, Hagglund KJ, Thayer JF, Mclntosh MJ et al (1999) A meta-analysis of fibromyalgia treatment interventions. Ann Behav Med 21:180–191

6.

Busch A, Schachter CL, Crofford L (2002) Exercise for treating fibromyalgia syndrome. Cochrane Database Syst Rev: CD003786

7.

Bender T, Karagulle Z, Balint GP, Gutenbrunner C, Balint PV, Sukenik S (2004) Hydrotherapy, balneotherapy and spa treatment in pain management. Rheumatol Int 15:172

8.

Evcik D, Kızılay B, Gökçen E (2002) The effects of balneotherapy on fibromyalgia patients. Rheumatol Int 22:103–106

9.

Dönmez A, Karagulle Z, Tercan N, Dinler M, Issever H, Karagulle M, Turan M (2005) Spa therapy in fibromyalgia: a randomised controlled clinic study. Rheumatol Int 26:168–172

10.

Altan L, Bingol U, Aykac M, Koc Z, Yurtkuran M (2004) Investigation of the effects of pool-based exercise on fibromyalgia syndrome. Rheumatol Int 24:272–277

11.

Gowans SE, Deheuck A (2007) Pool exercise for individuals with fibromyalgia. Curr Opin Rheumatol 19:168–173

12.

Sarmer S, Ergin S, Yavuzer G (2000) The validity and reliability of the Turkish version of the Fibromyalgia Impact Questionnaire. Rheumatol Int 20:9–12

13.

Beck AT, Ward CH, Mendelson M, Mock J, Erbaugh J (1961) An inventory for measuring depression. Arch Gen Psychiatry 4:561–571

14.

Koltyn KF (2000) Analgesia following exercise. A Review. Sports Med 29:85–98

15.

Mannerkorpi K (2005) Exercise in fibromyalgia. Curr Opin Rheumatol 17:190–194

16.

Jones KD, Adams D, Winters-Stone K, Burckhardt CS (2006) A comprehensive review of 46 exercise treatment studies in fibromyalgia (1988–2005). Health Qual Life Outcomes 4:67

17.

Valim V, Oliveria L, Suda A, Silva L, de Assis M, Barros Neto T et al (2003) Aerobic fitness effects in fibromyalgia. J Rheumatol 30:1060–1069

18.

Da Costa D, Abrahamowicz M, Lowensteyn I, Bernatsky S, Dritsa M, Fitzcharles A, Dobkin PL (2005) A randomized clinical trial of an individualized home-based exercise programme for women with fibromyalgia. Rheumatology (Oxford) 44:1422–1427

19.

Ramsay C, Moreland J, Ho M, Joyse S, Walker S, Pullar T (2000) An observer-blinded comparison of supervised and unsupervised aerobic exercise regimens in fibromyalgia. Rheumatology 39:501–505

20.

Gusi N, Tomas-Carus P, Hakkinen A, Hakkinen K, Ortega-Alonso A (2006) Exercise in waist-high warm water decreases pain and improves health-related quality of life and strength in the lower extremities in women with fibromyalgia. Arthritis Rheum 55(1):66–73

21.

Mannerkorpi K, Nyberg B, Ahlmen M, Ekdahl C (2000) Pool exercise combined with an education program for patients with fibromyalgia syndrome. A prospective randomized study. J Rheumatol 27:2473–2481

22.

Cedraschi C, Desmeules J, Rapiti E, Baumgartner E, Cohen P, Finckh A et al (2004) Fibromyalgia: a randomised, controlled trial of a treatment programme based on self management. Ann Rheum Dis 63:290–296

23.

Jentoft ES, Kvalvik AG, Mengshoel M (2001) Effects of pool-based and land-based aerobic exercise on women with fibromyalgia/chronic widespread muscle pain. Arthritis Care Res 45:42–47

24.

Assis MR, Silva LE, Alves AM, Pessanha AP, Valim V, Feldman D et al (2006) A randomized controlled trial of deep water running: clinical effectiveness of aquatic exercise to treat fibromyalgia. Arthritis Rheum 55:57–65

25.

Tomas-Carus P, Hakinken A, Gusi N, Leal A, Hakinken K, Ortega-Alonso A (2007) Aquatic training and detraining on fitness and quality of life in fibromyalgia. Med Sci Sports Exerc 39(7):1044–1050
About this article
Cite this article
Evcik, D., Yigit, I., Pusak, H. et al. Effectiveness of aquatic therapy in the treatment of fibromyalgia syndrome: a randomized controlled open study. Rheumatol Int 28, 885–890 (2008). https://doi.org/10.1007/s00296-008-0538-3
Received:

Accepted:

Published:

Issue Date:
Keywords
Aquatic therapy

Fibromyalgia

Home exercises